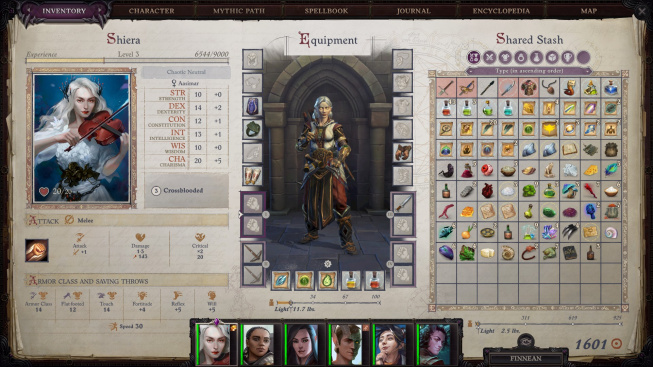 "I'll make a nice pig," I smiled happily as a new Pathfinder was installed on my computer: Wrath of the Righteous. "A totally callous, rough girl, long-lived, who always wants only what's best for her. No moral restraints. Old Voldy said it well: There is no good or evil, there is only power and people too weak to strive for it! "
Like I said, so I did. After an hour spent in the editor, a mysterious Shiera, a red-eyed witch endowed with immense power, with the blood of a fallen angel circulating in a dark fantasy world plagued by the invasion of demons. A magical viper wraps around her throat with the power to charm anyone who does not look away.
Beliefs: Chaotically neutral. Determination: Use everything and everyone for your own benefit.
I've been good at it, I'll tell ya. In interviews with new colleagues in the party, I chose appropriately prickly answers, I was not afraid of sarcasm, at every opportunity verbally engraved into the embarrassing legally good paladin and the mutated babe Lanna.
But then came the moment of truth – and I failed. I couldn't overcome the inhibitions, silence my mother's voice, which, as so many times before, whispered in my ear, "No, Vaskuu, mass murder is not done!" I listened to the voice. And he was embarrassingly good once again.
The following paragraphs contain SPOILER from the introductory part of Pathfinder: Wrath of the Righteous. The end of the spoiler section will be marked so you can read on.
The thing is quite simple. The beautiful but rotten beauty Shiera, the perfect avatar of myself, found herself in the underground of a city besieged by the forces of evil, due to an unfortunate accident (an alternative designation for a scythe of a demon as large as a block of flats). And in that underground she found mutants, a long-lost society of human-animal hybrids that no one had seen on the surface for hundreds of years.
After cutting through crowds of willingly dying cultists, a choice opened up at the end of the dungeon. Either listen to the lizard mutant Lanna and bring the hybrids to the surface, where they will help the cruciate against the demons, or associate with the spider Wenduag, who offered me to use a cannibalistic ritual to turn all the inhabitants of the underground into my own enslaved army, furious, obedient and bloodthirsty.
It is clear what the more pragmatic choice is here. If I listen to Lanna, I'll help a few poor people and get a scaly archer as an ally – a guy whose understanding of the world out there is also limited to a few ancient legends. Wenduag, on the other hand, offers me his own absolute devotion, "My lady!" He tells me, licking himself like an emotionally deprived chihuahua. Plus, of course, it provides an army with which to transform the world the way I want. Neither good nor evil, only my own will. I just have to deceive the innocent mutants of Lehoulinka and let them eat the angelic flesh.
Friends, I finally chose Lanna. And as soon as I did, I sat in a chair with an empty expression, absolutely disgusted by my inability to do what I set out to do. I consoled myself, "This was just a little exaggerated. For power and influence, I would do anything, I would kill two people or ten, but hundreds? Thousand? That's right! "
And yet I knew deep down that I was lying in my pocket, that I probably wouldn't even be able to handle a chamber murder, because it's far easier to casually eliminate a nameless, dumb crowd than a few specific people you're looking into. Just ask Mr Jugashvili how it is with those tragedies and statistics.
In the end, I decided a little shyly to kill Wenduag, so that at least someone would die with my hand (and so that it wouldn't hit my back in the back in the future). Poor consolation… Or rather none at all, because the good woman who offered me everything I longed for took all 10 legs on her shoulders and thanked herself, certainly to take revenge on me later. And I'm not even surprised.
The end SPOILER pro Pathfinder: Wrath of the Righteous.
I've always had it this way and I can't get out of it. My children's alter ego, which represented me in every game of Dragon's Lair or in a browser multiplayer game In the shadow of dragons (My God, she still exists!), was a legally good frontiersman named… Gordon the Good. Imagine the bearded Mirek Dušín in green rags, who wouldn't have a problem breaking any pole in half if he thought he was doing evil, but otherwise he's the scout Foglar would look for.
That's when it came to me as the only right choice. I enjoyed fantasy stories in which the nobles triumphed over the treacherous, I wanted to be an ethereal elf in a perfect realm of trees or a virtuous paladin. But I'm not like that today! Today I like Sorcerers, gray, dirty figures, interestingly characters who can contribute to a possible moral dilemma with something deeper than bloated lectures, how evil must always and in all circumstances be destroyed.
And anyway, when I get to choose, interesting to refuse. In Mass Effect I always paragon, in Knights of the Old Republic I always eat, even in that Baldur I did not become the immortal god of murder, because I wanted to, but it wasn't morally correct.
It scares me a little, because Shiera was supposed to be such a training figure for the days to come. With Pavel Bareš, our expert in table RPGs, we will be testing the Czech Dragon Patrol in the near future, and I guess what he decided to try to be a pragmatic opportunist instead of a mum's patholizer. I'm really curious about myself.
When I think about RPGs, where I at least let go of my inner Rottweiler with rabies, I think of Tyranny, of course. I wasn't even a desperate, I tried to behave relatively well, but at the same time I didn't have a problem sometimes bothering someone a little or killing their friends in the name of order.
I think it's due to the fact that nothing was expected of my character in Tyranny. Being a bastard meant being conformist. On the contrary, if I suddenly started acting like Aragorn, everyone would point a finger at me. Maybe I just don't want to disappoint anyone, I'm not able to follow the hurt, betrayed glances of my party members as I burn the village in front of their eyes. And if Wenduag had revealed her entire conspiracy to me in private, I might have nodded at her.
It would help to break my oppression if I at least knew that pragmatic opportunism made sense. That I could make it further with him than without him, that evil would become king and a good beggar or corpse. But I do know that RPG writers allow me to play for anyone. And so it allows me to finish the game for anyone. And so I can easily be the most suitable sun hobbit under the sun, and I kindly rock the final boss just like a clever manipulator.
It would help if I could be afraid of the real consequences. If some great RPGs were inspired by David Cage's games and would be capable of radical story twists, including the definitive death of important characters, depending on the player's decisions.
But that's not exactly what happens, precisely because developers need to offer as much freedom as possible while ensuring that all players follow a relatively similar storyline, because otherwise ten times as many screenwriters and programmers would be needed. Thus, instead of a fantasy maze, one rushes down the highway with smaller turns, only choosing whether to drive in a bloody cart from Mad Max, or in a white papamobile. And I just usually hit the ceiling with a ridiculous hat.
I'm not giving up hope yet. I suspect that a little bit of the grudge could wake up in Shiera, forcing her to torment someone in a pinch or mentally devastate and deprive her of everything. And if it doesn't work out in Pathfinder, if I become an angel (in the case of Wrath of the Righteous, it can be true literally, not just rhetorically), then I'll try again next time.
Why? Because I love RPGs and dig into them more easily than any other genre. The fact that I can't easily rise above the imaginary emotions of ones and zeros, that I act according to my conscience as if real people are looking at me from the screen, after all, says something.
How are you? Can you be as bad for fun as the Sith of the Knights of the Old Republic? Do you often move in the moral gray zone? Or are you better too? We will be happy to read your observations and experiences in the comments or with us at Discord.
---
Source: Games by games.tiscali.cz.

*The article has been translated based on the content of Games by games.tiscali.cz. If there is any problem regarding the content, copyright, please leave a report below the article. We will try to process as quickly as possible to protect the rights of the author. Thank you very much!

*We just want readers to access information more quickly and easily with other multilingual content, instead of information only available in a certain language.

*We always respect the copyright of the content of the author and always include the original link of the source article.If the author disagrees, just leave the report below the article, the article will be edited or deleted at the request of the author. Thanks very much! Best regards!
---