Tensions between Russia and Ukraine were a hotly debated topic in Romania in mid-February, although few thought we could have another war in those days. journalist Ionut Sociu and the photographer Marin Raica they then decided to go to the villages in northern Suceava, on the border with Ukraine, to find out what the people there were saying about the situation in recent months. Several days after completing their documentation in the area, several Ukrainian cities were attacked.
It was clear to them, right from the 24th of February, that they had to go to the Siret Customs, to report on the humanitarian crisis there, to find out the stories of the people fleeing the war.
"The moment I arrived in Siret – that was the most dizzying. The first quarter of an hour when I was actually stuck, I couldn't process anything. I was looking at all those mothers, with children in their arms and tears in their eyes, and it seemed unreal to me. "
In parallel with the events on Romania's borders with Ukraine, Ionut also watched the situation in Poland. The next natural step in his journalistic approach to talking about solidarity in time of war was to capture the reality on the borders of Poland.
"I met Ukrainians, mothers with children, who had been settled in Poland for several weeks. It was a completely different energy than the one in Siret, from the first weeks, because now I saw these people in a lethargic and oppressive stage "
Ionut Sociu is a Scena9 reporter and tells us about his journalistic experiences in recent weeks related to the war in Ukraine.
From the biography
I graduated from the Faculty of Theater (Theater Department) at UNATC in 2007, and then I studied for two years at Bard College Berlin, a liberal arts college with an interdisciplinary educational model, which was fixed to my taste: I could turn from philosophy to art & literature history and to explore in many directions. I have collaborated with various Romanian publications as a cultural journalist and theater critic, and since 2017 I have been working as a reporter for Scena9. I've been doing theater criticism for a long time, but in recent years I've started writing drama.
Your experience in war stories
I've always been interested in war stories, only in interviews or articles about artists, writers, and theater people from Syria, Iraq, Serbia, and so on. But I would like to dwell on one point: Six years ago, I was in Turkey, in Gaziantep, right on the border with Syria, where I documented the stories of several Syrian refugee children who lived and worked in Turkey. It was an experience that marked me (including) emotionally and that I have been thinking about for the last few weeks, since the invasion of Ukraine began. I was 100 km from Aleppo during the war, and 500,000 Syrian refugees had settled in Gaziantep. Until then, war was somewhat abstract to me (as I perceived it in watching news or movies), but only then did I understand to some extent what a devastating impact a war has on people and how painful it can be. uprooting.
About the war, when it seemed far away
In mid-February, my colleague Vlad Odobescu and I decided to do a report on anti-atomic shelters in Bucharest. I went to almost every sector of the capital and that's how it turned out this material. I admit that I was a little anxious as I haunted those basements, a state that did not give me peace for the next few days, when I decided to go with photographer Marin Raica to the villages in northern Suceava, on the border with Ukraine. . That was before February 24th. What interested me most was to see what people living on the border say and how they perceive the situation in recent months.
I was in Vicovu de Sus, where we talked with several Ukrainians who came to sell their wares at the fair, and then in some villages of Ukrainian Hutsul. Surprisingly, most of the people I spoke to were relaxed and did not believe that the war would begin. These were warm, beautiful, happy days. The war seemed far, far away. Until the morning when everything changed.
Emotional and physical preparation for the Siret Customs experience
I was in Botoșani the day the invasion started, I was visiting my mother and I was trying to rest a little after the days spent on the field in the villages of Suceava. It was clear to me from the first moment that I had to go to Siret Customs, so I did not have time at all to prepare physically or emotionally. To be honest, I don't even realize what such training would entail.
The impact of reality
The moment I arrived in Siret – that was the most mind-boggling. The first quarter of an hour when I was actually stuck, I couldn't process anything. I was looking at all those mothers, with children in their arms and tears in their eyes, and it seemed unreal to me. It looked like a picture from the movies. Unreal – that was the word I heard from those around me. It was just that it was very real. After that first shock, I realized that I had to get over my emotional blockages and report what was happening. Obviously, that doesn't mean I was "zen" in the days and weeks that followed. There were times when I shed tears or a lump in my throat, and that happened in unexpected situations. It was enough to hear something around – even a word – or to see something that overwhelmed me. You are never ready for these moments.
What interested you the most
There are two issues that concern me: first, the voices of people fleeing war. These mattered to me then, and they matter now. I met many people – Ukrainians, but also foreign students – who wanted to talk to journalists and who wanted to make their voices heard. Some of them felt the need to free themselves and be listened to by someone, and for others it was important for their testimony to stay somewhere and for the world not to forget. Especially in the context in which a lot of fake news had started to appear.
There were also people who showed me the videos they made with the phone in their bombed towns and villages, and even insisted on showing me. Then, beyond the voices, I'm interested in how it works solidarity, strategies and how people mobilize, volunteer stories, etc. Beyond writing, there is another aspect: you realize that you can help. In situations like this, I don't think the journalist should just be a detached observer. You can drive people, you can guide them, you can call them to find accommodation – I don't see any problem with that. But it would seem wrong to help them conditionally, so that later they can talk to you, to give you a "story" instead, like in a fair.

From Siret Customs to Poland
In parallel with what was happening on Romania's borders with Ukraine, we were also watching what was happening in Poland, a country where more than 2,500,000 refugees from Ukraine arrived. The situation is extremely complicated there and I was curious to talk to people, to find out what solidarity and volunteering are like there – what works, what doesn't work; At the same time, there was something else that interested me: the strategy of the cultural institutions in Poland regarding Ukrainian artists (this is also the case with our recent discussions). From this point of view, it must be said that there were already close ties between Ukrainians and Poles, including cultural projects, exhibitions, etc. This is in contrast to our relationship, of the Romanians, with Ukraine, the country that we are only now beginning to discover culturally. And I don't think it's just related to Ukraine, it's a paradox that has to do with this whole area: we're close to each other, but we don't know each other. We know more about Irish and Icelandic literature than we do about Bulgarian or Serbian literature.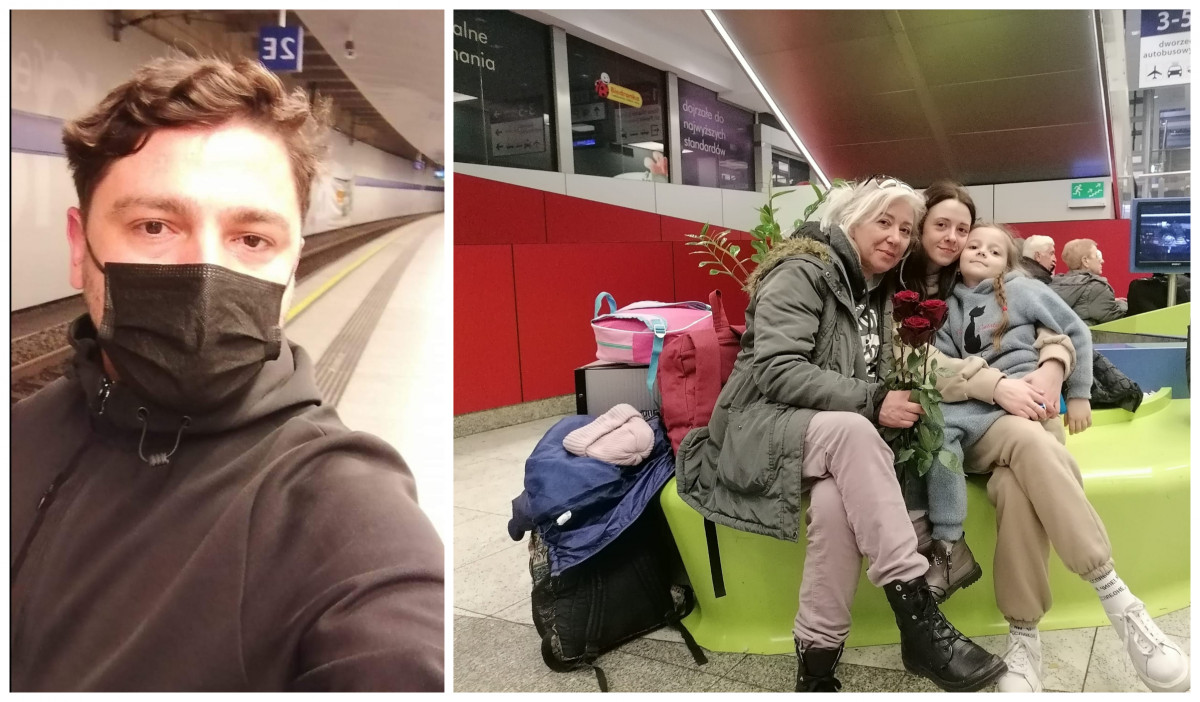 What surprised you the most in Poland
I decided to focus on Krakow and some small towns around it Rabka, a small spa where more than 2,000 refugees have settled. We arrived in Poland at a time when the big cities had reached a tipping point and could hardly receive any more refugees. I went to various organizations, I spent some time in the train station in Krakow and in the surrounding tents.
What surprised me was that this time I also met Ukrainians, mothers with children, who had already been settled in Poland for several weeks. It was a completely different energy than the one in Siret, from the first weeks, because now I saw these people in a lethargic and oppressive stage, in which the panic had passed, but in which other problems had appeared. Related to maladaptation, depression, anxiety – they seemed suspended in an unknown world and otherwise processed the changes in their lives.
Racial discrimination and abuses on Poland's borders
Let's not forget one thing: the humanitarian crisis on Poland's borders did not start on February 24, 2022, but since last autumn, on the border with Belarus, where the situation is still serious. It is also an important moment for organizations & activists who have already joined forces to help refugees from Ukraine, but also those coming from Afghanistan, Iraq, etc. For seven months, several journalists and activists have documented the numerous abuses that take place there, on both sides of the border with Belarus. Their message to the authorities is this: there is an urgent need for humanitarian aid across the eastern border & for all those fleeing war and persecution, no matter where they come from or their skin color.

The war stories that moved you
What I can say is that I met a lot of strong women, mothers with children, grandparents with grandchildren, women from whom we would all have something to learn. One of these women is Tatiana, whom I met at the Siret Customs, a few days after the invasion of Ukraine began. She crossed the border at midnight, while it was snowing, together with her five children: Vadim, Ruslan, Ilia, Sofia and Misha (the youngest, Vadim, is a few months old and the eldest, Misha, is 13 years old) . And the next day, Tatiana's mother and her grandmother arrived in Romania. There were basically four generations driven away by the war.
When I asked her about her trip to Ukraine, from the village where they lived, to the border, Tatiana said to me: "On the first day, when the war started, I was undecided, I was confused and I didn't know what to do. But I was very scared, especially since there were bombings nearby, where the Russians had some targets. I had to make a decision. If I didn't move fast, I couldn't leave. You realize that it is very difficult to leave the house, the yard, the goats, the chickens and what animals we have left, but at the same time it was clear that the lives of my children are above all that I leave behind. And during this time the neighbors in the village said to me: Don't leave, where are you going with five children? Do you leave everything like that and leave? "
What is important when documenting the stories of vulnerable people?
There are some important aspects: you have to be careful, not to be intrusive, not to insist when someone does not want to talk to you, not to expose them in humiliating situations, not to hurry just to check some things. I don't pretend to know how to do all this, but you learn some of them on the go. And, yes, that's right you can now become known as a Lord of the Rings. And one more thing: empathy is essential. The fact that you're there to really listen, not just pull out a story.
How did these war journalistic experiences change you?
Something has changed, but I still don't know what and how. What I can say is that the way I perceive the world in general has changed somewhat, and I don't realize if it's just a momentary state, related to an emotional vulnerability. Specifically, I have the feeling that the world is an even more insecure field today and that everything can change overnight. I'm more skeptical now when I hear about projects and long-term plans around me, it's a temporary feeling, I don't know how to explain. That's why I can't forget what Sergei Bukovksi told mea documentary filmmaker I met at the border: "each of us is a possible refugee today."
---
Source: IQads by www.iqads.ro.

*The article has been translated based on the content of IQads by www.iqads.ro. If there is any problem regarding the content, copyright, please leave a report below the article. We will try to process as quickly as possible to protect the rights of the author. Thank you very much!

*We just want readers to access information more quickly and easily with other multilingual content, instead of information only available in a certain language.

*We always respect the copyright of the content of the author and always include the original link of the source article.If the author disagrees, just leave the report below the article, the article will be edited or deleted at the request of the author. Thanks very much! Best regards!
---