A kind of Robinson Crusoe is the contemporary Romanian creator of art in the choreographer's vision Arcadie Rusu – independent artist who comes from Moldova across the Prut and is related to dance as a child. But let's go back to the character of Daniel Defoe, who spent a lot of time alone on an island. This is how Arcadie sees artists, always fighting alone for survival, facing obstacles, only to bring their art in front of the public. But who are the people who still enjoy art in this new world?
"The only beneficiaries who can enjoy an artistic act are curious people who are looking for other experiences in their emotional evolution, who do not get stuck in front of the TVs, but want a little more from them. They are also responsible for the meaning for which we make art "
Arcadie Rusu he says nicely that a society where things don't go well is one where people don't dance. It makes sense, if we think about it. Because dance balances physical and mental health, and collective health always starts with that of the individual.
He comes from a family where he has been dancing and studying in Romania since he was 16 years old. Immediately after graduating from the Choreography Section of UNATC, he joined Gigi Caciuleanu's dance company, and his international artistic collaborations opened new perspectives. Today, together with other artists from the world of dance, Arcadie Rusu are Linotip, an independent choreographic center.
The connection with dance
I come from Moldova across the Prut, from a simple family, who live with respect for their neighbor, regardless of material, political or religious condition. In the center of attention is the man who comes with nothing and leaves only with lived experiences. The artistic side in the direction of dance comes from my family, my father danced in his youth folk dance, my mother did performance sports until I was born, she was a sprinter (running short distances). Uncle, my aunt are still dance teachers, a path that we followed and we who came after, a large part of my cousins ​​danced and still do.
First meeting with him
The first time I started dancing in the second grade, I remember it was hard for me, but I also liked it at the same time, then at 16 I wanted to leave home and came to study in Romania, the top, philology at a high school in Botosani, where at that time there was nothing on dance, so I started teaching in private. I joined the high school theater troupe, where I solved some things related to stage movement and dance when necessary, then in the 12th grade I choreographed a theater show and I realized that this is my destiny.
I studied choreography at UNATC, then Master's at UNATC. After college I auditioned and joined Gigi Caciuleanu's company. I was a danceWEB fellow at the Impuls Tanz Vienna festival, followed by several international residencies and artistic collaborations, which made me see things from a broader perspective.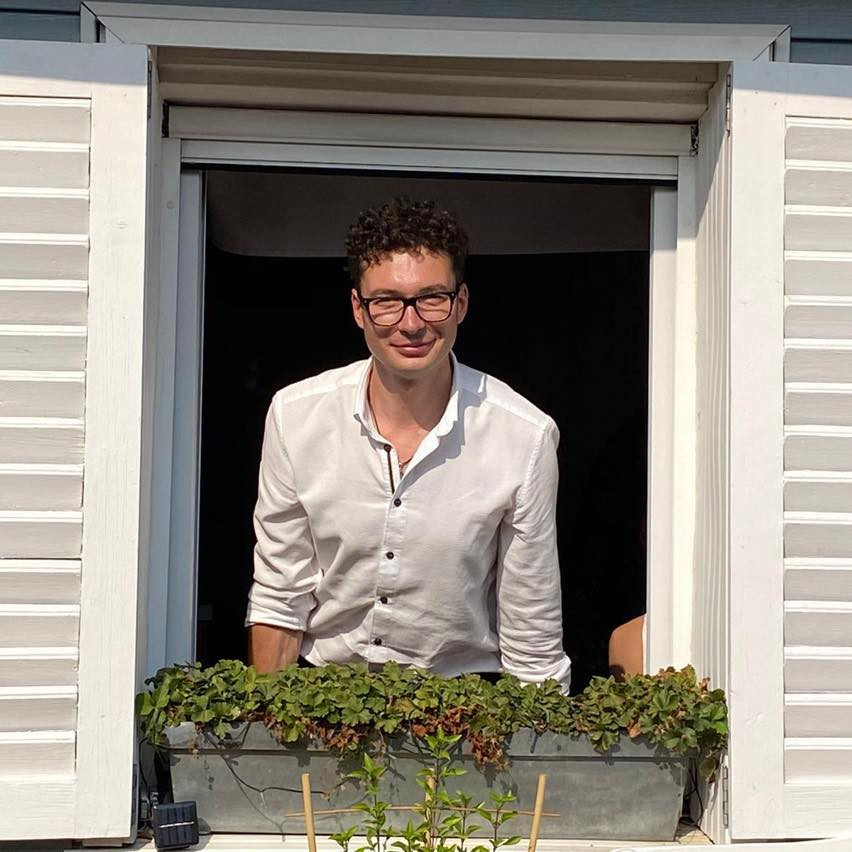 The first important show
My first show that marked my beginning was my bachelor show "Mind Control", with which I won the award for best choreography show at the UNATC Graduate Gala.
I felt that after 4 years of studies and trials, this was the most serious stage work I had done before. It gave me confidence, it was like a fulfillment, as if the choreographer software that I had installed in me for 4 years was upgraded to the maximum at that moment. But I was also aware that a great unknown is coming, for which I must continually prepare.
Your artistic development and teachings
Besides the artistic side, which has to do with concept, stage vision, emotion, I also liked to analyze the stage mechanisms, to predict what the spectator's reactions will be. However, with each show I took it from scratch, so as not to get stuck in my own beliefs, I forgot everything I know, and I always put myself in front of the unknown.
The difference is that before we built shows guided only by intuition and instinct, and now certain processes have turned into science. I became more aware of what I was doing, but I don't forget to always face ignorance, that's where I look for my answers, and my intuition and instinct became sharper.
Weights of the trade
Culture is underfunded, and dance is left in last place.
The only thing that may seem the worst to me is that at the level of the National Cultural Strategy, the benefit that dance brings in a society has not yet been understood. Dancing should be an urgent part of everyone's life, from the street sweeper to the president of a country. Dancing balances physical and mental health, but most importantly it increases the level of depth and wisdom of experiencing life by simply awareness of one's own body. If things go wrong in a society, it is because people do not dance.
Between art and commercial
For a long time I avoided the commercial area, but in time I understood that I can do this to some extent without affecting my creative side. When you are respected as an artist in a commercial context and paid correctly, you can add value to that project. There is poor quality trade and good quality trade, I avoid the former one completely.
A look at the dance sector in Romania
In the last 5 years the dance sector has grown, of course it is still quite fragile, but the good thing is that new NGOs and structures have appeared, which shows us that the next generations are inspired to do something for art and craft. to them, and do not wait for everything to be ready.
Changes in the area of ​​dance art
An admirable thing is that artists are looking for solutions by rethinking the interaction with the public, and this aspect is to be appreciated, now it doesn't matter so much which are good or bad, it is a period of experiment and everyone has their own process of analysis.
Pandemic projects
During the pandemic I adapted as best I could, I totally avoided online events.
Perhaps the biggest adaptation was that I focused more on the pedagogical side, I held workshops at LINOTIP, at UNATC, lnfinite Dance festival, Oradea, but also in other spaces where I was invited. In addition to the courses I had, I had several small projects, which brought me great joy. I also had personal challenges, I trained and I ran the first half marathon 21 km. I haven't stayed, I'm an active person and even if I try not to get crowded, I always have something to do.
What does it mean to be an artist in Romania now
Being an artist in Romania means being a kind of Robinson Crusoe, you are always alone, on a foreign island and you fight for survival, and the fact that you add value to the quality of life of the people around you, means nothing, because we live moments when the landmarks of values ​​were lost. The only beneficiaries who can enjoy an artistic act are the curious people who are looking for other experiences in their emotional evolution, who do not get stuck in front of the TVs, but want a little more from them. They are also responsible for the meaning for which we make art.
Revolts and disappointments of this period
It seems to me that the pandemic has once again shown the lack of interest of the authorities towards Culture, towards the spaces that were built on their own. Until now, they did not even know how many private event spaces, independent of shows, art galleries are in Bucharest or in the country, although many of them are already known internationally.
Unfortunately, the "Cultural Politicians" cannot understand the relevance of these spaces because they do not visit them, probably because they do not have time for "Culture". What can be seen, the major lack starting from the education of children for whom it would have been essential to use alternative means of development through art. By their very lack of education and consumption of culture, "their heights, cultural politicians" are only decisive factors of a fractured system, lacking coherence and vision. I realized that they simply could not understand the importance and effort of each private or independent space to support their cultural activities. And the fact that we were imprisoned without any mutual assumption made our situation even more difficult, we are full of debts, but we smile and continue to carry our burdens as if nothing had happened.
Solidarity of the guild
This period made us more attentive and respectful of each other and this was felt through the small collaborations and partnerships in which we tried to support each other, and to appreciate each other more.
Further this year
During the pandemic I gave myself time to think, reflect and contemplate.
The adaptations came later and with small steps, we had the patience to wait for the resumption of live events, because, whether it is courses or shows, at LINOTIP we offer experiences, not products.
Of course, at the moment I am working on some ideas for a new show, which I hope to implement until the fall, but which clearly have a different approach from the beginning and are due to the times we are in and the desire to reconnect with the audience.
---
Source: IQads by www.iqads.ro.

*The article has been translated based on the content of IQads by www.iqads.ro. If there is any problem regarding the content, copyright, please leave a report below the article. We will try to process as quickly as possible to protect the rights of the author. Thank you very much!

*We just want readers to access information more quickly and easily with other multilingual content, instead of information only available in a certain language.

*We always respect the copyright of the content of the author and always include the original link of the source article.If the author disagrees, just leave the report below the article, the article will be edited or deleted at the request of the author. Thanks very much! Best regards!
---