Table of Contents
Positioning
Sber describes SBERBOX TOP as: "TV media center with a smart camera and a family of virtual assistants Salute on board. The device turns any TV with HDMI-connector into a multimedia entertainment center and gives the user unlimited opportunities for organizing leisure and solving everyday issues. The device is fully adapted for voice control and combines the advantages of other Sber devices – the SberBox TV box and the SberPortal smart display ".
The main advantages that should induce the purchase:
Can be connected to any TV making it smart
8MP camera with smart focus tracking
Camera and microphones are hardware locked
Smart voice assistants, gesture control.
Video calls in Telegram, the ability to create your own video conferences for 100 people through the Jazz app
You can order products by voice (so far only "Scooter", but they promise to add more services over time)
When the TV is turned off, the SberTop Box can work as a smart speaker (you need a subscription to Sberzvuk)
Camera-oriented apps for sports, augmented reality storytelling, and more.
Built-in cloud gaming service SberPlay
Fast games that launch instantly without installation
"Duet" function for signing up to a beauty salon, a doctor or for booking tables
"Superchef" – an application with step-by-step recipes
radio
Order and payment for goods by face or voice
Smart home control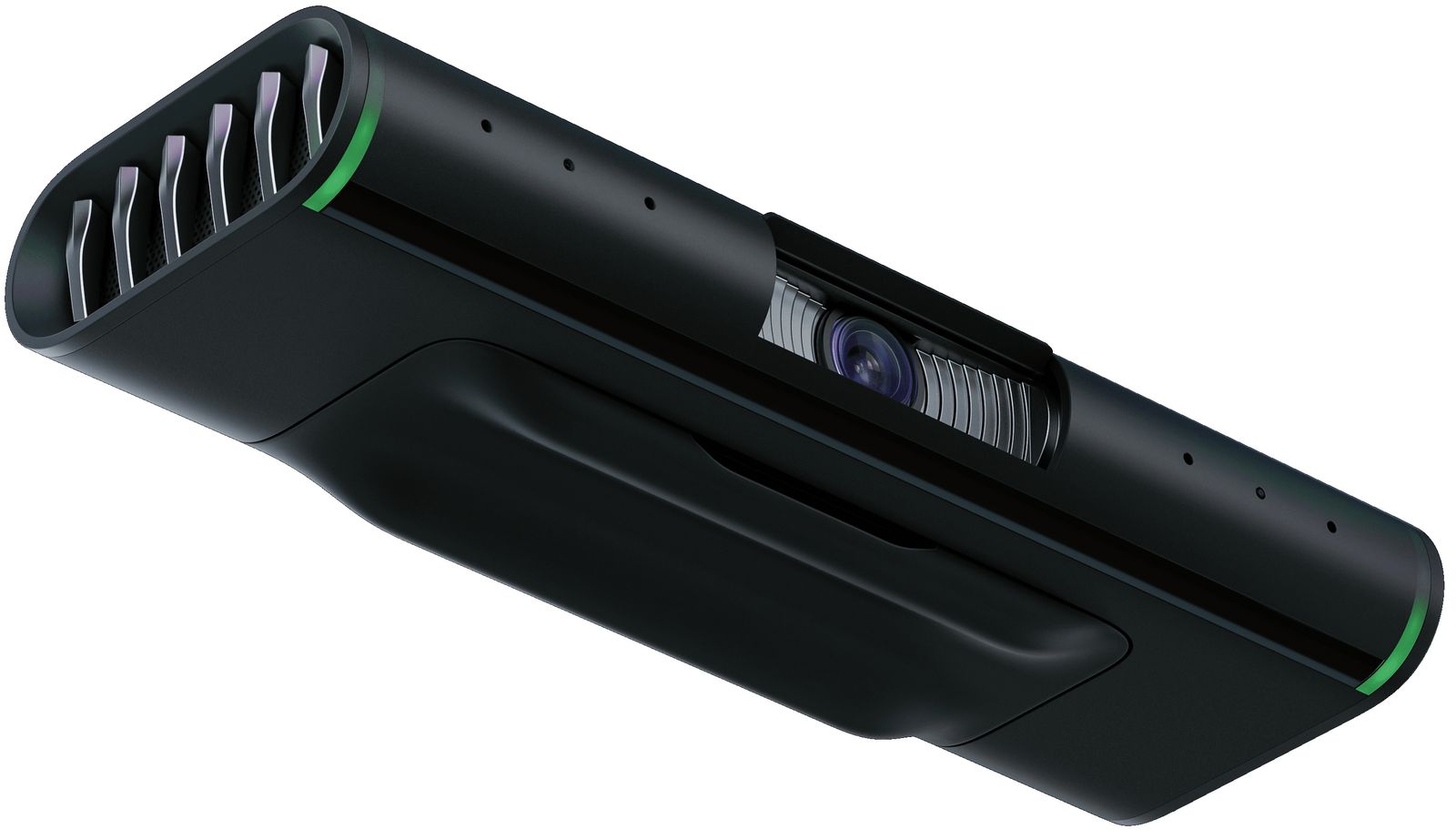 A couple of thoughts in a short line
In Russia, it was customary to treat Yandex with love. The Russian giant, a competitor to Google, moving forward the domestic IT industry, possessing innovative technologies and know-how. And users have always treated him favorably, despite the failure in the form of Yandexfon, the morally outdated Yandex.Station at an exorbitant price, even to such small tricks as love to inflate the price of services for Yandex.Plus subscribers (yes- yes, I also noticed that without a subscription, a taxi is cheaper!).
When Sberbank held its ridiculous conference with Boyarsky, outlining plans to seize the Russian market for services (subscriptions to music and films, discounts, food delivery, etc.), I perceived this as a direct threat to Yandex. And, it seems, it turned out to be right, because Sberbank really in a short time brought to the market an ecosystem product that was in no way inferior to its competitors.
And with its SberPortal and SberTop Box, Sber managed to humiliate Yandex more abruptly than if all Sberbank employees had gathered and left something unpleasant under the doors of Yandex (and this is still 276 thousand Sber employees, not hukhry-muhry). Since then the problem would be solved by calling an excavator and harvesting 83 tons of fertilizers for growing tomatoes from Yandex.Lavka. And here "Sberbank" clearly showed that Yandex does not have any exclusive technologies and unique knowledge. In fact, Sberbank rolled out its versions of smart and media speakers from the fly, which are head and shoulders above the Yandex products.
If there is a choice between Yandex and Sberbank and you are preparing a smart home from scratch, then you should choose the latter. These products already have more features, they are better implemented and it feels like there is more potential.
Specifications
Camera: 8 MP, 120 degrees, with smart focus
Microphones: microphone array of 6 microphones
Operating system: StarOS
Interfaces: HDMI, USB-C, DC-Jack
Connection: Wi-Fi 5, 2.4 + 5.0 GHz, Bluetooth 5.0, IR transmitter and receiver
Dimensions: 178 x 66 x 25.6 mm
Price: 14,990 rubles or 699 rubles per month for 2 years (the offer includes OKKO "Optimum"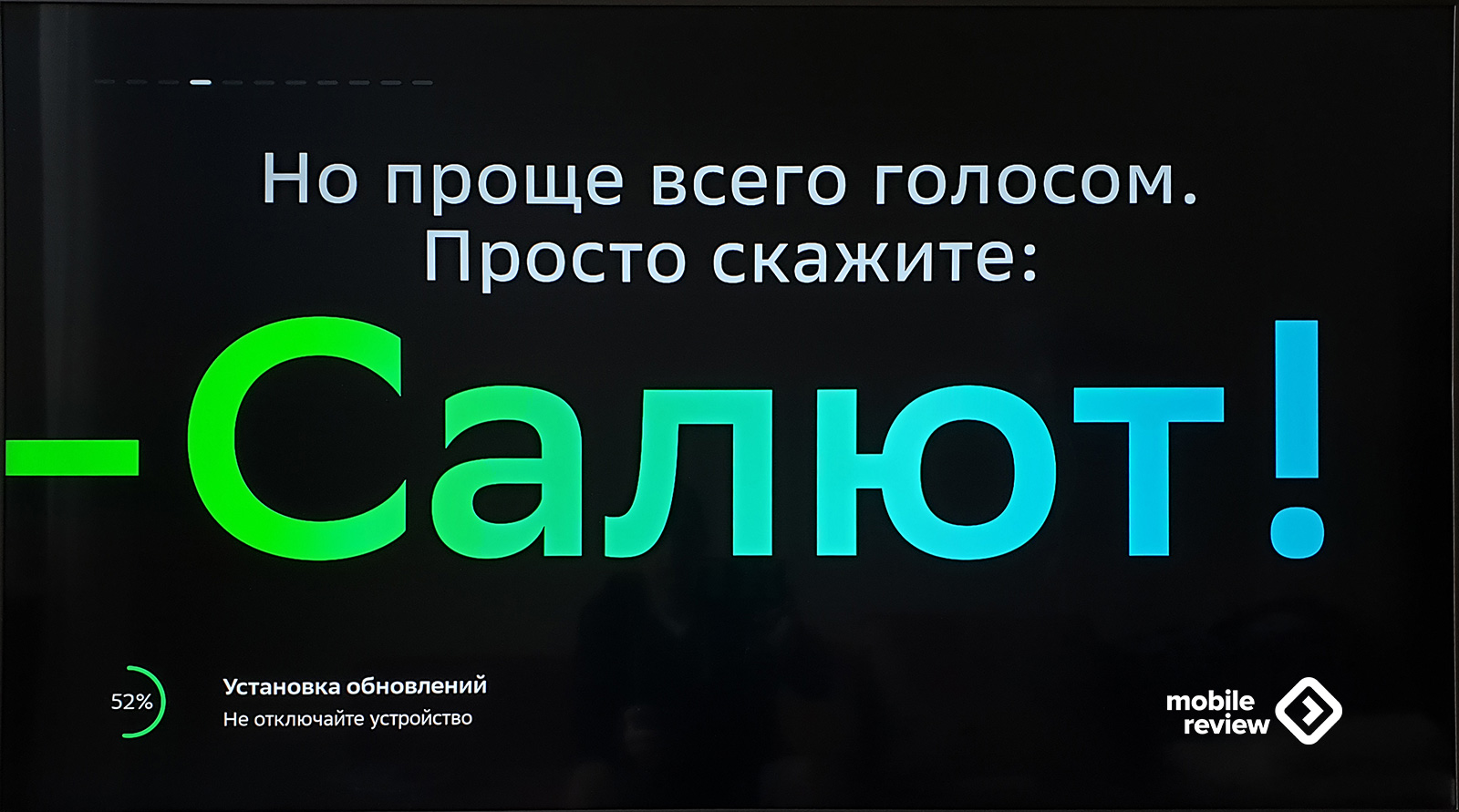 Packaging and appearance
A dense white box is hidden under a dust jacket.
Inside is the camera itself, and next to it is a fabric-braided HDMI cable, a remote control, a power adapter, and a case with sticks for playing on a smartphone screen.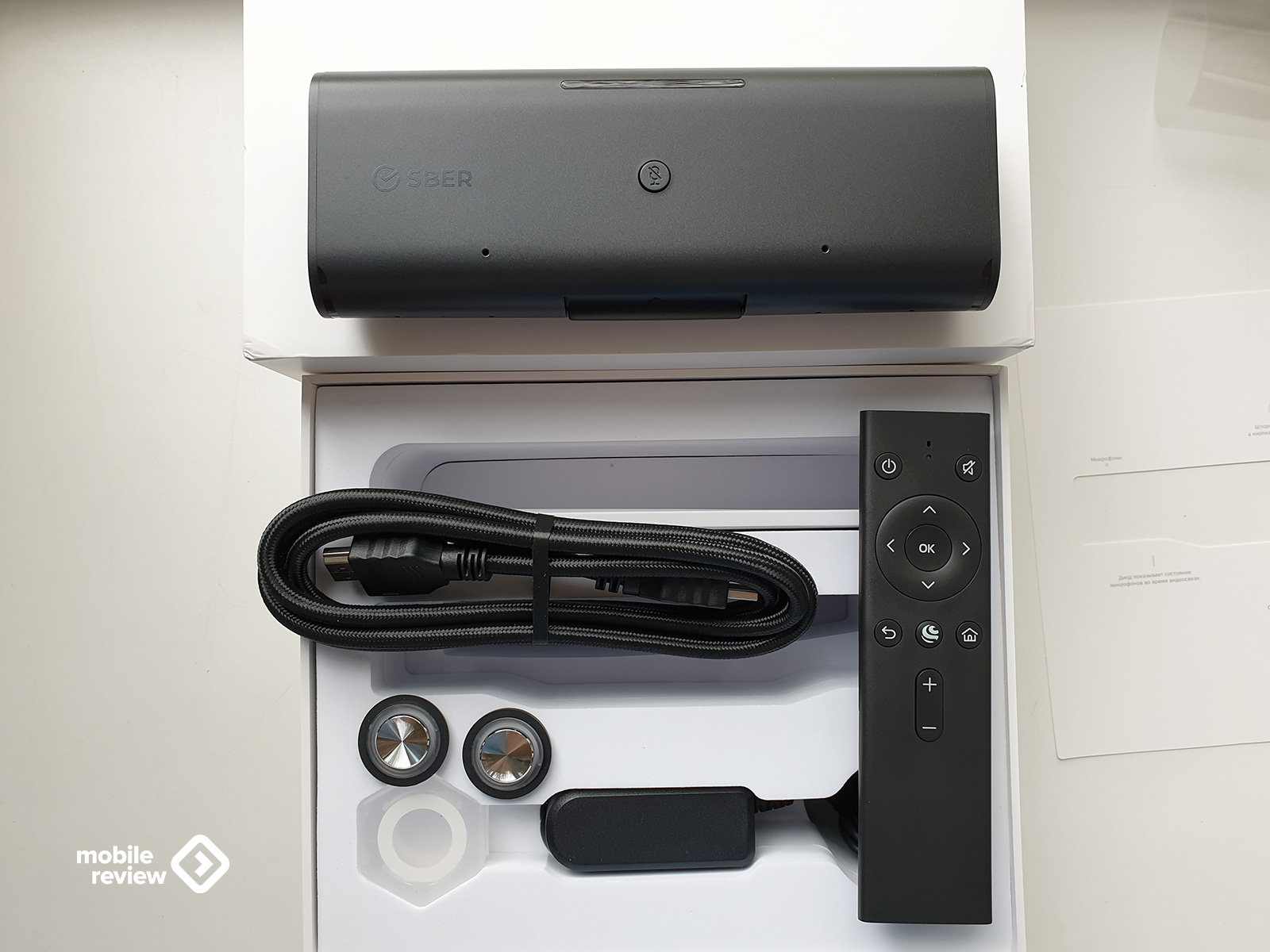 The camera is made of plastic. On the back there is an HDMI connector, USB Type-C and a charging port. The speakers are located on the sides.
The camera can either be placed on top of the TV, or placed down. In both cases, two legs are used, which can act as either stands, or clips to hook.
An 8MP camera with several microphones around it. The sound is captured perfectly when calling the voice assistant, or when using video communication. The camera eye can be closed with a shutter, and then the orange diode will light up. And on the cover there is a button for the physical mute of the microphones. When the voice assistant speaks or listens to you, the backlight shimmers on the sides (disabled in the settings)
The console has a typical appearance. Almost identical to what Xiaomi had on the first generation of smart TVs. Back buttons, call the voice assistant and go to the home screen. In an amicable way, it would be necessary to order branded buttons for YouTube and any streaming services. Another option is to add another row of three buttons. Make them multi-colored and allow the user to assign a quick start to them.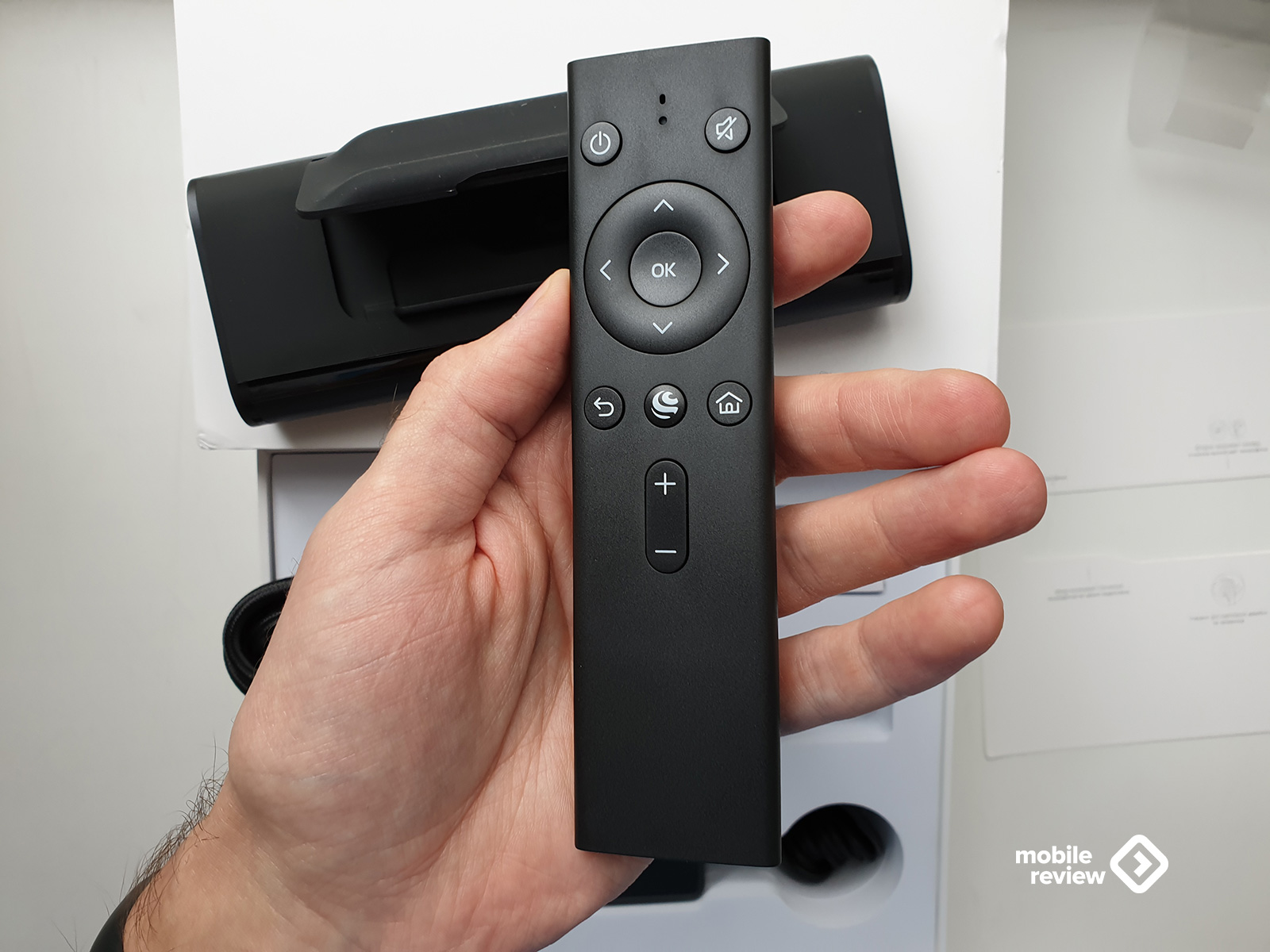 Since SBERBOX TOP is also designed for games, it comes with a set with two sticks for the screen of a mobile phone. I checked it works perfectly, it adheres perfectly to the surface of the phone, even if the smartphone is tilted.
Well, in conclusion, it should be said that "Sberbank" in general did everything Orthodox, since they also put stickers, among which, for some reason, an avocado was wedged in. Perhaps this is a hint of the Superchef function (step by step recipes).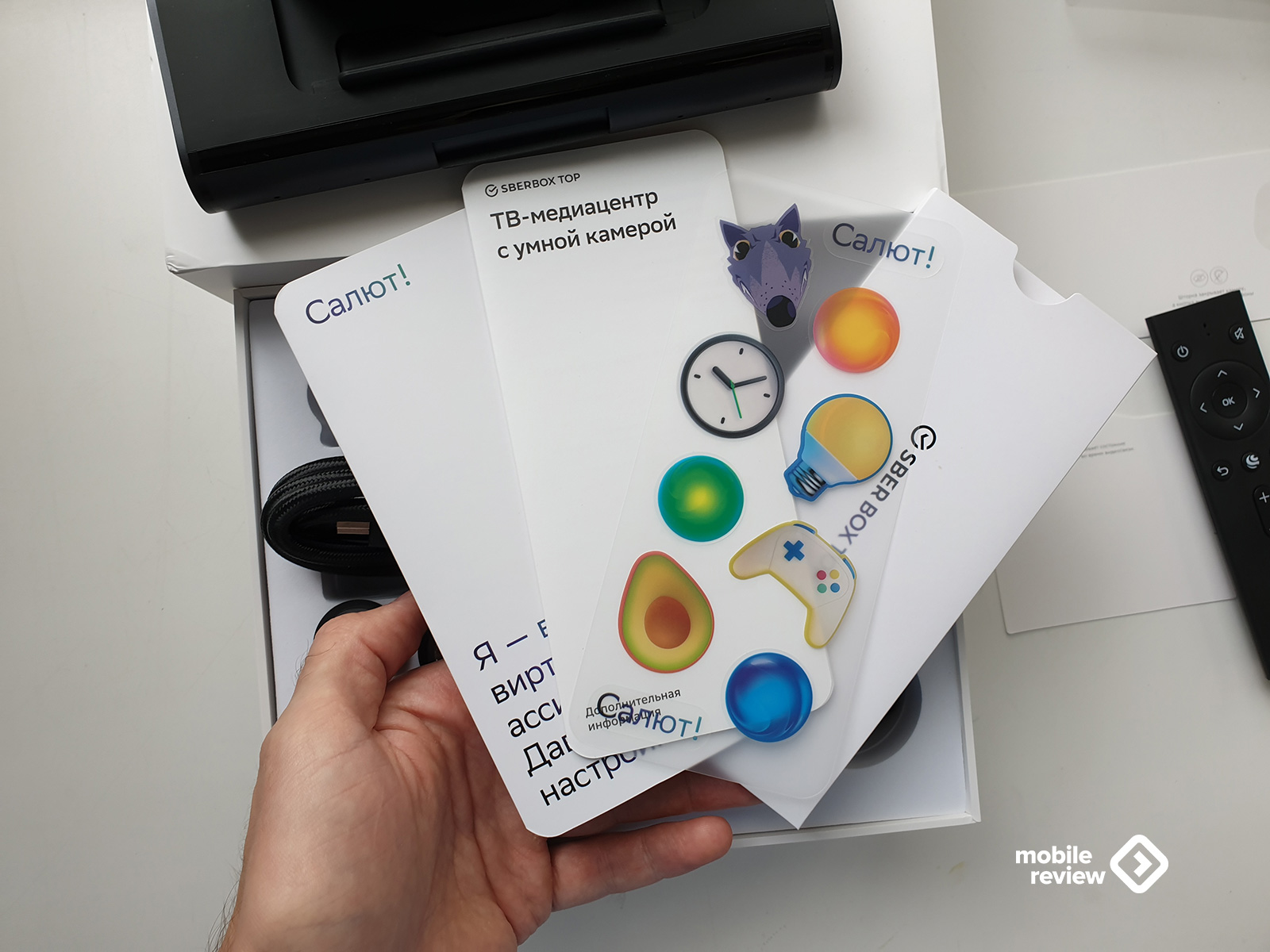 Turning on and setting up for the first time
Everything is pretty easy and simple. When I connected SBERTOP BOX, the TV itself switched to the channel with the camera. By the way, the picture is displayed in 4K. I am making this clarification, since some manufacturers prefer to display menu pictures in Full HD, and launch 4K when there is appropriate content. SBERTOP BOX displays all menus in 4K, thanks to which the interface looks very nice.
SBERTOP BOX will offer to download the Salyut application, you will also need Sber ID. It is necessary to select and indicate where the media center will be installed (on the TV or under).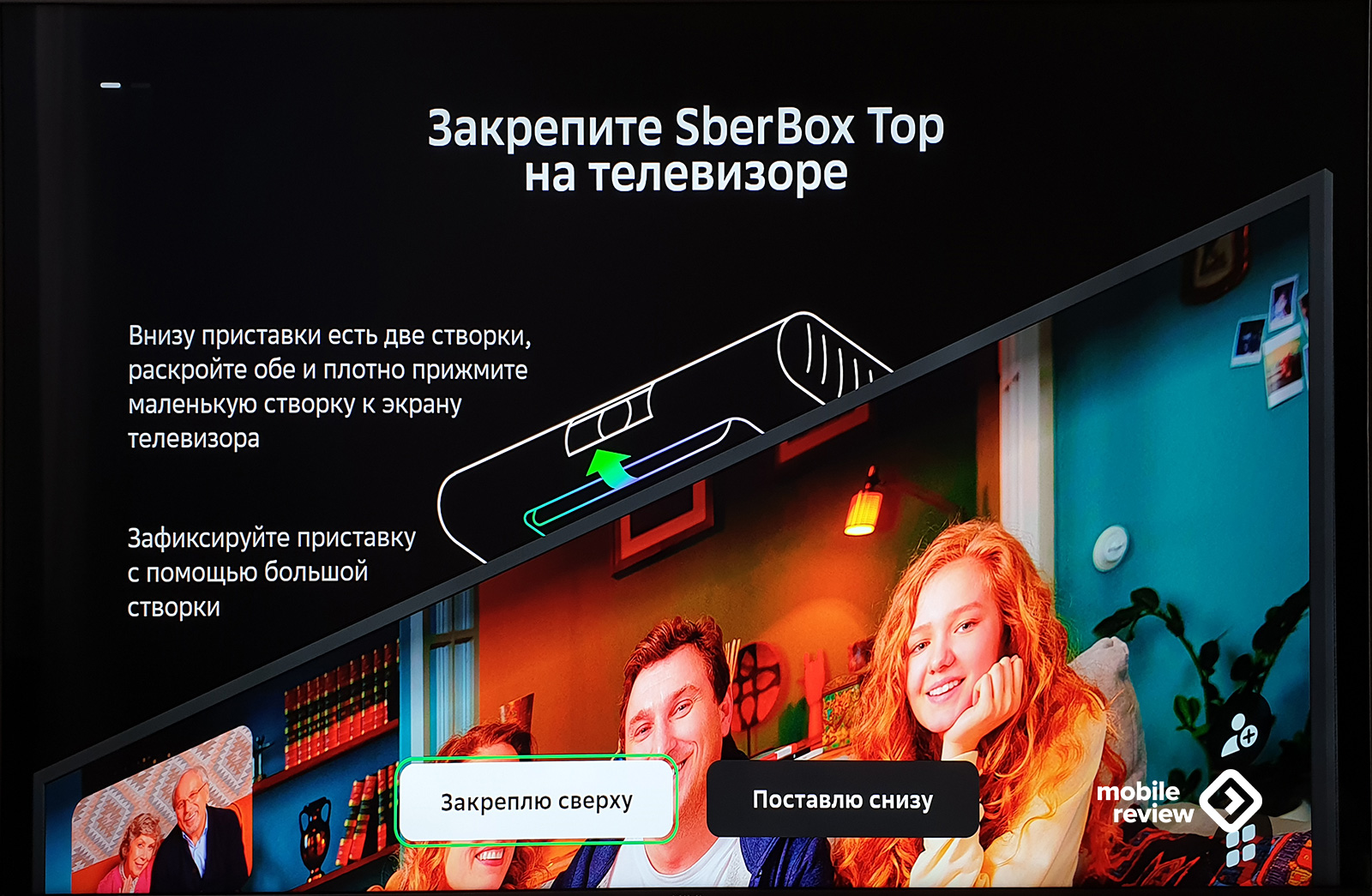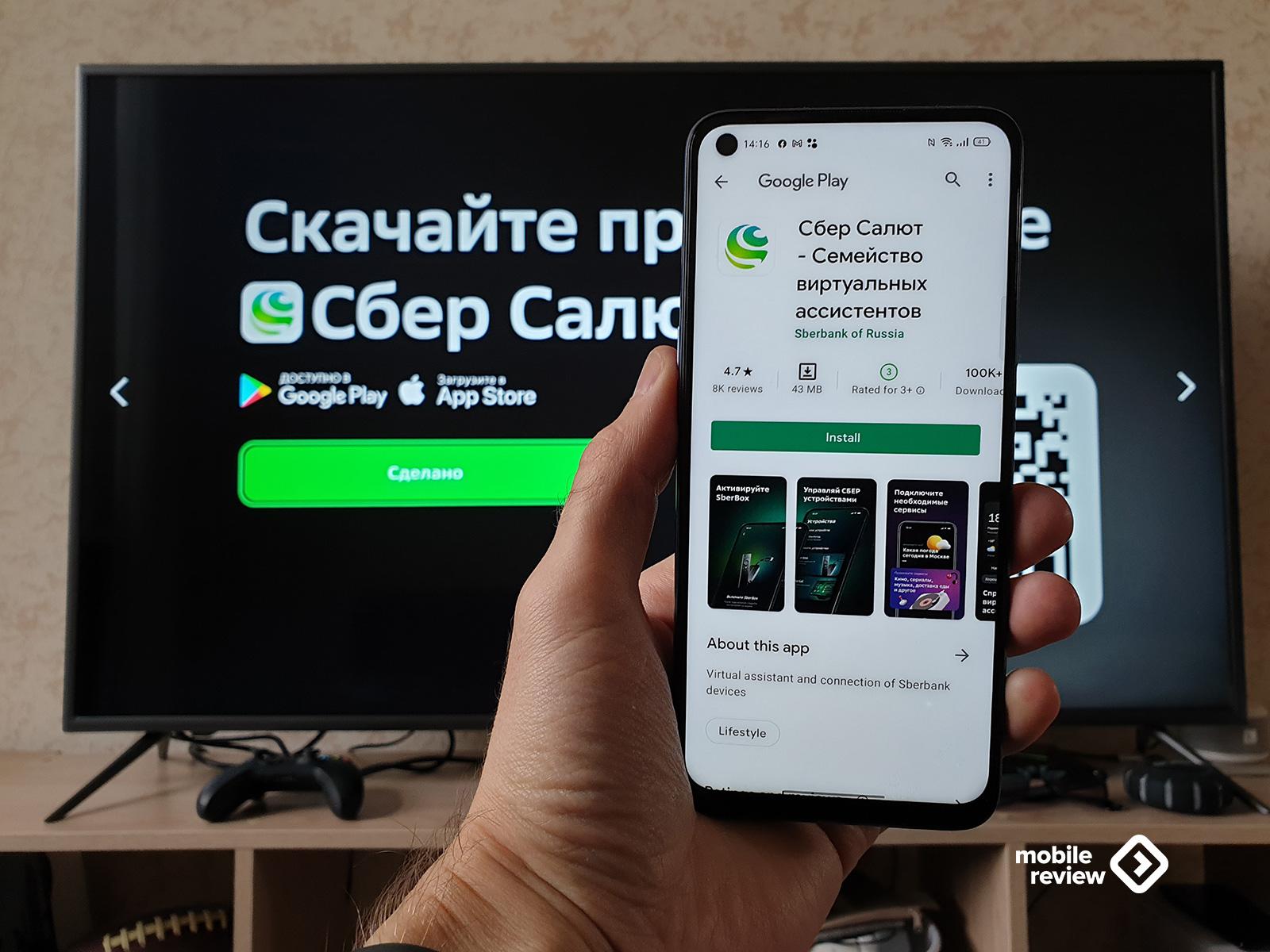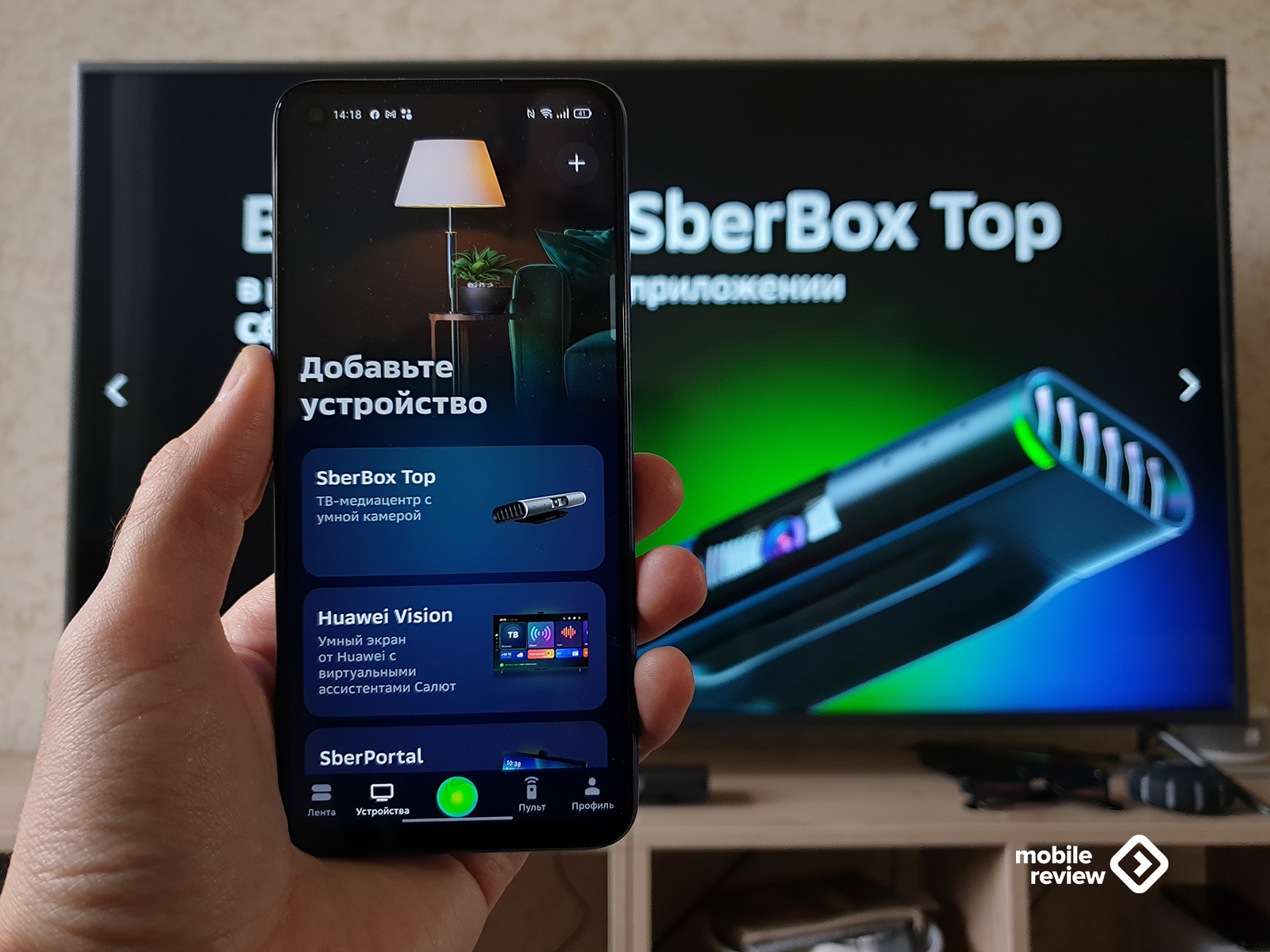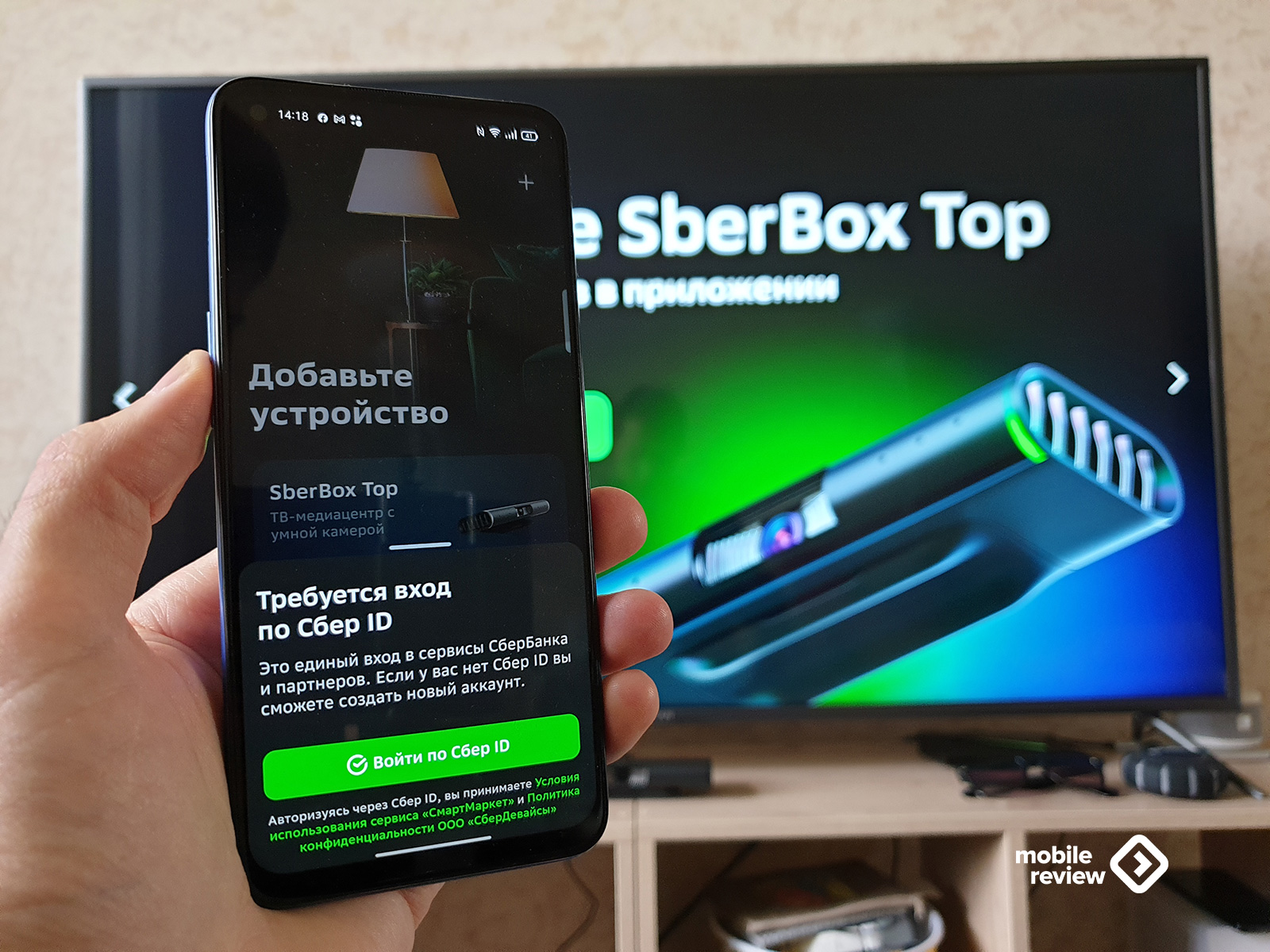 From the curious. The prefix will offer to record your voice and appearance. This can then be used to verify payment. The camera has a coverage of 120 degrees. Hooked the whole room. By the way, the camera is equipped with tracking focus. You can walk around the room, and the camera will try to keep you in the center of the frame. This is useful for video calling.
Initially, the home screen has an item about gesture control. The most useful gesture is to show your palm to pause the movie or music (or turn it back on). The camera holds the whole room in itself and recognizes gestures perfectly.
Main screen
The main screen combines not only applications, but also a set of news, interesting facts and statistics on traffic jams. News can be reproduced by an electric presenter who speaks in a voice without intonations and expressions. "Sberu" should look at "MegaFon", which recently introduced its voice assistant-answering machine. News can be voiced, you can also display the text, or you can just read it right away in silence.
In general, everything is conveniently located, since under the main screen there are "themed floors": smart home, music, all videos (TV + streaming), fast applications (which run without installation), streaming game service.
The interface works smartly and smoothly, there is no "cotton wool" feeling, as on low-power consoles. There is nothing remarkable in the settings. The most important point is to turn off the backlight. And finally, it is worth noting the screensavers. There are not very many of them, for some reason they are all on food topics (apparently, so that people can watch and order food through the "Samokat"), but the fruits shot in 4K look very good. I didn't manage to photograph them beautifully.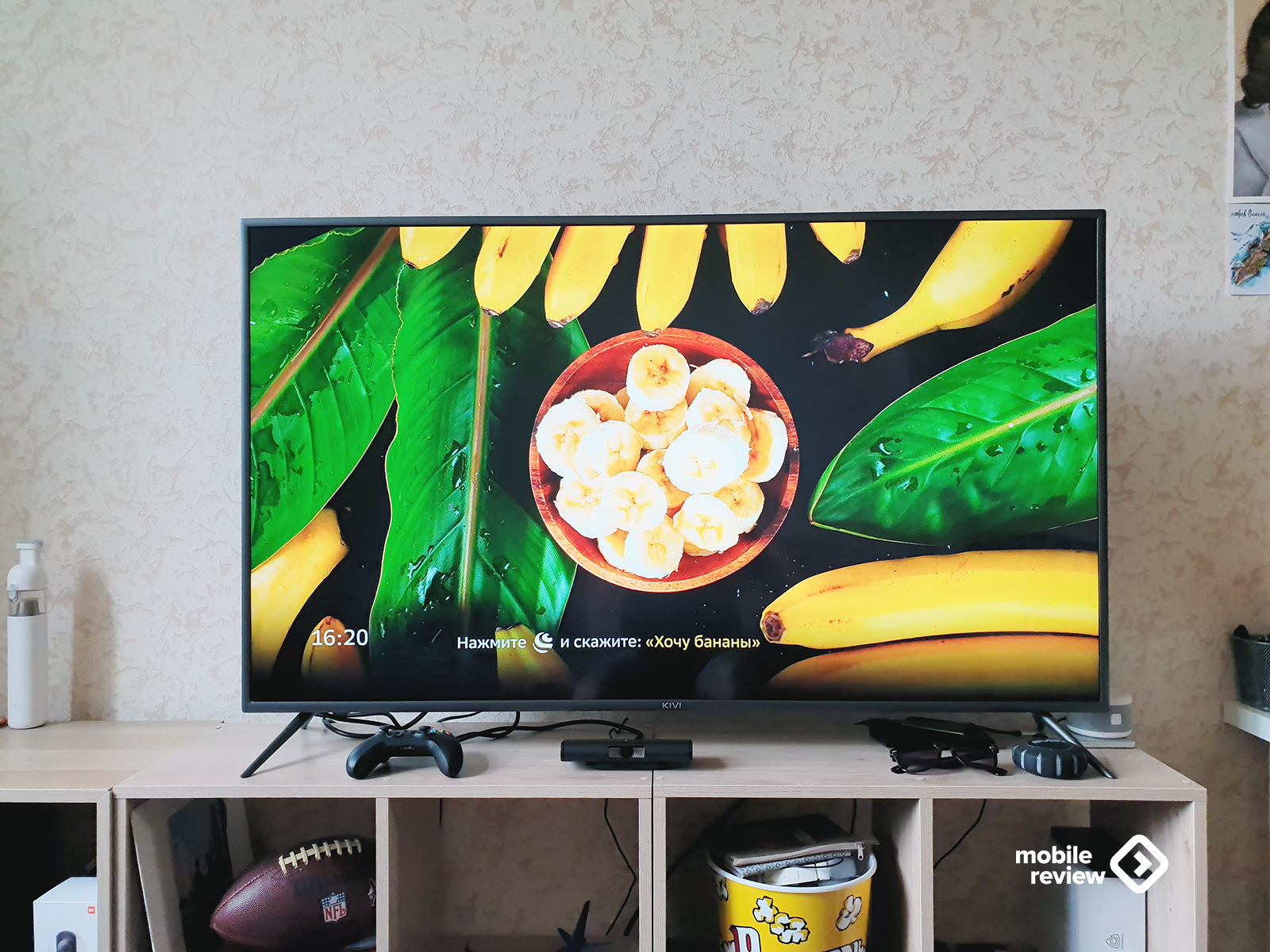 Feature impressions, pros and cons
I will share points by point:
The idea of ​​integrating Telegram is great. You indicate your account, your address book appears, and you can call. The camera transmits sound perfectly. There is also a Jazz platform for conferences up to 100 people. In fact, this is such a Sber-zoom. You can look at the service, as well as use it at:

jazz.sber.ru

… A handy thing in the sense that you can invite everyone to communicate (and you don't need to get hung up on Telegram or WhatsApp). One of the Jazz bonuses is video quality. It is significantly better than Telegram.
There is no Netflix app on SberTop Box and no Kinopoisk. But there is OKKO, which you can not talk about. Everyone is familiar with him.
However, "Sberbank" cleverly got out. They took the rather powerful Firefox browser. And the user can go to the web services of the streaming platforms. Everything works with Kinopoisk, but for some reason Netflix refused to stream and gave an error (although it ran the title page and all the trailers).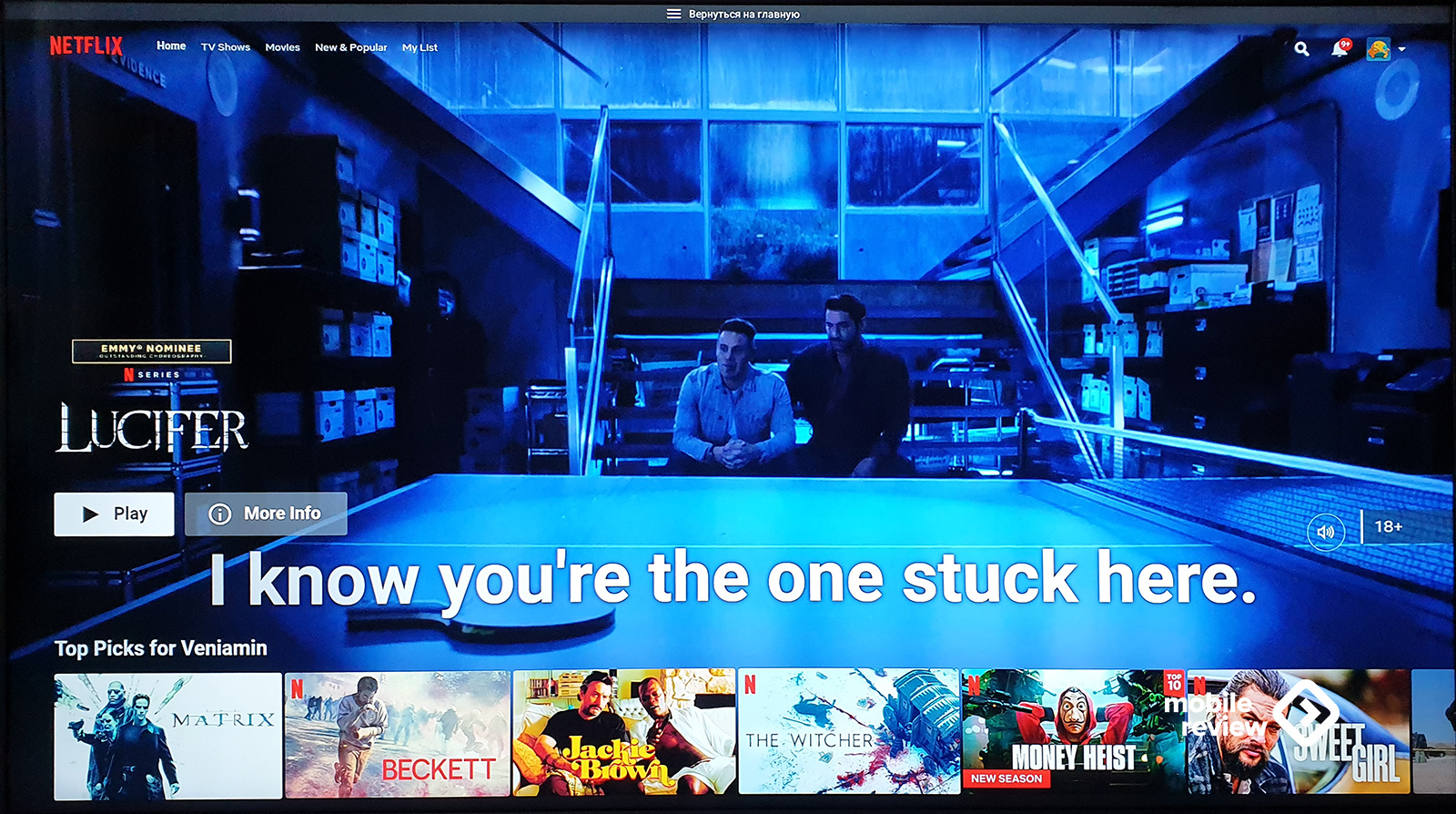 By the way, there are no complaints or questions about the browser. Opens any sites, does everything quickly and quickly.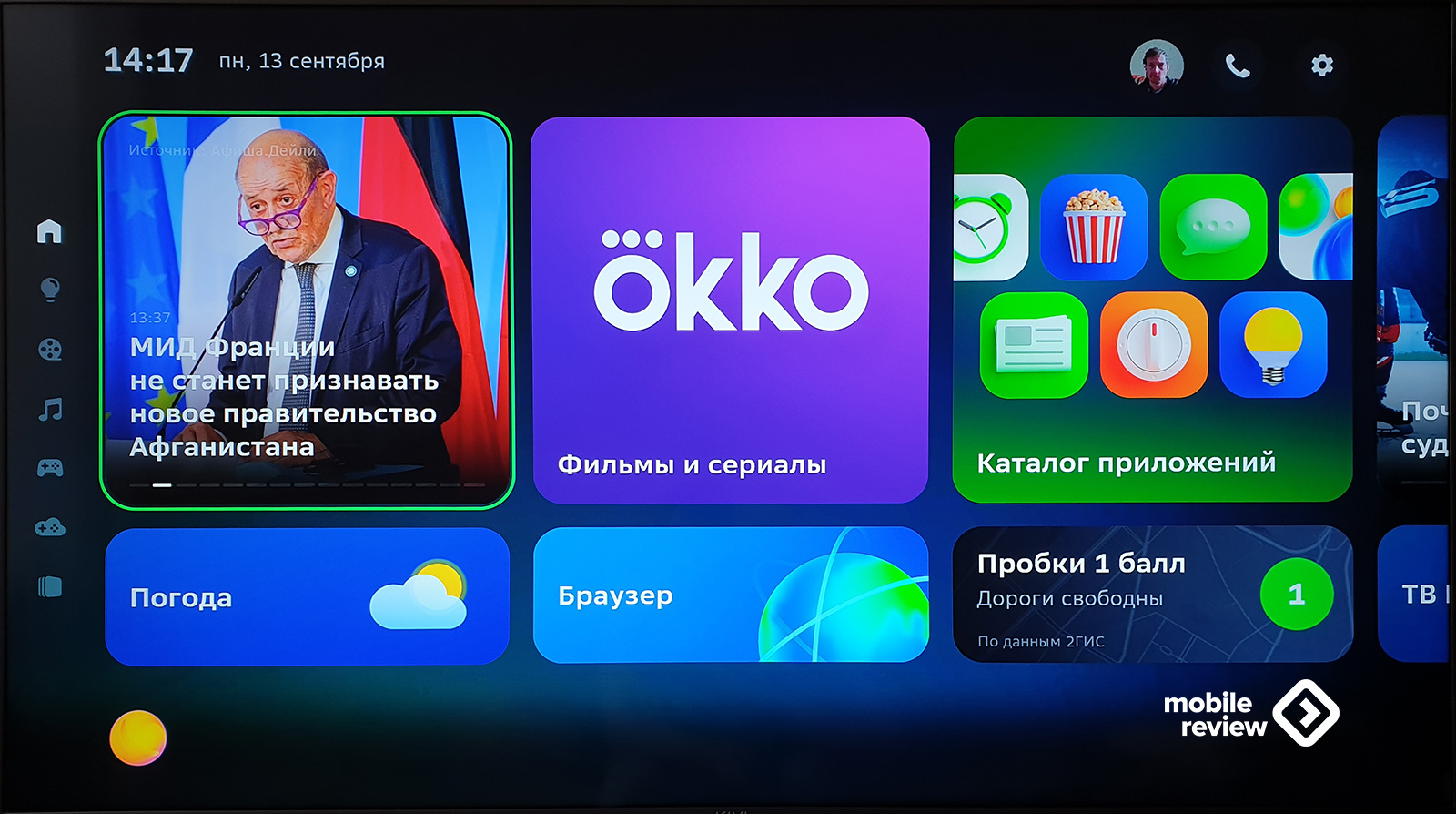 A nice moment – the main federal channels are free. But if you want something else, then you need a paid subscription to Okko.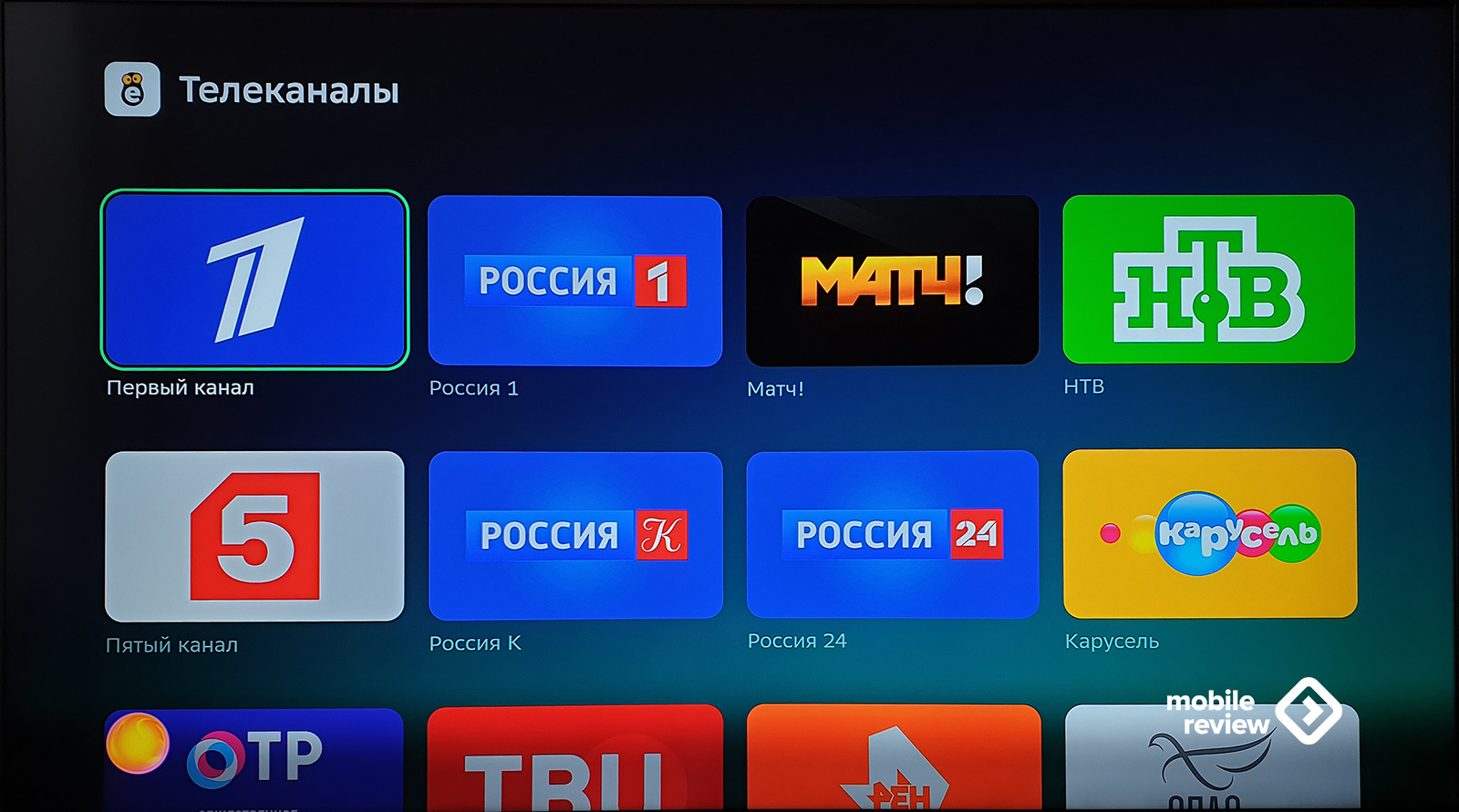 There are 3 light bulbs and 1 smart socket available in the "smart home" section. If you do not have, then you can immediately buy. Sberbank sent a couple of bulbs and a socket. There were no questions about the operation of the devices. A smart plug is a great fan solution, by the way. However, I cannot but express my protest. In the US, Amazon beat everyone in the smart home market by giving all manufacturers access to its platform from the start. For example, I have Xiaomi and Gauss smart lamps at home. It turns out that to control them I need "Marusya", and to turn off the outlet – "Salute". It is imperative to expand the platform and add other manufacturers.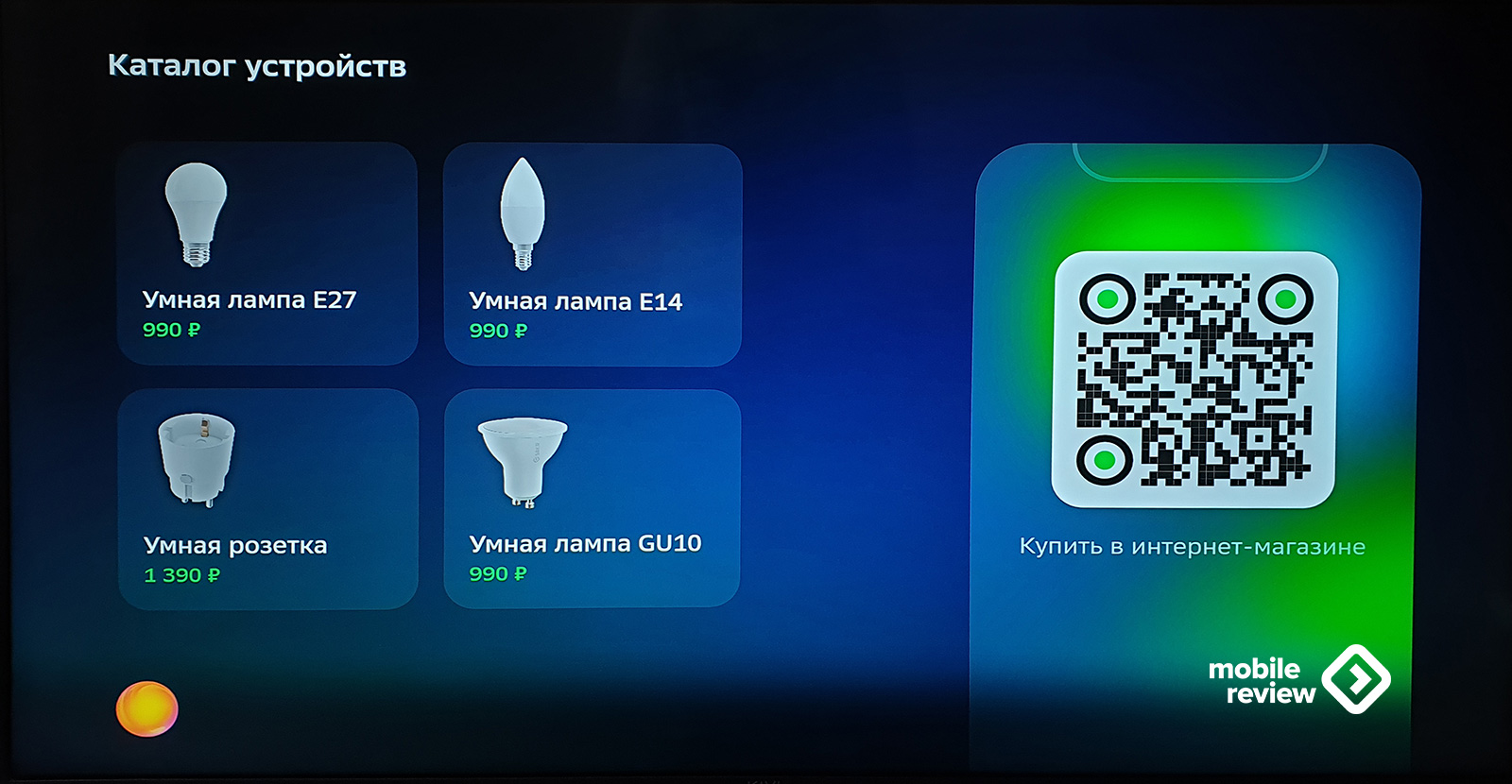 Heading "Curiosities". There are audio stories with augmented reality. So far there are only two of them. They promise to add two more soon. The idea itself is cool. You, as it were, participate in what is happening. You turn into a pig and escape from the wolf. I wanted to write that a couple of fairy tales are not enough. Then I remembered how children, if they like something, manage to "gore", replaying books a hundred times where animals make sounds. Maybe there is a calculation here. In any case, the idea is cool, you need to refine it. More fairy tales, more interactive.
Streaming service from Sberbank. I liked the rates. 1 ruble = 1 minute. Convenient to dose play time for kids.
There are all major gaming stores. Easily connects an Xbox gamepad, you can use your smartphone by overlaying the sticks on top. The only drawback is the lack of an Ethernet port. "Sberbank" offers to use Wi-Fi 5. I tried it, I have a speed of 300 Mbps, a router behind the wall in the kitchen. If you do not find fault, then in general approx. The set-top box has a Type-C connector. Could have allowed it to be used for the internet.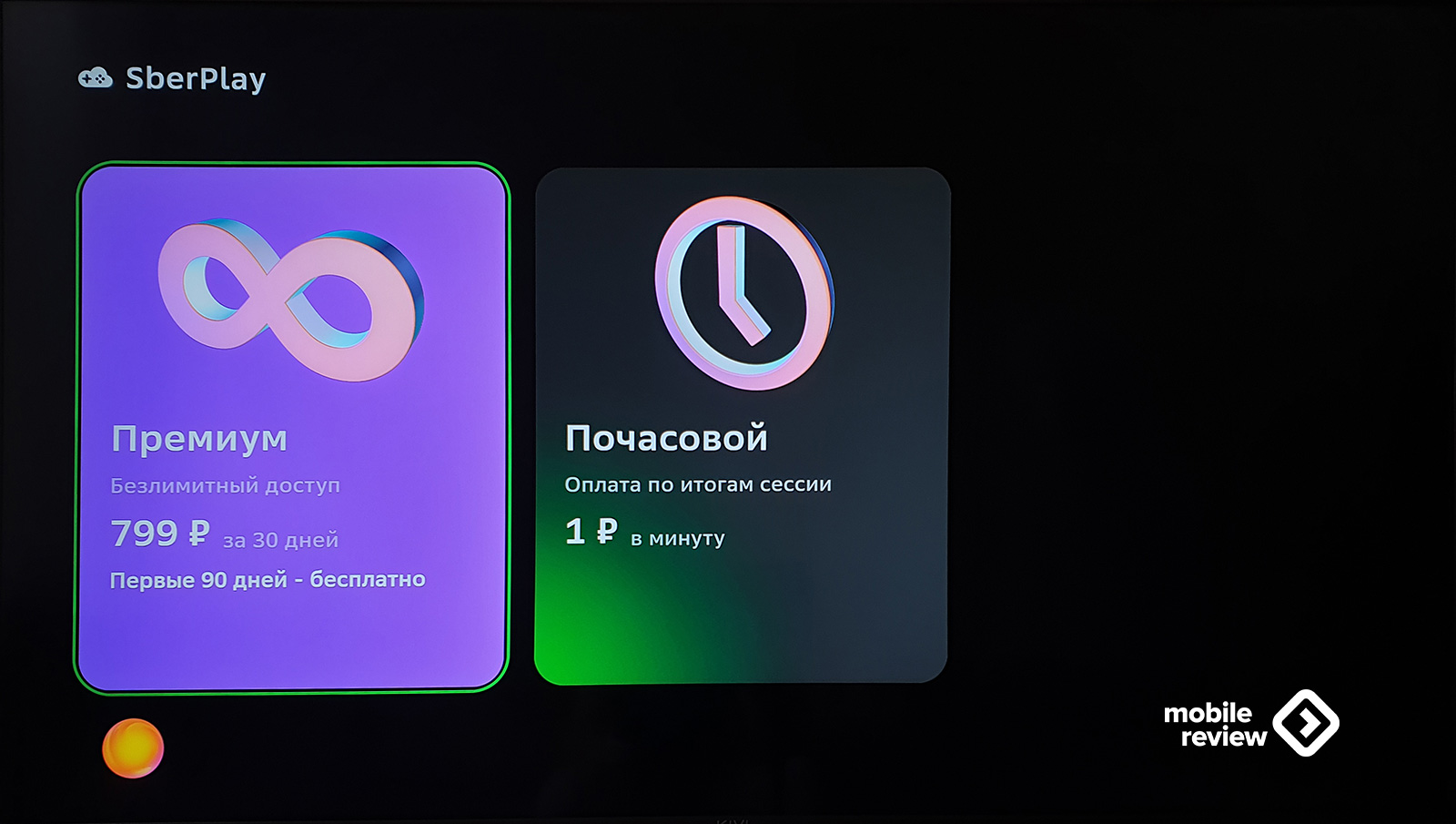 The set-top box has a "Duet" function, which should help to book tables in restaurants and sign up for beauty salons. I liked how it works. I asked Salute to sign me up for a haircut. He specified the address, suggested the master, and let him choose the time (if not to name a specific salon, then Salut will simply show the hairdressers nearby and offer to choose from them). Everything can be done with a voice. I also tried to book a table in a cafe in the hope that Salut would call there and I would listen. But this time he did everything in the same way as a hairdressing salon. I guessed after the fact. The cafe and hairdresser had online booking services. Salute took advantage of them. Apparently, if this option was not there, he would have called. I will try and complete the review.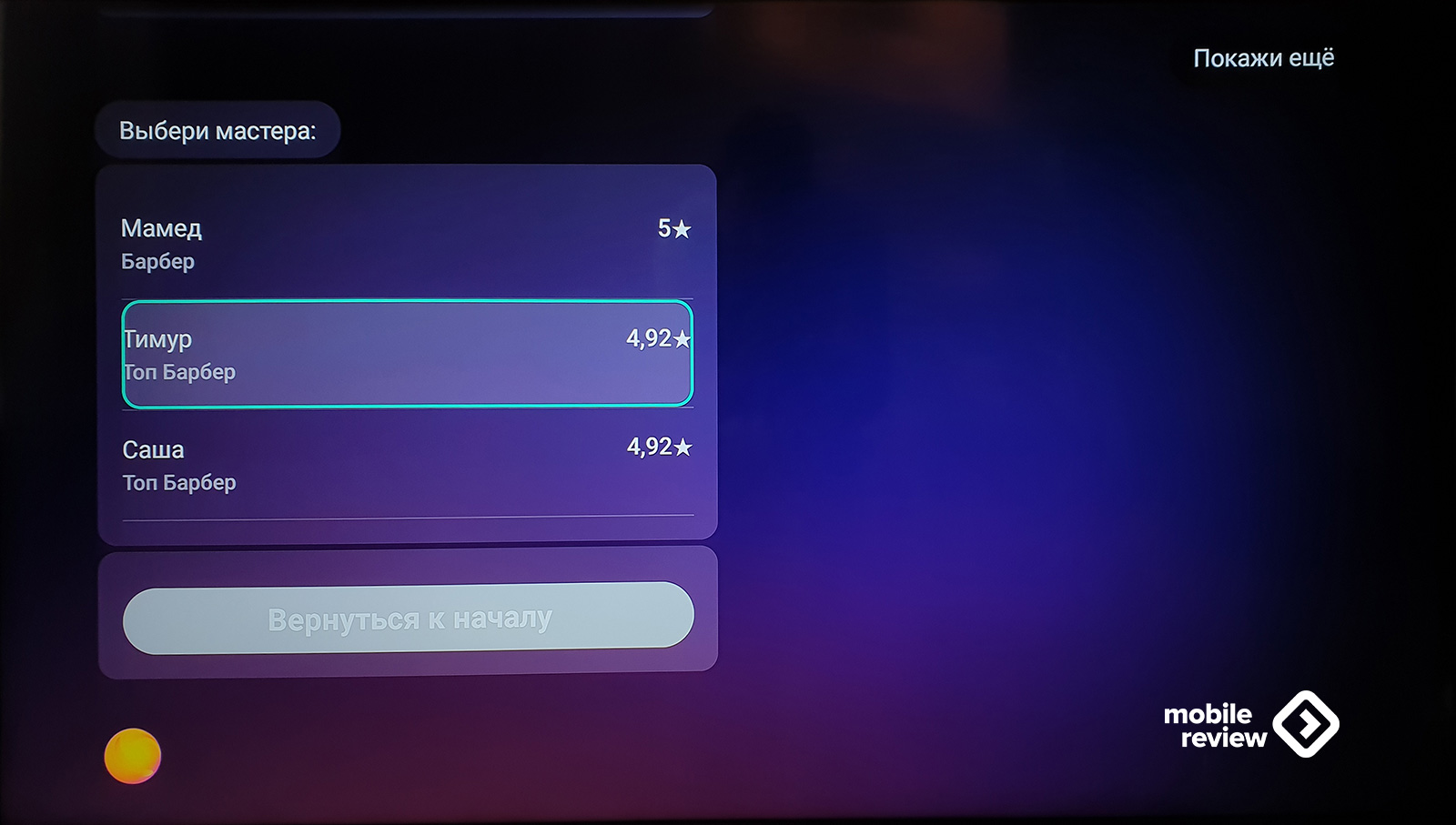 Finally, one of the pleasant possibilities is working with a media set-top box when the TV is turned off. Everything is like with a regular smart speaker: news, ask the radio to turn on, etc. The built-in speakers are comparable in sound quality to those of the Yandex.Mini type.
Conclusion
Perhaps, in SBERTOP BOX, I can single out only one drawback – this is the ability to connect smart bulbs and other infrastructure only from Sberbank. It is definitely worth joining as many major suppliers as possible. Well, personally, I missed Netflix. Although given that Netlfix's share in Russia is about 7%, this is not a problem for the majority.
I assume that the issue with streaming service applications will be resolved soon. After all, StarOS, on which the console is running, is made on the basis of AOSP (Android Open Source Project). If "Sberbank" alone does not cope, then you can always ask Huawei for advice on how to download and install Netflix.
Most of all, when testing the set-top box, I liked that all the functions do not just work as stated, but it is clear that a lot of effort and money was invested in their development. There are some rough edges, but the product is certainly impressive and worthy.
---
Source: Mobile-review.com — Все о мобильной технике и технологиях by mobile-review.com.

*The article has been translated based on the content of Mobile-review.com — Все о мобильной технике и технологиях by mobile-review.com. If there is any problem regarding the content, copyright, please leave a report below the article. We will try to process as quickly as possible to protect the rights of the author. Thank you very much!

*We just want readers to access information more quickly and easily with other multilingual content, instead of information only available in a certain language.

*We always respect the copyright of the content of the author and always include the original link of the source article.If the author disagrees, just leave the report below the article, the article will be edited or deleted at the request of the author. Thanks very much! Best regards!
---