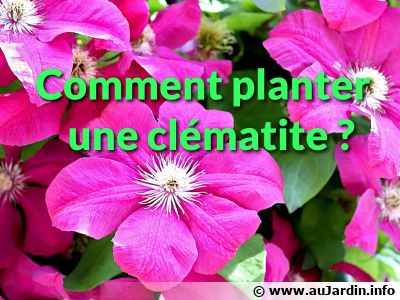 A clematis is a climbing plant that quickly grows bountiful when planted with care; the main thing being to make it take root as quickly as possible, to help it move from production soil to soil in your garden.
Clematis offer a great diversity of magnificent climbing plants. When properly resumed, they grow vigorously and bring great satisfaction to the gardener when their stems cling to the medium you have chosen and then bloom. Large-flowered clematis, with small flowers, but more numerous, in bells sometimes uplifting or scented… the choice is vast, including a range of colors. Likewise, there is a clematis which blooms every time of the year.
Apart from a few exceptions, in particular for botanical species with special requirements (there are also in the genre Clematis small, non-climbing rock garden plants) all clematis are transplanted in much the same way: everything must be done so that a powerful root system develops quickly, because once well rooted, clematis is almost never again sick and get much better drought resistant.
What time to choose to plant a clematis?
The best time to transplant clematis is autumn and the early spring, while avoiding freezing days. These are times when clematis particularly develop their roots.
Plant in autumn allows the clematis to take advantage of the regular rains of the season, it may have taken root so well when summer arrives that it hardly suffers from the lack of water.
Planting it in the spring allows it to take advantage of the spring rains.
Transplanting a clematis in late spring or summer is possible, but requires very frequent watering (twice a week) so that it does not suffer from thirst; recovery is more complicated.
What location for a clematis?
Head in the sun and feet in the shade : the clematis appreciates a exposition sunny to partial shade. But she prefers that the base of her stems and the soil around the roots not overheat. To do this, when the heat of spring arrives, the foot can be shaded by a tile, a slate or better yet, a plant. lively planted judiciously.
Clematis transplantation
If possible, the motte clematis will be planted almost horizontally: the advantage is to promote vertical rooting directly in your land, especially since the base of buried stems easily produces new roots.
The hole should be quite large, 2-3 times wider and deeper than the pot. It will be filled with a soft and beautifully textured mixture, which will be of an intermediate nature between the potting soil often excessively peaty and soil in your garden, whatever it is.
Planting mix recipe: half soil + half soil from your garden.
If the latter is sticky, add a few handfuls of sand (unsalted) to drainage.
Prepare the root ball: the soil from the root ball is partially removed with a fork, some beautiful roots are unrolled, without too much emphasis. If there is a bun of roots, try to untangle part of it, even if it breaks the roots.
The root ball is buried in the prepared mixture, not forgetting add a little well decomposed manure to the bottom (it is no longer fragrant). It is sold in garden centers sometimes even in dry pellets, very practical.
Adding this manure will give your clematis a boost when its roots sink in. It will favorably replace any fertilizer by allowing the development of bacteria and symbiotic fungi around the roots, which the fertilizer prevents. These microorganisms will strengthen your clematis' defenses against drought and disease (see article on la rhizosphère).
The earth is compacted by hand and then by watering.
Attach your clematis to the support
Climbing clematis has need support whether it is a fence, a trellis, a shrub or a metal part installed especially for her. It should be suitable for the size of your adult clematis. Some clematis rise only 1.5 to 3 m, others, like the Clematis montana, are able to rise or spread over 5/6 m.
At the plantation, its stems will be tied to their supportbecause they will only be able to attach on their own when they form their new stems. It is in fact the petioles of the leaves that wrap themselves firmly around the support.
Tying the stems high also keeps buds away from the ground, and therefore also slugs and snails.
The fight against slugs
Slugs and snails love the young shoots of clematis in spring! This can become a real problem when they have just been planted.
Here are some natural solutions to fight:
tie the stems so that the buds are no longer flush with the ground.

surround the young clematis foot with sand or ash, which gastropods do not appreciate.

wait until the end of spring before pailler. Mulching, very interesting to keep the soil cooler, is nevertheless quite conducive to the slugs that live there.

put a slug trap and come "pick" them every morning (you do what you want afterwards!). The trap is simply a tile or slate laid on the ground. Slugs like to hide under it in the early morning hours.

very organic: sow seeds near the seeds of species whose slugs are absolutely crazy, like rapeseed: slugs cannot resist the smell of their tender seedlings! They will quickly get used to this diet rather than to anything else: it is about educating their slugs, in a way.
Watering
Before planting, the root ball is moistened with drenching.
After planting, even if it is raining, immediate watering is important to drive out air pockets in the soil.
Later, during spring and summer, the clematis will be watered this first year when it is dry: about once a week. A simple way to think about it is to systematically recycle the water used for cleaning vegetables or salad in the kitchen: it then becomes automatic.
In the following years, this clematis should be able to do without watering.
Some varieties of clematis known for their robustness
Here is a (non-exhaustive) list of climbing clematis which are very easy to grow, particularly satisfactory and very resistant to diseases: clematis for beginners or for carefree gardeners.
With small flowers
Alpine clematis 'Albina Plena' with double white flowers.
Alpine clematis 'Pamela Jackman' with dark blue to pale purple flowers.
Clematis montana 'Mayleen' a large clematis with a multitude of pink flowers.
Clematis montana where. Grandiflora, with white flowers.
Clematis viticella 'Madame Julia Correvon': resistant to everything! Flowers 7-13 cm, red.
Clematis viticella 'Etoile Violette', dark purple.
Clematis viticella 'Purpurea Plena Elegans', the vigorous viticella with very double and pink flowers of 3-9 cm.
Clematis tangutica 'Golden Tiara', with yellow bells.
Has fairly large, uplifting flowers
Clematis 'Victoria ', a cultivar very vigorous purplish.
Clematis viticella 'Blue Angel', fairly large, pale blue repeat flowers.
Has very large flowers
Clematis 'Piilu', a vigorous, compact plant (1.50 m) with large pink two-tone flowers.
Clematis 'Cholmondeley', with wonderful lavender flowers, 15 to 23 cm wide.
Clematis 'Mrs George Jackman 'with large white flowers.
Clematis 'The President', bleu intense.
Clematis 'Westerplatte ', a small-sized clematis with large, bright red flowers.
---
Source: Au Jardin, conseils en jardinage by www.aujardin.info.
*The article has been translated based on the content of Au Jardin, conseils en jardinage by www.aujardin.info. If there is any problem regarding the content, copyright, please leave a report below the article. We will try to process as quickly as possible to protect the rights of the author. Thank you very much!
*We just want readers to access information more quickly and easily with other multilingual content, instead of information only available in a certain language.
*We always respect the copyright of the content of the author and always include the original link of the source article.If the author disagrees, just leave the report below the article, the article will be edited or deleted at the request of the author. Thanks very much! Best regards!
---