The Hindu monk Gaur Gopal Das he is one of the most beloved monks in the world. Through his social networks and speeches he has shared his wisdom with millions of people worldwide.
His life lessons and the essence of his experiences are an inspiration to all of us who wish to align our lives with our dreams.
His international bestseller was recently released in Greek The Wonderful Secrets of Life. In this unforgettable journey of self-awareness, Gaur Gopal Das shares his valuable insights, helping us face life's challenges.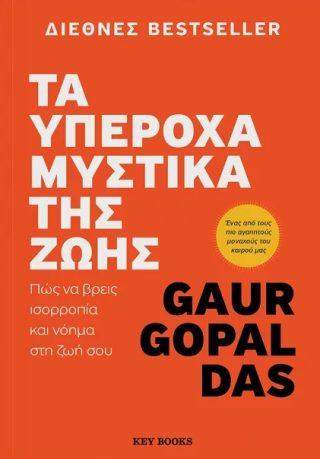 In the following excerpt, the author relates a fascinating experiment that took place a few years ago in Washington, D.C., which demonstrates the importance of pause and silence in our daily lives.
---
Press pause
You need to stop and reflect on your life regularly. Pausing to practice the principle of gratitude is the way to make this principle a constant in your life.
Hans Christian Andersen said: "Where words are not enough, music speaks." But that's only true if you make time to listen. More than ten years ago, a short, humble article was published in one of America's largest newspapers, the Washington Post. This newspaper is known for covering the country's political scene, but this article was different. It was about a social experiment that illuminated some harsh truths about the society we live in.
Most of the mid-level bureaucrats get off at L'Afant Plaza Station, which is in the heart of Washington. On Friday January 12, 2007, as people sipped their coffee and munched on donuts hurriedly heading to work, a man wearing jeans and a T-shirt stood inconspicuously by a trash can inside the station playing the violin. . In a city like Mumbai, playing music on the street is not considered very dignified. But in the United States things are different. Street musicians do not belong to the aristocracy, but they are not considered penniless either.
They are considered to be just street artists, who sometimes attract the attention of several people, as well as the attention of the media. If you see someone playing music in a public place, do you stop to listen to them? Do you leave him some change as a token of kindness? Or do you rush past him, full of regrets for your lack of time? That winter morning the Washington Post conducted an experiment to see if people would stop to hear one of the world's leading classical musicians play the most sophisticated music ever written on one of the most expensive violins ever made. were ever made. Would bystanders accept a front-row ticket to hear this musical genius, or would they throw the opportunity in the trash by rushing to Capitol Hill?
The artist was the internationally renowned violinist Joshua Bell. The then thirty-nine-year-old Bell had traded the concert hall for the subway, and the audience that adored him for one that might have ignored him. A few days before the experiment, Bell had packed Boston's imposing Symphony Hall, where the average ticket costs $100. It was a test of the role of the larger context, the ability to perceive and the priorities we set. Would people pause to appreciate the beauty before their eyes?
Bell was a child prodigy. His parents, who were both psychologists, decided to take him to learn music formally when they noticed that their four-year-old son was playing music with some rubber bands – stretching them, opening and closing them in cabinets to achieve a different tone.
His fame grew when he was a teenager. In an interview in a magazine they wrote about him: "What he does is like telling people why life is worth living." But would the man at the subway station tell him the same thing? Would they recognize this genius in disguise playing masterpieces masterfully on a $3.5 million violin?
So what do you think? A free concert from one of the world's top musicians! One would expect a whole crowd of passers-by to gather around him.
And the opposite happened.
Three minutes after he started playing, a middle-aged woman glanced at Joshua for a split second, but continued on her way. Thirty seconds later, a woman dropped a dollar and hurried on her way too. Six minutes later, a single one leaned against the wall and sat down to listen. The statistics were disappointing. In the forty-five minutes that Joshua Bell played music, seven people stopped and stood for at least a minute, twenty-seven people dropped money that added up to an astronomical $32. And 1,070 people didn't even notice the miracle standing just a few meters away from them.
The Washington Post secretly recorded Bell's entire performance, creating a time-lapse video that showed what happened, or, in this case, what didn't happen.
"Even at this fast pace, however, the violinist's movements retain their flow and grace. The artist seems so far from his audience – invisible, silent, eerie – that you find yourself thinking that he is not actually there. It's a ghost.
And only then do you understand: he is the real one. And the passers-by are the ghosts," the article noted.
Can we call the thousands of people who ignored Bell uncultured? Not necessarily.
The German philosopher Immanuel Kant said that the wider context of a situation also plays a role. "A man's ability to appreciate beauty is related to his ability to make moral judgments," he said. But for that to happen, "viewing conditions must be ideal." Art in a gallery and art in a coffee shop are treated differently. In the coffee shop the art may be more expensive and of greater value, but there is no reason to notice it as everyone is enjoying various types of moccasins.
In most galleries the "ideal" conditions have been created to admire the beauty. The lighting falls on the right spot, there is enough space between the artwork and the viewer, there is a description of the work, etc. In a strange way, many find ordinary objects that they had lost in the gallery being photographed by others, thinking that they are exhibits! The larger context affects our perspective. Therefore, we cannot judge people's ability to appreciate beauty because Bell does
he looked like an indifferent violinist. However, what does this say about our ability to appreciate life?
I have come to realize that as a people we are getting busier and busier over time. We tend to block out parts of our lives that are not directly related to hard work and accumulating wealth. The structure of the modern world is such that we have less time to pause and appreciate beauty. Minding their own business, stressed out, staring straight ahead at Joshua Bell, people have the ability to understand beauty, but it seems irrelevant to their lives, so they choose not to.
If we cannot take a moment to listen to this beautiful music played by one of the greatest musicians on the planet, if the flow of modern life overwhelms us so much that we cannot hear and see this spectacle, what else are we missing?
---
Source: Εναλλακτική Δράση by enallaktikidrasi.com.

*The article has been translated based on the content of Εναλλακτική Δράση by enallaktikidrasi.com. If there is any problem regarding the content, copyright, please leave a report below the article. We will try to process as quickly as possible to protect the rights of the author. Thank you very much!

*We just want readers to access information more quickly and easily with other multilingual content, instead of information only available in a certain language.

*We always respect the copyright of the content of the author and always include the original link of the source article.If the author disagrees, just leave the report below the article, the article will be edited or deleted at the request of the author. Thanks very much! Best regards!
---