As far as single-track vehicles are concerned, the Italian studio Milestone cannot be blamed much. His simulation series MotoGP, MXGP and Ride have been in excellent shape in recent years and it is a great pleasure to ride their road and off-road bikes.
But where Milestone doesn't feel strong in cramps, there are two-track vehicles. The Italians last came three years ago with a rather useless Gravel, so it's no wonder that no one expected much from their adaptation of Hot Wheels Unleashed, moreover pure arcade. The game could only surprise. And she did it with confidence.
Nostalgia? She will be happy, but she is not needed
In the case of such a game, the logical question is how much it targets nostalgics, ie players who spent their childhood with English people, small cars driving on bright orange slides full of exciting loops. And it is true that with a certain knowledge of this ancient, but still surviving phenomenon, you will smile in a different way when you look at the crooked tracks, but otherwise you do not have to worry about losing anything. Hot Wheels Unleashed is an excellent racing arcade, regardless of whether you spent your childhood on the carpet with toy cars or with sticks outside playing soldiers.
Hot Wheels Unleashed is at its core an incredibly simple game. You hold full throttle almost constantly, you often add a boost to it, and the only thing you'll get used to for a while, but really only for a while, is turning the bends through the door first.
Thanks to its simplicity, but also perfect accuracy, the riding model is simply excellent and it is an incredible joy to throw one perfect drift after another. In addition, you can quickly charge the nitrogen tank by drifting, so after every turn, all the power that the car hides under its pidi hood awaits you is released.
With a hurricane for the race. So mostly
The whole game is marked by absurd speed, when you have no time to perceive anything but a narrow orange line in front of you. Here and there, you will be slowed down by some "cleverly" built barrier or you will bounce off the track, but at lightning speed you are back on all fours and you are already running for lost positions. Fortunately, the features of the DualSense driver, which the game supports, are just a tiny icing on the petrol cake.
A cake that can sometimes explode in unpleasant frustration. The authors came to the conclusion that "ordinary" riding on flat tracks could be revived by some adrenaline moving elements. So they've added a spider that will stop you on the spot with its net, and a huge snake's mouth that snaps just in front of you and pulls you out of the fast-pounding ride.
No, they're not a bit of a fun addition. You have practically no control over them: Sometimes you jump through your mouth and avoid the cobweb, other times this or that traps you and deprives you of first place. Quite by accident. In this frantic game, such stopwatches have nothing to do at all, and every track with them is pure suffering.
In the same way, you will be uncomfortable with life and moving switches, which will change just in front of you and you will have no choice but to restart on the track and regain inertia. But when these atrocities are not present, riding is one great joy.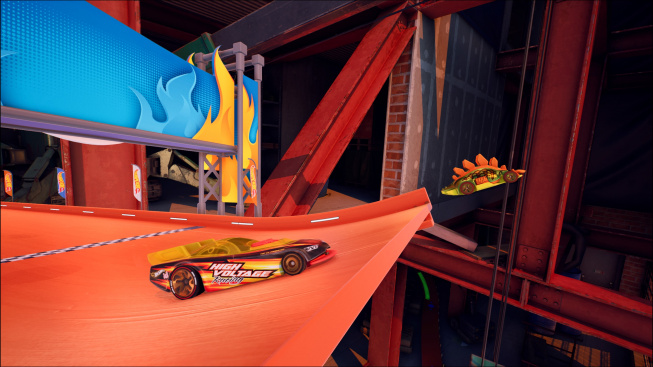 Accessible hardcore
Although the creators thought of holiday players, and the races are as accessible as possible, they are not easy at all if you want to excel in them. Opponents are ruthless and even the slightest hesitation is enough and it already sticks to your rear bumper. You circle a corner badly, you don't go completely straight before the jump or you run out of juice just before entering the loop and you're already looking for lost concentration to pick up at least one of the podium after three fast laps and a few minutes.
Fun for one player is provided by the robust City Rumble campaign, which is not just about blindly following the set races. You can choose from many options in the city streets, and some branches can lead you to hidden missions, to unlock which you have to drive a specific race in a specific vehicle. Surprisingly, there are also "boss races", ie the most demanding, longest and most original tracks in the game.
The tracks generally do not embarrass their template. They are appropriately insane, unpredictable, and use the environment you are driving through. You are not driving vehicles of ordinary sizes, but tiny cars that will fit on the kitchen counter.
Vruuuuuuum
Speaking of those cars, I have to praise the developers once again. The models look famous. Of course, authors cannot be taken to heaven for creativity, as they copy existing, store-available toys. But they managed to capture the toy – the materials are exactly what you expect from a toy, the metal shines properly and has the old familiar structure.
The designs are both crazy and completely normal, you can easily drive cars of real brands. Individual cars differ slightly in their driving characteristics. In addition to the physical model, the video game also adds tuning, where you increase the speed, acceleration, brake efficiency and controllability of your selected horse with the help of collected components. In addition, you can give your favorite a new look in the comprehensive livery editor.
Every other car will conjure a smile on your face with its design, but with its usability it is even worse. Individual cars are divided according to rarity and the more rare, the generally better. Inevitably, you will have a handful of chosen ones and more and more additions will just fill the garage and sadly envy the selected individuals.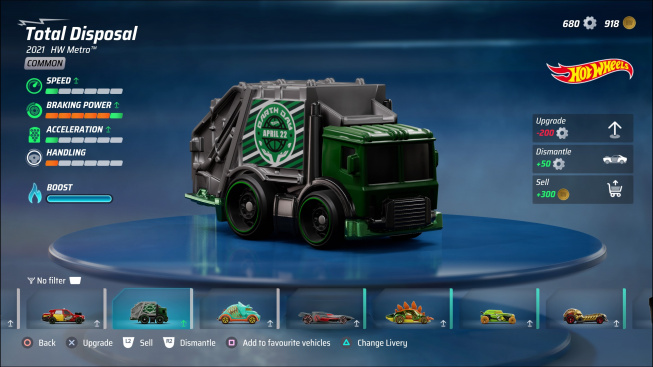 Yup, another box!
How you get to the new riders is slightly controversial. Direct purchase for used gold coins is only possible through a limited offer of five randomly selected cars, which changes over time. You'll get a few cars over the course of your career, but otherwise you have no choice but Blind Boxes.
You also win these loot boxes in races or buy them for the earned currency (and it was done, please, without microtransactions!) And opening them will unlock one of the many dozens of cars. You may also find duplicates, but fortunately you can either sell them, and get closer to buying a new box / car from a limited offer, or disassemble and use the parts to improve another.
This system will not please players who are looking forward to collecting all the vehicles in the game. Such collectors are waiting for a real grind. But I really don't have such ambitions, and on the contrary, I really enjoyed the way I got vehicles.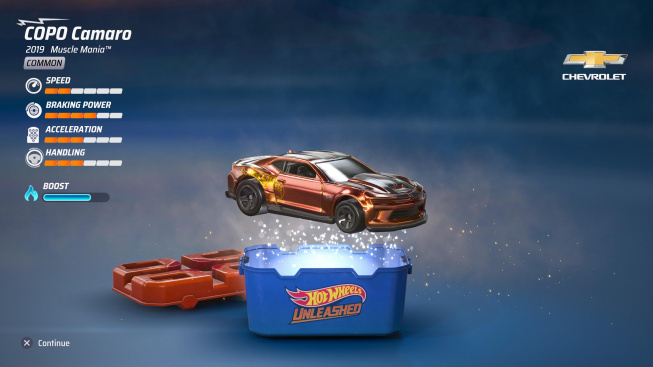 I felt like opening boosters when I was still playing Physical Magicy, or like spinning a carousel in Forze Horizon 4. But here, the coincidence and the unpacking of cars sit a little more when it comes to toys and you are anxiously expecting what a new madness you will miss this time.
But one problem (besides collecting) would really be there. A few paragraphs above, I mentioned secret missions that unlock a number of other races only after you leave a specific track with a specific car. But without the possibility to buy any vehicle, a particular car through Blind Boxes is looking quite wrong…
So this still here * sticks out the tongue intently *
In single player, Hot Wheels Unleashed will entertain you in another way, but you won't find it that much. This is a robust track editor, which was obviously used by the developers themselves to create the roads for the singleplayer campaign.
Learning the editor takes a while and I found it a little more complicated than in the Trackmania series, but once you get the hang of it and experience all the shortcuts on the gamepad, it becomes a really powerful tool that allows you to create all sorts of corners and corkscrews. Thanks to the magnetic parts of the track, you can also ride upside down and play with gravity, there is also the possibility of arbitrarily setting up boosts, acceleration and braking lanes, barricades or the hated ones, spoiling spiders and snakes.
When creating tracks, you can also use the environment itself, including the cellar, which you further edit in your own editor to your image (changing the paintings on the walls, decoration, etc.). You can then share your creation with other players and test their tracks online. And when we got to him…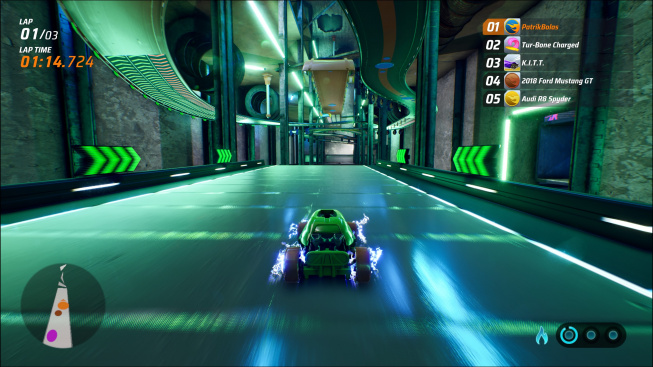 Multiplayer does not offend
Even the multiplayer component of the game does not deserve a drive. They race here online in twelve people and don't expect anything unexpected – a classic rivalry with more or less honest opponents in completely normal modes is about to take place. It will definitely please the presence of couch racing on a split screen in two players.
On the contrary, what freezes in the case of a split-screen is the fact that it does not reward you with gold pieces or career parts. If everything were interconnected, as is the case in some racing games, acquiring new vehicles, whether through a limited offer or loot boxes, would not be so tiring. In addition, unlocking new tracks for couch play costs money, but you do not earn in cooperation, which is simply a very special decision.
You will not be pleased with the soundtrack, whose monotonous songs will play quickly and start to annoy you rather than entertain you. And then there are a few little things, the absence of which can be a bit of an unpleasant unpredictability of races. Namely, it would not be out of the question of an indicator where you have opponents behind you, and in races from point A to point B I would not mind the percentage progress to the goal, without which you have no idea when you need to really grab and grab the victory.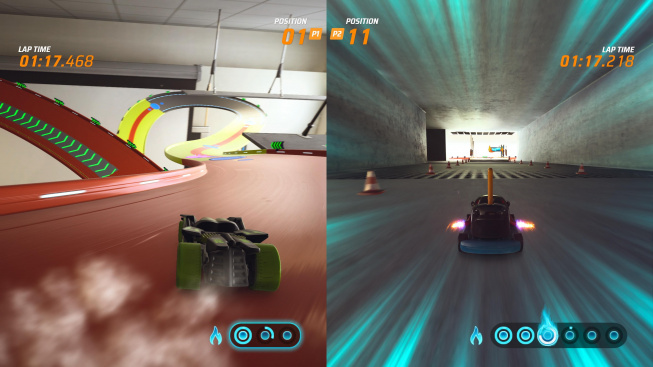 Smiling at the finish line
But no, this review will not end in a negative note. Hot Wheels Unleashed is one of the biggest surprises for me this year. I was curious about the game, but given the studio's motorcycle specialization, its poor car racing history, and its justifiable fear that it would only be a hastily cooked product for a licensing partner, I expected the worst.
The opposite is true. These arcade races are among the very best that have left the Milestone studio's workshop. Their speed will absolutely engulf you, thanks to their simplicity you can play immediately and the effort to completely control all the possibilities of the driving model will anchor you to the screens for long hours.
Creative players will enjoy such beautiful cars in the track and appearance editor, while those of you who are looking for an alternative to the Mario Card, ie crazy racing with a friend on one couch, don't look for more. Hot Wheels Unleashed is one of the funniest arcade races of recent years, despite the missteps that separate the game from true size.
---
Source: Games by games.tiscali.cz.

*The article has been translated based on the content of Games by games.tiscali.cz. If there is any problem regarding the content, copyright, please leave a report below the article. We will try to process as quickly as possible to protect the rights of the author. Thank you very much!

*We just want readers to access information more quickly and easily with other multilingual content, instead of information only available in a certain language.

*We always respect the copyright of the content of the author and always include the original link of the source article.If the author disagrees, just leave the report below the article, the article will be edited or deleted at the request of the author. Thanks very much! Best regards!
---