Ballota pseudodictamnus, the horehound is an elegant rocky sub-shrub cultivated for its beautiful woolly evergreen foliage and for its very graphic tiered inflorescences.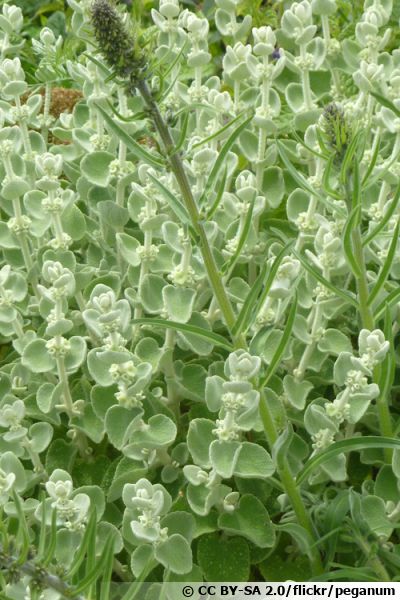 Botanical
Scientific N. Ballota pseudodictamnus
Synonyms Marrubium pseudodictamnus
Origin Greece, Mediterranean rim, West Asia
Flowering july september
Flowers mauve
Typeshrub
Vegetationperennial
Foliage lapsed
Height50 60cm
Plant and cultivate
Hardiness rustic, down to -10C
Exposition sunny
Solplutt rock
Acidity slightly acidic alkaline, likes lime
Humidity normal sec
Useclump, bud, border, aromatic plant, decorative foliage
Plantationspring fall
Multiplicationseedling, cutting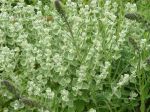 Ballota pseudodictamnus, horehound, more precisely horehound faux dictame or pseudodictame is a beautiful little plant lively, a sub-shrub belonging to the family Lamiaceae, like the sage Where the phlomis.
Ballota pseudodictamnus originates from the Mediterranean rim, but also from western Asia. In nature, it grows on slopes, most often on limestone and stony soil. This plant, drought resistant, is cultivated for its gray, textured foliage.
The horehound false dictame won a prix RHS.
Description of the ballot false opinion
Ballota pseudodictamnus is a small shrub which does not really exceed 60 cm in height.
Branched abundantly and from the base, horehound forms a decorative leaf cushion in spring, wide and 40 cm high, then after its flowering a plant with very graphic erect stems.
Its branches bear opposite leaves, with a triangular to almost rounded blade, thickened by dense, woolly hairs, silvery gray. They form a textured, delicately embossed foliage, silver gray when dry, and almond green when wet.
The inflorescences bloom from July. Woolly and whitish like the leaves, they are formed by a succession of compact whorls staggered in columns.
Bilabiate flowers are inconspicuous, pink, sometimes white, small, but nevertheless attractive to pollinating insects. But the woolly bracts, associated in small domes strung on a stiff stem remain decorative long after flowering and offer a very graphic tiered structure, like phlomies, but smaller and all silvery.
The foliage of Ballota pseudodictame is fragrant and contains essential oil.
Some horticultural varieties of pseudodictamous horeholes
Ballota pseudodictamnus 'Compact Form', with very regular and compact inflorescences.
Ballota pseudodictamnus 'Nana' is more compact with smaller leaves
How to plant and cultivate false dictame horehound?
Ballota pseudodictamnus is a mediterranean plant, but whose hardiness is quite good (-10 ° C). It thrives in draining soil, poor or moderately rich, from slightly acidic to basic, even very calcareous.
This perennial plant cultivated for its foliage is drought resistant, it is perfect in a rock garden, for green an embankment Or on any stony area a bit difficult. It grows in exposition sunny and if possible warm.
Ballota pseudodictamnus may however fear excess water on its foliage. Indeed, its woolly hairs soak up water and if they do not dry quickly enough in winter or during long periods of rain or rain, the foliage can be damaged. It is therefore offered if possible an airy situation where its foliage dries quickly at the slightest breath or ray of sunshine.
Apart from this sensitivity to atmospheric humidity, horehound is a very resistant plant to diseases and insects, particularly faithful and easy to maintain.
She also accepts very well the potted culture outdoors.
Ballota pseudodictamnus also supports spray and therefore can be used on the coast. Moreover, the spray has a protective role against rot due to humidity and allows it to be cultivated without problem in Brittany.
Be careful, its resistance to drought is only effective once it is well rooted. So, plant it in fall or spring and consider watering it during its first dry spell.
Horehound consists of pretty domes of silvery foliage very useful in dry and rocky landscapes. It can be associated with du lespedeza, lavender, carnations, gray santolines Where anis ; it can contrast very nicely with the purple shades ofAcacia baileyana 'Purpurea' or with the bright red bloom of Zauschneria cana, with some Potentilla atrosanguinea or the delicious Potentilla willmottiae.
Maintenance
Horehound supports pruning very well anytime outside of the worst of winter; it is always possible to return it to its compact ball shape if it becomes a little too shaggy for your liking.
A annual pruning to remove the flower stalks at the end of summer allows you to redraw your ball of leaves for the winter.
It can possibly be completely coppiced before the new spring growth, towards the end of March.
And an mid-spring cut if you want, keeps the domes of foliage more compact.
Other uses
the flowering is melliferous
essential oil Ballota pseudodictamnus is rich in 52 different components. It is studied for its disinfectant properties, it would be an excellent antiseptic.
in some countries the semi-spherical whorls of dry bracts of Ballota pseudodictamnus stripped of the rod are soaked in oil and serve as flaming wicks to float on cups of oil.
How to multiply the horehound false dictame?
Semis : the seeds are sown on the surface on draining soil. Generously watered and kept in light without scorching sun, they germinate in less than 3 months at 20 ° C.
Cutting: during the spring, take cuttings from new, flexible stems, 10 to 16 cm long. Leave only the 2 tallest leaves and cuttings in a pot, smothered in a warm potting soil humid.
In September and October, try the stem cutting lignified- or semi-lignified, that is to say woody down. Leave only 2 leaves at the top and bury them directly in place, then follow with a few waterings. Make several cuttings in the same place to increase the chances of success.
Did you know ?
As its Latin qualifier emphasizes, not flowery, the false dictame balotte resembles the Crete opinion, Origanum dictamnus
Species and varieties of
Ballota
About 35 species in this genus
Ballota acetabulosa, pilot grass that exists in chartreux green
Ballota nigra, foul horehound, present in the Alps
Ballota africana, an African species
Plants of the same genus
---
Source: Au Jardin, conseils en jardinage by www.aujardin.info.

*The article has been translated based on the content of Au Jardin, conseils en jardinage by www.aujardin.info. If there is any problem regarding the content, copyright, please leave a report below the article. We will try to process as quickly as possible to protect the rights of the author. Thank you very much!

*We just want readers to access information more quickly and easily with other multilingual content, instead of information only available in a certain language.

*We always respect the copyright of the content of the author and always include the original link of the source article.If the author disagrees, just leave the report below the article, the article will be edited or deleted at the request of the author. Thanks very much! Best regards!
---