The main summer apple event has just ended WWDC 2021… According to not the best tradition, the action took place without spectators and was broadcast in the form of a pre-recorded presentation, and not live, as it was before.
On the other hand, we were able to fully appreciate the director's work, cool editing and all kinds of effects that were not in Apple's live presentations.
This is the second presentation of the Cupertinians this year, at the event on April 20 they showed several "iron" novelties. We expected only software and no gadgets from today's presentation.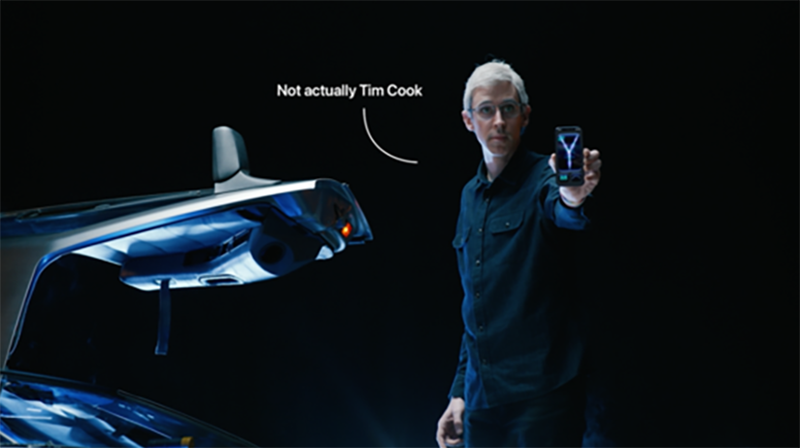 An introductory video in the style of a budget short film showed the expectations of users from today's presentation. Some even wanted Tim Cook to come to the event at the legendary DeLorean from sci-fi trilogy "Back to the Future".
In fact, the head of Apple appeared on the stage of the theater Steve Jobsand the auditorium was filled with thousands of different Memoji.
1.iOS 15 with a new lock screen and tons of visual improvements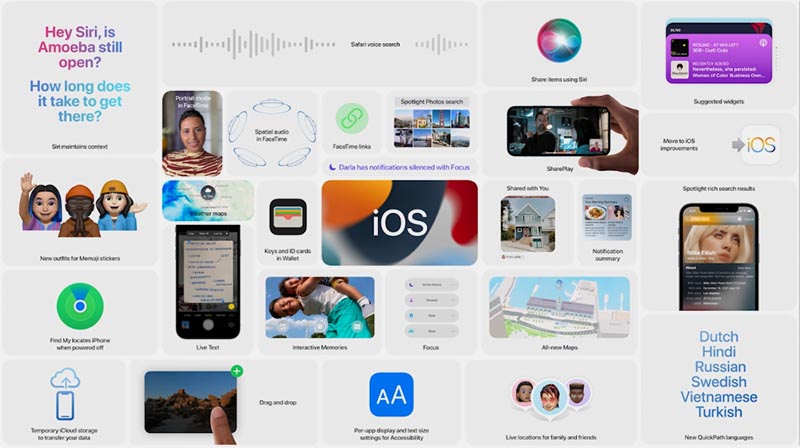 The first software novelty of the presentation was a mobile operating system for the iPhone – iOS 15.
◈ Developers have greatly improved the service FaceTime… During group calls, the speaker will be actively highlighted and highlighted with a frame. The microphones of the used gadgets will better recognize speech and cut off unnecessary noise.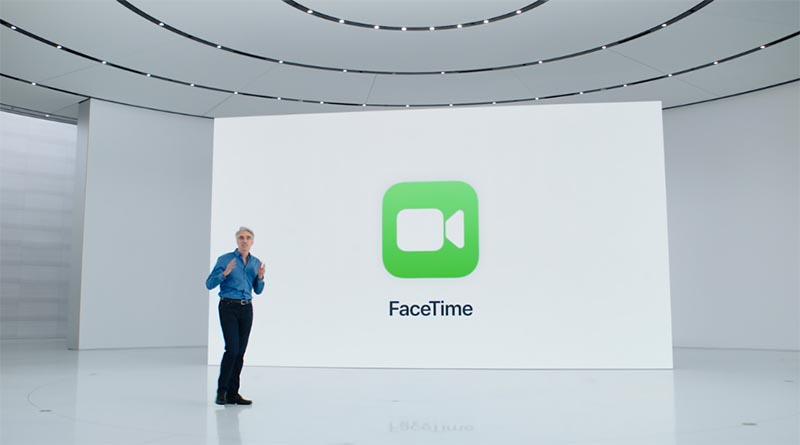 ◈ The main change in the service is the ability to connect to a group call on any platform. No applications are required for this, it will work Web version of FaceTime in a browser.
◈ The next feature of iOS 15 is called SharePlay… With it, you can listen to music or watch videos on multiple devices with friends at the same time.
This will be supported not only in standard applications, but also in third-party programs, streaming services and players. Even TikTok videos can be viewed with friends via SharePlay.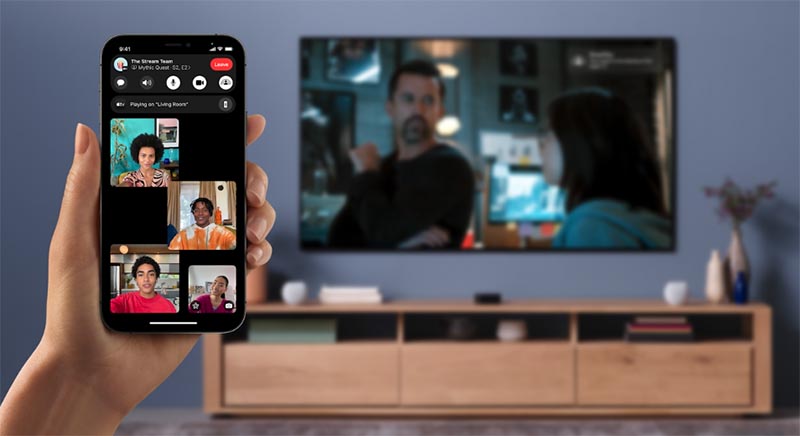 ◈ The most interesting thing is the opportunity share the screen of your gadget with friends or relatives. Present TeamViewer in the Apple ecosystem.
◈ Messaging service iMessage got a few chips: a gallery, photo chains and a few more minor innovations.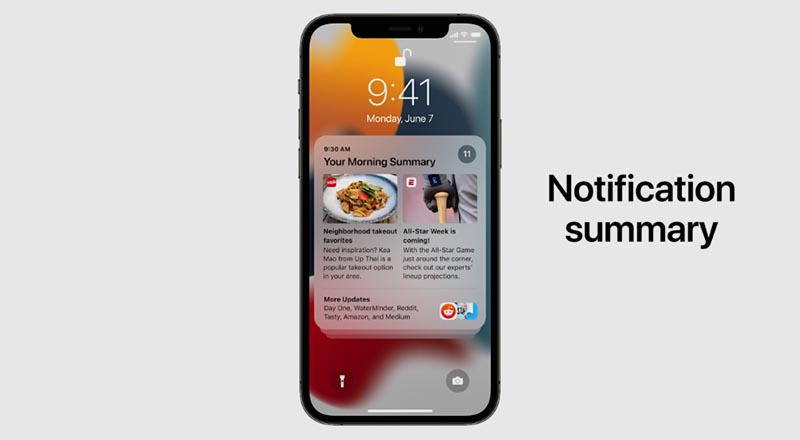 ◈ The next feature of iOS 15 was the updated Notification Center… It appeared grouping messages by importance and a section with the most needed messages and banners.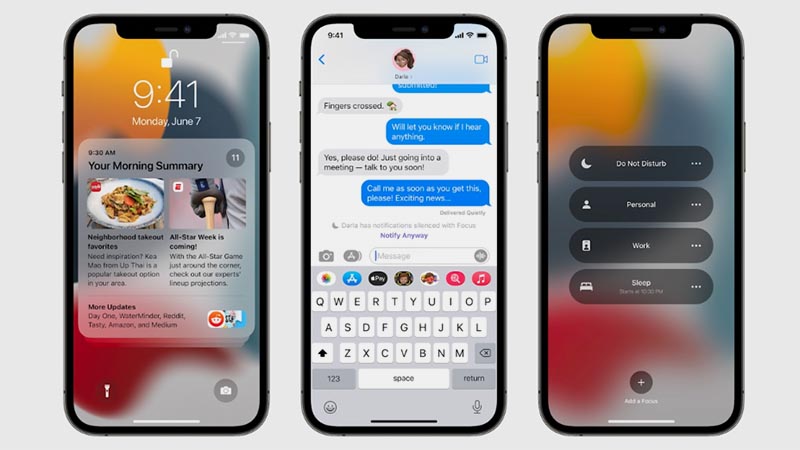 ◈ Mode Do not disturb got several preset presets, the system is called Focus… With it, you can allow access only for work or home notifications at any time convenient for this.
◈ New feature Live Text allows you to recognize text in pictures and quickly share it in other applications. You can, for example, point the camera at an advertisement with a phone number and immediately call or send a contact to friends. As usual, at the start the chip will not work with Russian.
◈ Improved search Spotlight, now the output of the results should be more accurate, and the system will be able to find inscriptions and text on the photo, again without the Russian language.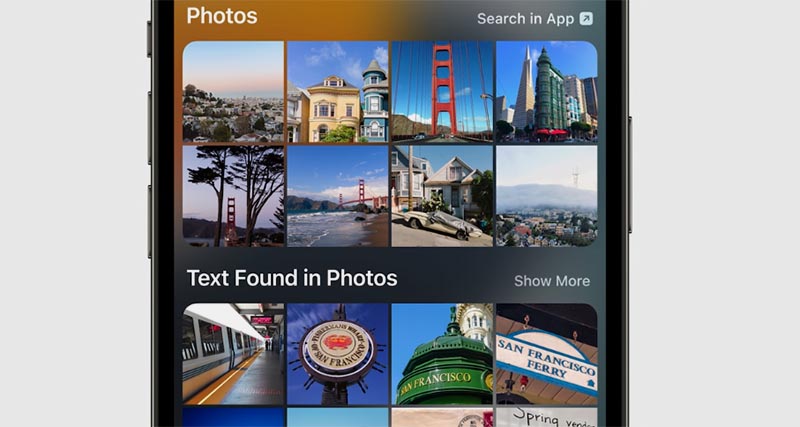 ◈ When creating memories in Photo you can use background music from Apple Music, the tracks will be superimposed on the automatically generated presentations with snapshots.
◈ The app has received several updates Wallet… Now you can add car keys to the virtual wallet (so far only top BMWs), smart home entry cards and contactless office keys.
In the future, they promise to launch the chip in large chain hotels. Unfortunately for all this you need a U1 chip, which is still blocked in Russia.
It will also be possible to store photos of documents in Wallet, for example, a US driver's license. Most likely, this feature will not work for us either.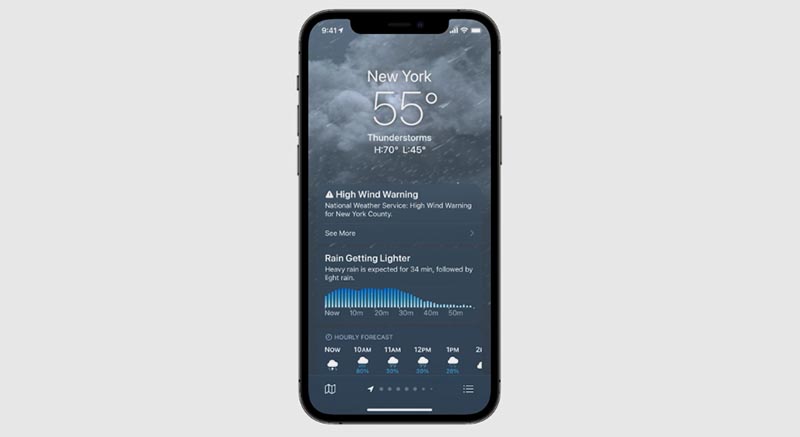 ◈ Application Weather received a cosmetic update. Even more weather animations: sunset, sunrise, thunderstorm, etc.
◈ Apple's mapping service has been seriously upgraded. Here we have added a view mode for the entire planet, more detailed city plans, a convenient navigator showing traffic along the lanes and a night mode.
Unfortunately, we have Cards Apple is not particularly relevant.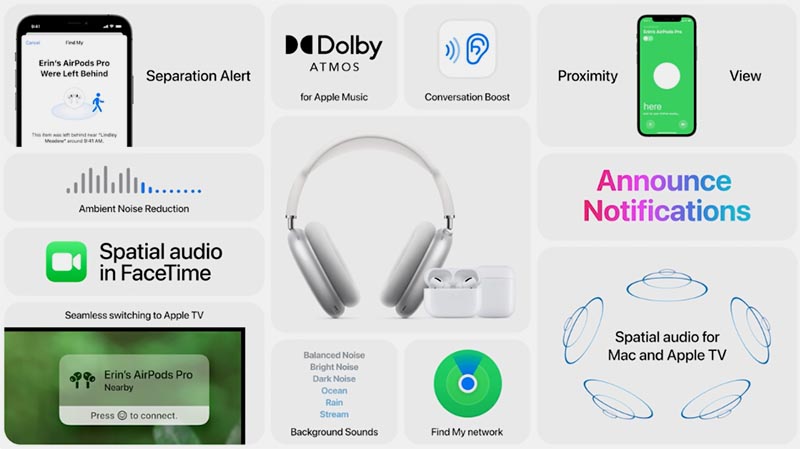 ◈ Apple branded headsets have received several useful innovations. With the iOS 15 update coming focus on the interlocutor's speech in noisy environments when using AirPods.
The headset will be able to make sounds even inside the case, which will make it easier to find missing headphones.
◈ Voice assistant Siri finally taught how to work offline.
Of course, this only applies to local scenarios for using the assistant with a smartphone or tablet.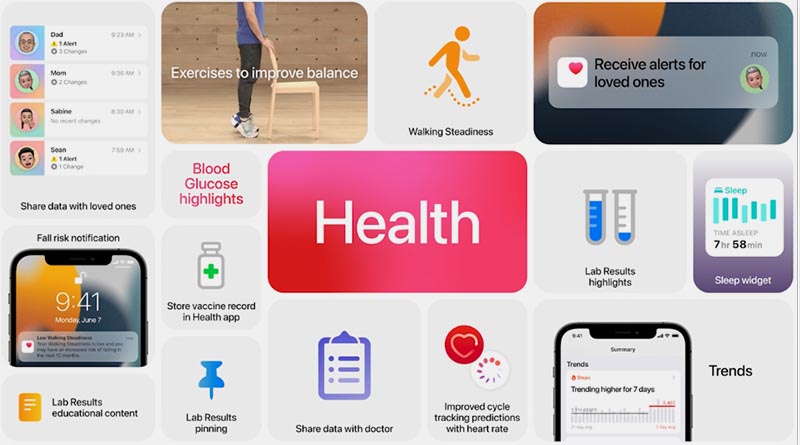 ◈ A large number of chips received the application Health… Here we added even more statistics about the user's health, trends for tracking their health and the ability to share indicators with family members.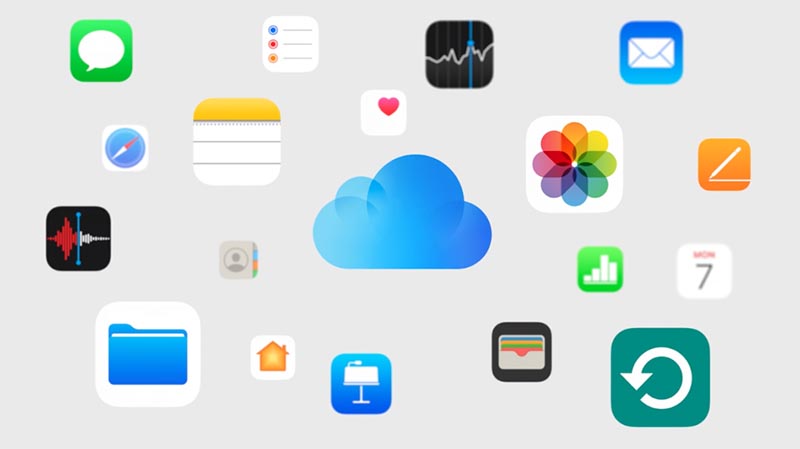 Separately, at the presentation, they talked about improvements to the privacy of user data throughout the Apple ecosystem.
◈ Standard mail client will reliably encrypt the sender's IP address and geolocation, and will also learn how to block tracking pixels in mail.
◈ Browser Safari will become even more secure and will not allow third-party services to track the IP address and browsing history.
◈ A special menu of the history of access to personal data of the user… You will be able to see which applications and sites at what time requested your personal data.
◈ It will now be possible to restore access to Apple ID through trusted contacts. For now, let's take Apple's word for it, it's very safe.
They promise that access to user data after death can be transferred to trusted persons without additional court procedures and appeals to the company.
◈ The cloud service has received an update called iCloud+… It differs from a regular cloud by the presence of a built-in VPN, traffic encryption and an anonymous mail server.
► More about iOS 15
2. iPadOS 15 without full Mac apps, but with widgets and new multitasking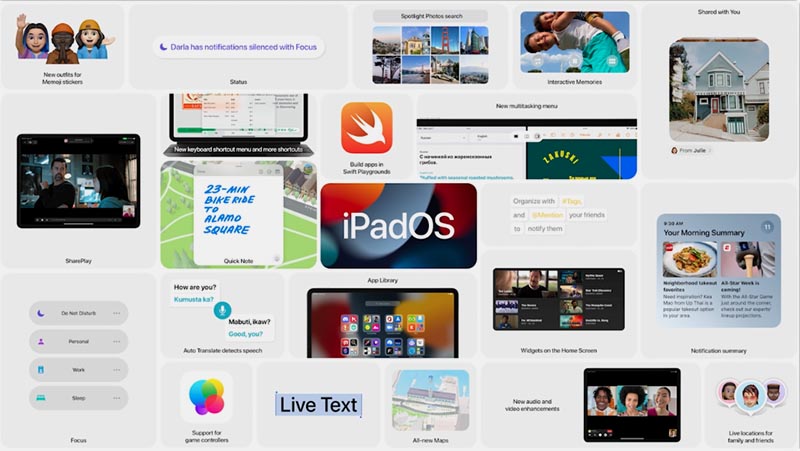 The next presented novelty was the operating system for the iPad – iPadS.
◼ Immediately shown the long-awaited widgets anywhere on the desktop… They are larger and more informative than the small cards on the iPhone.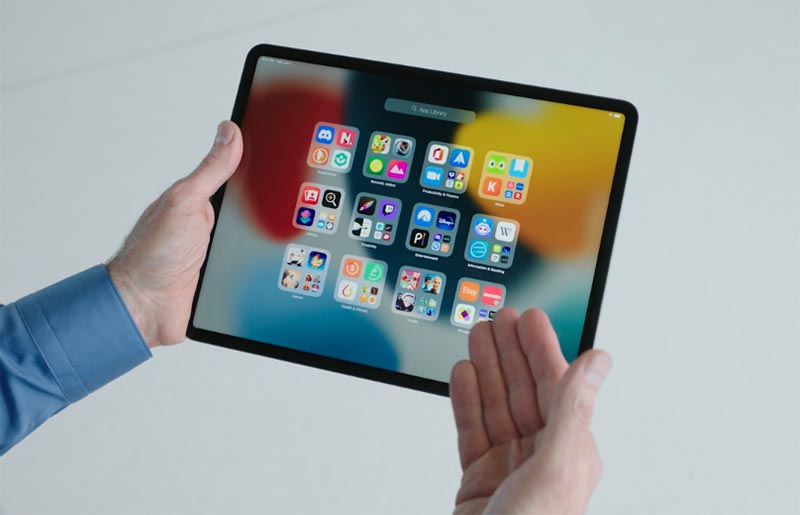 ◼ Last year's new iOS 14 for iPhone appeared on iPad – application library… It will be available directly from the Dock. It's kind of Launchpad из macOS for iPad, which will allow you to quickly launch new applications.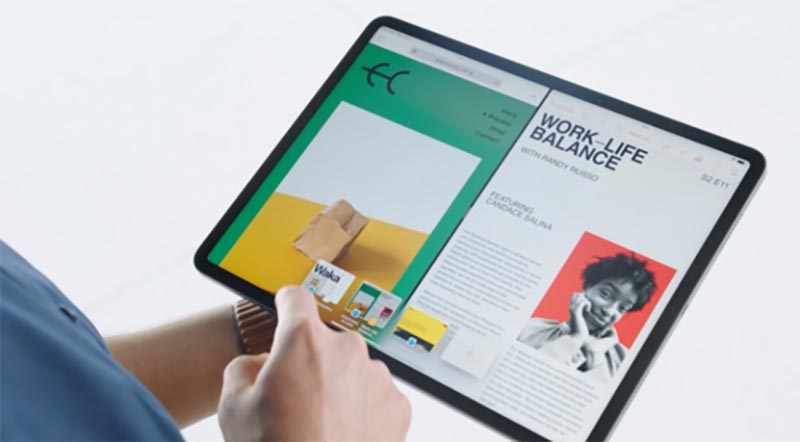 ◼ Multitasking in iPadOS began to seriously differ from iOS for the first time. New multitasking menu now located at the top of the screen, and a small shelf with cards is available to switch between programs.
◼ Special feature Quick Note will allow you to create quick notes for any application on top of running programs. And also a standard iOS application will appear on the iPad – Transfer (Calculator no until now).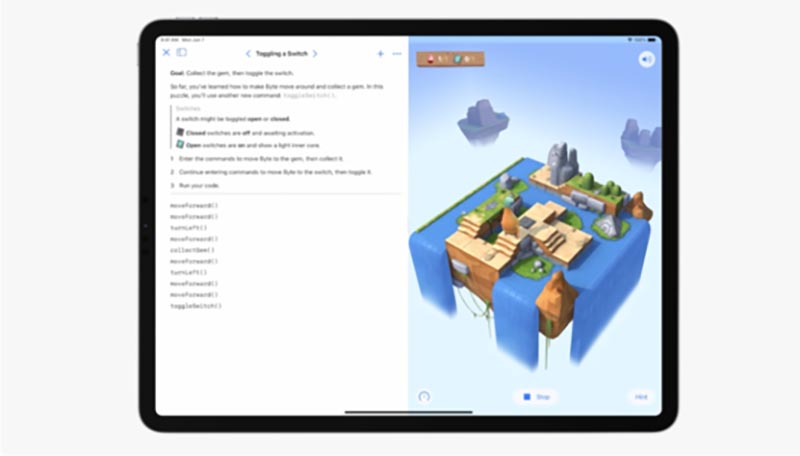 ◼ Now it is possible to create applications in the environment Swift Playground directly to iPad and then send data to Xcode on Mac. Unfortunately, full-fledged Xcode for iPadOS has not yet been delivered.
► Learn more about iPadOS 15
3.watchOS 8 with minimal changes and new watch faces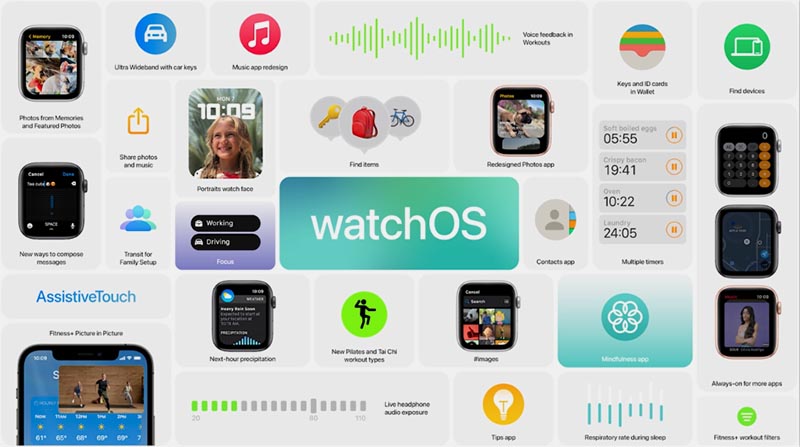 The next step is a firmware update for Apple Watch.
◴ The first piece presented was meditation mode… It will allow you to relax and spend a few minutes alone with your breath.
◴ Improved feature sleep tracking… She will learn how to collect data on the user's breathing at night.
◴ Service users Apple Fitness+ get new workout modes. Here we are again in flight.
◴ A new dial has appeared Portraits with the ability to choose a photo as the main screensaver for the clock.
► More about watchOS 8
4. The smart home control system is now called Home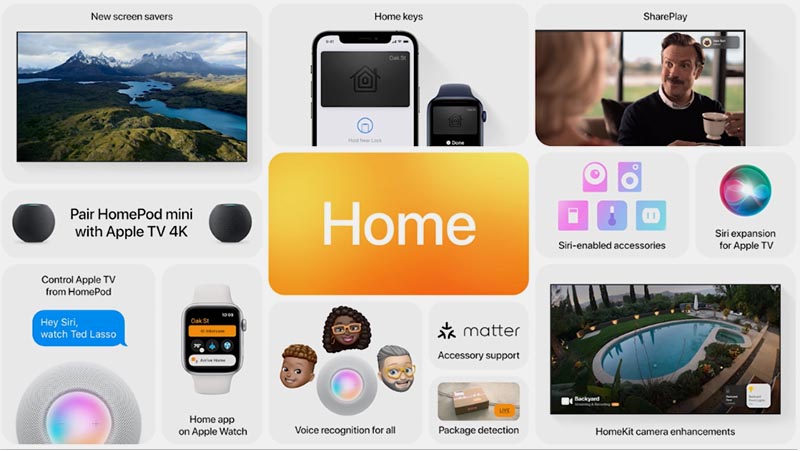 This will be the name of the improved version HomeKit… Within this ecosystem, columns HomePod and HomePod mini will be able to actively interact with Apple TV.
Previously presented content transmission system SharePlay will work with all Apple gadgets in the house. Speakers and set-top boxes are no exception.
The updated tvOS will create collections of content for all family members, and not for a separate set-top box profile.
HomePod mini will be available in a number of new countries. Guess if Russia is among them?
Home will allow pass Siri requests through third-party smart devices with microphone and ecosystem integration.
New standard for smart devices will be supported Matter… It will improve the performance of all gadgets in the house, making them independent from the central hub.
5.macOS 12 Monterey with cool cross-device interactions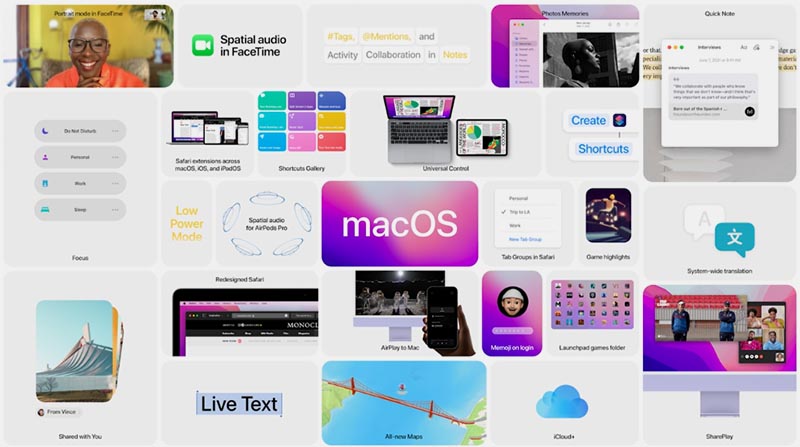 Now it's the turn of the desktop operating system for Mac. She got the name macOS 12 Monterey.
◉ The first feature of the new operating system was Universal Control… It adds a universal cursor for iPad and Mac, which are side by side. This is even cooler than the existing chips. SideCarwhen iPad turns into a secondary monitor for Mac.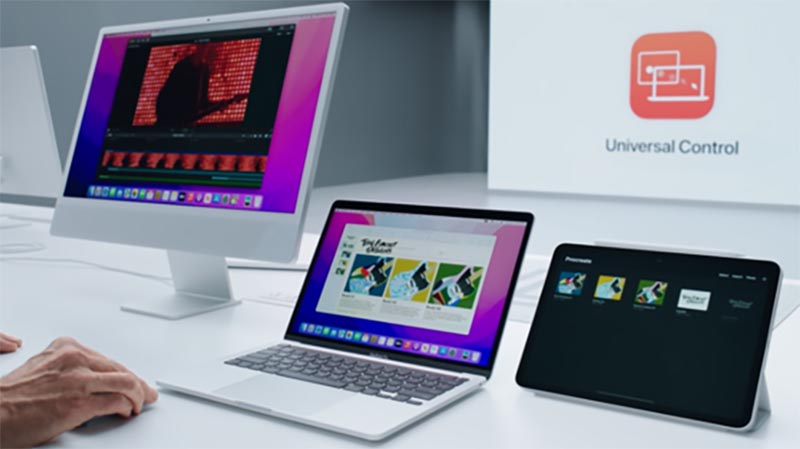 With Universal Control, you can simply move the cursor over the border of one device and it will appear on another. This works not only between a computer and a tablet, but also between a pair of Macs running macOS 12.
And you can also move the cursor across several gadgets at once.
◉ Mac has learned receive signal via AirPlay… Previously, you had to use additional software for this, but now you can stream music, photos or videos from iPhone to Mac right out of the box.
◉ Application Commands (Shortcuts) flies straight from iOS to Mac. Even more useful and useless automations can be configured on an Apple computer in a visual editor instead of a complex and boring one. Automator… The latter will soon disappear from macOS.
◉ The browser has changed a lot Safari… A sidebar will appear for managing groups of tabs, and the application itself will be able to colorize slightly to match the site being viewed.
Developers will be able to create universal browser extensions across multiple platforms.
► More about macOS 12 Monterey
6. Even more APIs and tricks for developers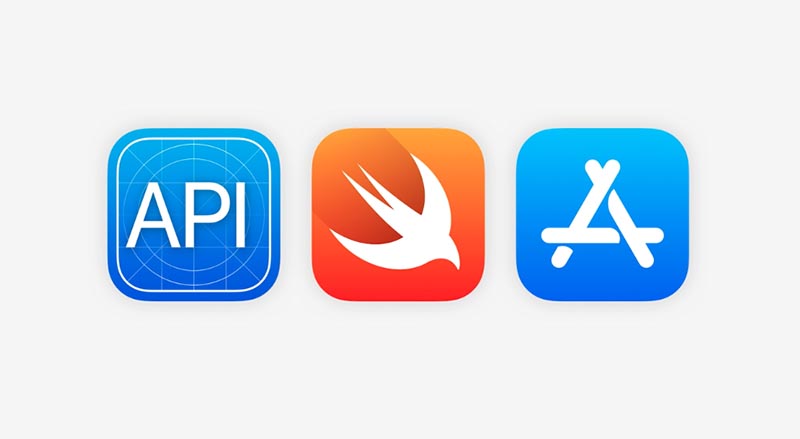 Separately, we talked about new chips for software developers for iOS, macOS and iPadOS. Not surprisingly, this is a developer conference, not a trick presentation for iPhone and Mac users.
◻ Programmers will have a large number of new APIs for introducing system chips into third-party applications.
For example, focusing on a voice from FaceTime can be implemented in any messengers with conference mode. So many exclusive features of standard iOS and macOS applications can appear in any software.
◻ System Object Capture useful for quick creation of virtual 3D models from real objects. For this, iPhone and iPad models with a scanner will be used. LiDAR.
◻ A feature will appear in the Swift development environment Concurrencywhich greatly improves multithreading and makes applications faster.
◻ The app page in the App Store can now be customized for different categories of users and hold different advertising events in the app store.
◻ There is a development environment Xcode Cloud, which allows you to collect, test and send developments to Test flight right in the cloud.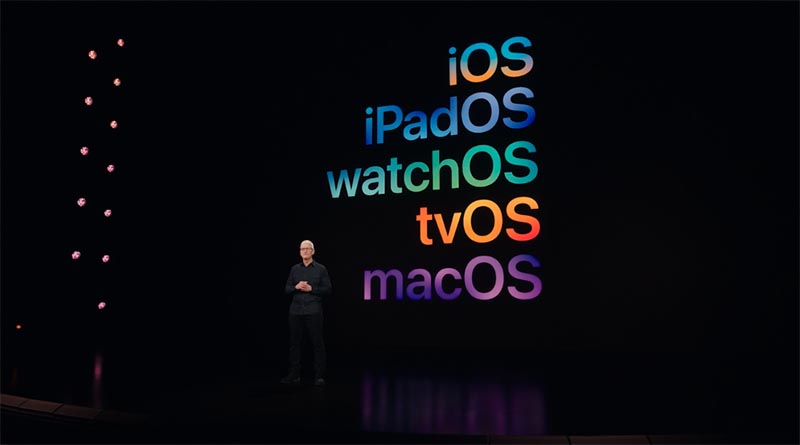 That's all, the first beta versions iOS 15, macOS 12 and iPad 15 for developers will become available tonight.
We are waiting for public test versions for everyone in July, and stable final releases of all presented OS will appear, as usual, in the fall. See here for a list of supported iPhone, iPad and Mac models.
---
Source: iPhones.ru — Новости высоких технологий, обзоры смартфонов, презентации Apple by www.iphones.ru.

*The article has been translated based on the content of iPhones.ru — Новости высоких технологий, обзоры смартфонов, презентации Apple by www.iphones.ru. If there is any problem regarding the content, copyright, please leave a report below the article. We will try to process as quickly as possible to protect the rights of the author. Thank you very much!

*We just want readers to access information more quickly and easily with other multilingual content, instead of information only available in a certain language.

*We always respect the copyright of the content of the author and always include the original link of the source article.If the author disagrees, just leave the report below the article, the article will be edited or deleted at the request of the author. Thanks very much! Best regards!
---