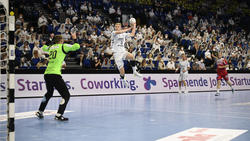 THW Kiel has secured a brilliant starting position for the title decision in the Handball Bundesliga (HBL).
After a clear 33:23 (20: 9) against cup winners TBV Lemgo Lippe, the record champions took over the championship lead again and can make the 22nd championship perfect on Sunday. Before the last matchday, the Kielers are one point ahead of their pursuers SG Flensburg-Handewitt.
The Norwegians Sander Sagosen and Harald Reinkind were in front of 2304 spectators with seven hits each, the best shooters of the furious defending champion, who returned the favor for the bitter bankruptcy in the semi-finals for the DHB Cup against Lemgo. On Wednesday, Flensburg had overtaken THW with a dramatic 27:26 win at HC Erlangen and put arch rivals under pressure.
In the showdown for the title, the team of coach Filip Jicha faces the harder task with the guest appearance at the fifth Rhein-Neckar Löwen (3:30 p.m. / Sky). Flensburg receives at the same time Balingen-Weilstetten, which had already made it clear on Wednesday that it was not relegated. A draw for the championship would also suffice for Kiel, as the direct comparison decides in the event of a tie. The Kielers won this (29:21, 28:31).
The Eulen Ludwigshafen are relegated by the 24:24 (14:10) at the direct competitor TSV GWD Minden. The team of coach Benjamin Matschke could not bring an intermittent seven-goal lead in the first half to the finish and is confirmed as fourth relegated.
---
MT Melsungen – Foxes Berlin 32:35 (15:16). – Goals: Reichmann (7), Häfner (6), Kühn (6), Maric (5), Mikkelsen (5), Danner (2), Kunkel (1) for Melsungen – Holm (9), Lindberg (8), Andersson (4), Wiede (3), Marsenic (3), Matthes (2), Kopljar ​​(2), Drux (2), Koch (1), Gojun (1) for Berlin. – Spectators: 1000
DHfK Leipzig – HSG Nordhorn-Lingen 24:21 (11:12). – Goals: Krzikalla (7), Binder (4), Larsen (3), Esche (3), Gebala (3), Roschek (1), Milosevic (1), Weber (1), Witzke (1) for Leipzig – Vorlicek (6), Weber (5), Stegefelt (4), Terwolbeck (2), Torbrügge (1), Mickal (1), Pöhle (1), Miedema (1) for Nordhorn. – Spectators: 1863
HBW Balingen-Weilstetten – TSV Hannover-Burgdorf 30:26 (16:12). – Goals: Schoch (9), Lipovina (6), Strosack (4), Wiederstein (3), Thormann (2), Beciri (2), Nothdurft (2), Zintel (1), Saueressig (1) for Balingen – Hanne (5), Büchner (4), Krone (4), Martinovic (4), Pevnov (3), Brozovic (2), Hansen (2), Kuzmanovski (2) for Hanover. – Spectators: 250
HC Erlangen – SG Flensburg-Handewitt 26:27 (11:15). – Goals: Olsson (7), Jeppsson (7), Marschall (4), Bissel (3), Schäffer (2), Mosindi (2), Firnhaber (1) for Erlangen – Wanne (8), Golla (4), Rod (4), Larsen (4), Sogard (3), Svan (2), Gottfridsson (2) for Flensburg. – Spectators: none
Bergischer HC – TVB Stuttgart 30:31 (17:13). – Goals: Arnesson (8), Gutbrod (6), Boomhouwer (5), Darj (3), Szücs (2), Babak (2), Stutzke (2), Weck (1), Uscins (1) for Bergischer – Müller (6), Schulze (5), Kristjansson (5), Lönn (5), Peshevski (4), Wieling (2), Nicolaus (2), Weiß (1), Häfner (1) for Stuttgart. – Spectators: 800
THW Kiel – TBV Lemgo Lippe 33:23 (20: 9). – Goals: Sagosen (7/1), Reinkind (7), Pekeler (5), Ehrig (4), Sunnefeldt (3), Ciudad Benitez (2), Weinhold (2), Horak (1), Duvnjak (1) , Zarabec (1) for Kiel – Elisson (7/4), Timm (4), Simak (4), Carlsbogard (3), I. Guardiola Villaplana (2), Hangstein (2), Baijens (1) for Lemgo. – Spectators: 2304
SC Magdeburg – HSG Wetzlar 27:27 (12:11). – Tore: Magnusson (8/1), O'Sullivan (7), Damgaard (4), Mertens (4), Gullerud (1), Hornke (1), Musa (1), Steinert (1) für Magdeburg – Rubin (8), Björnsen (5), Fredriksen (5), Mellegard (4/2), Gempp (2), Lindskog (2), Weissgerber (1) for Wetzlar. – Spectators: 1500
FA Göppingen – HSC 2000 Coburg 37:29 (16:15). – Goals: Schiller (14/6), Ellebaek (8), Theilinger (4), Goller (4), Kneule (3), Bagersted (2), Kozina (2) for Göppingen – Billek (7), Schröder (6 ), Norouzinezhad Gharehlou (4), Zeman (4), Grozdanic (3/3), Varvne (3), Kurch (1), Mustafic (1) for Coburg. – Spectators: 250
TSV GWD Minden – Die Eulen Ludwigshafen 24:24 (10:14). – Goals: Gulliksen (9/1), Rambo (6), Knorr (3), Richtzenhain (2), Schluroff (2), Korte (1), Meister (1) for Minden – Wagner (6), Neuhaus (4 / 2), Falk (3), Mappes (3), Remmlinger (2), Haider (2), Klein (2), Scholz (1), Valiullin (1) for Ludwigshafen. – Spectators: 744
TuSEM Essen – Rhein-Neckar Löwen 23:33 (12:15). – Goals: Müller (6), Klingler (4/1), Morante Maldonado (3), Seidel (2), Ingenpaß (2), Firnhaber (2), Zechel (2), Ignatow (1), Beyer (1 / 1) for Essen – Groetzki (10), Tollbring (6/1), Kohlbacher (6), Ahouansou (4), Kirkelokke (4), Gensheimer (1/1), Lagarde (1), Spath (1) for the Rhine-Neckar lion. – Spectators: 832
---
The "Sky" voices about the HBL:
Malte Semisch (goalkeeper TSV GWD Minden) …
… about the game: "It's amazing what was going on here in the last ten minutes, also from the spectator stands. I don't know either, it was just a frenzy. We knew we needed this draw and now we're just overjoyed . I can't believe it yet. "
… on the seven-goal deficit: "The most important thing was that we stayed relatively calm. Of course, emotions also play a role, but we had our plan and we knew we had to stick to it. So we could Coming back into the game. That's the development we made compared to the first leg. We were quickly behind there and didn't come back into the game at all. We always believed in ourselves and we were rewarded for it. "
… on the last action of the game: "The owls play it for a long time and it boils down to Wagner having to take the free throw. Max smelled it and simply blocked it. He also played an outstanding game again."
Niklas Landin Jacobsen (Torwart THW Kiel) …
… at the strong first half: "It felt a little weird because they didn't throw that much on goal. It was a great defense that stood in front of me. It was a cool feeling then, with an eleven goal lead in to go to halftime. "
… at the season finale against the Rhein-Neckar Löwen: "No matter how exhausted we are and what injuries we have – we can be very happy that there are only 60 minutes. There is extra energy for that and if you give up can't be happy about such a big game, then you're wrong here. "
Rune Dahmke (THW Kiel) on the controversial decision in the game Erlangen – Flensburg (before the game): "I think anyone who saw the situation can say that the decision was not made correctly. I think that, maybe I am with the rule too Not perfectly familiar. These are mistakes that happen to the referees, they happen to the players. We would do well not to bother with them too much. "
Marcel Schiller (FRESH UP! Göppingen) …
… on the injury of Nicolai Theilinger: "I saw absolutely nothing. As I heard, the kneecap was out. I don't know if it was a guess or it really was. I only hope for the best and we will see how he's doing. Nobody needs that. "
… on the win after a negative series: "It was a very difficult time. We always talk about the fact that it is a long season – it is, but that is the case for every team. With all the ups and downs, it was for we haven't had the luck lately that we had at the beginning of the second half of the season. That punished us even more and hurt us even more. So it's really good and we're happy and exhausted. Sunday is the last Game and we want to win that too. "
… on his leadership in the top scorer list: "Everything is fine on paper. First of all, I have to thank my team for doing everything so well for me. I've said it throughout the season: It's nice to be up there standing, but for me the team's success is much more important and so I'm glad we won. Of course it's something special in a league like this, but I would never do it without my team. "
---
Source: RSS-Feed: Aktuelle News | sport.de by www.sport.de.

*The article has been translated based on the content of RSS-Feed: Aktuelle News | sport.de by www.sport.de. If there is any problem regarding the content, copyright, please leave a report below the article. We will try to process as quickly as possible to protect the rights of the author. Thank you very much!

*We just want readers to access information more quickly and easily with other multilingual content, instead of information only available in a certain language.

*We always respect the copyright of the content of the author and always include the original link of the source article.If the author disagrees, just leave the report below the article, the article will be edited or deleted at the request of the author. Thanks very much! Best regards!
---