David Dushman: "In the war, death was perceived as an everyday occurrence
It is not for nothing that this amazing person is called "the legend of Soviet sports." But the fate of David Alexandrovich DUSHMAN is unique not only in the field of sports achievements. Today he is the last surviving soldier of the 227th tank battalion, a full holder of the Order of Glory. Only 69 people survived from his tank battalion. David Dushman himself was wounded, which almost cost him his life …
After operations and rehabilitation, he returned to duty, took part in the Battle of Stalingrad, the Battle of Kursk, then a second wound, and again – returning to the battlefield. Next – the Belorussian front, the third wound. Despite severe wounds and disability, after the war he returned to professional sports, and in 1951 he even won the USSR championship. Then he coached the USSR women's fencing team, brought up world and Olympic champions. He was invited to the Munich Olympics in 1972 as a judge.
In 1996, David Dushman moved to Munich, where he still lives, and until very recently, despite his age (today he is 96 years old), he trained local athletes!
On September 3 this year, employees of the Russian Consulate General in Munich presented a high state award – the Order of Alexander Nevsky – to the war veteran "for courage and personal courage shown in battles, special services to the fatherland, active civic position after the Great Patriotic War." Our editors talked with this amazing person.
─ David Alexandrovich, how did you feel about the recent presentation of the Order of Alexander Nevsky to you?
─ Of course it was very pleasant and very touching. When I was presented with the order, I said and can only repeat. I believe that this award is not for me, but for all the participants in the Great Patriotic War, all those who survived and those who are not with us. Everyone equally deserved this award, I just happened to be at the right moment, in the right place …
─ I read that you don't like talking about war. This is understandable, most front-line soldiers, like my grandfather (he has already died, unfortunately), do not like to remember this time. And yet, if you think about war, what comes to mind in the first place?
─ I remember my childhood, school years, and the post-war period very well. But I have the war turned off from the brain. I don't remember anything, I don't remember her …
─ How did you liberate Auschwitz, don't you remember either?
─ I cannot consider myself the liberator of Auschwitz, because the soldiers of the First Ukrainian Front liberated it, and I served in the First Belarusian Front. Just passing by, not far from Auschwitz, after Warsaw already, our superiors were given a command and several tanks were returned back. We didn't even know about the existence of this concentration camp before. We turned back, the Germans were no longer in the camp, they all ran away, we broke the barbed wire fence with tanks, saw these unfortunate hungry people in striped uniforms. The prisoners stood and looked at us … It was terrible. Everything that we had from food, we gave everything to them and drove on …
─ During the war, did you understand the horror of fascism, or did you realize this later?
─ At that time all this was perceived differently, there was a completely different psychology. After all, the atrocities of the fascists were not only in concentration camps: burned down villages, hanged people, we all saw this, there were many very terrible things. War is horror, it's a nightmare thing, probably that's why I don't want to remember and worry about it all again. But then death was perceived as a common occurrence, I buried a dozen of my comrades with my own hands.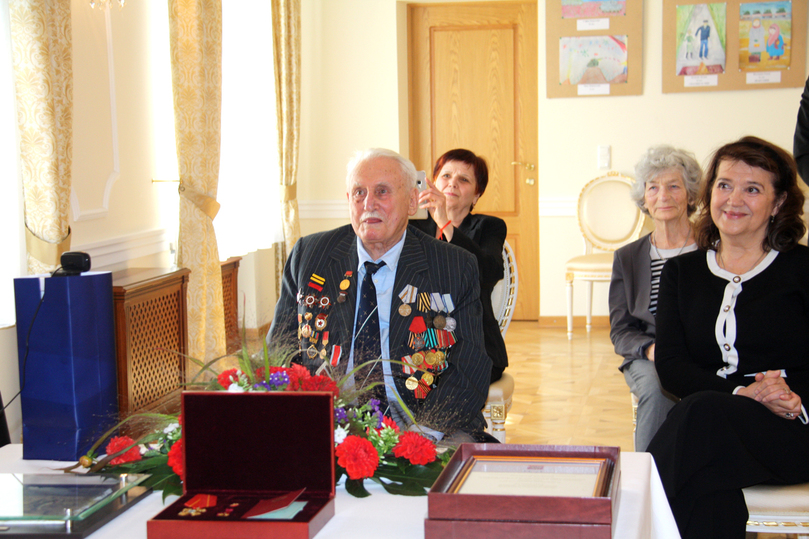 ─ You were not taken to the front, because you had a reservation, but you still volunteered …
─ I was the champion of Moscow in fencing and in 1941, when the war began, competitions were held in Moscow, in the Gorky Park of Culture. And when they announced that the war had begun, the competition stopped and I immediately rushed to the military registration and enlistment office. The military commissar told me: "You are the champion of Moscow, you have a reservation." But I made a scandal at the military registration and enlistment office, and they took me into the army, into the tank troops. But all of my fellow sportsmen ended up in Osborne, the Special Purpose Department. And they didn't take me there for two reasons: firstly, I am a Jew, and, secondly, the son of an enemy of the people, my father was repressed …
─ Has your father returned from the camps?
─ My dad was one of the first holders of the Order of the Red Banner, he was a hero of the civil war, we lived in Minsk. Then my father was transferred to Moscow, and we moved, my father worked as a doctor and head of the sanitary department of the Institute of Physical Education. In 1938, dad was arrested, put in a camp, and sent to Vorkuta. But for a very long time we did not know where he was … In short, my father died in the camp and was buried there, in Vorkuta. And then after Stalin's death, I received a certificate that my father was unlawfully convicted, was a normal, honest person. A common story in those years, and it was no longer possible to return a person …
─ This is very sad. But at the same time, because of your "bad" profile, you were not prevented from playing sports at a high level?
─ Before the war, there were no foreign meetings and there were no secrets. And after the war, when real fencing had already begun, it began to bother me very much, which is why I gave up professional sports as a result. By the way, I almost accidentally came to fencing. Before the war, we lived in the building of the Moscow Institute of Physical Education, where my father worked, so since childhood I was very closely associated with sports, was fond of swimming. But, once playing hide and seek, I hid on the second floor cornice and fell, fell off the cornice. I beat off my left side, I could not swim. I was very worried. And my dad was friends with Timofey Ivanovich Klimov, this one was the best specialist in fencing in the USSR then. And he invited me to try, and so he pulled me into this business. I became seriously involved in fencing and was in love with this sport, it became the meaning of my life.
─ How did you return to sports after the war? You had three very serious injuries, right?
─ After the war, at first I could not take five steps; my mouth was bleeding. Half of my lung has been torn off. But gradually, one minute a day, practicing, I returned to the sport and in 1951 became the champion of the USSR in fencing. I had to go to the Olympic Games in Helsinki in 1952, but they didn't let me in … I had eternal problems with going abroad precisely because of my personal data – they let me out, then they didn't let me out, then they closed me, then I was dropped from the plane … They mocked me decently, that's why I quit performing as a result. Before the Olympic Games in Melbourne in 1956, I was still fencing, and then I said: "Enough!" Since they are not allowed, I will no longer perform and switched to coaching.
─ Have you been involved in sports all your life?
─ All my life in fencing, although I graduated from the medical institute, I have a medical degree. At the request of my mother, I went to the Moscow Medical Institute, graduated from it, received a medical diploma. And at the same time he graduated from the Institute of Physical Education, became a professional trainer. And after the medical institute, I was first sent to Spartak as a doctor, I checked the athletes, wrote out swimming permits and other documents.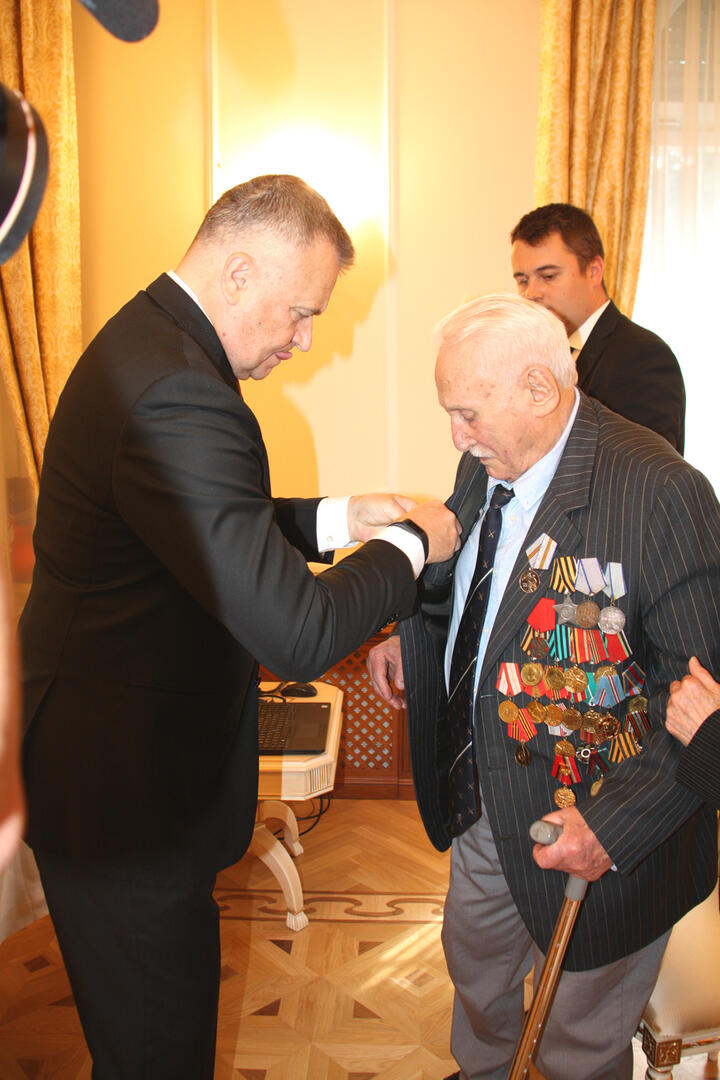 – Did you only work for Spartak?
─ I spent my whole life there, I have only one entry in my work book – "Spartak". Incidentally, the Spartak ticket was presented to me by Nikolai Petrovich Starostin, the founder of the society (Nikolai Starostin — Soviet footballer and hockey player, one of the first leaders sports society "Spartak" — ed.)
─ You have been living in Munich for many years. How did you get to Germany?
─ Before the Olympic Games in Seoul, I worked with the USSR national team, and in 1988, when my best student Valentina Sidorova finished performing, I was out of work. I twisted and twisted and received an invitation to work in Austria. And for seven years I worked as a coach in Austria. And quite by chance, having arrived in Moscow on vacation, I met the sister of my good friend, also a swordsman, and she told me how you can leave for permanent residence in Germany. I went to the Embassy of the Federal Republic of Germany in Moscow, filled out the necessary forms, without thinking about anything. And after a year and a half I was given permission to enter Germany.
– Until very recently, you were involved in coaching. Is modern fencing in Germany very different from fencing in the USSR?
─ There was very strong fencing in Germany, there was a wonderful coach and manager Emil Beck in Tauberbischofsheim (Baden-Württemberg), where a whole galaxy of brilliant athletes came from, including the current president of the Olympic Committee and my very good friend Thomas Bach (FC Tauberbischofsheim e. V. Fencing Club. Fencers from Tauberbischofsheim have won more than 300 medals in international sports competitions — ed.). Unfortunately, Emil Beck died in 2006 and fencing in Germany fell apart completely. However, Russian fencing is still at its peak. Of course, everything has changed a lot, completely different speeds have come, different technique, tactics. If I was offered to work with the national team today, I would refuse, I have to retrain again. And at my age this is impossible …
─ How did you meet Thomas Bach, already in Germany?
─ Much earlier. We met when he was still an active fencer, and I was the coach of the Soviet Union national team. We often met at various competitions. Bach's coach, once studied with me. Thomas and I are on very good terms and to this day, he is a wonderful person. Once he invited me, and I went to see him in Lausanne. Every year he certainly wishes me a Merry Christmas.
─ You wrote two books ("War and Peace … and Sports!"
─ I don't want to, it's one journalist in Germany who took this matter seriously. And I don't really like to spread about myself …
─ But I think you have something to tell the readers about …
─ Maybe. There was a lot in my life, I saw a lot of terrible things, I had a difficult service in the tank forces, I was wounded three times, I don't have a meter and a half of intestines and half of my right lung … Life has battered me decently, but I'm still alive … , of course, years are years, the body has worked its way.
─ David Alexandrovich, do you regret today something that you failed to do in your life?
─ Unfortunately, life cannot be reversed, a lot could be changed, I made a lot of mistakes. But, probably, if I started again, I would make new mistakes ─ this is what life consists of. But in principle, in sports, I had a fairly happy life, I had very good students, relations with whom I have survived to this day. They call me constantly; when I used to be in Moscow every year, we always met very warmly, now, unfortunately, because of my condition, this is impossible. So in sports I had a very happy life …
Irina FROLOVA.
Germany says this:
Germany: Who Will Get Paid for Flu Shots?
Germany: The number of issued sick leave decreased
Germany: Students borrowed almost a billion euros
Germany: Simplified rules for obtaining financial support for private entrepreneurs
---
Source: Все материалы – Московский Комсомолец by www.mknews.de.

*The article has been translated based on the content of Все материалы – Московский Комсомолец by www.mknews.de. If there is any problem regarding the content, copyright, please leave a report below the article. We will try to process as quickly as possible to protect the rights of the author. Thank you very much!

*We just want readers to access information more quickly and easily with other multilingual content, instead of information only available in a certain language.

*We always respect the copyright of the content of the author and always include the original link of the source article.If the author disagrees, just leave the report below the article, the article will be edited or deleted at the request of the author. Thanks very much! Best regards!
---