Cause and effect
Conspiracy theories, explained 15min interlocutor, it is the idea that behind our backs are the "puppeteers" who regulate lives with invisible tools, secret agreements.
"These theories are based on causal thinking, the belief that any event has a specific cause and nothing arises spontaneously. In essence, this denies the theory of freedom and creativity. Conspiracy theories are very popular with those who like to calculate reasons, "he considered, adding another interesting observation: conspiracy theories deny miracles, because miracles belong to the sphere of spontaneity, and hence freedom. This means that they are contrary to religious beliefs, although there are many "believers" among those who love and spread them.
Photo by Julius Kalinskas / 15min / Gintautas Mažeikis
While one may get the impression that such theories are rational, they have no critical approach at all, and the causes are desperately sought even where they simply do not exist. Therefore, according to G.Mažeikis, conspiracy theories are hyperrational.
"Conspiracy theory is infinite, never ending. As for hyperrealism, hyperdeterminism is reminiscent of the behavior of the mentally ill " 15min said the philosopher.
Although this topic has been discussed frequently lately, conspiracy theories, according to the interlocutor, are not an "invention" of today.
According to him, back in the XIX century. it has been observed that religious literature is at the top of the most popular books, while conspiracy theories (with the protocols of the wisdom of Zion at the forefront) rank second.
According to G.Mažeikis, this is a very popular and widespread genre, by the way, close to detectives.
Instrumental rational thinking is not an innate but a nurturing trait.
When asked why people trust them, the interviewee considered it a consequence of instrumental science.
In the words of G. Mažeikis, we learn at school that knowing the causes and consequences is a feature of our rationality:
"At the time, psychiatry argued that over-calculation of causes and consequences was a pathology. The desire to discover the cause of everything is often a feature of the disease – such people draw endless maps, mark secret agencies, black dots, Masonic orders… "
We usually imagine that only uneducated people believe in conspiracy theories.
According to G. Mažeikas, it depends on how much a particular person is prone to determinism, therefore anyone, regardless of education, political views – Republican or Democrat, left or right, exile or a person who feels nostalgic for Soviet times – can fall into the traps of conspiracy theories. get stuck.
The interlocutor also stressed that instrumental rational thinking is not an innate but a nurturing trait.
Profitable conspiracy theories industry
G.Mažeikis also pointed out that the communist regime instilled in the population the idea of ​​a global imperialist conspiracy.
"The Soviet Union did not remain," he added, "but that theory worked as it did."
Of course, democratic societies are not resistant to conspiracy theories either. Here the United States (USA) stands out for their abundance and diversity.
"There were two conspiracy theories in the Soviet Union: the global imperialist conspiracy and the anti-Semitic one, which is based on the protocols of the sages of Zion." In the US, there are many more such theories, from Islamic, to the whole psychopathological satanic or even marsietiškų"Said the philosopher.
"Another important thing is that conspiracy theories were not very profitable in the former Soviet Union, and in the United States it is an entire industry. There is a huge demand for such books, so a lot of them are being prepared. For example, there are currently at least 6 contradictory conspiracy theories about the events of 9/11 and dozens of books have been published about them all. " 15min said G.Mažeikis.
Does this mean that the authors of conspiracy theories do not believe in them themselves, but only want to earn well?
According to the interlocutor, if creator is cynical enough to take advantage of it, it's entirely possible.
By the way, he reminded that in Umberto Eco's novel The Pendulum of Foucault describes the industry of conspiracy theories, and in another novel, The Prague Cemetery, he examines the birth of one of the most famous conspiracy theories, the Protocols of Wisdom of Zion.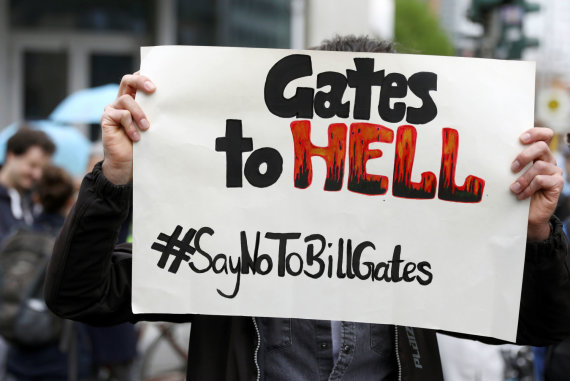 Reuters / Photo by Scanpix / Proponent of conspiracy theories about Bill Gates
Conspiracy Theory Classics – Protocols of Zion Wise Men
As stated 15min interlocutor, "Protocols of Wisdom of Zion" fabricated by the secret services of the Russian Empire at the beginning of the 20th century not in an empty space, but exploited the anti-Semitic attitudes that already existed in society.
In history, such moods were fueled by the Church, and flourished even more after the spring of 1848.
"In this context, falsified protocols quickly took root, were translated into different languages ​​and sold in millions of copies. "This conspiracy theory was further popularized by the Italian fascists, the Nazi German regime, and finally the Soviet Union," he said.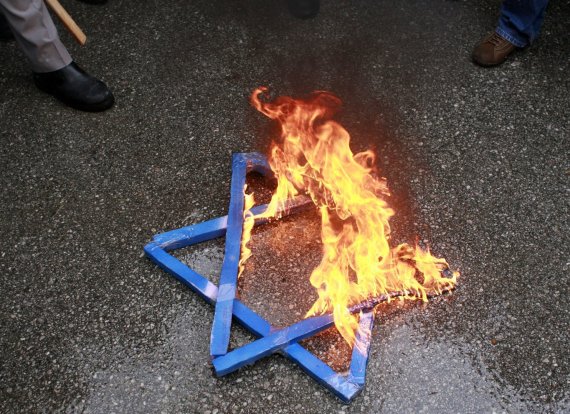 Reuters / Scanpix photo / Antisemitism spreads in Europe
As the interlocutor said, this theory was initially transformed into the idea of ​​imperialist conspiracy in the Soviet Union, and it was not until after World War II, around 1950, that Stalin began to promote open anti-Semitic policies.
As stated 15min The philosopher, a common theory of conspiracy between Jews and imperialists at that time, is still very popular in Russia today, and its reflections can also be found in Lithuania.
G. Mažeikis said that anti-Semitism is not popular in today's Europe.
Although, according to him, there are neo-Nazi groups based on the protocols of Zion's sages, they still do not have more serious power. According to the interlocutor, the existing strong bans against incitement to hatred work.
"I will remind," he added, "that in Lithuania, too, criminal law restricts attacks due to national, religious and racial differences."
Super secret services and super losers
"Authoritarian countries, such as Belarus or Russia, tend to rely on new conspiracy theories, reviving the idea of ​​Western imperialist conspiracy," he said, explaining that conspiracy theories about secret services also stand out.
"It is not clear to people how the secret service works, for example, the former KGB, now the FSB in Russia, or the Belarusian KGB, Mossad, the CIA or any other. Because they are secret, there are many legends that disproportionately exude the talents of these services, "said the philosopher and gave a relevant jealousy.
"When we see Navaln's reports on Russia's secret services, we watch in amazement as they fail to follow, as they fail to poison."
According to him, it helps to understand that the secret services employ ordinary people who are not yet qualified.
"Good propagandists will surely find a way to ignite those irrational moods"
15min When asked whether conspiracy theories are exploited in information wars, the interlocutor answered in the affirmative and explained that propaganda wars are based on the moods of the masses:
"If the public is inclined to believe in one or another conspiracy theory, then good propagandists will inevitably find a way to ignite those irrational sentiments."
The question is, what to do? Can we ban conspiracy theories, or should we just ignore them?
According to G. Mažeikis, the bans would only encourage "conspirators" even more.
As soon as I forbid it, it will flourish immediately.
"As soon as I forbid it, it will flourish immediately," he said, explaining that direct bans are not a good solution and that, for example, the Zion's Protocols of Wisdom should not be banned, but a strict ban on anti-Semitism or incitement to hatred against any other nation or group positive results.
"First of all, instead of fighting with specific conspiracy theories, people's creativity, freedom and spontaneity should be encouraged. Our spontaneity and artistic behavior is a very high value. This is the antidote to any conspiracy theories, "G. Mažeikis said at the end of the conversation.
---
Source: 15min.lt – suprasti akimirksniu | RSS by www.15min.lt.

*The article has been translated based on the content of 15min.lt – suprasti akimirksniu | RSS by www.15min.lt. If there is any problem regarding the content, copyright, please leave a report below the article. We will try to process as quickly as possible to protect the rights of the author. Thank you very much!

*We just want readers to access information more quickly and easily with other multilingual content, instead of information only available in a certain language.

*We always respect the copyright of the content of the author and always include the original link of the source article.If the author disagrees, just leave the report below the article, the article will be edited or deleted at the request of the author. Thanks very much! Best regards!
---