Nine months have passed since the government was formed, headed by Naftali Bennett and Yair Lapid. The chairman of Torah Judaism, MK Moshe Gafni, is in no hurry to sum up the difficult period in the opposition. Despite the resignation of Idit Silman from the coalition, Gafni repeatedly refuses to determine whether the government has reached the end of its days and whether his party will have an opportunity to return to power soon.
"I have seen for a long time that this business is not working, both in the committees and in the Knesset plenum," he says in a special interview with Walla! He adds: "This is a completely unnatural thing because the gap between all the components of the coalition is such that it never was. They failed in the last month of the winter conference to pass anything, it is impossible to control like this. "According to the words I hear, there has been no government in Israel for a long time. I did not risk a date before Blankov when it will end and now I will not either."
"The government will not last. How long will they drag on? I do not know. Certainly the government can not hold with 60-60 in the Knesset. Without the Knesset, they can not work and I saw how this business is crumbling. There are only two things holding them together right now. The first. "This is hatred for Netanyahu and the other is the unwillingness to go to the polls because there are people there who will end their political careers at home."
The interview with Gafni is also a kind of document of criticism towards his members in the opposition. When asked what will happen after another retiree, whether he is required to form a government in the alternate Knesset or go to the polls, he leaves no room for doubt. "A government must be formed in the current Knesset," he says. "There is no place for questions like 'how?'. We must make an effort, not join hands. I say this to the leaders of the opposition, elections are not a solution. It was okay and we lost power. So we have to make an effort to form a government now. Otherwise, even if the Likud goes up in seats, we will not reach 61 and be under the same result. Someone who has no seats will come and become prime minister and we will all go into opposition again. To bring in more Knesset members so that the right and the religious can form a government. "
Passover 2022: Scholarship entry and exit times, and since when is chametz allowed to be eaten again?
How can a government headed by Netanyahu be formed in the current Knesset?
"If we were talking about MK Silman a month ago, you would also ask how but it turned out she had a lot of courage. If we sit together, we will reach a solution. We can do this thing. "
Maybe a temporary government that is not headed by Netanyahu?
"I did not say that. In these sensitive things I want to speak at the table, not in the media. The Likud must decide who its leader is but must admit that no one in the political system can bring so many seats in the election, that is a fact. There is no one who can equal Netanyahu, no "I know such a thing. Some say that if Netanyahu leaves, Saar and others will come. It must be taken into account that if Netanyahu is not, the Likud will not be in the same situation as today with 35 seats or more."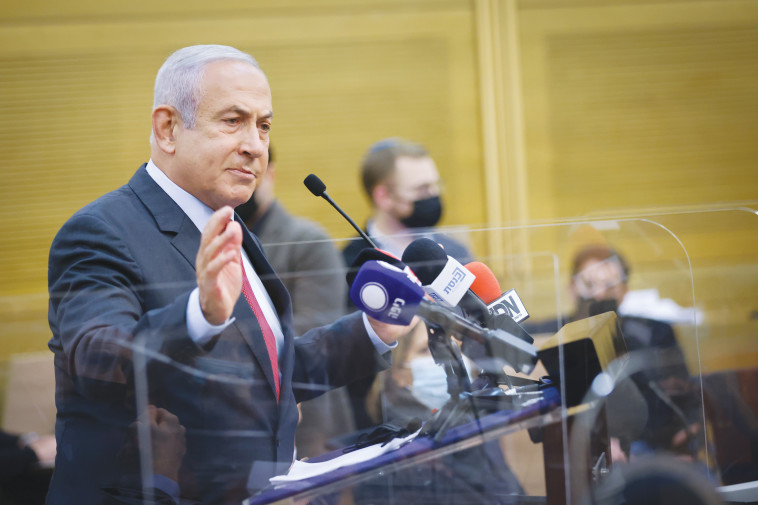 MK Gafni refrained from criticizing Netanyahu for an entire hour, even though he believes that a government should be formed in the current Knesset at all costs, and knows that there is a majority of right-wing Knesset members and may be the one preventing this. He uses the interview to blame a partner Another in the right-wing bloc, saying angrily that "if history judges who made such a bad and anti-religious government, it's Smutrich. He did not allow Netanyahu to form a government, Netanyahu could have formed a government, we all remember that. "
Yes, with RAAM.
Netanyahu faced a government composition. The one who prevented it was Smutrich. It was not a RAAM. I asked Netanyahu and he said he did not intend to form a coalition with them. They sat and talked about other things, not a coalition. Smutrich was the one who interfered.
"In public, it is very difficult for me in the opposition," says Gafni. "They (members of the coalition – 11A) behave in an almost pig-like way, certainly towards all the citizens of the country, the middle class and the weaker sections, but mainly towards the ultra-Orthodox public. Personally, if you asked, I like being in opposition. I am an oppositionist. HaKadosh Baruch he has endowed me with the ability to speak, patience and everything that is needed in the opposition. We have no budgets, we have no positions of power. The ultra-Orthodox politicians have been accused for years that what interests us is money and not ideology so we will go into government with anyone who moves. Now it has turned out to be untrue, as I have argued all these years. We are an ideological party. "
Is the alliance with Netanyahu ideological?
"We are partners of the traditional public. In Israeli-Jewish society there is a division. There is the traditional public and there is the non-traditional public, some of them anti-religious or heretical. If the traditional public had gone with another party and not the Likud – we would go with it. This one is in the Likud and on the right, it is part of the bloc we are a partner in and we will not abandon this public even at the cost that our children will suffer just because the government takes revenge on us on their backs. By the way, it's amazing how the media is silent against such revenge "It's a story of our connection to the traditional public, sharp and smooth. There is nothing else behind it."
And Bennett? Does not represent a religious or traditional public?
"Bennett is not suitable to be prime minister, I'm not sure he is suitable to be a kiosk manager. All his behavior and conduct, for example what happened in the Knesset plenum when he shouted at Likud members – it is under all criticism. He does, and what he does is zero, especially on religious issues. In history we will learn this conduct. How a man with 6-5 seats, does not know how much he has today, became prime minister. The prime minister of Israel, a country with so many problems "Complexities that have to be dealt with, he has to have a public back. There was no such thing – a prime minister who does not head the big party or at least one of the big two and who has no public back, even within his party."
Can he be your partner in the future?
"Will he be elected to the Knesset at all? Not sure. If so, we will talk then. Let him be a partner as a Knesset member from the back benches."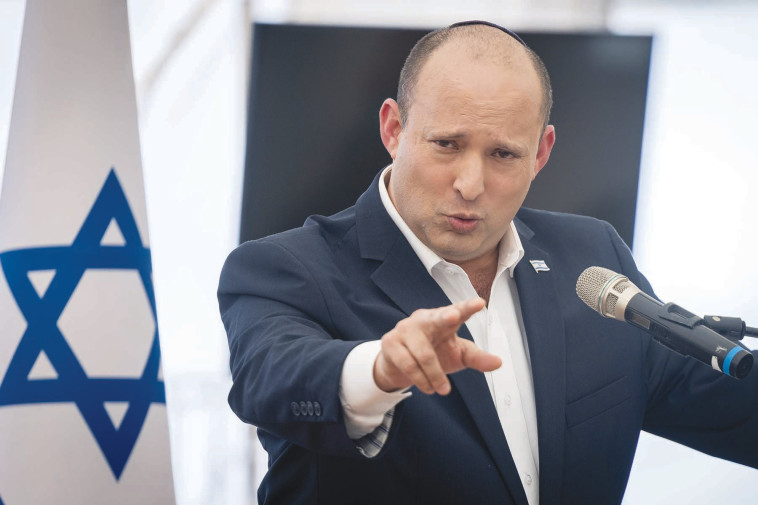 Is there anyone who would not agree to be your coalition partner?
"Yes, Lieberman. He will not be forgiven. Under no circumstances will we sit with him. I have known this man for many years, I also helped him when he approached me during my tenure as chairman of the Finance Committee. I shared with him a lot of political and public things, but once he decided that politically he had nothing else to sell, not economic, political or security, he decided that the best thing for him was to hurt the ultra-Orthodox. There is no such thing in a democratic regime. I am amazed at the media that silences him – he harms the ultra-Orthodox public, men, women, children, localities and neighborhoods and everything he can hurt – for no injustice on their part. On all sorts of issues that are not related to anything ideological, but only harm for the sake of harm. He will not be forgiven and there can be no situation in which he will harm the ultra-Orthodox public today and say to himself, 'Tomorrow, when they need me, they will forgive me.' We will not forgive him. "
Even if he accepts all the guidelines of a government you will form in the future or asks you for forgiveness?
"Lieberman should go home. Such a man should not be in the political system. I will not forgive him. If he intends to repent of what he is doing, let him go home. He has nothing else to sell, what will he say to that new immigrant from the former Soviet Union? What will he sell? For him politically, what is his agenda? What is his economic platform? He has nothing. The harm to the ultra-Orthodox is the only thing left for him and there is always a small group whose issue is the harm to us, he has taken it upon himself now. It does him no good. "He does not go up in the polls but only goes down."
The government has not yet fallen, but Gafni breathes a sigh of relief that MK Silman's resignation has, in fact, taken all the steps that its members wanted to promote in matters of religion and state, with an emphasis on change in conversion, the Western Wall or the status quo. Silman gave it a very significant brake. How did people wearing kippahs in this government do these things? These are people who associate themselves with religious Zionism, how do they do these things? In kosherness, conversion, and the purity of the pedigree of the people of Israel? It seems as if they are giving me a fight, and saying 'here we can harm the ultra-Orthodox public'. I do not have a logical answer to that, but it is a question that cries out to heaven. "
The brake that MK Gafni means is the messages they conveyed in the joint list to the leaders of the ultra-Orthodox parties that they will not support the Knesset on issues of religion and state that will harm them. "For years," says Gafni, "I have cooperation with Arab Knesset members."
Are you denying a partnership with them in the coalition?
"I do not deny anything. When it comes to a practical discussion, I will know how to answer it."
So why when the government intends to lean on them, is it wrong?
"I have the strongest criticism that can be of the government. It is one of the worst that there has been in the State of Israel. Whatever they do, they do bad. I do not see that they are going to rely on the Arabs, I asked the members of the joint list, and I did not hear them go back. "On the contrary. So it is unnecessary to discuss it."
Gafni has repeatedly stated in the past that he is "more inclined to the left," but after the recent criticism he received following his statements that Netanyahu should step aside, he refuses to repeat it again, even when we have a theoretical discussion. Why ?, I asked, has the left changed? And he replied: "No. There are sections on the left that are anti-religious, and I will not sit with them. Look at the story with Nitzan Horowitz, this is an unprecedented scandal. You have to be evil to say or do something like he did. A sick man in the hospital, keeps kosher on Passover "What does he have to deal with now? It's not only in Meretz, there are also those in the Labor Party."
Finally, are there any moments in the last period that you are already thinking about the end after so many years?
"I do not think about rest, at most to return to study in Koolel, but whether to retire or not to retire? This is not a question I will decide, what the rabbis will order me. In the meantime, I will continue until we seem to have to stop."
---
Source: Maariv.co.il – פוליטי – מדיני by www.maariv.co.il.

*The article has been translated based on the content of Maariv.co.il – פוליטי – מדיני by www.maariv.co.il. If there is any problem regarding the content, copyright, please leave a report below the article. We will try to process as quickly as possible to protect the rights of the author. Thank you very much!

*We just want readers to access information more quickly and easily with other multilingual content, instead of information only available in a certain language.

*We always respect the copyright of the content of the author and always include the original link of the source article.If the author disagrees, just leave the report below the article, the article will be edited or deleted at the request of the author. Thanks very much! Best regards!
---