The year is 2019 when Reza Khelili buys a small limited company that deals with support for the disabled. The company has been run by an Iranian couple living in Älvsjö and has bank accounts in SEB via the bank office in Globen.
It has been a few years since Khelili left his seat for the Moderates after it emerged that he had participated in a PR conference for the regime in Iran. He was replaced by Fredrik Reinfeldt, who during his time as party leader invested heavily in increasing the number of third world immigrants among the party's members in the House. But now the income guarantee has expired and Khelili will change to an entrepreneur.
What the company's business is about, however, is unclear. To the Swedish Companies Registration Office, Khelili states that the company deals with "investment, purchase and sale of industrial machinery" and more, while the Swedish Tax Agency still lists "social initiatives for people with disabilities" as a business description. On your website describes the company today as "a global vehicle company that is a leader in safety, sustainability, online operations and services".
When Fria Tider calls Reza Khelili, he gives a more modest picture of the business. The company will sell spare parts for cars, he says, but has not yet started.
– We have sent a request to Germany to buy spare parts. We will buy spare parts, says Khelili.
We will return to the politician's own explanations. But what no one at SEB or the authorities will get clear in 2019 is that the company does not conduct any of the activities it claims to engage in. Instead, it acts as a money laundering front for the cryptocurrency King Money, a gigantic investment fraud that a few years later will shake the Middle East.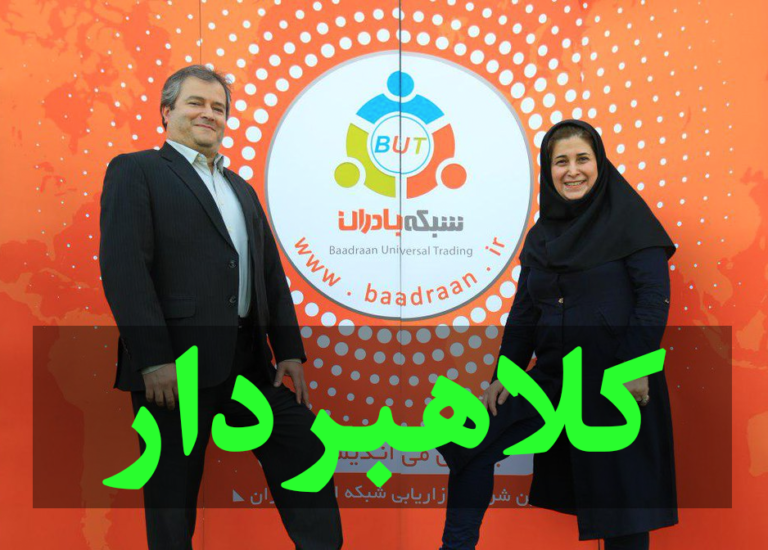 Reza Khelili's now detained partners Fereydoun Ghorbanian and Shohreh Mousavi have run the company Baadraan in Iran.
In addition to Reza Khelili, the M veteran's two partners – a man named Fereydoun Ghorbanian and his wife Shohreh Mousavi – take over as members of the company's board. They sat there until February 17 this year, when they abruptly resigned after Iran began investigating them for what the country's authorities describe as the largest investment fraud in the country's history. Since then, they have been detained – in Iran – and there they are still in custody at the time of publication of this article.
According to Iranian media, the couple has through the Swedish company and through an Iranian company conducted a classic ponzi scheme. In short, the fraud was carried out by Reza Khelili's Swedish company, which is today called Sweden Amico Invest AB, issuing a counterfeit cryptocurrency called King Money. The Iranian company Baadraan has since sold the currency to Iranians in Iran.
Baadraan promised that anyone who bought King Money "at any time" could exchange their King Money for bitcoin. This made many people feel safe buying the new cryptocurrency and money began to flow into King Money and enrich the people behind the currency.
Through manipulation, the same people then increased the value of a unit of King Money for a short time from about 4 euros to 4,000 euros, while the possibility of exchanging the currency back to bitcoin still remained.
However, as the value rose all the time, few wanted to exchange their holdings for bitcoin and more and more wanted to buy King Money. Hundreds of millions of kronor flowed in – when suddenly the opportunity to exchange King Money back to bitcoin was removed from the company's website.
When the scam was a fact, it is estimated that a total of around 60,000 Iranians were cheated of the equivalent of approximately SEK 300 million. Thousands of people have reported the fraud to the police, according to the Iranian prosecutor's office, and Afghans are also among the deceived.
Protesters in Tehran are demanding that the leaders behind King Money be prosecuted. Pictures from February 2022.
Many victims have held demonstrations to persuade the authorities to act against the scam. But critics say it has taken too long because the scammers are not just anyone.
Those involved are established people in Iran and are on good terms with the country's regime. Shohreh Mousavi is the vice president of Iran's women's soccer federation and the case has received a lot of attention in Iran since she was arrested last weekend.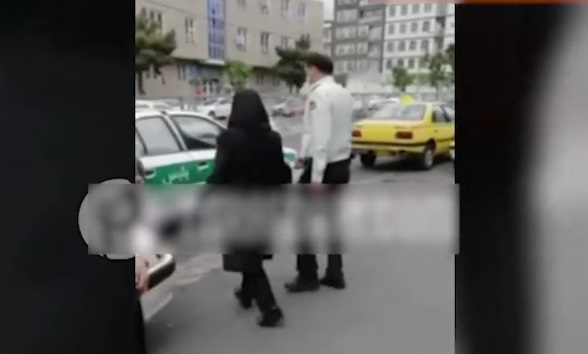 Shohreh Mousavi arrested by police for the King Money scam.
Sweeps away the tracks
Cointext, a cryptocurrency news site, reported already in May 2020 that Khelili's Swedish company was used to register both King Money and another cryptocurrency called UTByte. The site noted that Iranian bloggers already then accused the projects of being scams. This was described as one reason why Iran began to tighten its regulatory framework for cryptocurrencies.
Iran is a country that has been hit by severe sanctions, and the principals therefore needed a company in the West to be able to register the counterfeit cryptocurrency on well-known marketplaces for crypto trading and to be able to implement it practically and technically. This is where Reza Khelili and his company in Sweden have come into the picture.
During Fria Tider's work on this article, Reza Khelili has tried to sweep away the traces of her connections to the crypto fraud, but they can still be substantiated.
At King Moneys website was recently stated the M-veteran's Swedish company, which was then called Sweden Invest Group AB, as the responsible company, complete with the company's Swedish boxing address in Kista. However, the address has changed in retrospect, and now the responsible company is instead called "Sweden Invest GE" and has its headquarters in Georgia's capital Tbilisi. According to the Georgian Companies Register, however, there is no such company registered in the country.
The website Kingmoney.io has blocked itself from the Internet Archive, where it is no longer possible to see what the site looked like before. However, screenshots showing the site before the company name was changed are preserved.
The news site Webamooz, a kind of simple Iranian Wikileaks run by corruption investigator Mohammad Jorjandi in the US, Reza Khelili's connection to the King Money scam as early as 2020.
Webamooz has also published a picture showing how Reza Khelili participates in a meeting with the detained couple's company Baadraan in Iran. Webamooz also states that King Money's previous contact address does not only belong to Khelili's Swedish company but also to the Scandinavian-Iranian Chamber of Commerce, of which he is chairman.
Reza Khelili was captured in a photo during the meeting with Baadraan in Iran.
Another Iranian site, Student News Network, also reviewed the connections last year.
The Swedish Companies Registration Office confirms that the now detained Iranians, Fereydoon Ghorbanian Mashadi and Shohreh Mousavi, previously sat on the board of Sweden Invest Group AB. However, the couple was replaced by new members on February 17 this year and in mid-March the company changed its name to Sweden Amico Invest AB.
When Fria Tider reaches Reza Khelili, he first does not want to feel that he and his company would have anything to do with King Money. When he then has to explain why he was at the event with Baadraan in Iran, he says that it is an unfortunate coincidence.
– There were several thousand participants and I also participated as chairman of the Swedish-Iranian Chamber of Commerce. It had nothing to do with buying or selling, I was just there as a representative of the association, he says.
Reza Khelili describes that the two arrested deputies for Baadraan also sat on the board of his Swedish company until February this year.
– We bought a company to be able to work with them. It did not work, they have not paid their costs. A company needs offices, employees and capital. They did not pay a penny to Sweden. They owe me personally SEK 110,000, which I left out of my own pocket, for the rent and what I paid for myself to start a business. Their company used for King Money is in Georgia or some other country, it has nothing to do with us, he says.
You have changed it now yes. But it was your company that was previously listed on King Money's website.
– What should I do? I can leave my business card to you and you can use it and claim that I am your business partner. I did not know anything until last Friday and then we wrote in statements that the Swedish-Iranian Chamber of Commerce has nothing to do with this.
– I'm going to Iran on Friday to report them to the police. They may not use our name on the website just to show that they have good contacts, Reza Khelili continues.
Reza Khelili's company, which is now called Sweden Amico Invest AB, writes on its own website that the company's ambition is to be "a world-class vehicle company that is a leader in safety, sustainability, online operations and that sets a new global standard".
But the company lacks declared sales and apart from SEB, it is difficult to find signs that the company would ever have had any suppliers, customers or other business partners conducting white business. Khelili himself can not name any, but has an explanation.
– We started recently, we will buy spare parts, we have a website, says Reza Khelili.
But you've had the company since 2019?
– We bought it from another person.
Then you have not done anything since then?
– No no, unfortunately. It is not possible, there are sanctions against Iran. We have the same problem with the Chamber of Commerce.
Do you have any suppliers?
– We have sent a request to Germany to buy spare parts.
Which company in Germany is it?
– That, my friend, you have nothing to do with it.
Despite the writings in Iran in recent years and despite the fact that his two board members were arrested for the crime in early spring, Reza Khelili states that he did not hear about the crypto fraud until last Friday.
– I have never used digital currency, I can not, do not have that education. My role as chair of the Chamber of Commerce is to help Iranians and do business-to-business. I meet between 500 and 600 companies a year, but due to the sanctions, no one has been able to earn a single penny from Iran. The bank has closed the Chamber of Commerce's account because we have an Iranian name. In our companies here, there is no money, only debts, he says.
Last year, the former M-politician declared SEK 0 in earned income. In 2019, he had a declared earned income of SEK 5,600 and a deficit of capital of SEK 57,991.
– I only have losses, zero income. I live on my wife today. I have no income. I tried but I have not succeeded, contacts do not pay my costs today.
Reza Khelili is today registered as unmarried.
Neither the Public Prosecutor's Office nor the Economic Crimes Authority state that they are aware of the Iranian fraud case or the connection to Reza Khelili and his Swedish company. There is no corresponding Swedish preliminary investigation against Reza Khelili or his company.
"I find nothing with us regarding this", writes Niklas Ahlgren, press officer at the Swedish Environmental Crime Agency, in an email.
---
Source: Fria Tider by www.friatider.se.

*The article has been translated based on the content of Fria Tider by www.friatider.se. If there is any problem regarding the content, copyright, please leave a report below the article. We will try to process as quickly as possible to protect the rights of the author. Thank you very much!

*We just want readers to access information more quickly and easily with other multilingual content, instead of information only available in a certain language.

*We always respect the copyright of the content of the author and always include the original link of the source article.If the author disagrees, just leave the report below the article, the article will be edited or deleted at the request of the author. Thanks very much! Best regards!
---