Good sound is loved by everyone, young and old. Nevertheless, it is still difficult to find a successful model: more and more manufacturers are leaving their own developments, transferring the entire chain to China.
Faceless gadgets, gray uninteresting sound. Is this the lot of our century? Not at all: sometimes legends return and surprise.
Take JVC for example. The company returned to the Russian market and immediately presented a basic set of headphones for any occasion. Each has its own characteristics.
JVC: the legend of multimedia technology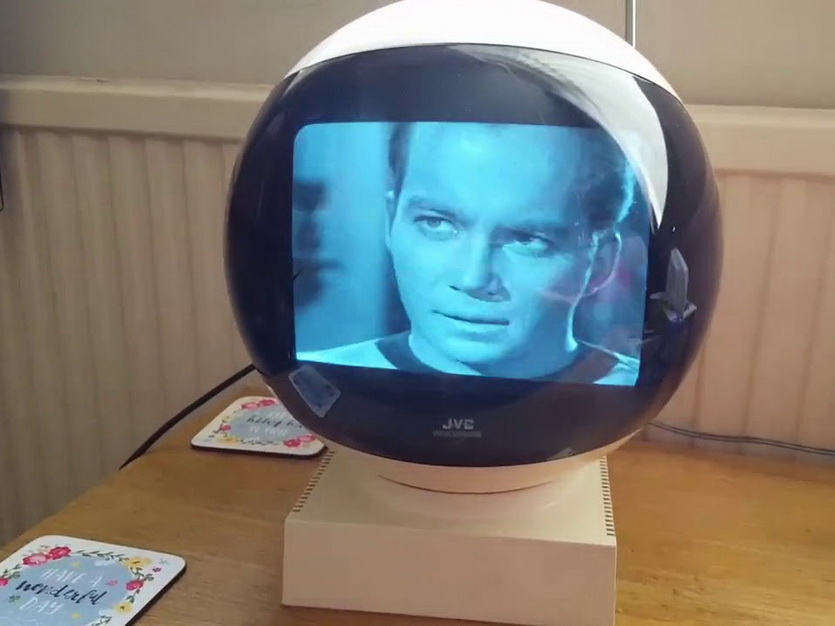 JVC's most popular TV
Hardly anyone imagined that the division of the American record company, created in 1927 Victor Taking Mashine (once they created a commercial recording) will outlive not only the legendary leader in the production of gramophone records, but also create an entire industry, forever entering technological history.
It is the corporation Victor Company of Japan responsible for the quality of Japanese technology familiar to us. They released the first Japanese ones:
turntable
stereo player
radio
television.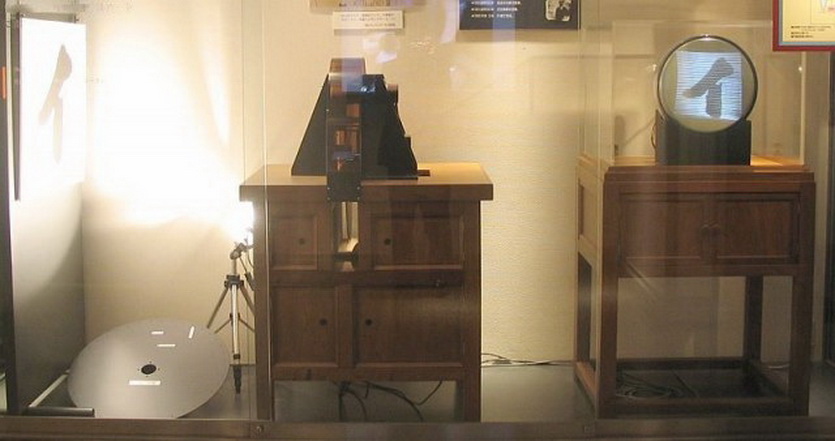 Takayanagi Experience Demonstration Exhibition
Is it any wonder that JVC had a legendary Kenjiro Takayanagithe first to project the image onto cathode ray tube.
It was she who became for many years the basis of televisions, which the eminent engineer was engaged in.
The brand gained worldwide fame as part of the corporation Matsusita in 1959 thanks to all the same serial TVs, stereos and VCRs with 2 heads.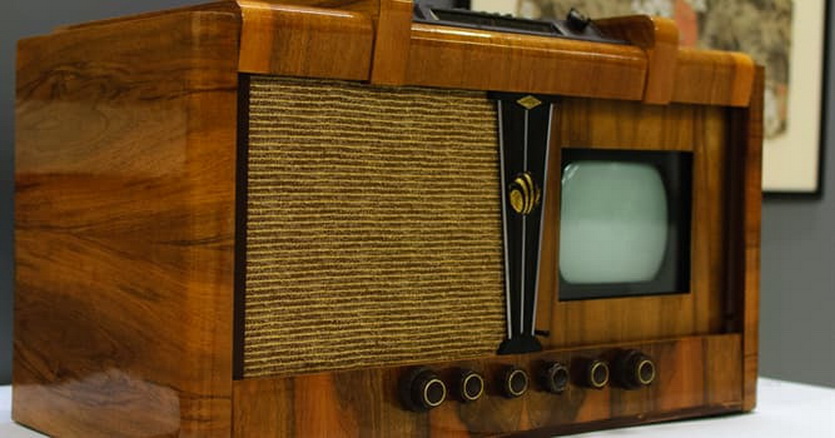 JVC Radiola with built-in TV
Console and portable TVs only strengthened JVC's position, and the release of portable radios with built-in TVs produced a bombshell effect: they conquered the North American market forever.
We love Japanese technology precisely for its fresh solutions, convenient combinations and high quality. All this is JVC.
JVC, tulips and videotapes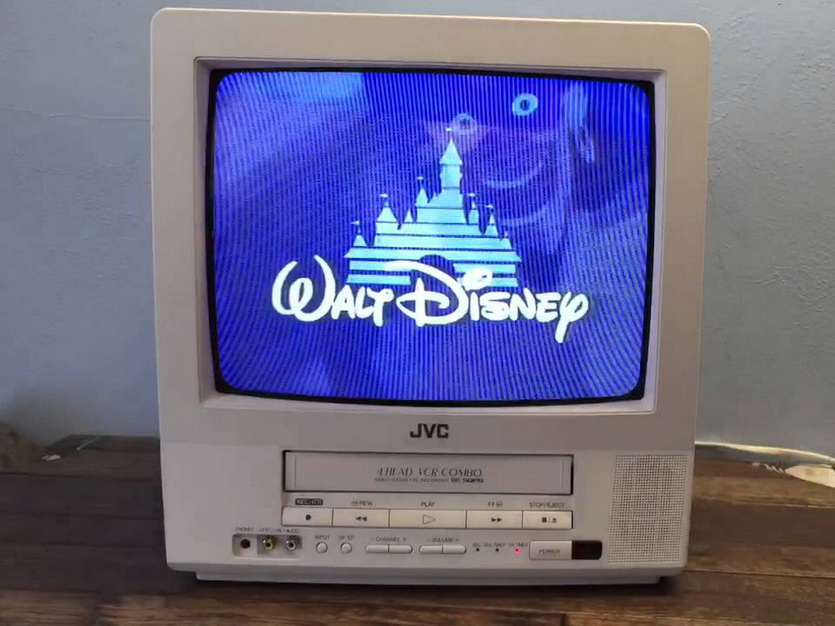 Popular in the nineties JVC's "video twin"
For the global industry, however, another JVC project is much more important – the home video format. VHS, which appeared in 1973 in the form of a prototype device that determined the capabilities and appearance of video recorders for many years to come.
It is they who are responsible for the widespread distribution of "tulips", RCA format connectorsare still popular for analog signal output.
In 1982, the company repeated its success with the introduction of the compact cassette standard VHS-C, which allowed the emergence of compact video cameras.
Over the years, JVC has added digital video recorders, direct-drive cassette decks, pocket camcorders and even world's first digital HD camera.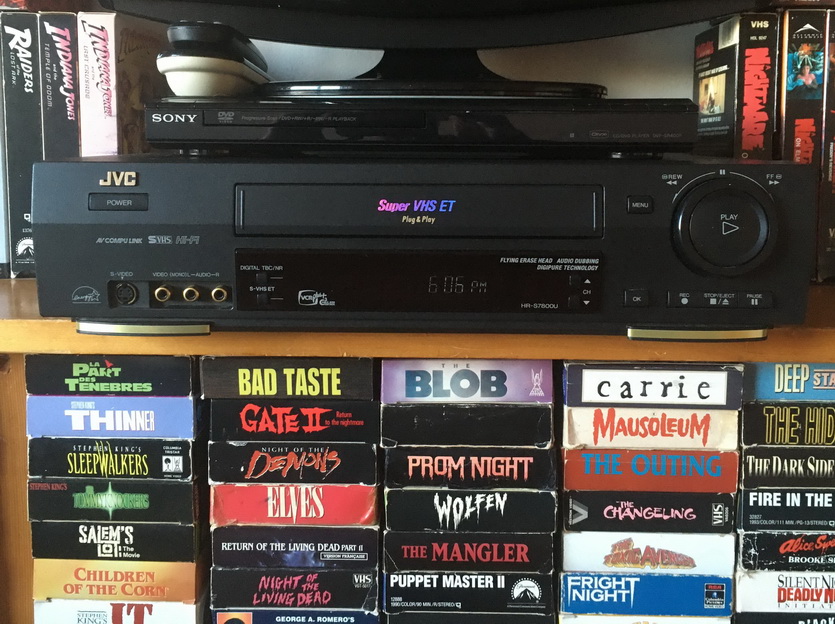 Many of our readers remember both the cassette collection and the brand's VCRs
Today JVC is in league with Kenwood Corporation (the same one that produces elite audio systems and high-quality household appliances), leaving the Matsushita-Panasonic holding. The story continues.
For the Russian market, the company presents a number of various audio solutions, mainly in the budget segment. Why him?
Because JVC can make quality sound available to everyone.
Headphone type: vacuum (TWS)
Acoustic type: closed
Connection type: wireless (Bluetooth 5.0)
For whom: for the stylish and young
Wireless headphones are no surprise today. Nevertheless, JVC engineers have obtained practical headphones for everyday wear that are worth paying attention to.
The case is quite massive and tough. Of course, the fall will be unpleasant for him, but not fatal. And they are not afraid of splashes and dust at all: the moisture protection complies with the IPX5 standard.
The same soft-touch plastic is used for the headphones. It is pleasant to wear, to hold in hands too.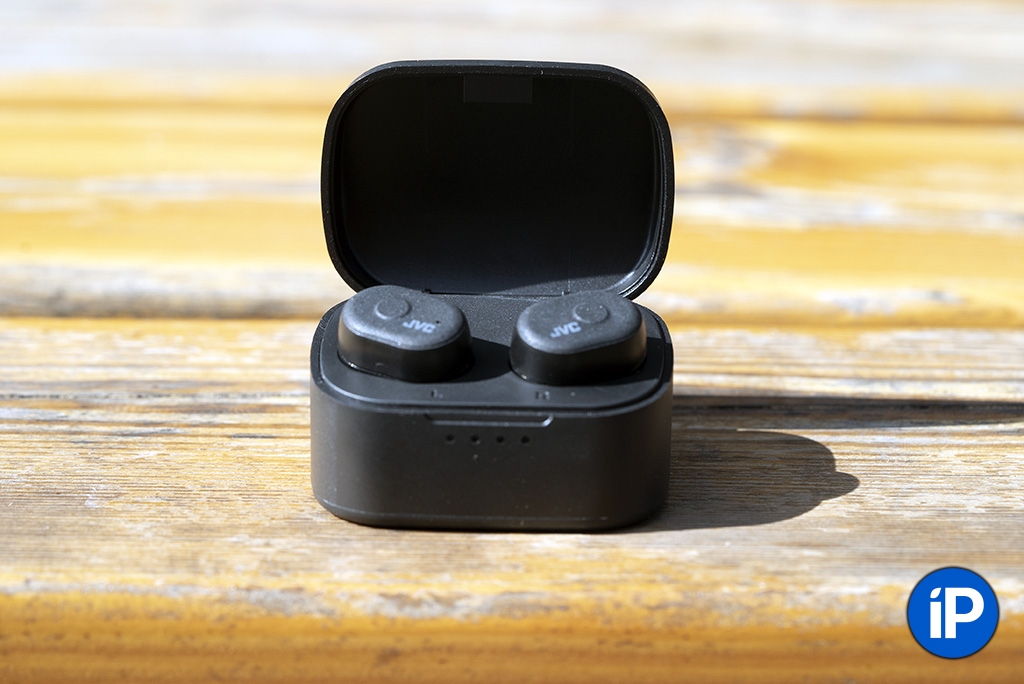 Compact and comfortable. And they are not afraid of water
The shape of the earphone is worth mentioning separately. "Bob" with a sound guide elongated at a right angle is very fits well in either ear and sits firmly.
The soft mechanical control key is another ergonomic advantage. It does not fail, it is pressed softly and with a tangible tactile response.
Moreover, it is convex. You won't have to search, you won't miss even under the hat.
Due to their compact size, these headphones fit perfectly under any headgear. So the headphones came out well.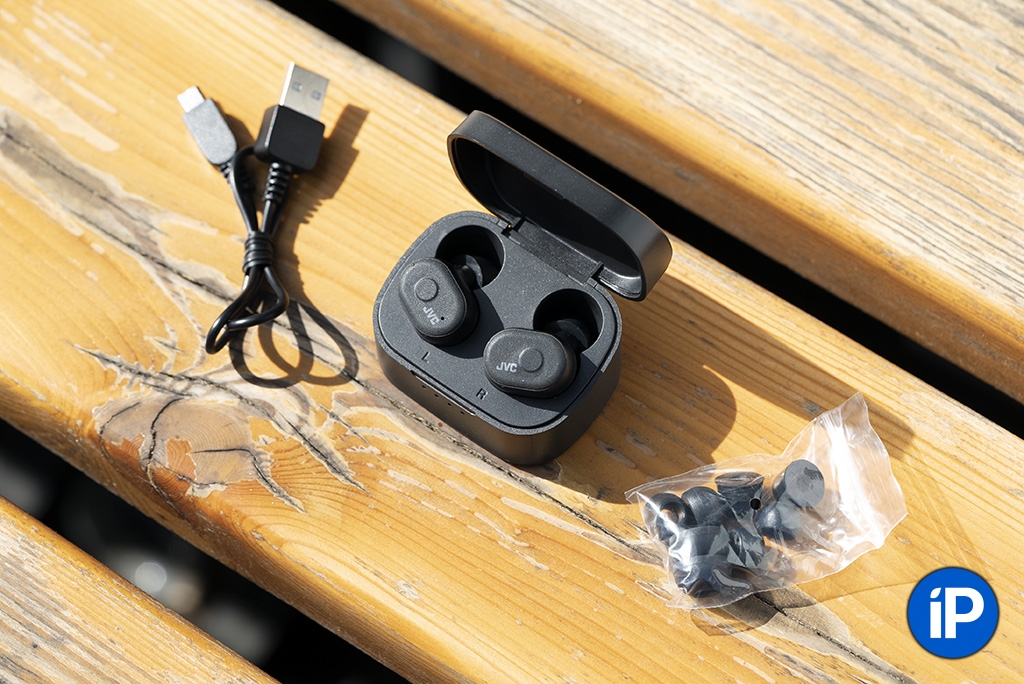 And the HA-A10T sounds very good: the 5.8 mm speaker provides full range coverage 20 Hz – 20 kHz with a predominance of middle frequencies.
The connection is organized using Bluetooth 5.0… So the connection is not interrupted even at 10 meters from the sound source, and the battery lasts for a long time.
The headphone and case are charged for up to 14 hours of battery life. Charging via microUSB takes 3 hours.
Wireless JVC HA-A10T fits perfectly in your ears and offers the most balanced sound for everyday use.
Conversations, podcasts, watching videos – all this is their strong point. However, they can cope with hip-hop, popular dance music, rock and roll.
No claims to be perfect, since the frequency response is optimized for the most pleasant sound. But this is also for the best?
🛒Buy wireless headphones JVC HA-A10T for 3790 rubles.
2. Children's invoices JVC Kids
Headphone type: overhead compact
Acoustic type: closed
Connection type: wired (non-removable cable)
For whom: for all ages of children
Bright kids overhead will appeal to all children, and teenagers will find their own colors: this lightweight model is available in 4 combined colors. The headband, cups and interior are in one color, the overlays in another.
Girls will like pink and purple, not a single kid can resist the combination of blue and yellow, red headphones with yellow overlays will definitely "fit" older children, and the purple and green combo will suit the most original of all ages.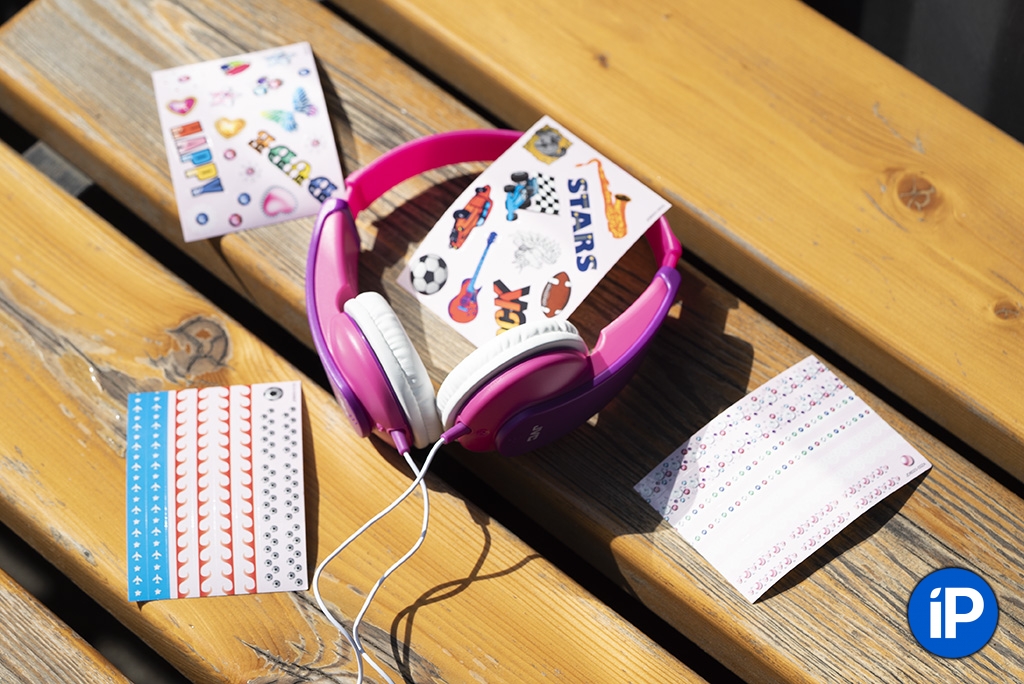 The included stickers are loved by all kids
Each comes with 4 sets of stickers. They will allow you to "customize" the ears for the child's hobbies. Great out of the box solution.
The earbuds are completely made of durable plastic, so they weigh only 122 grams. Almost weightless.
Engineers ensured Kids are completely free of protruding parts and sharp edges… There is even protection for the cable – a long heat shrinkage will extend the life of the wire.
The ear cushions are made of breathable synthetic leather. Adults can envy: the head does not sweat, but they sit perfectly.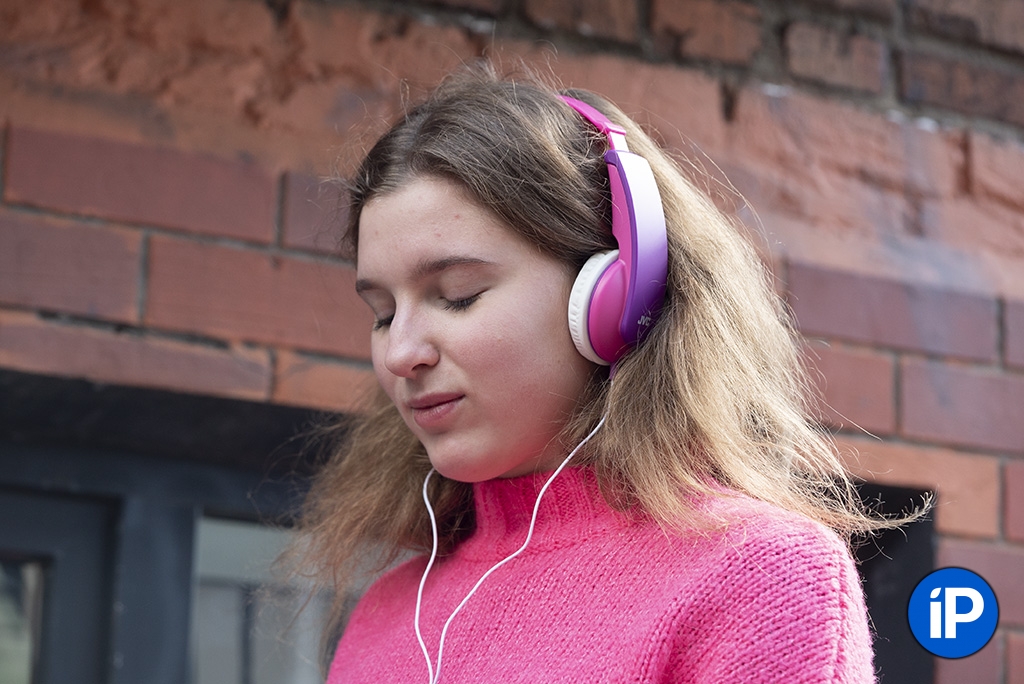 The compact 30mm drivers have a wider range, but cut too low and too high frequencies.
In addition, the model got maximum volume limitation for the safety of hearing in babies.
The shortened, densely braided braided cable will increase the "survivability" of the headphones. You can count on at least six months of active use.
JVC KIDS will suit even the smallest children, making listening to music and watching cartoons an interesting game.
As for the sound quality, it is already clear: they are contraindicated for adult music lovers.
The sound is tinted towards the middle, all possible harsh sounds are cut and smoothed out. But the kids will love it.
🛒 Buy baby headphones JVC KIDS for 1290 rubles.
3. Legendary basshead headphones JVC HA-FX1X
Headphone type: vacuum closed
Acoustic type: closed
Connection type: wired (non-removable cable)
For whom: for fans of aggressive music and low frequencies
Recognized leaders of the budget segment: these headphones have been known in Russia for at least 10 years, appearing in the tops again and again every year.
Despite the only 10mm speaker HA-FX1X are ready to offer bassheads more than anyone in the price segment up to 5 thousand rubles.
The only competitor in the face Vsonic costs three times more and is not available for purchase in Russian offline stores.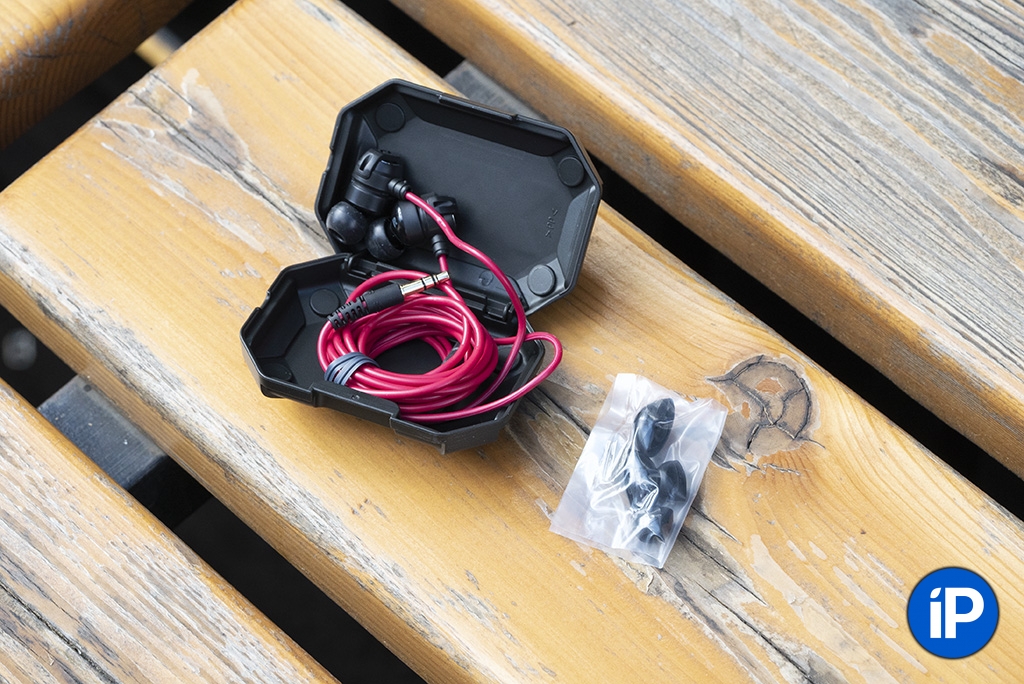 Even the case here is brutal, strict
The speakers give out honest 200 mW and literally "explode" when played with rich low frequencies of the tracks. However, they also cope with other frequencies.
These headphones are also famous for their comfortable fit: although they are large in size in comparison with analogues, they fit tightly and are completely invisible when worn, since they weigh only 5 grams.
Children and fragile girls will not be suitable even despite a large set of complete ear pads: these are brutal, men's headphones with a powerful sound.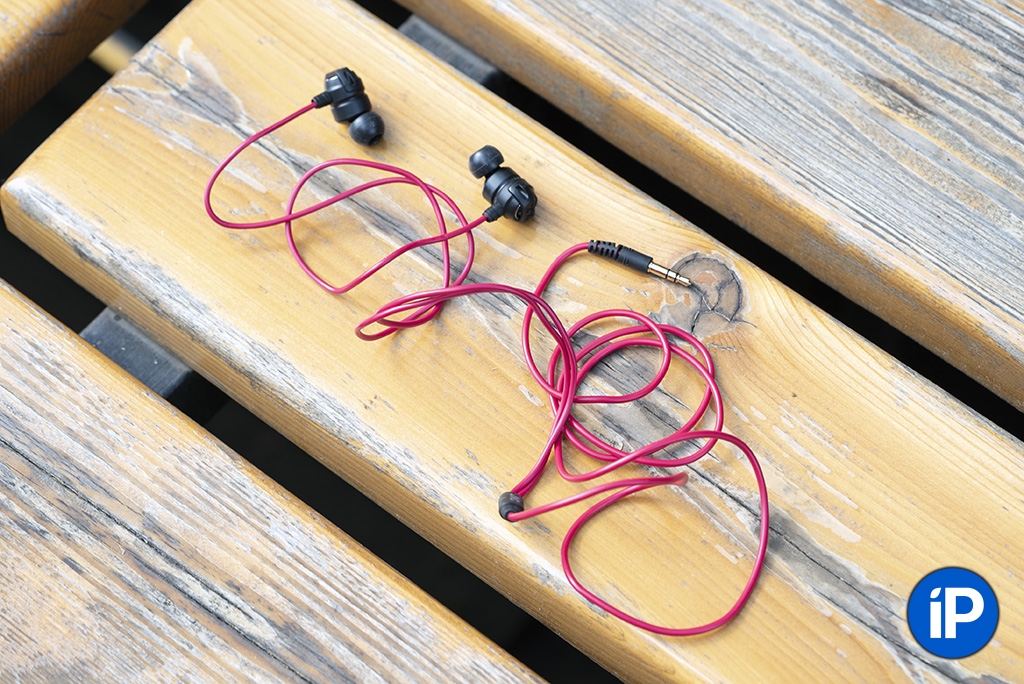 True, for fans of extreme sports, they are not suitable – the openings of the phase inverters are large, rain can damage the filling.
The cable is symmetrical, durable, although without additional braiding. Exactly at its price.
JVC HA-FX1X designed for adult listeners who prefer aggressive music and an abundance of low frequencies.
Genre doesn't matter: they do equally well with grindcore, drumcore, deep house and fast tracks from any other genre of heavy guitar or electronic music.
You can also listen to the classics, if the balance suits you. Or work with an equalizer. A bit dirty, but how it "rocks"!
If the basshead has bought a HA-FX1X, he will also buy a second pair – the price is affordable, the sound is surround, the quality is high.
🛒 Buy wired headphones JVC HA-FX1X for 1290 rubles.
Headphone type: overhead compact
Acoustic type: closed
Connection type: wired (non-removable cable)
For whom: for everyone and for every day
With the initial segment of headphones on the Russian market, it is not at all right: there are many offers from various brands, but it is almost impossible to find something worthwhile among them.
Therefore, it is worth paying attention to the "two hundred and twentieth" JVC. And the sound is decent, and the decoration is good, and the price is nice.
The design is nice, very calm. If desired, you can choose a color: white, red, blue and black options are available.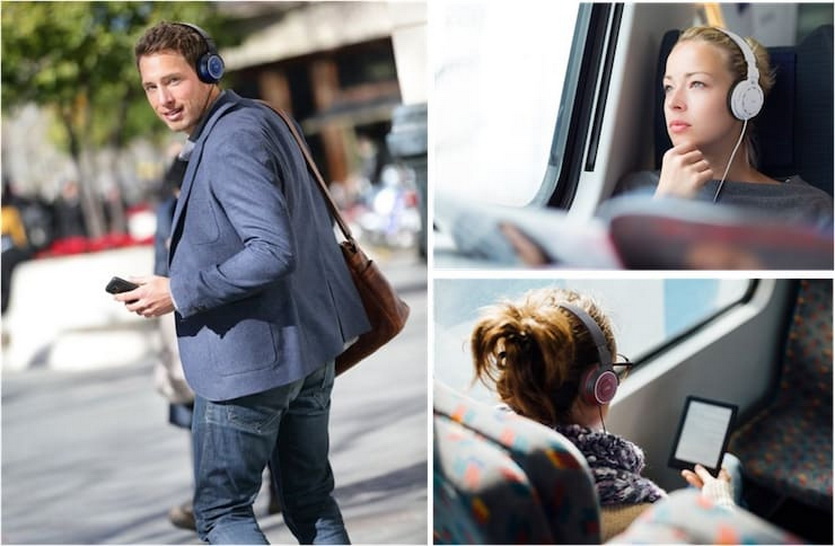 Headphones have lightweight up to 128 grams foldable design made of sufficiently durable plastic. You don't have to worry about the appearance.
Well, the strength is supported by a flexible metal plate inside the headband. As practice shows, six months of active wear for these headphones is not a problem.
Good speakers are hiding inside 30 mmthat cope with the entire audible range.
Excellent sensitivity, well-thought-out frequency response with a cunning color of sound for the most popular genres only plays into their hands.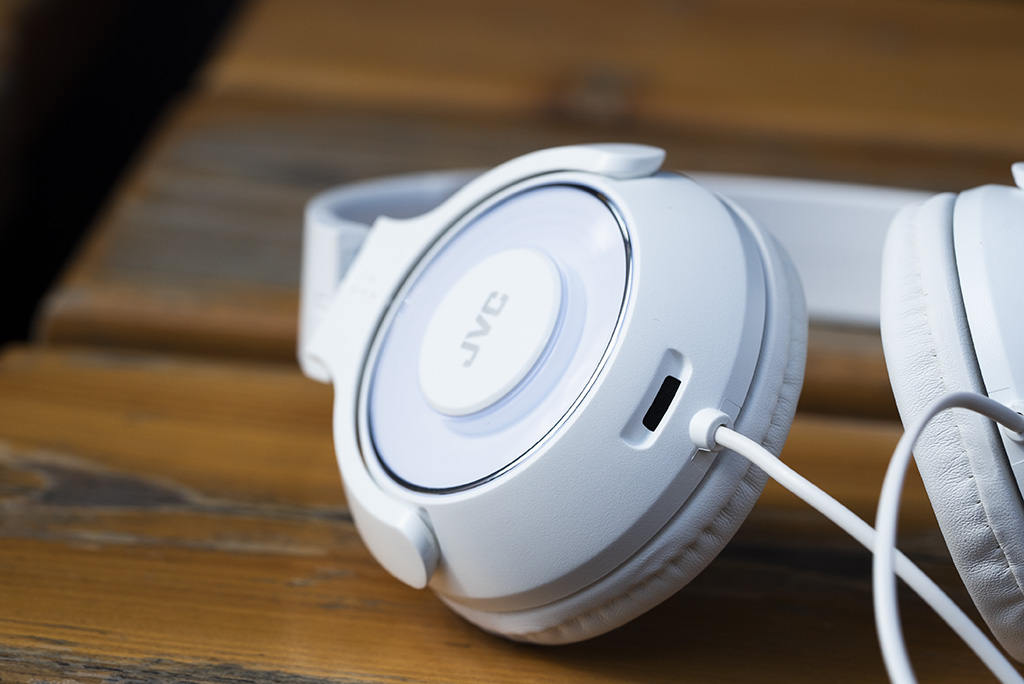 Suitable for everyone, young and old. And for any style of clothing
Unlike the previous version, the sound of the HA-S220 is balanced towards medium and high – popular music of light genres sounds great.
By the way, there are no restrictions on the volume, therefore (taking into account the good passive sound insulation of the leatherette ear pads) these JVCs are suitable for everyday use in transport and on the street.
The cable is symmetrical, the plug is suitable for both Android and iOS smartphones.
JVC HA-S220 thanks to their soft, balanced sound, they are suitable for constant daily wear.
Let's explain the balance towards averages and speech: otherwise, you won't carry the whole day. They should not tire with an abundance of frequencies and proper dryness.
After expensive headsets and headphones, the first half hour will be a little strange. And then you get used to it. And you don't want to take off these headphones at all.
🛒 Buy casual headphones JVC HA-S220 for 1490 rubles.
Why JVC? Because Japan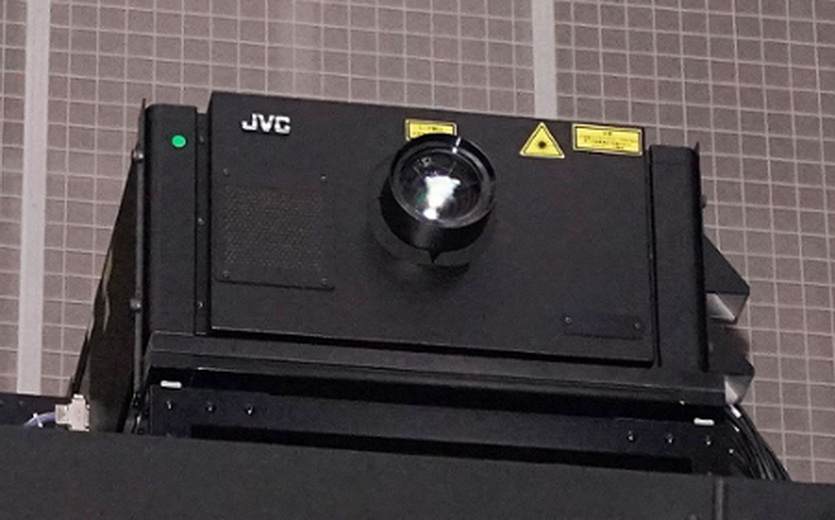 JVC's latest project: 8K home projector
Today, JVC prepares 8K laser projectors, designs corresponding cameras for Japanese television, and is doing its best to maintain the leadership in the television field.
But we'll open the door to Japanese innovation in the 21st century next time. For now, I recommend that you familiarize yourself with everyday JVC.
After all, Japanese quality is available for every owner of a smartphone, tablet and laptop. And it costs very little.
You just need to choose your own and try. I promise you will like it too.
---
Source: iPhones.ru — Новости высоких технологий, обзоры смартфонов, презентации Apple by www.iphones.ru.

*The article has been translated based on the content of iPhones.ru — Новости высоких технологий, обзоры смартфонов, презентации Apple by www.iphones.ru. If there is any problem regarding the content, copyright, please leave a report below the article. We will try to process as quickly as possible to protect the rights of the author. Thank you very much!

*We just want readers to access information more quickly and easily with other multilingual content, instead of information only available in a certain language.

*We always respect the copyright of the content of the author and always include the original link of the source article.If the author disagrees, just leave the report below the article, the article will be edited or deleted at the request of the author. Thanks very much! Best regards!
---