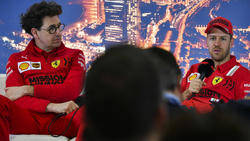 Ferrari team boss Mattia Binotto has not contradicted the version of his disappointed star driver Sebastian Vettel about the circumstances of his resignation at the end of the season.
"We had to reconsider our decision. Yes, he was surprised," said the Italian on Friday at the press conference on the sidelines of the Formula 1 start in Spielberg / Austria.
"In winter Seb was our first choice, we told him so," said Binotto: "Then we were contacted by other drivers. Then came the virus that changed the whole world. Then came the budget limit, then there were Cars almost frozen for two years. The season hadn't started yet, so Seb couldn't show anything on the track. During that time, we made our decision. Yes, he was surprised. And I understand that. He's not yet totally happy with that, that's understandable. "
The four-time world champion Vettel had contradicted Scuderia's official language regulation on Thursday about the circumstances of the separation with the expiration of the contract at the end of the year.
"The last few months it was actually very clear that you wanted to continue together. At the beginning of May I had a phone call that made me realize that the team was unwilling to continue. That was a shock, of course, and came as a surprise." Vettel said: "There was no offer on the table."
In the press release on May 12, Ferrari had spoken of a "joint decision".