–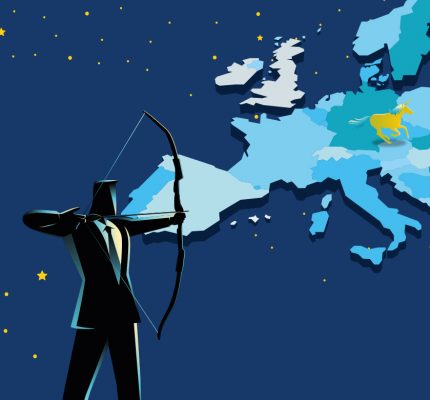 Scale-ups are the new start-ups. While for a long time the attention was mainly focused on particularly young growth companies, in recent years there has been increasing interest in companies that are a bit further in their development. With the main complaint that very few Unicorns arise on our continent. What does the European landscape look like? What challenges are there? And what are the winning strategies?
The framing of what makes a company a start-up or scale-up varies and can be quite arbitrary. Frequently mentioned, however, is the presence of a validated business model and product or service, ready to scale. We have seen several companies do this to extremes. Spotify and Adyen are obvious names, but British Telegram and Spanish Glovo are also examples. Both commercial and government attention for such companies is growing. Because, according to the idea, today's growth companies are the employers of the (near) future. And make a significant contribution by introducing innovative products and services to solve global challenges.
Looking at the European landscape, based on the European ScaleUp Monitor of the Erasmus Center for Entrepreneurship, the United Kingdom appears to be home to the highest number of scale-ups, followed by France, Germany, Sweden and Spain. The same ranking also applies to mature companies, with the exception of Italy, which occupies the fourth position instead of Sweden.
In terms of industries, it is striking that among both the scale-ups and the mature companies, most companies are active in the industrial sector – companies that provide industrial and commercial products and services, such as trade, distribution activities and transport services. SaaS, Production and Mobile are also doing well. However, the current poll may give a distorted picture for the future. The verticals Oil & Gas and Infra, for example, are columns with mainly mature companies. And therefore not represented in the top 10 verticals of scale-ups. But these will have to change considerably in the coming years in order to comply with international agreements. And thus have to tap into innovation potential. Plus: Zooming in on the relatively new, emerging sectors currently shows a greater representation of scale-ups in AI & Machine Learning and Big Data. These are expected to be able to grow into the mature category in a short time, as has also been the case with SaaS and E-commerce.
Valuation
An important question, however, is how they can best achieve that growth. With that question in mind, McKinsey & Company recently studied the top 1000 European start-ups and scale-ups. To find out how they have become so successful in the 'fragmented value pool' that is our continent – ​​compared to, say, the United States. The answers appear to lie in four different strategic 'routes': network, scale, product or deep tech, each with its own characteristics related to things like revenue growth, and employees.
The analysis suggests that there are five critical factors. It is crucial for network players to conquer local markets one by one and not try to grow globally in one fell swoop. Scalers need to overindex when building strong commercial capabilities. Both network and scale players benefit from M&A. And product-oriented companies should initially prioritize an attractive product and a limited use case. While for deep tech, attracting the best research and development talent is the most important.
Unicorns
No matter how well the top 1000 does, compared to other regions in the world, few European companies manage to achieve the status of unicorn: a start-up with a market value of at least one billion dollars. A stumbling block to this is, among other things, that the market in which they arise is fragmented. By comparison, to serve a market the same size as the US, companies need to be located in about 28 European countries. And that entails a multitude of languages, local laws and regulations and cultural differences.
Another important pillar is funding. There is regular talk about the less eagerness that prevails in Europe towards, for example, the US. Money comes to the table faster and in larger amounts. That also turns out to be necessary, because to achieve unicorn status, companies need an average of one hundred to two hundred million euros, calculated McKinsey. Seventy to eighty percent of companies reach the milestone of one billion euros within ten years of incorporation. However, network and deep tech players tend to cross this line early, while significant numbers of the scale-oriented companies (24 percent) and product players (31 percent) take more than a decade.
The required funding also differs considerably between the various types of companies mentioned. Network and deep-tech players need the highest amount of funding, around two hundred million euros, to achieve a valuation of four to six times the capital raised. Scale and product players needed less funding – about eighty million euros for scale players and one hundred and sixty million for product players – to achieve a valuation of ten to twelve times and five to seven times the capital raised, respectively.
Gendergat
These differences are also reflected in the income that companies need to grow into a unicorn. Scale players had about two hundred million euros in revenue, which is a revenue multiple of four to six times their funding, followed by network and product players, with about fifty to ninety million euros in revenue, at multiples of ten to twenty times their funding. Deep tech unicorns are the most deviant with average revenue levels of about $8 million, representing a revenue multiplier of one hundred to one hundred and fifty times, reflecting the huge promise of future revenue included in deep tech valuations.
According to the European ScaleUp Monitor, Venture Capital (VC) represents 35 percent of all funding invested in scale-ups, followed by angel investors/incubators (23.5 percent) and private equity (13.1 percent). VC tends to invest more in SaaS, Mobile, Life Sciences and FinTech scale-ups. London, Paris and Dublin are the cities with the scale-ups with the highest total capital raised.
Plus: where scale-ups with at least one female co-founder attract less capital on average, scale-ups with a co-founder with a PhD receive more investments on average.
However, the challenges have not yet been overcome with money alone. Attracting sufficient talent is also a frequently mentioned bottleneck. This is probably due to the fact that the start-up culture is less popular here than on the other side of the Pacific. Working at a start-up still seems to be seen as risky and less attractive than other career options.
More attention to the gap between men and women could help here, according to various researchers. Women make up more than half (52 percent) of the total European population, but only slightly more than a third of the self-employed (34.4 percent) and 30 percent of all start-ups are women. And so important potential is being untapped, according to researchers at Erasmus University. Unlocking this potential will not only have a positive economic impact, they believe, but also have a positive social impact by ensuring a fairer distribution of opportunities and wealth across society. The solution to this lies partly in stronger financial support for female entrepreneurship. Something that various funds are already responding to. It is also positive that in the past five years there has been a 29 percent increase in female entrepreneurs in the Netherlands, with an increase of 42 percent for women up to the age of 35. Nevertheless, the number of scale-ups with at least one female entrepreneur in our country has remained more or less stable at around twelve percent during that period.
Growth programs
Despite the challenges, the Erasmus researchers are positive. Mainly because of the opportunities that lie in the increasingly internationalizing European market. Amsterdam, Berlin and Paris will maintain their position as start-up superhubs of mainland Europe, they believe. With the caveat that Europe remains a very diverse continent. Success in one European market does not necessarily translate to success in another. Therefore, it is important to understand local product-market fit, local nuances, cultural differences in ways of working, selling and building trust. All of these elements will be crucial in determining the right market, the right time and the right way to expand. Setting up a good process and decision tree is the key to the success of expansion.
A more interconnected European scale-up ecosystem can help with this. While countries like the United Kingdom, France, Sweden and the Netherlands have enacted economic policies to support their scaling up ecosystem, Europe as a whole is lagging and therefore not reaching its potential, the researchers say. Further coordination within the European ecosystem is necessary to organize more effective growth programs that make resources such as talent, capital and the (international) market more accessible to European scale-ups.
* This article originally appeared in the October issue of Emerce magazine (#185).
---
Source: Nieuws – Emerce by www.emerce.nl.

*The article has been translated based on the content of Nieuws – Emerce by www.emerce.nl. If there is any problem regarding the content, copyright, please leave a report below the article. We will try to process as quickly as possible to protect the rights of the author. Thank you very much!

*We just want readers to access information more quickly and easily with other multilingual content, instead of information only available in a certain language.

*We always respect the copyright of the content of the author and always include the original link of the source article.If the author disagrees, just leave the report below the article, the article will be edited or deleted at the request of the author. Thanks very much! Best regards!
---