What does fashion actually mean to you?
Fashion is the way you can express your personality, taste and mood through what you wear and how you present yourself. It is a creative and visual form of self-expression that allows you to create a unique and authentic impression.
How did you get into design?
My mom is a women's tailor. From an early age I felt attracted to the world of fashion, I had the opportunity to watch my mother create. This inspiration and experience has been a great resource for my creative growth and success in fashion.
So did you try to draw designs as a child?
Ever since I was a little girl, I have been extremely fascinated and attracted to fashion. When I was younger, I even made my own skirt and crop top. Later in high school, I even designed a poster, which was displayed in the school hallway as one of the best. But my biggest passion is working with fabrics and materials.
Do you classically make spring-summer, autumn-winter collections?
Yes, I design normal spring/summer and autumn/winter collections. I try to find the right mood and create clothes that fit the season. I really enjoy watching fashion change and I try to transfer it to my designs and proposals.
Where do you get your inspiration from?
I find inspiration all around us. I really like how designers from other countries create. I try to design something completely new and original. I enjoy making models that stand out and are unconventional.
And do you have any favorite foreign designers?
I follow many foreign designers and I take something from each of them that appeals to me and inspires me. I enjoy discovering the different perspectives and creative directions these artists offer.
Do you have a goal that you still want to achieve?
My goal is to make my customers happy with my clothes, to wear them with pleasure and feel good in them. I enjoy creating something that they like and want to come back to. I would like my designs to be an inspiration for them and for their personal style.
What do you currently consider your greatest success?
My biggest success was winning the title of Entrepreneur of the Year for the Central Bohemian Region and at the same time being able to save my company and employees in the challenging times of the Covid pandemic. I feel proud that my efforts were appreciated and that I could support my team in difficult moments.
Who do you regularly collaborate with from the world of celebrities and models?
Among our regular collaborators are important names such as Aneta Vignerová, Ivanka Jirešová, Nikola Buranská, Veronika Chmelířová, Eliška Noid Bártová, Vendula Pizingerová, Miluška Bittnerová, Adéla Gondíková, recently Simona Babčáková and many others. Just recently, I was approached by Vašek Noid Bárta, who asked me to design costumes for his new band, and that is a really great honor. In addition, we had the honor of creating costumes for Eva Burešová on her tour. We are delighted to be able to contribute to the fashion style and appearance of these exceptional personalities.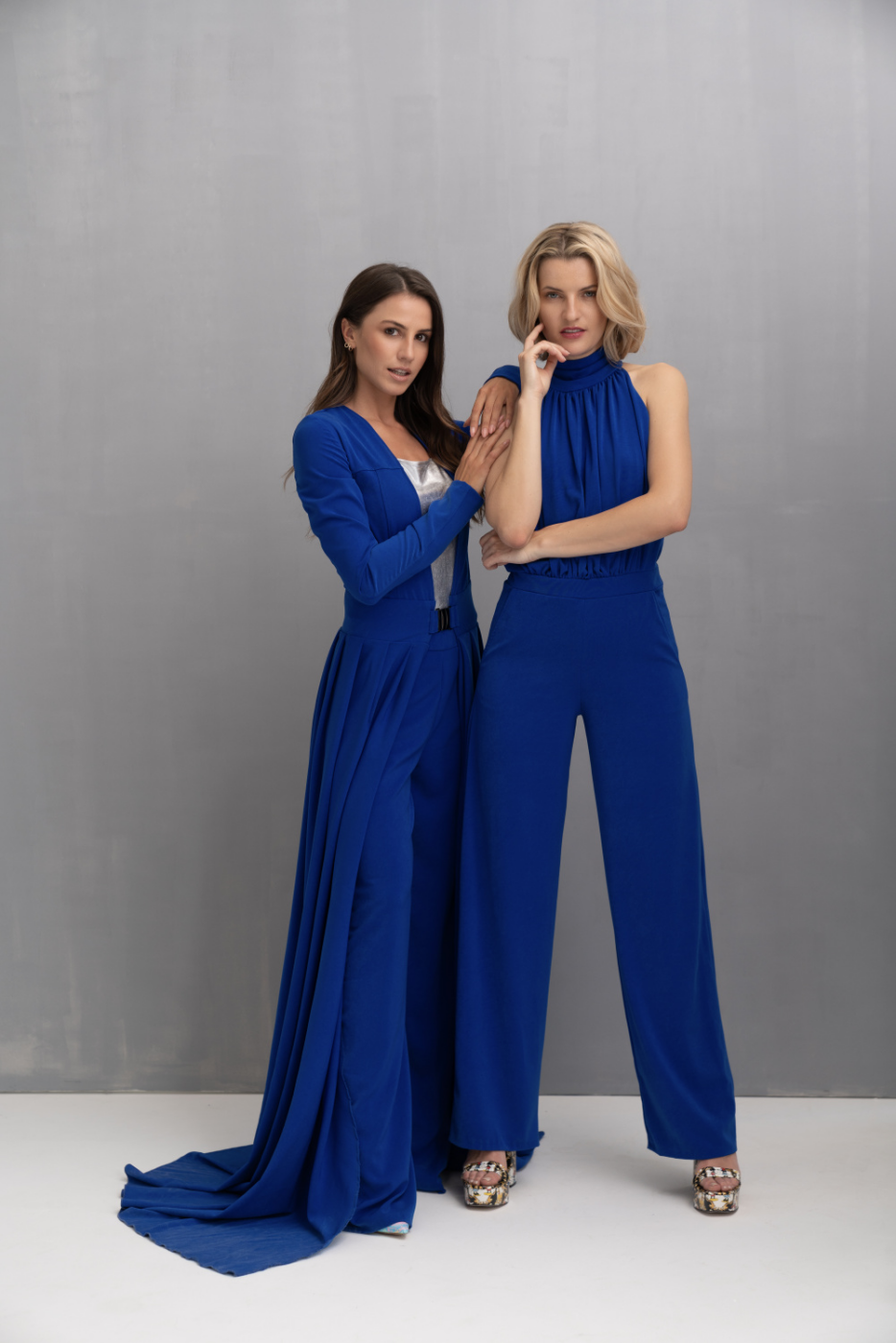 Is there a world celebrity you would love to see wear your designs?
Of course, it would be a great honor if someone like Jennifer Lopez wore my designs. She is an inspiring artist and fashion icon who can influence global trends with her style and taste. Being a part of her wardrobe would be extremely motivating for me.
Some of your pieces are a bit more extravagant. Can you imagine making someone's costume for the Met Gala?
Certainly, it would be something wonderful. Creating a costume for the Met Gala would be a big challenge. The Met Gala is known for its extravagance and innovation in fashion, and being a part of that fashion world would be extremely inspiring for me. I would have the opportunity to show my creativity and courage. Being a part of the Met Gala would mean not only a shift in my career, but also the fulfillment of one of my fashion dreams.
It is true that the fashion at Czech events and award ceremonies is often quite boring. Don't you think?
I think that at some Czech events and award ceremonies, the fashion is sometimes a bit repetitive. When I designed a dress for Eva Burešová on Slavík, people noticed. This bold move got me noticed and I got more attention.
Fall and winter are coming. What do you think will be trendy?
Yes, here are some possible trends for autumn/winter. Layering, warm colors, loose cuts, sustainability… Anyway, overall, fashion should be fun and allow you to express your personality. The main thing is that you feel good in your clothes.
What season do you like to make clothes for?
Spring summer is definitely more interesting. Autumn winter is mainly about coats. Women usually buy a nice coat or jacket and hide what they wear underneath. On the other hand, there are many balls and events in winter.
Is there anything in fashion that irritates you? Are you bothered by something that some people wear?
I'm a pretty non-confrontational person about this. It is quite natural that everyone chooses clothes that they feel good in and that suit them. It is a manifestation of personality and the way people present themselves to the world. At the same time, it is important to appreciate that fashion comes in many different forms and what one person likes may not be the same for another.
And what do you like to dress in?
My favorite piece of clothing is definitely trousers, although I choose interesting cuts rather than classic jeans, I don't even have any at home. Overall, I like clothes that allow me to express myself and feel comfortable at the same time.
What is your favorite fabric to work with?
I like working with fabrics like viscose, chiffon, satin… Each of them gives me the opportunity to create something amazing. Viscose is soft and comfortable, chiffon gives lightness and satin gives a luxurious shine. Combining these fabrics allows me to create clothes that are beautiful and stylish.
So the materials you use don't fluff up?
Yes, the materials I use are great because they don't fluff up.
What is your relationship to fast fashion?
It's a big topic right now, as fashion is the second biggest polluter on the planet. Sustainability is important to me not only in terms of materials, but also in terms of design. I try to create pieces that are timeless and can be worn in the future instead of being limited to just one season. For me, the key is to create fashion that is sustainable and of good quality. The basis of my work is the selection of quality fabrics that not only look beautiful, but also last a long time.
Where do you get the fabrics from?
The materials I use often come from abroad. There I can choose from a wide range of quality materials.
Do you have anything from the Czech Republic?
There are not as many fabric manufacturers in the Czech Republic as, for example, abroad, and that is why it is important for us to look for quality fabric sources elsewhere. However, one of our important partners is Pleas Havlíčkův Brod, and it is thanks to them that we can obtain quality fabrics in our country as well.
Do you also sew to order? Is it possible to have something that you don't have on offer sewn at your place?
Yes. We specialize in custom sewing and individual customer wishes. It's a great way to give people the ability to wear a model exactly as they want and need.
Are you planning another show in the near future?
I would like to organize a big fashion show again, but we don't have a set date yet.
---
Source: Moda.cz by www.moda.cz.

*The article has been translated based on the content of Moda.cz by www.moda.cz. If there is any problem regarding the content, copyright, please leave a report below the article. We will try to process as quickly as possible to protect the rights of the author. Thank you very much!

*We just want readers to access information more quickly and easily with other multilingual content, instead of information only available in a certain language.

*We always respect the copyright of the content of the author and always include the original link of the source article.If the author disagrees, just leave the report below the article, the article will be edited or deleted at the request of the author. Thanks very much! Best regards!
---