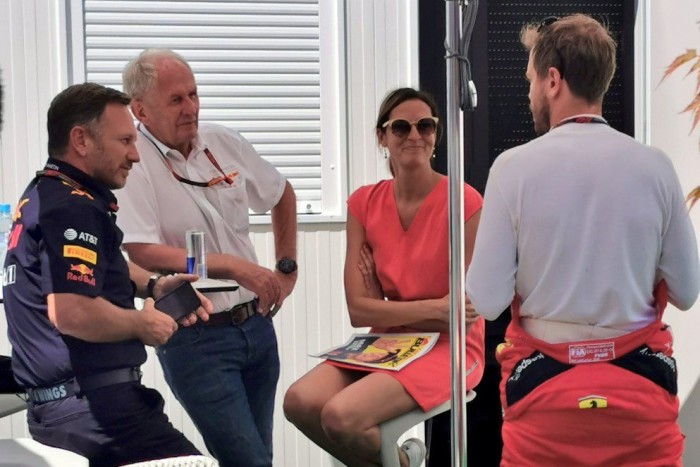 At the Austrian Formula 1 Grand Prix, teams must adhere to strict rules: due to the coronavirus epidemic, it is mandatory to wear a face mask or other face protection equipment. In addition, interaction between teams is restricted, meaning that two different team members are not allowed to meet each other.
However, Sebastian Vettel and Red Bull broke the regulations and were filmed. In the leaked images, the Ferrari driver talked to Red Bull executives, all without a mask at the four-time world champion, Christian Horner or Helmut Markó.
Helmut Marko was asked about this meeting: he said that they have contracts with Verstappen/Albon and the situation hasn't changed.

"We have a good relationship [with Seb] and why should we not greet each other nicely and talk about the good old times"#SkyGermany pic.twitter.com/54X3e0eKmp

– Tami. (@Vetteleclerc) July 4, 2020
The International Automobile Federation (FIA) also wrote a letter reminding both parties to adhere to the regulations. According to the letter, compliance with the rules is not mandatory and there is no penalty for it, but they may later be denied entry into the paddock area. Incidentally, Formula 1 released a announcement on Saturday morning that no positive tests have been performed so far in more than 4,000 tests.
They later asked Marko Helmut what they had talked to about their former competitor. "We have a good relationship with Sebb. Why not greet each other and talk about the good old days, "concluded Red Bull's sports director.
Source: PlanetF1.com
Image source (s): Twitter