Almost exactly two years later, I again entered the address of a very remote cottage in the Pardubice region, not far from funny-sounding villages like Lanškroun and Cotkytle. Back then, in the luxurious Cotkytlev switchbacks, I had a private rally in a "heresian" Fabia, while this time I drove my ass in a comfortable Superba.
Back then, I commuted with a few percent of my battery, got lost, confused and began to believe that I would never find my destination again. This time I had my mobile stuck in the charger with the three-digit number of the battery status and somehow already knew where I was going.
That's when I went to interview Roman Valenta about the first game of the Olomouc-Ostrava studio Perun Creative, a simulation of the homeless Hobo: Tough Life. This time I talked with him about the upcoming project – the Kromlech game. And while Hob was put together by four people, the Celtic adventure already has five times as many creators on the team in various positions.
Given the vast difference in the number of developers, it is perhaps not surprising that while during the development of Hob, Roman nicknamed Feeron was in charge of level design, 3D graphics, screenplay, mechanic design, implementation of quests, scripts or research, now in his position as creative director he already has a team of graphic artists under him, from art creators to model makers, so he can devote himself to a narrower circle of activities.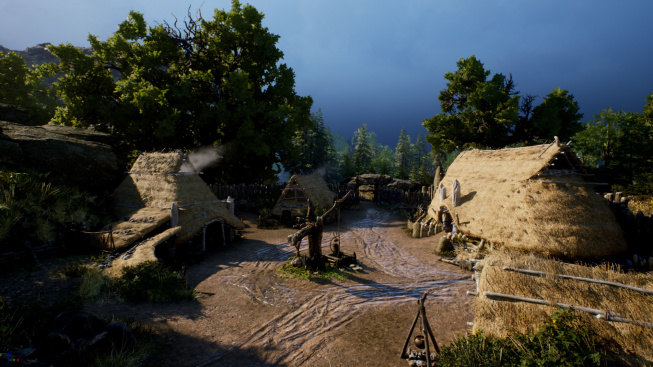 He is fully in his hands with the level design, and thus it is more or less solely up to him how the world of Kromlech will look like. At the same time, as a former swordsman, he took on the design of the dueling system, which is created in cooperation with the Olomouc swordsmen's association Adorea. They lend their experienced movements to game animations thanks to motion capture technology.
A rough Celt in an even rougher world
But enough of the background of our conversation, let's get to the game itself! What exactly is Kromlech? As it turns out, the answer is not so simple. But if you need to pigeonhole the game into a genre, one will not be enough.
Finally I learned that it will be a roguelite action with RPG elements in an open, progressively unlocked world with metroidvania elements. Ugh, that's a lot of genre labels, but believe me, it all started to make sense in the end, and Roman managed to really get me hyped for the game.
In simple terms: You become the badass Celt Cronach, who has decided to find out why the world is in danger of total destruction. And ideally to figure out how to prevent it. Because the destruction happens again and again, and I was assured that it would make sense from a story point of view why Cronach keeps waking up and setting off on his adventures again.
That adventure will be an exploration of the local world, which was inspired by Conan's Hyboria and, of course, history, which is also true of other aspects of the game (armor, dwellings…). Settlements, fortresses and a lot of dungeons await you in the game, where there will be no shortage of enemies and quests.
At first, some paths will be inaccessible to you until you get the appropriate equipment, and thus you can, for example, overcome a wall with an anchor, which will unlock another part of the map, but also alternative paths, such as shortcuts to facilitate the next attempts to beat the game.
Time is the enemy
Your efforts may end with you being defeated by some monster inspired by fables and Slavic mythology, or one of the bosses, but in reality, time will be your greatest enemy. Certain activities in the game will exhaust your hero, inevitably bringing you closer to the need to sleep. And sleep shifts one day to another.
The next day is only worse because of a kind of general decadence of the world with impending doom, so the enemies give you more trouble and your demise becomes more and more inevitable. At the same time, certain events will appear in the world, for which you will have a limited time to solve. When you solve them, great, you can relax. If not, their effect is applied.
This effect can be, for example, the complete loss of a settlement that was a point of capture and refuge for you. And if you have nowhere to go back to, you will most likely die… What you take with you from one game to another after you die is both your experience and knowledge of the world here, its new areas and dangers, but also some permanent game elements.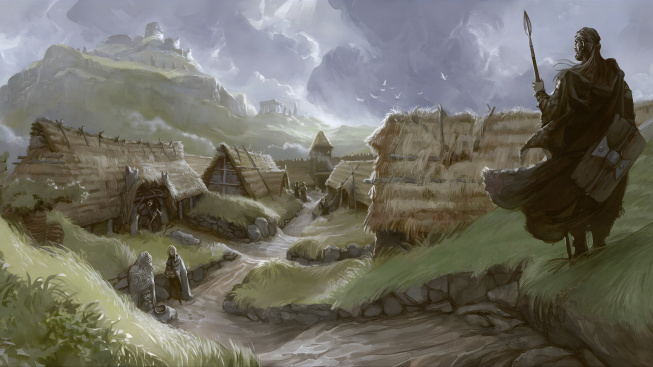 As an example, the previously mentioned anchor was given, which you can continue to rely on after obtaining it. But you can also learn about the occurrence of mythical artifacts, that is, for example, powerful weapons, for which you can go somewhere in the underground maze of musty dungeons full of deadly vermin on your next attempt. Additionally, these weapons upgrade with use and remain upgraded between attempts.
And since time is precious, you won't be delayed by anything like building a base. At most, light crafting of basic items, use of potions and ointments, and something else will be provided by magic.
The best defense is offense?
As you have probably already realized, there will be no shortage of fights in Kromlech, which were somewhat lacking in the first project of the studio, that is, they were not exactly action-oriented. But here, in a third-person view, you go head-on into enemies, even though I was told that it wouldn't be a full-on fight. That there will be some balance in the fight.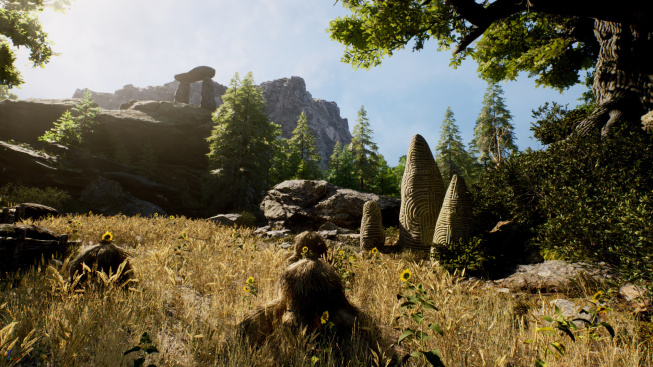 For example, enemies may only have one arm armored, so it would be good to focus on the other. Attacks will be directed to the left or right side and into the torso of the future victim, while weapons, armor and shields will wear out. However, we shouldn't expect them to be completely destroyed in battle, rather their stats will drop due to damage.
When creating the combat system, Roman looked back to the 2001 game Severance: Blade of Darkness, which he says was able to perfectly convey the excitement and tension accompanying the swordsmanship with which Roman has his own experience. He also liked the game, how you have to keep your distance from the enemy, watch the opponent, react to his movements… And he would like to get all of that in Cromlech.
When I asked if the fight would be similarly simulated as in another Czech game, Kingdom Come: Deliverance, I was assured that it was not (even though the already mentioned swordsmen from Adorea helped with it there as well). Battles in Kromlech will be faster and somewhat more arcade-like, although I remind you that you will still need to approach them with caution.
And you need to approach bosses with caution. You can challenge them at any time, but at least at first it won't make much sense. The road to them is a thorny one, and it will be better to go on it with a few improvements and make it as easy as possible.
Once this endgame occurs, you'll still have to consider when to face the boss. Doing so too soon will make you too weak for him. If you linger too long, it will grow stronger as the world decays.
What about the world?
When you're not fighting, you'll be soaking up the atmosphere of Hallstatt, that is, the time of the Celts, completing quests, increasing your fame, and listening to stories. Kromlech will not be a story-based game, there will be no dialog choices and the lore will be presented in a style known from the Souls games.
But there will be a narrator who comments on the events on the screen. Thanks to this, you do not have to stand anywhere for a long time and you will learn everything important on the go. By the way, the game will be spoken in Celtic, so that nothing spoils the atmosphere. The soundtrack, which will be created for the game by musicians from the group Jeden kmen, will also take care of its completion.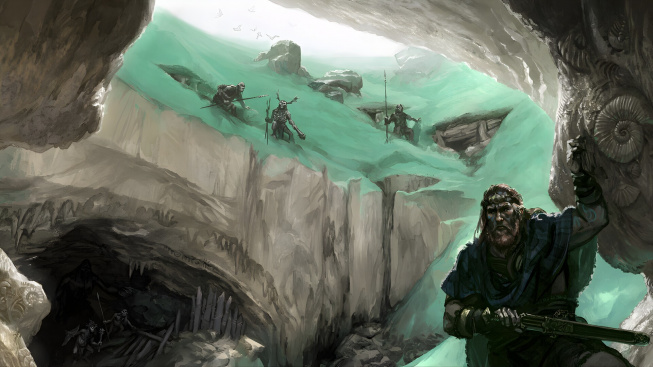 What would "history" be without the presence of gods? But since not so much has been preserved about the Celtic culture, the creators have a relatively free hand and created a lot of their own gods that will be an integral part of the game. And they are also working on their own beings that will fill the world.
All of this could turn out to be quite a feast for the eyes, because while Hobo: Tough Life was stuck in Unity, Kromlech is already being created in the latest Unreal Engin and uses its undeniable power to create a landscape that is already one of the few that I had the option of within of the developed elements of the game glimpse, quite impressive.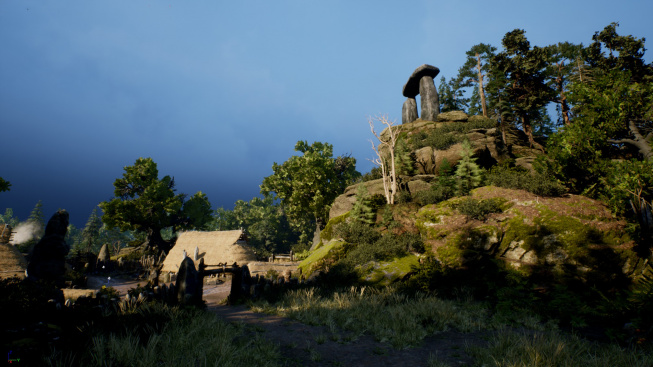 A circle of raised stones
That would be all about Kromlech for now. After all, it is easier to talk about a game that has already been released and has completed its entire development than about a game that is still in development, and a lot of ideas that the creators have in their heads may not actually be reflected in the result. Even some of the elements that are heard in this text may not ultimately survive in the same form.
After all, the first players won't be able to play the game until sometime in 2024 and only in its early access, so Perun Creative's studio still has a long way to go. Let's just hope it's not too similar to the Cromlech story, that they don't go back to the beginning and try again and again. But that's actually already happening a little bit.
The diligence of the creators and their determination to make a really high-quality game is evidenced by the fact that quite recently Roman "threw away" half a year of work on the game's map and started creating a completely new map, which, thanks to previous experience and using some pieces of the previous one, was created in just two months and I immediately wanted to explore every corner of it.
All I can say for myself at the moment is that the concept of the game really excited me and I immediately wanted to play it during the interview. But only time will tell if it will be possible to fine-tune all the systems and their connections.
Due to its numerous components, Kromlech is a project that certainly does not lack ambition, and ambition is not small, but personally, after my experience with Hob, I do not have much reason to doubt that the Peruvians are capable of fulfilling it.
---
Source: Games by games.tiscali.cz.

*The article has been translated based on the content of Games by games.tiscali.cz. If there is any problem regarding the content, copyright, please leave a report below the article. We will try to process as quickly as possible to protect the rights of the author. Thank you very much!

*We just want readers to access information more quickly and easily with other multilingual content, instead of information only available in a certain language.

*We always respect the copyright of the content of the author and always include the original link of the source article.If the author disagrees, just leave the report below the article, the article will be edited or deleted at the request of the author. Thanks very much! Best regards!
---