Hello.
I love our readers, as they come with questions that periodically baffle us all. So it happened this time, when our attention was drawn to a subscription from MegaFon, which appeared some time ago. Under the word "subscription" in MegaFon they hid a discount on new SIM cards and payment for packages for them. As a rule, you could buy a subscription for a certain period of time. For example, purchase the current tariff and connect an additional discount through the subscription, that is, reduce your costs.

For the operator, this approach is convenient, since on the bank he receives additional money, and the quality of the subscriber becomes noticeably higher, his life cycle grows. For most people, a subscription does not always look justified, the maximum discount for the first year is 40%, but you need to decide to connect such a discount when applying for a SIM card, a new number. And subscriptions are a kind of welcome bonus for new customers, while existing customers cannot take advantage of these opportunities. It's a shame? Maybe.
Why is the operator's history good when such services are launched? They voluntarily or involuntarily adapt to different tariff plans, sometimes this leads to very unusual results. In the case of MegaFon, this led to the emergence of a SIM card for smart things, which can be paid once for a lifetime. No, this is not a joke, such a unique thing passed us by, and only thanks to you we discovered it!
Let's look at the "Smart Things" tariff, for one hundred rubles a month you get 2 GB of traffic, 100 SMS, 30 minutes of calls. The tariff is focused on various M2M solutions, it can be an automatic barrier, some kind of sensors, and the like. The cost of 100 rubles does not look the most optimal, you can find offers for 30-50 rubles a month.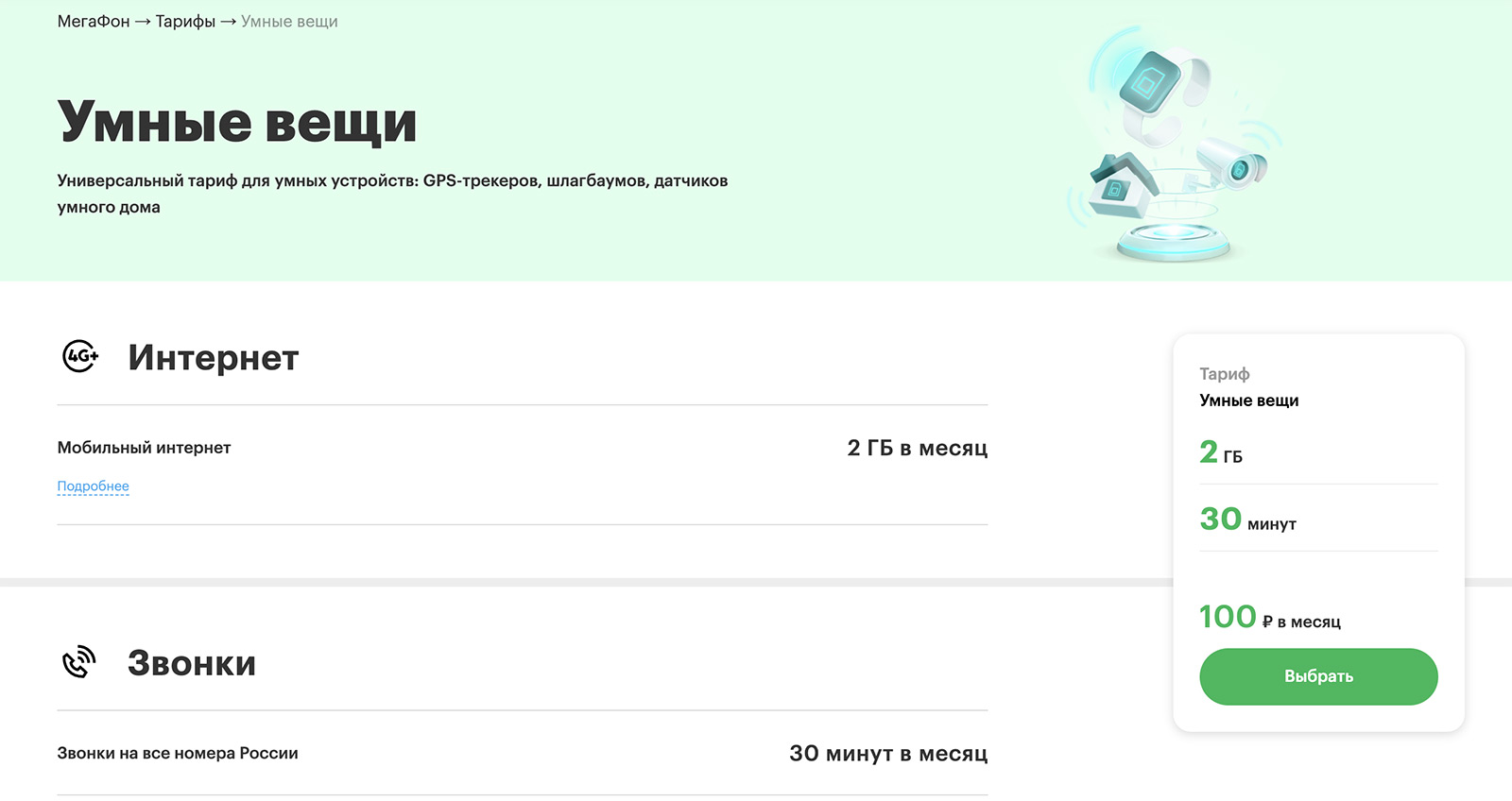 And now let's look at the subscription and what it gives within the framework of such a tariff.

For 2,500 rubles you get this tariff and a SIM card for the rest of your life. We read the description of the tariff, the contract and other documents several times – everything is standard, and there are no asterisks and footnotes regarding the subscription. It looks like that for 2,500 rubles, you get a SIM-card conditionally for all eternity and it will have to work. Having specified in the subscriber service, I received exactly the same answer – you buy a subscription forever. True, initially you will have to pay 2,800 rubles, since you need to put 300 rubles into the account. One hundred rubles go for connecting a SIM card, another hundred rubles – as payment for the first month (the subscription is activated after the first payment). One hundred rubles in theory can be withdrawn, but I'm not sure that you will do this.
Of the pitfalls, only the overspending of the services that are included in the packages of this tariff remains, the subscription, in theory, can burn out if you have no money in your account and there is a minus. A sort of calculation for inattention, but the problem can be solved by connecting automatic payments and closely tracking expenses in the operator's application. A little worry for an eternal SIM card that can solve all your problems without exception forever.
I thought that perhaps other operators had done something similar, but nothing could be found on the websites of the companies. Questions asked in the forehead, caused bewilderment by the very approach that someone can offer an eternal SIM card, this is unnatural to the nature of the operator as such. Within the framework of individual marketing activities, there was once a drawing of eternal SIM-cards, but nothing more, and these are isolated stories, they cannot be called mass.
Let's try to calculate the economics of such a SIM card for MegaFon. The operator receives the cost of the SIM card itself initially, there are no costs. A subscription fee of one hundred rubles a month and a subscription for 2,500 rubles give us payment for 25 months. That is, onshore, the operator receives payment for two years.
But the price of one hundred rubles is the commercial cost of the tariff, it is not equal to its cost. It is difficult to estimate the cost of such a package, but most likely it fits into 20 rubles per month. Which will give us a zero economy if the tariff is used for 130 months (10.8 years). If the SIM-card with the subscription ceases to exist within ten years, then the operator remains in the black in any case.
Here I am confused by the fact that the SIM card is in no way tied to the specific device in which it lives. That is, in theory, you can use a SIM card in different devices, which expands its scope. For example, if I have such a SIM card in the barrier, and then I change the module to a new one, I will simply rearrange the SIM card, and that's it. And it will work for a certain number of years. The operator is not tied to a specific IMEI number, which is great for you and me. It is possible that this issue has simply not been worked out to the end and such restrictions will appear later. But now they are gone. Also, there are no restrictions on obtaining SIM-cards in case of failure, everything happens as standard, there are no separate procedures.
There is a feeling that restrictions will appear later, as the popularity of such a proposal grows, it looks profitable in the range of 10-20 years, while the initial costs are not so high. For buyers of smart technology equipped with SIM cards, this offer is great. It is possible that MegaFon looked at the average life of smart technology with SIM cards, it is about 4 years. But here it should be taken into account that in previous years we saw the formation of this market and a lot depends on the category of the device. For example, a barrier or automatic gates are conditionally eternal, they do not change in any way after installation and live to the bitter end. While sensors for sewer water treatment can fail much faster, the reason is in a hostile environment. But the SIM card itself will continue to work! She will not be affected in any way.
Smart home buyers today are the audience that can afford such "eternal" SIM cards, from which we can conclude that as soon as the story becomes known to the mass consumer, a flow of users will begin and sales will increase dramatically. For MegaFon at the moment, this is very good, the company will receive additional efficiency, and other operators will have to come up with something similar or be indignant and try to force them to remove this option. In the long term, such SIM cards are not interesting after the first ten years, and the operator needs to come up with new options or change conditions. The second always causes rejection of subscribers, but here the situation is twofold. Those who will use such SIM-cards are "heavy" subscribers with above-average income levels. And for them, you can come up with other proposals, for example, expanding the number of SIM cards with new conditions, high traffic (as an option, for video surveillance). In the future, it will be possible to come up with a lot of things, there would be a desire.
Based on this, it is impossible to evaluate MegaFon's approach as a freebie that arose by itself and is unprofitable for the operator. But this is the case when the offer is very beneficial for you and me, it makes it possible to save money in the long run.
Tell us how you see such conditionally eternal SIM-cards, how they can be of interest to you?
PS As one of the operators said, a card paid for until the end of life is a bad omen, to the death of a subscriber. I think that these playful words are from the lack of such an offer from this operator. Envy.
---
Source: Mobile-review.com — Все о мобильной технике и технологиях by mobile-review.com.

*The article has been translated based on the content of Mobile-review.com — Все о мобильной технике и технологиях by mobile-review.com. If there is any problem regarding the content, copyright, please leave a report below the article. We will try to process as quickly as possible to protect the rights of the author. Thank you very much!

*We just want readers to access information more quickly and easily with other multilingual content, instead of information only available in a certain language.

*We always respect the copyright of the content of the author and always include the original link of the source article.If the author disagrees, just leave the report below the article, the article will be edited or deleted at the request of the author. Thanks very much! Best regards!
---