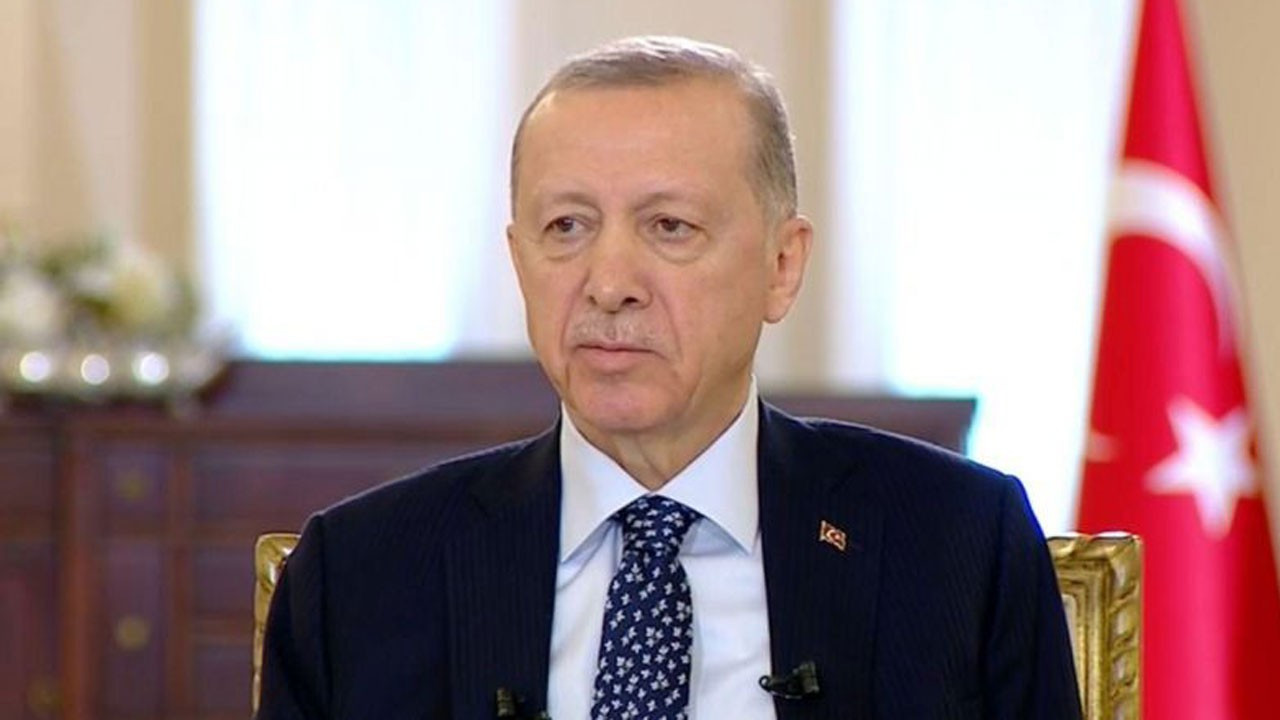 Erdoğan makes statements on the "President Agenda Special" program in the joint broadcast of A Haber, ATV, APARA and ANEWS.
Highlights from Erdogan's speech are as follows:
We are extremely ready for the election and we will definitely not quit this job. And the squares say to us, "We are ready, we will not quit this job". On the one hand, there is a president who has been known for his work and service for 21 years, on the other hand, of course, this work is not a service. Erdogan has a reference. My people will vote this reference.
Kilicdaroğlu's lynching culture is not new, as he has no tolerance for those who are not his own. We see what he means by democracy. The first method they resort to is lynching. They did this to our earthquake victims as well. There is nothing left for them to say that they did not vote for themselves. If you can't win hearts by making hearts by hand, you can't be a democrat if you make yourself a democrat grandfather.
Meeting with Muharrem İnce
I called Mr. İnce when he withdrew from his candidacy and expressed my regret. I also conveyed my best wishes to his mother who fell ill. Later, I heard that Mr. İnce was ill again and I called. This was the case with the second time, so I called him again. We said we'd do our best if there was anything we could do. As our humanitarian duty, we wished healing in Allah.
They turned politics into horse bargains. Politics is not done by trying to deceive the people. Our nation sees these and will give the necessary answer at the ballot box.
"I'm looking forward to see how Kılıçdaroğlu will come out of the business"
These are indicators of Kılıçdaroğlu's unprincipled politics. Regardless of the rate of votes, he snatched a ministry or a vice presidency from the CHP. Parties that did not have a total of 1 votes took 40 deputies. Don't they ask the man, 'O CHP, what do you have left now?'. You say you're an accountant. What's left for you after you've given 40 to small parties? We do not have such an understanding. There is no politics in deceiving the people. My people will give the necessary answer to these. Kılıçdaroğlu is not alike, I'm looking forward to how he will come out of the business with so much grace.
"He said 'humanity lost' for the murdered terrorists"
Regarding this artificial nationalism, we know that our people made their decision. But we will still tell. They eat the lie like a seed. Mr. Mr. Kemal is the liar's master of lies. He vomits hate to anyone who comes in front of him. This is what happens when people have no principles in politics. Did they ever say that we don't need you against the support videos shot by the terrorists on the mountain? No.
They did not hesitate to come together with those who chanted blood for blood. Those around him do not hesitate to be associated with terrorists. You must have seen the terrorist affection of the Istanbul Provincial President. He said "humanity has lost" for the murdered terrorists.
"We put an end to the persecution of the CHP mentality through prohibitions and pressures"
I think that my citizens, who have set their heart on the CHP, should see them very well. We strictly keep our Kurdish brothers and PKK separate. Our Kurdish brothers are an important part of the Turkish family. We put an end to the persecution of the CHP mentality through prohibitions and pressures. Hopefully, we will continue to walk with them in the future. During the resolution process, this place has witnessed a lot. We had a lot of discussions about what we tried to solve on this issue.
Mankind is so insatiable that the person we appointed as prime minister made a speech when he was leaving. He said not until the market, but until the grave. When the other brought his resignation, he said that his friends with him were incompetent. I knew their grammar. I knew what we went through with them.
"Kılıçdaroğlu is such a strong accountant that he gave 40 MPs"
Kılıçdaroğlu needs them to grab the seat. Half a point is around 1 point, if you add them all up, one of them doesn't. Kılıçdaroğlu'nun problem, what do I do and how do I get the seat? it happened. We saw it in the first round.
These were the ones that dominated the Iyi Party and HDP. Others couldn't even get 1 point. Kılıçdaroğlu is such a strong accountant that he gave them 40 deputies.
"They will shatter, they will be smoke"
They also have mentors out there. While we are trying to establish a great independent and strong Turkey, they want a divided and shrunken Turkey. We want stability, they want chaos. These accounts will not hold, they will be shattered, they will be smoke. Some, perhaps all, will retire.
We do not close our doors to those who want to leave the party and rejoin, but it is necessary to look at their criminal record. We don't need many of them.
Bahçeli's interim Speaker of the Grand National Assembly of Turkey
The opening of the Assembly will be held under the presidency of Devlet Bey. As the oldest candidate, that's what it takes. Devlet Bey had not accepted it before, but now they have accepted it. We will start the process with him.
We did not hesitate to renew our staff.
We will have a cabinet worthy of the second century of our republic. We did not refrain from renewing our staff, we will not stop. We will continue on the road with dynamic teams.
Prohibited manipulation of the opposition
I have never heard a true word from them. They said a lot during my mayoral term. Concerts have always been held in all municipalities and will continue. They constantly impose pessimism on society. Who hasn't been able to withdraw their money from the bank in 21 years? This is a complete scam. I've never heard of such a thing. They have every number. Which concert was blocked? Even during the epidemic, online concerts were held.
He does not hesitate to deceive our citizens by establishing an empire of fear. He also sent a message yesterday. He promised a credit card and does not stop deceiving the nation with false promises. Currently, 323 Parliament is in the People's Alliance. As long as the People's Alliance does not give way to you, what are you passing through the commission? The authority belongs to the Assembly and the Plan Budget Committee. You're throwing away a lot.
Besides, in a presidential system, you can't do that at all. The decision must be passed by the General Assembly. If there is a problem in this country, we will solve it again. We have the authority to solve it with 323. It is up to us to deal with such things.
"He was getting $300 billion from the London market, it's all a lie"
If you do not have an adjective, they will not give you a penny from abroad. I know very well to whom they give what. He was getting $300 billion from the London market. All lies.
90 percent received CHP in Defne, but we built the hospital. I said to my Minister of Health, 'We will do this immediately. I said, 'How long will you do it,' he said, I will do it in 2 months. And really, the hospital in Defne was finished in 2 months. We went and inaugurated. And this hospital started to take patients.
They said they can't, we opened it. When earthquakes occurred in İzmir and Van, we thought of our citizens, not the party's game. We made a very serious investment in Van. The Mayor of the Metropolitan Municipality was a member of the certain organization. He couldn't even solve the water problem, we did. DSI solved the water problem of the place. There is Edremit, where mansions have been built. Very good investments have been made, of course, unfortunately, good votes are not coming out of it at the moment. We got the same deputy in Izmir. They vote for the CHP, we did not say we should not invest. We need to see these facts.
'Constitution' bargained behind closed doors
Part of the bargain that the CHP Chairman made behind closed doors is obviously the amendment of the first 4 articles of the Constitution.
No one should worry, Recep Tayyip Erdogan and the People's Alliance are the guarantee of the Republic and the Republic.
The West draws attention to the elections in Turkey rather than their own countries. These are the steps they took with the FETO extensions there. We do not trust such publications. What the German security forces did to the Turkish journalist upon a report of a fugitive FETO member is unacceptable. How will they try to impose a responsibility on us about freedom of the press? We will account for them.
---
Source: Dünya Gazetesi by www.dunya.com.

*The article has been translated based on the content of Dünya Gazetesi by www.dunya.com. If there is any problem regarding the content, copyright, please leave a report below the article. We will try to process as quickly as possible to protect the rights of the author. Thank you very much!

*We just want readers to access information more quickly and easily with other multilingual content, instead of information only available in a certain language.

*We always respect the copyright of the content of the author and always include the original link of the source article.If the author disagrees, just leave the report below the article, the article will be edited or deleted at the request of the author. Thanks very much! Best regards!
---