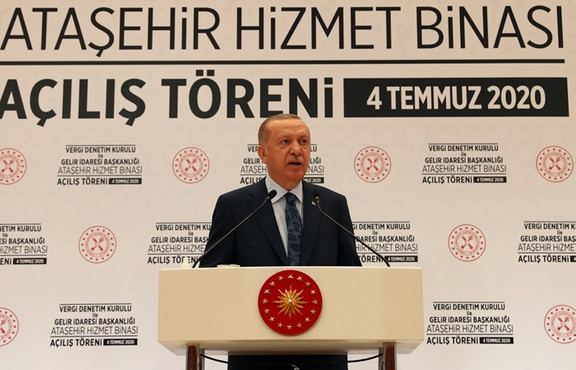 President Recep Tayyip Erdoğan, in his speech at the Opening Ceremony of the Ataşehir Service Building of the Tax Inspection Board of the Ministry of Treasury and Finance"Effective and fast operation of tax mechanisms is a prerequisite for predictability to prepare for the new period." said.
"We can overcome the double standards, bipartite attitudes and biased approaches to our country by strengthening our rule of law." "Everyone gradually started to acknowledge that our country is in a huge leap process, not just recovery, but beyond it." used the expression.
"Apart from this short delay caused by the epidemic, we continue to implement our economy program with the same determination." Speaking in the form of Erdogan, said:
"With the support programs we call Social Protection Shield, the amount of resources that we transfer directly into the pocket of our nation has exceeded 24 billion liras.
Turkey's emergence in every area from health care to manufacturing processes in such a powerful way the outbreak was bothering someone immediately.
No matter what they do. Turkey's democracy and economy will not be obstacles to achieve their goals.
A significant part of our companies continued their production during the epidemic period. In June, when the normalization calendar expanded, there was a strong revival in all areas. "
'We are determined to reduce inflation to single digits'
"The number of organized industrial zones in our country has reached 820, and we have no provinces that do not have this opportunity," said President Erdogan. said.
"We are determined to reduce inflation to single digit numbers as soon as possible." used the expression.
"The EU's economy without democracy, while opening its doors to the ESA countries will not be read in any field infrastructure transparency to leave Turkey outside is a sign of this disorder." Erdogan said, "History repeats itself in order to move inside and outside how much they may strive, this time they will not stop Turkey's rearing up on." used the expression.
"Our country has become an unprecedentedly strong regional actor in recent history," President Erdogan said. he spoke.
Details are coming …