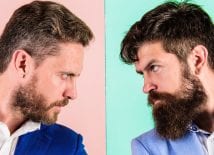 A confrontation can bring you a lot. You investigate the starting points and motivations of the other. And from there you can look for possibilities for a reality that has room for both perspectives: a win-win outcome. Furthermore, a pleasant confrontation can also deepen your relationships. But how do you handle a confrontation? I share three starting points that can help you confront others in a pleasant way.
What is a pleasant confrontation?
Raymond de Looze discusses in his book DIY Guru (affiliate) twelve themes that teach you what drives you, how you get more out of yourself and your career and how you strengthen your relationships with others. Pleasant confrontation is one of the themes. A theme that really stayed with me, because I am only too happy to avoid confrontations. I want everyone to be happy. When people talk louder and a voice is raised here and there, I can already feel the red spots on my neck. While I know that a pleasant confrontation is often very valuable, but how do I go about it?
It is good to first look at the definition of pleasant confrontation. It consists of two elements, namely pleasant and confronting (didn't you think?). According to De Looze, the strength lies in the combination of both. You name what the other is not happy about, while maintaining the relationship. You have to agree, the most important thing is that the confrontation goes well, for both sides. So it's about how you approach it.
Three starting points for a pleasant confrontation
There are three starting points that help you to confront others in a pleasant way.
You refrain from judging
You keep it to yourself
You give space to the other
Refrain from judgment
A comment comes across as a threat much more quickly if it contains judgment. So it is wise to share factual observations. That is quite difficult, because the two can be very close to each other. De Looze gives a good example:
'I can see that you are irritated', sounds very factual. For example, you see someone crossing their arms and hear someone talking louder and louder. Yet it is not a factual statement. It is your interpretation of what you see. You don't see someone being irritated, but you can see someone crossing their arms and talking louder. That is what you can state in a pleasant confrontation, so that you do not make assumptions and give the other person the space to explain.
Let's take a look at a few more examples: "I see you don't feel like it anymore" contains a judgment. The factual comment that you can better make is "I see you are yawning and sitting down." 'You don't have to defend yourself' also contains a judgment. To make this statement factual, you could say, for example, "Your answer to my last three questions began with the words" yes, but … ".
Keep it to yourself
During a pleasant confrontation you mention the effect that something has on you. But not what effect you think it has on the other and you do not place the cause of your feeling with the other.
You seek confrontation to clarify perspectives. That is why it is very important that you share the effect of a situation on you. It helps if you start with 'I notice', 'I have the feeling' or 'I feel'. Mind you, that does not guarantee that you will keep what you say afterwards to yourself. Especially when emotions run high, we tend to quickly attack 'If you don't…, then'.
Let's take a look at some examples again. With the remark 'That makes me feel that you don't think I'm good enough' you explain the cause of your feeling to the other person. This changes if you say, for example, "I feel that I am not good enough." The comment 'You must have noticed that this does not really land well with me' explains the cause of your feeling to the other person. 'I have the feeling that I am stuck and I cannot yet say exactly where that is due to' sounds very different.
Do you see the difference? Just turn the situation around. Think about how you would feel if someone says they don't think a situation is important to you. You probably want to defend yourself, you get sad, because you did your very best for someone, or you get angry that she doesn't see it. If someone mentions that something affects her, the confrontation starts in a completely different way. You may still feel uncomfortable, because that was not intended. But you do not feel (unfairly) accused and the conversation is open.
Give space to the other
Now that you have shared what you actually perceive and what its effect is on you, you can leave room for the other. For example, you can ask a question like "Do you recognize that?" The other person can share his perspective with you and that is the starting point for finding a solution that is good for both.
Entering into a pleasant confrontation in this way is only possible if you really enter it without specific expectations. If only one outcome is acceptable to you, then it is better to say and communicate it directly. Otherwise you become a kind of quizmaster, who keeps fishing for the desired answer.
Practice confronting
De Looze gives a nice exercise that helps you to gain insight into the way in which you confront. Think of a confrontation that you have recently had that did not go well. Answer these seven questions:
What was the situation?
What made it possible for the other to be negative about it?
What did the person confronting actually say?
What was the effect on the other?
How do you rate what has actually been said on the following points:
Refrain from judgment
Keep it to yourself
Give the other person space
What could the person confronting have done differently?
Do the confrontation again, based on the starting points at six.
It's nice if you can do this exercise together with the person you confronted with, then you can do question seven together. If that is not possible, you can write out the desired confrontation, for example.
DIY Guru
In the book DIY Goeroe you will not find any step-by-step plans and De Looze does not tell you exactly what to do. That really sets it apart from other books. The themes are called aisles in the book and that is how you can see it: as a large hardware store where you can find out which tools you need. De Looze provides a lot of (background) information, tips and exercises with which you can experiment and develop yourself further. In my opinion, a must, because the discussed themes are relevant for every professional – think of patterns, meaning and happiness and focus. It really is the kind of book that you have on your desk (read: probably kitchen table now) and that you regularly pick it up.
I am also very curious how you think about confrontations. Do you avoid them or do you seek them out? And what helps you to make a confrontation pleasant?
---
Source: Frankwatching by feedproxy.google.com.
*The article has been translated based on the content of Frankwatching by feedproxy.google.com. If there is any problem regarding the content, copyright, please leave a report below the article. We will try to process as quickly as possible to protect the rights of the author. Thank you very much!
*We just want readers to access information more quickly and easily with other multilingual content, instead of information only available in a certain language.
*We always respect the copyright of the content of the author and always include the original link of the source article.If the author disagrees, just leave the report below the article, the article will be edited or deleted at the request of the author. Thanks very much! Best regards!
---