True, not very advanced – he says, he did not actively participate in the group's activities, did not attend the meetings very much, and is hardly familiar to most colleagues. So the group will have a small loss, unless the arithmetic – one vote is lost. But being a liberal, it's hard to imagine a man among them who allows himself to post on a live Facebook broadcast: "Today, in some European countries, it's even dangerous to say that you, a representative of natural orientation (lyrical deviation, have lost hearing that someone in the surrounding would have come to mind only for marrying a woman or marrying a man if this meant 'natural orientation'). (…) I am talking about pedicures, perverts, those to whom fate, life has given so much, it is not their fault that there is some kind of craving that he feels a man in clothes like a woman. Most of these people don't advertise, but those who put their pimple under their skirts and go out on the street are screaming, they are pediatricians, perverts, and things like that shouldn't be tolerated. "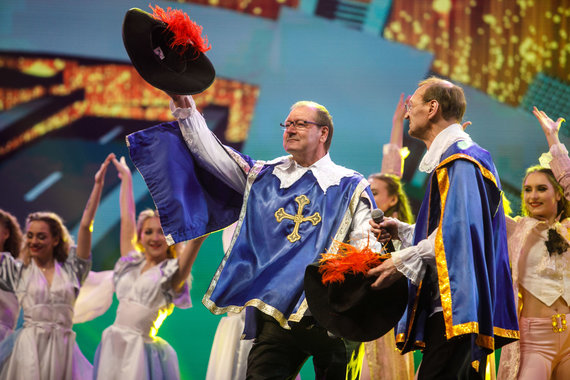 Eriko Ovcharenko / 15min nuotr./Viktoras Uspaskich
And for this V.Uspaskich received – not with a fist in his head, but the opportunity to look for another faction in the EP (if there is one who wants to see him in his ranks). The offender scattered his head in ashes – apologizing in a letter to Renew Europe and did not miss the opportunity to complain that he is constantly insulted because of his Russian origin, suffering from a Russophobic mood. Pala pala, or not he himself, as Minister of Economy, called the journalist who asked the question in front of the camera tūpu? Va here is definitely not an insult.
MEPs said they did not seek to offend LGBT people (and who else is the word "pedicure" in Lithuania?), And his words, "perhaps too rude or used with insufficient caution, but taken out of context", were misunderstood. Chrestomathy phrase – as soon as someone is angry at someone's words, it turns out that (mostly journalists) did not understand and took it out of context. They hear very poorly the phrases that say 'gay', 'lesbian', 'pervert', 'pedophile', and especially if they fall into one sentence.
Maybe you heard about a photo of two guys kissing and leading to a case against Lithuania at the European Court of Human Rights? The courts also explained the guys were to blame if they put such photos on Facebook and then the commentators (and did these really understand everything correctly?) Offer to kill them.
There are already a large number of such misunderstood politicians, public figures and well-known people in Lithuania. There were current and future ministers (remember languagesthat sexual minorities – just propaganda?), future deputy ministers and mayors, current and future Speakers of the Seimas, current and future Members of the European Parliament, party leaders, public officials. There were words about genetic and mental illness, perversion, zoophilia and necrophilia, homosexuality from life, shame.
Do you remember that a politician wasted in insults would have resigned from the Seimas or ministers, been expelled from a parliamentary faction, and a civil servant would have lost his post?
It was no shame that the politicians of our country were not afraid to insult the citizens of their state, perhaps even their voters (some of them had not been so "revealed" during the elections). There was no rumbling of top officials to say so ugly. There was no general outrage that a man with hands and feet and a head who works and earns, who has not been "given up" by any organ, who needs medication only during the flu season, but who wants to cuddle with a man rather than a woman (or on the contrary), to call a patient simply because it is such is not permissible.
We cannot say that we are not civilians and cannot, if necessary, unite against injustice. A few posts on Facebook are enough, and the intercession movement of dogs squeezed in the cages of trees being cut down or in illegal cages is cleverly gathered. We protect Lithuanian children even in Norway. When it turned out that the company Grigeo Klaipėda was polluting the Curonian Lagoon, thousands of cleverly started looking for another toilet paper.
Of course, there are reactions. Lithuanian Gay League, Tolerant Youth Association, Human Rights Center or other non-governmental organization spreads outrage, witty internet commentators create several memo… When the then Minister of Justice Juozas Bernatonis considered that there were not enough homosexual couples in Lithuania that they needed the Partnership Law (which, by the way, does not even have a "normal" couple), a group of non-governmental parties attended an event where politicians read raised posters and rainbow flags before his eyes. Website gayline.lt On the occasion of Valentine's Day, ironic elections were held several times, in which people who opposed LGBT people voluntarily took part.
But do you remember that which politician wasted in insults would have resigned from the Seimas or ministers, been expelled from a parliamentary faction, and a civil servant would have lost his office? I remember one case when the author and host of the Lithuanian radio show "Autumn Studio with Vaidotas Žukas" said in 2004: "Our particularly capable and talented Commissioner Dalia Grybauskaitė is a public or non-public truth, but she is a representative of sexual minorities herself." say goodbye to ether. The European Commissioner was angry and called it an attack.
Only with just about any of these few dozen words was she attacked? To say that someone is single, married, homosexual, has children (this is almost a guaranteed proof of having a relationship with the opposite sex, unless artificial insemination is used) is not an insult. It's more disgusting to be called rice, quadrupeds, or dough (here's from my school-time insult arsenal). But you see how it happened – the man lost his job.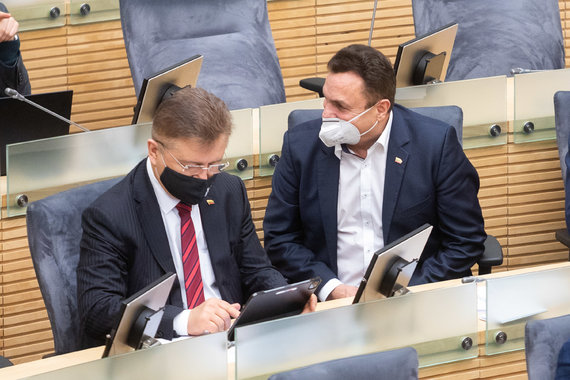 Photo by Sigismund Gedvila / 15min / Valdemaras Valkiūnas, Petras Gražulis
And a fresh case, but the same – not from the skies of Lithuanian politics. On Wednesday, the Americans said goodbye to Donald Trump, and the EP Liberals said goodbye to V.Uspaskich. And who has us? Not one or two politicians have called LGBT people perverted – no one has lost their hair. Last November, the full benefit was organized by MP Valdemaras Valkiūnas. When considering the candidacies of the vice-presidents of the Seimas, he described the LGBT community as "possibly a criminal organization". A week later, while considering Ingrida Šimonytė's candidacy for prime minister, she warned that "working in the Seimas is not a lesbian show and not a homosexual concert." A little later, in an interview, he called the Freedom Party "pedalals". Therefore, the representative of this party Tomas Vytautas Raskevičius appealed to the Ethics and Procedures Commission, but this solution is not yet available.
There is no need to even write about Petras Gražulis, it is enough to mention his name and probably before many people will see the image of a member of the Seimas "flying" on the hands of policemen shouting "For Lithuania, men!" If Lithuania, like many others, insults him, unheard of, after the attack almost a decade ago at a press conference attended by diplomats from other countries, the message was echoed in the foreign media as well.
Do you know what else, in addition to similar performances and comments, the politician of good for Lithuania (the same one he marched for during the Baltic Pride march) has done? What significant law or initiative has been proposed, what ills have been eradicated, what large foreign company has created a thousand other jobs in our country at his invitation? Cultural people don't even want it in the Culture Committee. The only things that stuck to P. Gražulis' surname in my memory are dumplings, accidents and a child. And, of course, the relentless struggle with gays.
P.Auštrevičius, who worked with V.Uspaskich in the same faction until Wednesday, pointed out that the removal of the MEP would be a good opportunity to start reacting more strictly to homophobic statements in Lithuania as well. According to human rights activist Jūratė Juškaitė, apologies alone are not enough (and they should not be addressed to the EP factions, but to the offensive LGBT community in our country) – first of all, we need to educate the public and reduce the exclusion of sexual minorities.
A few years ago, David Caron, the then leader of the UK Conservative Party and the opposition, jokingly joked about "support for one-legged Lithuanian lesbians" during a private lunch, Ambassador Vygaudas Ušackas cleverly asked him to explain this British humor. Hardly ever will the leader of any of our parties call his insiders to explain why he is insulting potential voters, and Gargždas will be represented by a more respectable member of the Seimas? The EP has already set an example.
---
Source: 15min.lt – suprasti akimirksniu | RSS by www.15min.lt.

*The article has been translated based on the content of 15min.lt – suprasti akimirksniu | RSS by www.15min.lt. If there is any problem regarding the content, copyright, please leave a report below the article. We will try to process as quickly as possible to protect the rights of the author. Thank you very much!

*We just want readers to access information more quickly and easily with other multilingual content, instead of information only available in a certain language.

*We always respect the copyright of the content of the author and always include the original link of the source article.If the author disagrees, just leave the report below the article, the article will be edited or deleted at the request of the author. Thanks very much! Best regards!
---