15min the interlocutor questioned whether the current migration processes in Europe should be called a crisis. According to him, both legal and illegal migration is a natural process.
According to E. Račius, the EU has made a conscious decision to accept incoming people who need help, for example, temporary protection when military conflicts take place in the homeland. He also pointed out that, although the EU is not the only one, it is probably the largest region with a legal right to relocate and settle safely for people in need of protection or assistance.
"You won't call it a crisis," he said. "Laws do not create a crisis, but a foundation for a system that should, ideally, work perfectly." Does the system work perfectly? According to the interlocutor, this question should be answered by assessing the experience of specific countries.
According to E. Račius, the task of national governments is to accept incoming people who may be granted refugee status, but another problem arises – many newcomers are looking for a better life instead of a safe haven: "There are many people all over Europe that they are fleeing unrest or are personally threatened by someone. For decades, we have seen a situation where the EU is seen as a dreamed-of, money-rich country where it is very easy and rich to live. "
This attitude is not surprising. According to the interlocutor, Europe has always designed itself as a region of happiness, where everyone is happy, rich and secure. "It simply came to our notice then flowing fits here but srovele juda towards some EU countries, "he said.
There must be very clear reasons why a person could not stay in their homeland.
Refugees need to be accepted, but how to recognize?
According to E. Račius, different EU countries are bound not only by legal, but also by moral values, including the desire to help those who need help the most. According to him, this is a kind of Christian attitude – to help the poor, but the most important question is how to define the poor? Who should have the right to stay in Europe?
"Yes, refugees need to be accepted and that is the EU's moral obligation. The problem is that out of a thousand people who come to Europe, maybe two are refugees. How do you find out in that haystack where those two needles are? There must be very clear reasons why a person could not stay in his homeland, "he said.
There is no less headache than what to do with those who cannot be granted refugee status and their homeland does not have the means or unwillingness to readmit their citizens. Lots of such cases, as told 15min interlocutor, touched migrants from Iraq, Somalia, Afghanistan and Pakistan.
"When you ask how you are doing, you can only succeed if all parties participate responsibly in the process, but when the governments of those countries do not act in solidarity and do not even accept their citizens, it is a challenge," E. Račius summed up.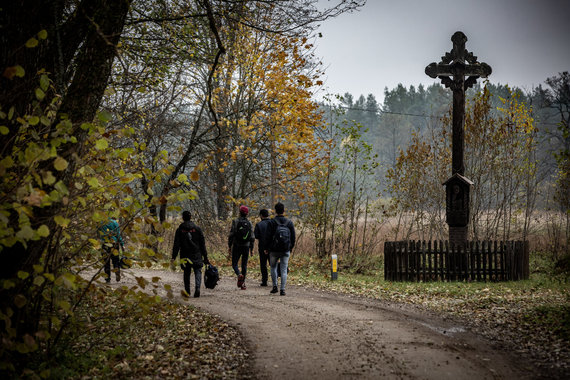 Photo by Vidmantas Balkūnas / 15min photo / Migrants who entered Lithuania illegally pass through Musteika village (Varėna district)
15min When asked about the terms "refugee" and "migrant", a Middle East expert considered that the terms refugee should be abandoned altogether. We should talk about people, he said, who migrate for one reason or another, and the legitimacy of that should be assessed by the competent organizations: "And only if people are given asylum, then we can call them refugees. But when it comes to the migrating mass of people who say I'm a refugee, we should never use that word at all. "
Two paths, but both are successful
Speaking about the people who are granted the right to stay in the EU, he pointed out that countries follow different principles. Some leave the integration of newcomers to their own devices, while others hold the idea that these individuals need to be trained and supervised.
"It simply came to our notice then. If someone did a huge study and showed that 80-90 percent. or more immigrants are successfully integrated and become part of local communities, it can be said to be a huge success. I would say that those countries that are doing something about integration are really doing well. In those where those people are left to their own devices, those people either succeed or fail, "said the interlocutor.
In his opinion, it is possible to talk about the different paths chosen, but an equally successful outcome. For example, E. Račius said, the French adhered to the attitude that all newcomers must become French. In other words, integration is understood as assimilation.
"Now we see," he added, "that neither race nor religion is the hallmark of France." Black French is equivalent to white. This is an absolutely normal thing. I would say it is a great success. "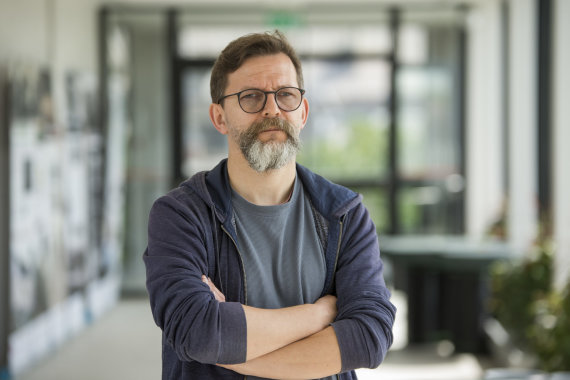 J.Petronio nuotr./Egdūnas Račius
"It is a completely different, but just as successful example – the United Kingdom, which takes the position that there is no need to assimilate, but can remain itself. For example, members of the Sikhs, Muslims or other religions who want to be police officers are provided with special uniforms adapted to national clothing. Peculiarity is allowed to be maintained and, in a sense, it is institutionalized, "he gave another example and emphasized that this path was just as successful.
According to him, Sweden or the Netherlands are doing just as well. E. Račius pointed out that, for example, Switzerland is quite oppressive to otherness, people are not allowed to be who they are, but this is an exception.
Radicalism is a rare exception
Those who are hostile to migrants from Muslim countries often talk about the potential threat of terrorism, is it really worth worrying about?15min a Middle East specialist interviewed explained that newcomers want to live better and many understand that they will have to adapt. Of course, there are people who get frustrated, become angry, or even radicalize.
"There are many forms of frustration. It can also take the form of extremism, as we see, but we must realize that if we are talking about 10, 20 or 30 attempts to carry out terrorist attacks, we will realize that 5-6 million it is not representative of the crowd of the Muslim diaspora, "he explained. Generally speaking, manifestations of radicalism are just a rare exception, certainly not the rule.
How is Lithuania doing?
The interlocutor said it was natural that the governments of poor Eastern European countries could not afford migrants the same living conditions as Western states. 15min when asked how he assesses the asylum process, he replied that we were at first sight successful. On the other hand, according to him, perhaps this is just an impression, because in order to properly assess it would be necessary to see the whole "kitchen".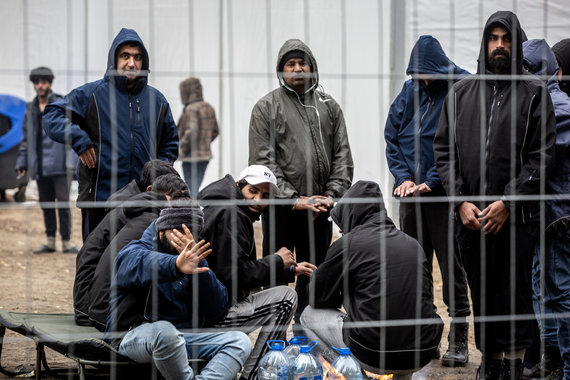 Photo by Vidmantas Balkūnas / 15min photo / Residents of Rūdninkai migrant camp (Šalčininkai district) are transferred to the Aliens Registration Center of Kybartai (Vilkaviškis district)
"We have to remember that it only started in the summer. For those things that are kept somewhere, get one toothbrush or get one in the morning and get another color in the evening, I don't know… The media has its position and tries graybut i don't know what really is squeaks. Well, the Government because it is needed all the time gray, no matter who she is – right or left – but if there is something behind it that should be worried about and say that Lithuania is not doing well, I would not be inclined to think so, "he said.
Let's not overeat the idea that we are beautiful and attractive because they are small.
Recalling the conclusion of the Seimas Ombudsman regarding the conditions of detention of migrants, which ignited sharp disputes a few weeks ago, E. Račius emphasized that the current conditions should be assessed, not the previous ones. According to him, it is worth rejoicing that in a short time people have been moved from such poor conditions to better ones.
Migrants will not stay in Lithuania
15min E. Račius was convinced that migrants would not stay in Lithuania and would go to the West as soon as the opportunity arose: "Let's not eat the idea that we are beautiful and attractive because they are small. They will all go out and it doesn't matter where they end up – women in illegal brothels, men selling drugs in the gates. It doesn't matter at all where they go out, but they will go out. Let's not be naive… I could even say straight ahead and bet that most of those noble displaced Afghans will leave as well. I just don't see a reason for them to stay here. "
We are talking about economic migration, which is about 95%, if not more.
He said that many of the newcomers have relatives in other EU countries, such as Germany, so he is well aware that the standard of living and conditions there are much better. Another important thing that migrants do not have in Lithuania is the opportunity to nurture their own cultural and religious traditions and language.
"Probably everyone in Lithuania has, if not a relative, an acquaintance who has emigrated. Lithuania did not have a civil war or anything, except for one other explosion among the representatives of the mafia, which could lead to the departure of such a mass of people … from any other country that is much worse than ours. Does this need to be qualified as a sufficient basis? Probably not, we are talking about economic migration, which is about 95%, if not more, in the world. "What you will do is such a reality," he said at the end of the conversation.
---
Source: 15min.lt – suprasti akimirksniu | RSS by www.15min.lt.

*The article has been translated based on the content of 15min.lt – suprasti akimirksniu | RSS by www.15min.lt. If there is any problem regarding the content, copyright, please leave a report below the article. We will try to process as quickly as possible to protect the rights of the author. Thank you very much!

*We just want readers to access information more quickly and easily with other multilingual content, instead of information only available in a certain language.

*We always respect the copyright of the content of the author and always include the original link of the source article.If the author disagrees, just leave the report below the article, the article will be edited or deleted at the request of the author. Thanks very much! Best regards!
---