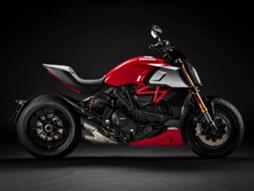 Ducati is currently in a series of launches of new colors and graphics for its current models, and it looks like that trend will continue over the next year.
Namely, according to available information, in 2021 we will have a special edition of the Diavel 1260 model, which will bear the name Lamborghini Edition.
This information is revealed by the documents that Ducati submitted to the American Agency for Nature Protection. They list three variants of the Diavel 1260 model, including this one, just mentioned.
Both Ducati and Lamborghini are companies owned by Audi, ie. Volkswagen Group. And it makes sense for the two Italian giants to achieve some kind of cooperation, having in mind the status they have, but also the fact that they are from the same country.
At this point, we can only assume what this kind of cooperation will bring. We expect some color, exclusively reserved for Lamborghini supercars, with a number of premium components.
Chances are high that the Diavel 1260 will get a premium exhaust system, Termignoni or Akrapovic. One thing is for sure, whatever the choice, it will give the motorcycle an explosive "soundtrack".
In addition to information about the new Diavel 1260 variant, the documents reveal two more interesting Ducati models. These are the Multistrada 1260 Enduro Grand Tour and the Scrambler 1100 PRO Dark. 2020 is definitely a year that we will all want to forget, and the next one, at least for Ducait, could be a year to remember.