dtac's 4th year dtac Young Safe Internet Leaders' Cyber ​​Camp stage arrives to announce the results of 5 youth teams to compete for best ideas The technology is already aligned with cyber threats.
On May 13, 65, dtac announced the progress of its Young Safe Internet Leader Cyber ​​Camp activity, where 200 youth out of 1,178 applicants participated in Metaverse for 3 weeks through bootcamp classes and participation. Develop ideas to create innovations for society in the Cyber-security sandbox today, the youth with the best projects. and able to implement to achieve real results by selecting 5 winning teams
The results of the selection of 5 winning teams
1. Team Ailurus – 'Negative Digital Footprint' protection website that uses art to heal users' minds
web application that allows users to express their emotions and feelings through typing Only the person expressing their feelings will see those messages. For data privacy and to prevent negative digital footprint issues.
But websites don't just let users express their feelings. We will use to change the negative text to an image. Which brings the subject of art to attract and divert the negative feelings away.
There are also options such as quotes, sports, books to create laughter and to guide and educate visitors to the site.
2. ทีม Don't leave the door open – Innovations to help users understand the terms and conditions of popular platforms in the COVID-19 era. To prevent the leakage of personal information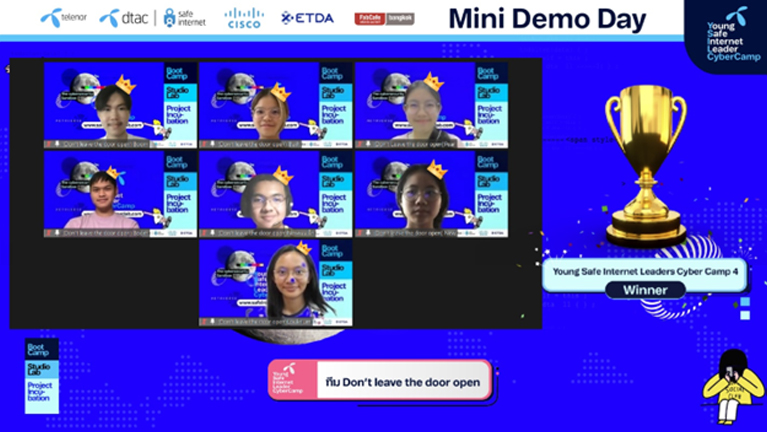 Up to 92% of people don't read the many pages of terms, instructions and manuals. Because it took more than an hour, this team proposed a solution. by organizing the information to be placed on the website Before going in, read the terms PS Tac is more secure.
The PS TaC is an innovation that will help users to better understand the terms and conditions.
3. Dr.pla team – A help center with no room for crooks
The problem of impersonating donations Most of them are small amounts of money. So the donor doesn't mind. The website complements the help. by collecting the right information and help check and collect donor recipients Cut scammers from the donation cycle.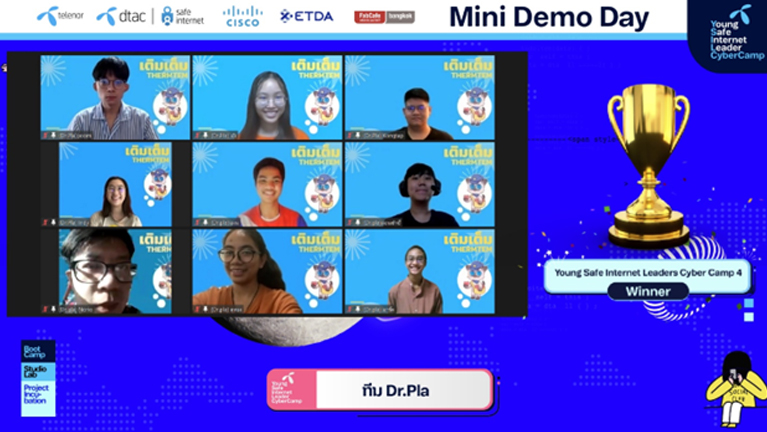 The "fill-in" website gathers people who need help. Focus on the individual (not the organization / activity) by the information of those who want to receive donations. There will be a check from the donor, the community or the person who has information. to certify that help is really needed When passing, there will be a name / account / balance / details into the website to prevent vulnerabilities for scammers.
4. DTAC team is happy – Model city of 'A Profession to Fight Cyber ​​Attacks' in Metaverse Game
A 2021 ETDA survey found that Gen Z are the most active on social media. This increases the chances of being attacked by cyber attacks as well. Therefore, the youth team 'dtac Delight' is proud to present a Metaverse simulation game that allows players to simulate the lives and situations of cyber-attacks through various occupations.
such as YouTuber Graphic Designer and Online seller to enable players to learn how to protect against cyber attacks.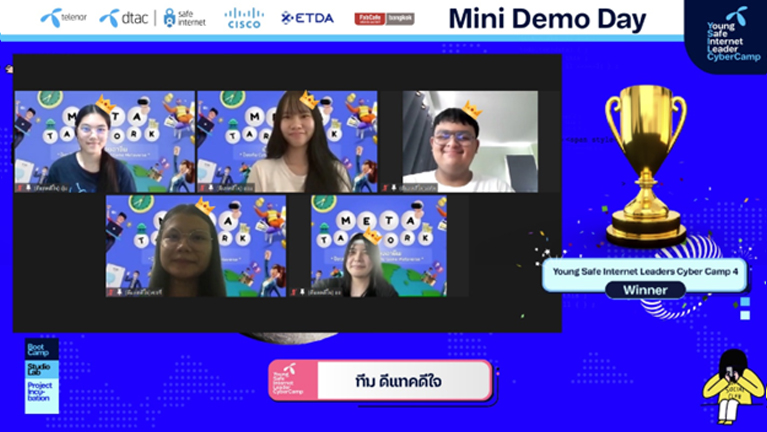 The youth also pointed out three reasons why they chose to develop games in the Metaverse world, because it is a virtual world platform where users can simulate the best scenarios. It is also a modern medium that is interesting and likely to grow in the future.
5. The team is afraid of losing form. So I gave up on her – Bot 'Nong Tuenjai' detects fake websites instantly and accurately.
'Nong Tuenjai' Bot instantly detects fake websites, revealing to dtac Safe Internet that 86.6% of 580 netizens have a behavior of not checking URL links for scammers or not.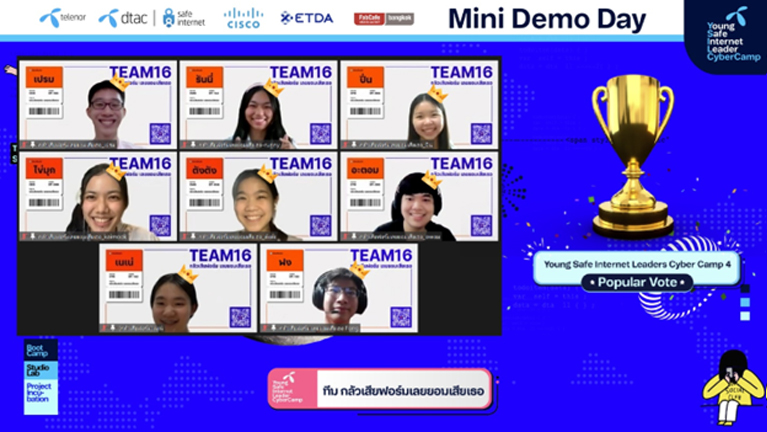 so that innovation Nong Tuenjai has chosen to offer a chatbot that will be embedded in the chat application that will alert you every time a fake URL link is infiltrated into a conversation.
All 5 teams will receive a prize money to develop ideas for each team of 80,000 baht, totaling a prize of 400,000 baht, and dtac will also act as mentors. allowing every team to develop further ideas into further practice
reveal the source of the judgment
In this decision, there were 4 committees, comprising Mr. Taweewat Chantaraseno, Managing Director of Cisco Systems (Thailand) Co., Ltd., Khun Kalaya Kowitwisit, Co-Founder FabCafe Bangkok, Creative Digital Hub, Energy Release Area. of creativity
Khun Chitpong Kittinradorn, Social Innovation Specialist from Change Fusion and Ms. Ratchaya Kunnapong, Director of Sustainability, Total Access Communication Public Company Limited or dtac
this judgment Consider the selection of 5 winning teams with interesting innovations. skills or techniques used There is a possibility to perform benefit and has potential for growth Extension or have the opportunity to expand in the long term
Amazed by the idea of ​​another 5 youth teams
In addition, there were also 5 other youth teams presenting interesting ideas that were presented at the event:
1. 8 companion 84000 cells – Connecting Biometric Technology to the Medical and Healthcare Industry
Authentication through fingerprints When the fingerprint is scanned, it will show general information of the injured in the event of unconsciousness or death.
In the protected data link to save screenshots. To maintain personal information, or what we call data privacy, that contains information from hospitals. Social Security Insurance Company and police station
The link will be sent within a line chatbot named MIS, which stands for Medical Intelligent Scan, for the convenience of rescuers and volunteers.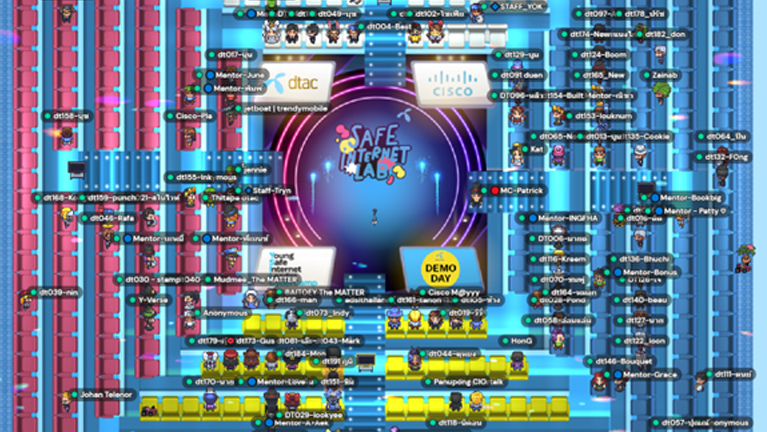 2. CyberGOAT – An application that takes users to explore the cybersecurity world in a 3D game.
Go! Go! Cyber ​​Boy, a young boy defending cyber " is an application that promotes learning in the form of a 3D game that allows the player to control the character to learn about the threats from the cyber world.
Divide the content into sub-stations on different islands. Learn about cyber with 5 bases: real web stations, fake web stations, for players to decide. secure password station fake news station attracted to make learning more interesting as well as playing games to test understanding after learning
Designed to be used on mobile devices, smartphones, and tablets for maximum user accessibility. attracted to make learning more interesting In addition to being suitable for young people also suitable for many groups Including large organizations can be adapted in training with employees.
3. Secure Security Society (SSS) – A community of activity lovers who give rewards in the form of NFT certificates.
"Pile the museum correctly and safely. so that children and youth can create works Social Creativity Social Creativity", a phrase from "Youthkub", a platform collecting various activities for the new generation. that increases the level of security for users by checking the information of the event organizers in detail
Therefore, it is considered as an all-in-one platform, helping users save time without having to keep up with information about activities through multiple channels. And most importantly, it also uses Blockchain technology to issue certificates in the form of NFT to participants in the event. to prevent counterfeiting of honor certificates as well
4. Line bug – 'Cyberpath' quiz analyzes weaknesses and strengths through cybersecurity issues
Wouldn't it be great if we could raise awareness of cybersecurity to everyone with "CyberPath", a web application presented as a quiz game that analyzes strengths and weaknesses? and cybersecurity skills of users as well as suggesting knowledge points where users still have vulnerabilities so that users can stay safe online
5. Water flow, electric shock – Software to keep everyone safe from Phishing
As of 2020, there are 247,621 victims of phishing in Thailand. So the youth team has designed "PhishFiona" software to keep everyone safe from phishing. Just click install and the system can check the URL. browser immediately
The software can also report those fake links. The youth of the Suction River team also saw an opportunity to develop software for the visually impaired group as well. The youth of the water flow team believes that "Our software will reduce scammers by 70 percent, or 173,000.
Behind the Success Path of Internet Youth Leaders The youth spent 504 hours together at the heart of the Metaverse platform, The Cybersecurity Sandbox, where youths could brainstorm ideas and develop projects with their fellow campers.
They experimented with a startup workflow, from team matching, design thinking using the Business Model Canvas, and pitching ideas for presentation to the committee on Demo Day.
Ready to be coached in A cyber-security sandbox that allows both coaches and youth to work together effectively as a team.
Read the original news: dtac announces the results of 5 youth teams to compete for best ideas Use technology to fight cyber threats
---
Source: ประชาชาติธุรกิจ by www.prachachat.net.

*The article has been translated based on the content of ประชาชาติธุรกิจ by www.prachachat.net. If there is any problem regarding the content, copyright, please leave a report below the article. We will try to process as quickly as possible to protect the rights of the author. Thank you very much!

*We just want readers to access information more quickly and easily with other multilingual content, instead of information only available in a certain language.

*We always respect the copyright of the content of the author and always include the original link of the source article.If the author disagrees, just leave the report below the article, the article will be edited or deleted at the request of the author. Thanks very much! Best regards!
---