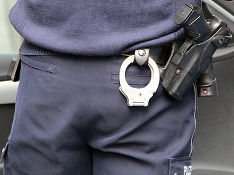 About 20 police officers visited the office of United Democrats in Kazan. They did not state the purpose of the visit; they did not have a search order, reports Znak.com with reference to the project coordinator Andrei Pivovarov.
According to him, "the police said they wanted to inspect the scene, but did not say which one." He added that on the evening of July 3, the project coordinator's birthday was celebrated in the office. When the police arrived, one part of the people was in the courtyard of the building, the other was indoors.
Pivovarov believes that the visit of law enforcement officers may be connected with the banner "Say no to Putin until 2036," which, he said, appeared before the vote on constitutional amendments.
Earlier, police also came to the St. Petersburg office of the Open Russia organization.
Stories about how you tried to get help from the Russian state in the context of a coronacrisis and what came of it, send to the address [email protected]