At the beginning of 2020, the world was introduced to a new digital reality. The pandemic has forced many people to adapt their working lives, with the advent of video calling services as a digital alternative to face-to-face meetings. Not only did the work move from physical spaces to the online world, sports lessons, book clubs, birthdays and graduation drinks also took place via the screen. In the Human Zoom theme, we examined what online communication technology does to the quality of our interaction. Based on our findings and our own experiences, we discuss by email whether or not we should keep video calling services such as Zoom.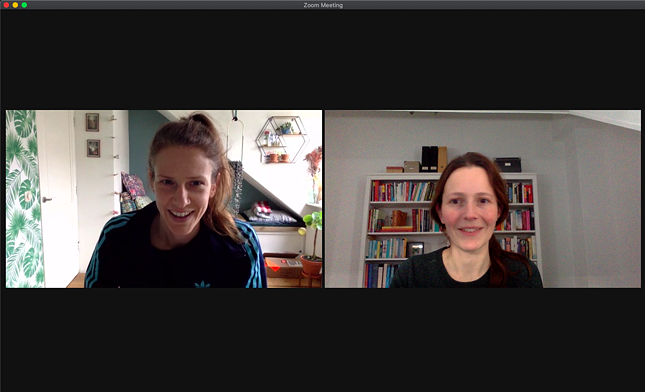 Editors Mariska van Sprundel and Erica Renckens consult via Zoom.
Erica Renckens
By: Mariska On: Erica Sent: Friday 7 January 2022, 9:43 am "My working life, as a freelancer working from home, didn't change very much during the first lockdown. No traffic jams, no travel time, organize your own time, do some laundry in between; they are benefits of working from home that a large part of the population has now also come to know, but were already normal for me. Thanks to Zoom, despite the lockdown, we were able to consult and 'see' each other weekly. The entire editorial team now knows that I write my articles in a botanically decorated attic room, and vice versa I got a glimpse into the personal life, including cats and children, from other editors. What I find really enriching for the workplace is the emergence of webinars. Instead of traveling to a conference room in Amsterdam in the evening, I can lie on the couch and watch a live stream about research into babbling bats or advancing fungi."
By: Erica On: Mariska Sent: Friday January 7, 2022, 12:11 AM "I think the evaporated travel time is indeed a big advantage of working from home. Especially evening activities – why are the most interesting ones often organized in Amsterdam? – were previously impossible to do when I had to catch the last train back to Nijmegen. Although I must also confess that I have already enthusiastically signed up several times for an online lecture or discussion, only to drop out in the evening when I slumped on the couch. I feel less personally involved, which lowers the threshold for truancy. I also like the personal insights while zooming, but it took me a long time to get used to the online group conversations. Because of my stuttering, I find video calling better than calling, where communication is completely based on speech. Fortunately, facial expressions and hand gestures also contribute to the conversation via Zoom, but the faltering turns made me unsure. I have now found my niche, but as far as I'm concerned, nothing beats an offline conversation. Or should it all stay online for you from now on?"
By: Mariska On: Erica Sent: Friday January 7, 2022, 4:56 PM "What I wonder is whether our relationship with tools like Zoom will hold up when the virus weakens. At the moment we are forced to hold meetings, brainstorming sessions and symposia online. I am curious what happens if the advice to work from home is completely canceled. Do people fall back into old habits and the offices fill up full-time again, or do we choose to continue to handle our work via video calls? Is the new reality no longer reversible? Language researcher Mark Dingemanse said he wants to keep his virtual office, set up during the pandemic, to make it easier to meet with international colleagues. Huddled up at home without physical contact with colleagues, our world initially became a lot smaller, but in a sense also bigger, because of this kind of digital technology."
By: Erica On: Mariska Sent: Saturday 8 January 2022, 10:27 am "Where working from home precorona was the exception, it will probably be accepted from now on. A survey by the General Employers' Association of the Netherlands (AWVN) shows that most employers and employees want to stick to hybrid working with two working days a week after the measures. Digitally, it turns out that much more is possible than we thought. This development may have already been underway, but has accelerated thanks to corona. Zoom and other video calling services we wouldn't have heard of two years ago are here to stay. 'Zooming' is now even a common verb, comparable to 'Googling'."
By: Mariska On: Erica Sent: Saturday January 8, 2022, 3:36 PM "If you think about it a little longer, the precorona way of working was kind of silly. Half of the Netherlands got into the car only to get stuck in a traffic jam, then had to stay from nine to five in a hysterical office garden full of distraction and lack of concentration, only to chug back at the end of the day in the evening rush hour. Corona has shown us that it can be done differently. I envision a future where most people mainly go to the office for meetings that revolve around new ideas and creativity, where physical presence has a demonstrable advantage. There will hardly be any fixed workplaces, only flexible workplaces. For the 'office feeling' and the chat at the coffee machine, you may want to take another day. Or a morning. Of course there are still Friday afternoon drinks, heath days and Christmas parties to meet your colleagues in person and to build or maintain a bond."
By: Erica On: Mariska Sent: Sunday, January 9, 2022, 1:41 PM "Exactly. Physical meetings are important for planning and social contact, but everyone has also noticed that you are perhaps the most successful at home. Provided you can work undisturbed in a pleasant workplace, of course. Fortunately, employers are also increasingly willing to help pay for that ergonomic home office. After all, that benefits everyone. Now only the Zoom etiquette needs to crystallize a little further. It also took a while with the mobile phone before we agreed on the do's and don'ts: don't hang on your belt, don't make too loud calls in public, turn off touch sounds while typing. Something like this would also benefit video calling: sitting right in front of your webcam, using the mute button wisely, also showing your hand gestures while speaking. Such things do a lot for communication."
By: Mariska On: Erica Sent: Sunday 9 January 2022, 19:51 "I recently spoke with Peter Werkhoven, who is researching interaction in virtual worlds at Utrecht University. It surprised him that eye contact is not possible online, while we have known for so long that being able to look each other in the eye is essential for a conversation. His expectation was that online tools would develop technologically in that direction. Add stereoscopic sound, so that you can hear from which direction the sound is coming, and then the largest angels would have disappeared from the image bubbles. Hopefully, you will no longer end a Zoom meeting dead tired."
By: Erica On: Mariska Sent: Monday 10 January 2022, 10:04 AM "That would be a great development indeed. I'm curious how that can take shape! Ultimately, our communicative needs must be leading in these types of technologies. It cannot be the case that technology limits or even hinders our social interaction. Content determines form, not the other way around. Well, we're not there yet. We have now tasted the many advantages that video calling entails and we clearly do not want to go back. It's not perfect yet, but we shouldn't throw the baby out with the bathwater. Let's see together – with each other and with developers – how things can be done even better."
---
Source: Kennislink by www.nemokennislink.nl.

*The article has been translated based on the content of Kennislink by www.nemokennislink.nl. If there is any problem regarding the content, copyright, please leave a report below the article. We will try to process as quickly as possible to protect the rights of the author. Thank you very much!

*We just want readers to access information more quickly and easily with other multilingual content, instead of information only available in a certain language.

*We always respect the copyright of the content of the author and always include the original link of the source article.If the author disagrees, just leave the report below the article, the article will be edited or deleted at the request of the author. Thanks very much! Best regards!
---