Weather forecasters warn: the next few days will be so cold that it's hard to remember when we last had a similar temperature.
Thermometers will show 20-25 degrees at night, and in some places even more degrees of cold, so there is a danger not only of not starting the car, but also of freezing your hands, feet or nose yourself.
Read more about the weather in the coming days here: Sinoptikė Edita Gečaitė about the upcoming frosts: "Cars will probably not start in the morning".
It can be frozen quickly
Doctors also remind – it is necessary to be careful of the cold in the coming days. Mindaugas Klusas, an ambulance specialist at the Vilnius ambulance station, shared advice on how to protect yourself and others in extreme weather and low temperatures.
"First of all, you don't have to have the illusion that if you run from the parking lot to the kiosk, to the office, etc., you will not catch a cold here very quickly and in a short time. We usually have the heating on in the car. If we don't cover ourselves normally before running to the room, we can be blown away quickly. You need to know how many degrees of cold there is. In addition, proper dress is required.
It would be good if we played sports, played outdoors – now everyone is running to ski, skating across the peninsula – to keep their clothes dry. They get wet quickly from the snow and the scariest thing that can happen is that those clothes will freeze when wet. The tissues are then damaged very quickly. This can go as far as gangrene or even amputation. If the children are playing outdoors, we often bring them home, at least change their socks, then we can release them again, "the doctor said.
If the kids are playing outside, we often drive home, change our socks at least, then we can release again.
Beware of moisture
According to him, when preparing to go outside in the cold, as few open spaces as possible should be left – so that the wind does not flatter: put up collars, tie scarves higher.
However, according to M.Klusas, scarves should not be tied on the mouth, as a favorite, but only on the chin.
"Breathing from the steam wets the scarf fabric and has the same effect as with wet socks. We breathe through the nose so that the mouth is not open, and the air entering through the nose warms up a little more until it reaches the lower respiratory tract. We try not to talk much, to cry, not to sing outside, "said a specialist from the Vilnius ambulance station.
M.Klusas warned that even in cold weather outdoors, masks should be changed more often – when wet, they lose their effectiveness, and the fabric can start to get cold, so it will work like freezing wet gloves, socks or a scarf.
And you should dress like that onion – the more layers, the better the formation of air layers between them.
We try not to talk much, not to cry, not to sing outside.
Another winter warning is to beware of injuries. Because slippery, more sports on the snow, this injury has certainly increased.
Doctors have already said that there was a huge increase in injuries among young people over the weekend, which was precisely the consequence of outdoor entertainment.
Appropriate first aid
"The biggest mistake is heating up a broken place. It needs to be refrigerated first. If you have suffered such an injury, you need to refrigerate for the first hour and then warm up. First you need to mobilize, say, a broken leg can be mobilized with the other leg by tying a scarf, hold the hand, press it against the body so as not to balance. Without specialists, we will not be able to do it here.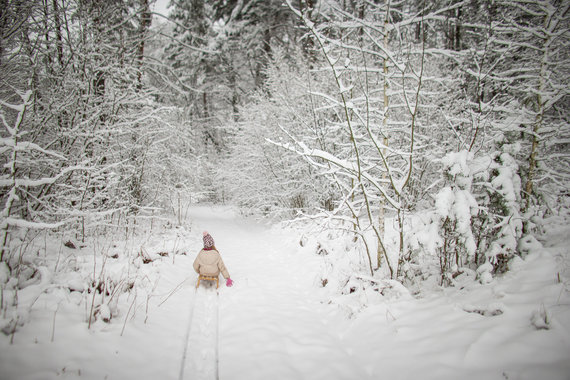 Photo by Rokas Lukoševičius / 15min photo / Snowy forest
After freezing the skin – ears, hands, first of all it is necessary to close to warm skin. For example, we cover frozen ears with our hands to warm them up. If we freeze our fingers, we insert into the armpits. Let's not pick cold snow, let's not try to thaw like that – we go to a warm room, get undressed and warm up slowly and calmly. Not in a hot bath, not by a hot radiator, but we warm up calmly, little by little, drinking warm tea, "M. Klusas advised.
At extremely low temperatures outside, doctors are faced with the need to treat not only frostbite, but also burns that occur when a person tries to warm up a frozen body very quickly.
Klus says that frostbite and burns are the same, only one "with a plus, the other with a minus."
The doctor also warned that the frostbite does not hurt at first, so you may get the false impression that nothing bad has happened, but when the body warms up, the pain only gets worse.
After freezing the skin – ears, hands, first of all it is necessary to close to warm skin. For example, we cover frozen ears with our hands to warm them up. If we freeze our fingers, we insert into the armpits.
"If this happened, it is necessary to see a doctor to see if there were any tissues damaged by the cold," advised a specialist from the Vilnius ambulance station.
And no alcohol
And here is a strict ban on drinking alcohol when going outside in such cold weather, because there is no way to warm up properly after drinking alcohol:
"People are going to take off their coats. But really, it's just an illusion because alcohol greatly dilates blood vessels and makes people catch a cold even faster. Alcohol does not provide anything warm in such weather, it is only an illusion. "
It is for this reason that the doctor urged attention to be paid to perhaps inadequate people sitting in stops or on benches, as much warmer weather can be devastating to them, not to mention the expected 25-degree cold.
Road and utility workers promise to be on call
Road workers are also preparing for the cold.
The company Grinda, which maintains the streets of Vilnius, informs that specialists closely follow the meteorological information about the weather in the capital provided by different sources.
"Long-term speed is somewhat adjusted by street maintenance actions – on the one hand, it snows less, but on the other hand, we need to assess the risks to traffic safety caused by blowing. However, the cold does not have a significant impact on street maintenance standards: we work equally responsibly at both -5 ° C and -15 ° C: we clean the snow, we stand by bridges, viaducts, and other dangerous sections of the street.
Žygimantas Gedvila / 15min photo / Snow-rich winter returns to Vilnius
We are noticing that extremely low air temperatures are increasing the number of water, heat and electricity network accidents. We draw the attention of the employees of the units dealing with these accidents so that, if necessary, we can provide the necessary assistance quickly, "said Egidijus Steponavičius, Head of the Marketing and Communication Department of Grinda.
Road users also warn drivers that spears can cause problems for them and their cars, so care should be taken in advance – fill the windscreen washer fluid tank with a suitable fluid, apply special silicone to the car door rubber.
As the battery may also "smell", it is recommended to park the car in such a way that it is easy to reach the jump leads or pull the parking lot out of the parking space to a neighboring or technical assistance vehicle.
---
Source: 15min.lt – suprasti akimirksniu | RSS by www.15min.lt.
*The article has been translated based on the content of 15min.lt – suprasti akimirksniu | RSS by www.15min.lt. If there is any problem regarding the content, copyright, please leave a report below the article. We will try to process as quickly as possible to protect the rights of the author. Thank you very much!
*We just want readers to access information more quickly and easily with other multilingual content, instead of information only available in a certain language.
*We always respect the copyright of the content of the author and always include the original link of the source article.If the author disagrees, just leave the report below the article, the article will be edited or deleted at the request of the author. Thanks very much! Best regards!
---