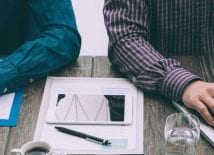 It's a great time for marketing agencies. Customers are accelerating their search for new ways to digitize communication and sales channels, with the customer experience (CX) at the forefront. As a digital agency, how do you take the next step in the further digitization of your own project organization and business processes? A tip of the veil: a people-oriented approach is paramount.
We are in a change of era, as Prof. Bob de Wit argues in his book Society 4.0 (affiliate), largely caused by developments in digital technology. As an employee, manager or customer, you take the next step in using and experiencing technology. This is in contrast to, for example, ERP (Enterprise Resource Planning) system implementations in the (near) past, where the emphasis was too much on processes and technology. This results in high costs and low user acceptance in the beginning.
I recently spoke to the owner of an event organization, who managed to convert his business model from offline to online in a very short time and with trial and error. Forrester Research enrolls European Edition Predictions 2021 that by 2021, CX leaders of digital brands will widen the gap with competition by further focusing on core CX competencies. This makes them grow faster.
The same report also states that in 2019, 4% of information workers were working from home and by 2021 more than a third of all information workers were primarily working from home. This means that the employee experience is at least as important to keep employees productive in a pleasant way and to continue to bind them to your company.
Work with 5 to 8 different apps
Applications are available to support individual employees, customer and project teams. Think of Zoom, Slack, Trello and, for example, the Cloud solutions from Google and Microsoft to communicate, collaborate and share documents. Often these tools were already in use, making the transition to work from home smoothly. However, it is taken for granted that an employee works with an average of 5 – 8 different apps, whereby data has to be copied from one application to another with version management and risk of errors.
Transferring the project from one phase to another does not go smoothly, as soon as other people are involved and informed to continue working on the project. During the implementation of the project, confidential information is shared with external parties, such as customers or freelancers, whereby matters must be in order based on data protection and data governance. And is this so?
In growth and from a management perspective, it is important to:
have an up-to-date insight into the entire project portfolio for the correct prioritization.
have easy access to consistent information about employees and the project portfolio, including expected financial results and cash flow.
to make data-driven decisions quickly from a central system with a substantiated risk assessment.
Digital agency: more effective integrated project work
From my point of view, the next step is needed for a sustainable and integrated internal digital transformation for project organizations. This change consists of optimizing the business processes. But also from the introduction of modern technology to move to a more effective level of integrated project-based working. I would like to note that the change should come from the business and operating model and technology is subordinate to this.
However, it is important to work data-driven and to bring people to the data and not the other way around, so that you can serve customers and employees as optimally as possible. Below you can see a diagram of a project organization that works customer and data-driven, for example for the delivery of designs, apps and websites and what else is involved.
The diagram shows the relationship between project-oriented working and the critical business processes in order to provide insight into the value chain. I will explain this relationship below:
1. Acquisition
Acquisition is an important process for any commercial company. Often important information is exchanged with the potential customer that is important when a new project starts. You can think of all agreements regarding planning, scope, delivery, aftercare and a preliminary calculation in time and money. Easily sharing this information with the project manager and team members helps a smooth start and ensures continuous clear communication with the customer.
How nice is it when the project manager prepares the detailed planning with pre-calculation and Gantt chart can use immediately and can adjust if there is a need to shift in time? Without copying data from one app to another. A complete insight into the sales funnel also offers the possibility to draw up an accurate planning and prediction. This way you can see which resources are needed for which activities or whether there are sufficient resources or hired in.
2. Phase management
Phase management offers the helicopter view that is needed over all projects in all phases to monitor how things are progressing at any time. For this it is important to have real-time insight into schedules, realizations, the forecast, risks and also acquisition, maintenance and support activities. The latter three components are often managed from different systems. Due to the lack of this data, it is often not possible to obtain complete insight into it immediately.
3. Planning & resources
Getting supply and demand together on time in the right way is often the biggest challenge for project organizations. In addition, chemistry in the team and in cooperation with the customer is important. You can also look at the growth ambition of employees and how you can meet this in new projects, so that they can develop further. If the organization grows and there are many assignments, you prefer to have a complete picture of all these elements. For example, when a new team is put together for a new project.
4. Delivery-, control- en risk-management
Problems in the implementation of projects are often in communication within the team and with the customer. It is rarely a matter of technology. Instead of communication via e-mail with version control, you can think of using a customer portal for communication in this phase. Think of sharing deliverables and documents, such as progress reports.
At all times, every member of the project team and the client needs access to relevant information and deliverables with the correct version. You also record tickets for support and follow them up, so that both during and after the project you have complete insight into all the work performed. You want to be able to check whether these have been invoiced, so that you avoid loss of turnover, for example. This also involves careful recording of change requests an important role, with the associated financial agreements.
5. Financial status
This is about insight into the financial status of projects, which you want to be able to adjust quickly. From a financial point of view, this mainly concerns:
revenue recognition, determining the work in progress (how many work that has been performed for which no invoice has yet been sent to the client) on the basis of 'percentage of completion'.
the expected financial result per project and of all current projects.
making the financial forecast and cash flow planning with scenario analysis.
Again, as the organization grows, keeping a grip on the business and being able to look ahead is essential for healthy business operations. Consider, for example, if projects are delayed or brought forward. The financing of growth preferably comes from the own cash flow and if commitments have been entered into for resources in material and staffing, then the management of the agency must continuously monitor this.
6. Analyse en lessons learned
The learning capacity of the organization lies in the sharing of experiences and knowledge. You can also make an in-depth analysis of completed projects and record the experiences from them. Make these best practices accessible to everyone in the organization.
Whatever belongs to this is performance management of the project teams and the individual team members. This way you can see how people are developing and where support is needed and you keep an eye on the utilization rate and billable. By looking at these indicators per project phase, you can clearly see where revenue growth is still possible. For example, make agreements with customers more explicit and record them better.
7. Communication
As I mentioned earlier, communication with all stakeholders and the client in particular is essential during every phase of the project. You must provide the correct information in the correct form for each stakeholder. And also at the right time, to avoid surprises.
Of course this varies per project and it is wise to make a distinction based on the size of the project and / or key account, for example. And were employees allowed to leave? You keep information readily available by working data-driven and storing historical data in an accessible manner.
8. Team & talent management
Although the digital experience continues to increase, the human touch to come first. From Human Capital Management employee development is very important for professional service providers. By knowing what the ambitions, talents and character traits are of employees, you can offer an optimal development process. Match employees to the right team and give them challenging projects.
It is also important to use the right resources to perform the work properly. You can set up personas for different roles, so that, for example, a project manager sees exactly what he needs. Make this readily available as well, so that the learning curve is significantly shortened.
Data-driven work comes first
Data-driven working is just as important for internal business processes as ultimately delivering a project for the customer. Ultimately, it is all about carrying out a further digital transformation internally, including the human experience to increase. This consists of the customer, employee and user experience. To achieve this, it is important to put people first when taking the next step.
The management of your agency must first ask itself whether it wants to initiate a fundamental transition. And is willing to break free from existing working methods, processes and IT structures. This commitment is essential for the further digital transformation to succeed. The costs of doing nothing and inflexibility are higher than using a transition for better margins and sustainable value creation.
What does the next step look like?
In the further professionalization of the organization with an integrated approach that supports the above processes, people must be central. Ready for the next step? Then answer the following questions:
Where do we want to go and what is the ambition level of growth?
Where are we standing right now?
What obstacles are there and what is needed to achieve the ambition level?
You can then map out the requirements and wishes by putting together a 'dream team'. The dream team consists of people who know the current processes, business operations, systems and data well. They have affinity with software and want to be at the forefront of things like optimizing business processes and tackling existing IT infrastructure.
A people-oriented approach in your digital agency
In short, a people-oriented approach from the primary business process, with a focus on the support activities of internal departments, ensures that productivity and fun go hand in hand. With a positive impact on employee, customer satisfaction and the operating result.
When you grow, the internal foundation must be and remain in order. What is your experience?
---
Source: Frankwatching by feedproxy.google.com.

*The article has been translated based on the content of Frankwatching by feedproxy.google.com. If there is any problem regarding the content, copyright, please leave a report below the article. We will try to process as quickly as possible to protect the rights of the author. Thank you very much!

*We just want readers to access information more quickly and easily with other multilingual content, instead of information only available in a certain language.

*We always respect the copyright of the content of the author and always include the original link of the source article.If the author disagrees, just leave the report below the article, the article will be edited or deleted at the request of the author. Thanks very much! Best regards!
---