Weaning from diapers, or parting from diapers, is one of the most stressful and confusing issues in parenting. Certainly if you have suffered from rehab delays during all the closures we have gone through. Now, with the arrival of spring, this is a great opportunity to start weaning our little ones from diapers. Instagram anchorMaayan Raichman tells how she did it.
I want to tell you how I rewarded my son for the first time. My son (now a year and a half old) was a "fluffy" baby by birth. This means that at the age of 8 months he would vacate 100% in the bathroom, without missing a beat. Everyone who met us was in utter shock and had a hard time believing what he was seeing.
The video that swept tens of thousands of parents:
The "flea" method is an ancient weaning method based on the fact that babies are born without diapers and they are actually born weaned. To understand when they want to vacate one has to be attentive to them. The method is also called the "attention method". The babies signal to us when they need to vacate and we help them when they ask.
For us it worked amazingly and helped us on a lot of levels, beyond rehab, and served as a solution to the gas pains and unexplained crying. Happy with the fact that my son is a rewarding baby, I started looking for genes. I received the same answer from all the kindergartens, "We do not receive rewards at this age." Sad and frustrated, I realized I would have to give up a rewarding baby in favor of kindergarten and so I did.
He is now a year and a half old (no longer in kindergarten but registered for next September), so the result is that I will now have to repay him for the second time. To get guidance for toddler rehab, I interviewed Noam Pearl, the rehab counselor from Linoy Bolochnikov's team (Linoy Sleep).
How do you know when to start?
"In terms of physiological maturity the baby is born mature from age zero. They are born without a diaper and we get them used to a diaper. Therefore, early signs can be found at any age. It is possible to raise a baby without a diaper from the first moment, and at any age for a reward.
It is also worth looking for, in addition to physiological maturity, also cognitive and motor maturity. It means a child who knows how to express himself, communicate, mark when he has needs, a child who experiences independence. Most of these parameters will be reflected in the two-year-old area. "
What do these parameters look like?
"The toddler needs to know and understand how he feels when he has needs. They need to identify the feelings and be connected enough to themselves to understand what is happening to them in the body. In terms of independence I expect to see a child eating alone, helping at home, letting him feel part of home.
In addition, the child should know how to take off his pants himself. A cool trick to make sure maturity for rehab is when the child is able to jump on both legs. If he manages to jump on two legs, it means that the muscles of the sphincters are ripe for detox. "
What does the actual detox look like?
1. Preparation stage. Preparation is very important. About a week or two before the start of rehab we will start reading books related to rehab. We will say on various occasions to the child "What a great child you are, soon you will no longer need a diaper". We will encourage independence as much as possible before the start of weaning and explain to the toddler what is going to happen.
2. The training phase. We will take the toddler off the diaper at once, and from the moment you take it off, do not return it. We will be seen fleeing needs throughout the house. For this reason we will protect the house, roll out rugs and cover the sofas. You should wear underwear and pants and not leave naked, to learn the feeling when wearing underwear and pants.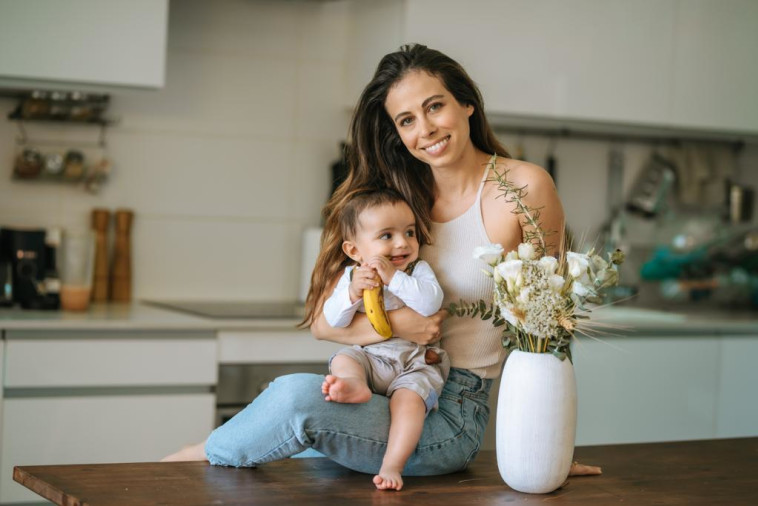 Maayan Raichman
Kids do not like surprises. They need to maintain a regular routine and agenda. We will explain to them what is going to happen. In the first few days there will be a lot of misses and that's part of it. It is recommended to start the workout with a pot.
It is much more convenient for toddlers to have their feet on the ground, than to reduce a toilet where the feet are in the air.
3. The coping phase. If you make something great out of weaning, it will become something big.
I know my toddler will miss and it's okay because he needs to learn. If I'll ask him at any moment if he needs to vacate I'm making it a point. It will become a home that only deals with rehab. And it also means I'm not giving him a chance. On the one hand I encourage independence, and on the other hand I do not release responsibility.
In the first few days you should pay attention to the child's feelings. If I see that the child is holding back, he should be told "I see you have a pee. Remember that from now on you do it in a pot. If you need help, tell me, and I will help you."
How do you treat mistakes? The goal is to inspire motivation. No need to clap, but to say "not bad next time you will succeed, I trust you".
4. Leaving the house. It is important to encourage adaptability. Make sure the toddler defecates before leaving the house. The role of parents is to make an initiated stop at home for needs before leaving.
And how do you travel? It is recommended to put a disposable diaper pad under the baby in the safety seat. And suggest initiated needs stops.
5. Detox in the garden. The garden is an active player in this story. Our kids are in kindergarten most of the day. The gene must cooperate.
This means talking to the kindergarten teacher in advance, consulting with her, hearing what she has to say. She needs to assure us that she can support this process, and be there for my son when he misses, and he will miss.
What do you do if the teacher does not agree to the detox at the moment? You can try to negotiate, but on the other hand also not be too firm. It is not worthwhile to get into friction with the significant caregiver figure in our children's lives.
Therefore, when starting a detox should take her first days at home. You should reserve a long weekend for rehab at home. Detoxification should be established at home and then let the garden continue. Even when establishing a detoxification process there will be mistakes, probably outside the home where the child does not control the situation.
6. The last stage of night weaning. Night weaning is a physiological process. In time the toddlers will learn to hold back at night. You should wait with a night weaning at first. Up to the age of 5 misses at night are not considered night wetting, which is normal. When it appears for a long time that the diaper is dry in the morning, the diaper can be removed at night.
Author: Maayan Raichman
---
Source: Maariv.co.il – סגנון-לייף סטייל by www.maariv.co.il.

*The article has been translated based on the content of Maariv.co.il – סגנון-לייף סטייל by www.maariv.co.il. If there is any problem regarding the content, copyright, please leave a report below the article. We will try to process as quickly as possible to protect the rights of the author. Thank you very much!

*We just want readers to access information more quickly and easily with other multilingual content, instead of information only available in a certain language.

*We always respect the copyright of the content of the author and always include the original link of the source article.If the author disagrees, just leave the report below the article, the article will be edited or deleted at the request of the author. Thanks very much! Best regards!
---