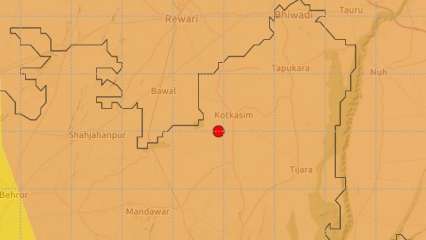 Tremors were felt in Delhi and nearby areas including Noida, Gurugram on Friday as a medium-intensity earthquake of magnitude 4.7 hit Alwar district in Rajasthan.
According to the National Centre for Seismology, the earthquake of magnitude 4.5, with its epicentre 63 km southwest of Gurugram, Haryana, struck at 7 pm. The location on the map shows that the epicentre falls in Kotkasim area of Rajasthan's Alwar district.
The depth of the tremor was 35 km from the surface.
The shocks lasted for a few seconds with Twitter users taking it to social media to share their experience. Tremors were felt across Delhi and in the nearby regions of Noida, Ghaziabad in UP and Gururgram, Faridabad in Haryana as well.
While Delhi-NCR had been hit with a series of small tremors in May and June, this is the first such quake in July.
On May 29, the region was hit by an earthquake of a magnitude 4.6 on the Richter Scale with an epicentre in Rohtak, Haryana. Before that on May 15, Delhi was hit by an earthquake with a magnitude of 2.2 on the Richter Scale hit 13km NW of New Delhi and earlier. On May 10, a medium-intensity earthquake of magnitude 3.4 had hit the capital with an epicentre near Northeast Delhi's Wazirpur area.
The same area was also the epicentres of the earthquakes of magnitudes 3.5 and 2.7 respectively which hit on April 12 and April 13.