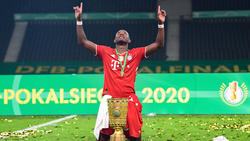 FC Bayern is on course for victory early in the DFB Cup final. Thanks to a free kick by David Alaba that is as worth seeing as it is unsustainable. The defense chief shines as a pioneer, coach Hansi Flick ennobles the Austrian. The club must fear his farewell.
There are players who work football – and there are those who paint it. As is known, FC Bayern has gathered some of the best in their field, so there are many artists there. And then something disproportionately often comes out of it when they play the ball.
Just like in the 16th minute of the DFB Cup final, where kicking the ball looks so easy and so casual: Free kick FC Bayern Munich after a foul by Bayer Leverkusens Edmond Tapsoba on Robert Lewandowski. The Pole, together with Joshua Kimmich and David Alaba, is just before the penalty area border, he is deceptive, David Alaba takes two small steps and flicks the ball with a lot of feeling into the top right corner. 1-0 for Bayern. The way to the favorites win (4: 2) and the double is thus prepared early.
---
---
It is "precision work with the left foot", as the "ARD" commentator says, coupled with a large portion of feeling. Or as the goalscorer after the game in "ARD" succinctly says: "We really wanted to try something different, then I changed my mind – thank goodness it worked out well."
They may hope for further spontaneity from the Austrian in Munich. In their favor, of course. Because the contract of the 28-year-old expires in the coming year, so far he has not wanted to be pinned down to a future. "Good question, which I am not worrying about at the moment," he said recently to the "kicker" when asked what was going on in Munich. "In the past few weeks, the focus has been on sporting tasks, and nothing will change in the next."
Is Alaba's extension related to Thiago's farewell?
The Bavarians hardly know such hesitation. Whoever is allowed to play with them, who is a regular player, is usually very happy and is in no hurry to get away. In addition, if, like Alaba, you are a nine-time German champion, five-time DFB Cup winner and Champions League winner.
But of all things the Austrian, who made himself even more indispensable this season, who recently proved that he is not just a world-class left-back but an even more world-class central defender, is in no hurry to extend his contract. After the double victory, he only said about his future plans: "Today I want to celebrate."
Does he hesitate because he would prefer to play higher in the system? His favorite position is in the central midfield, where he often plays in the Austrian national team. At FC Bayern, however, others stand in front of him: such as Thiago. Now the Spaniard is apparently very actively concerned with the idea of ​​change, CEO Karl-Heinz Rummenigge said recently that they had negotiated "seriously" with him and "fulfilled all his wishes. But it looks like he will be back at the end of his career want to do something new. "
"An absolute world class player"
So is the way clear for Alaba? Are you preparing the red carpet for him to continue his Bayern career that has been going on since 2008 – with a six-month hiatus in Hoffenheim? Difficult, if you shine like him as a defense chief in central defense. And so they try it for the time being with the ultimate praise.
"He is a very important player for us, the centerpiece. He is not only an absolute world class player, but also important alongside the field," said coach Hansi Flick after the final victory. "He is one who motivates the team again and again, he is always very positive. I hope that we can convince him to sign with Bayern Munich."
The Munich hope that they can hold one of their artists. The one who can sink free kicks that look so beautiful and at the same time simple. The one who organizes the defense, who directs the cup final in the right direction for them early on. It would be another victory if Alaba now also signed its new contract.
Vegetable Anja