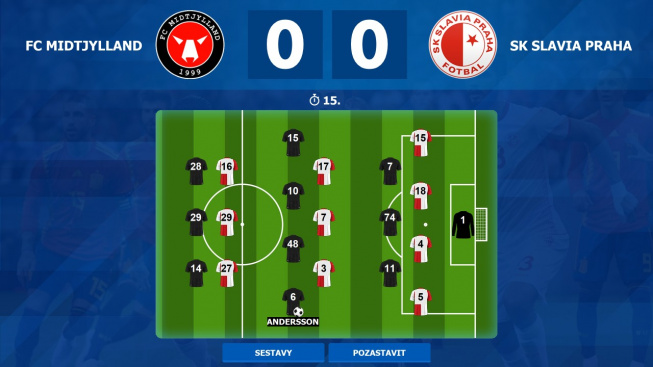 The Czech Soccer Manager may not be the Mafia, but he is very close to it – I mean, thanks to his cult status and fame at the beginning of the millennium, not because you can play for Stark's 1st FK Příbram. Every second bench played in our ZSV and history classes, also because we ran it on EEE workbenches. And it was also completely free.
This freeware football coach simulator has never had the ambition to compete with all those half-mastered Championship and Football Managers with a million stats, sophisticated match engines and a 15-hour season. You will simply jump into CSM, orient yourself in all possibilities in a few minutes and manage to win two or three titles in the evening. It is also in the new, updated version, which bears the all-encompassing name of Czech Soccer Manager 2022.
Have a nice holiday in Estonia
For those of you who have never met a year of CSM, I will offer a small illustration of the level of complexity we are actually at. While in Football Manager you would spend a few minutes thoroughly researching the weaknesses and strengths of your two right midfielders, you would compare their skills and suitability for different types of matches, in the Czech simulator each player consists of exactly three attributes: technical skills (one number), physical abilities (one number) and position (goalkeeper, defender, midfielder, forward, without further division into extreme, middle and so on). Plus, you still have to take into account age, form, fatigue and a bit of nationality due to possible representation duties, but that's more or less everything.
So don't expect to send realistic-looking sets to the field. Quite possibly it will turn out as in my first season behind Slavia, where the typical defensive line consisted of Messrs. Dorley, Bah and Bořil, all extreme beci, who would be about as effective in the stopper trio as Srdjan Plavšič in the header duel with Jan Koller.
On the other hand, this brings with it exactly the advantage that you don't have to worry so much about anything. You will simply rely on your strongest line-up every week, at most you will sometimes inject some potential into it in the form of a talented young man, or you will replace a tired veteran who will not breathe two matches in seven days. Here and there, someone gets hurt or scolded, so you can't play for 11 fighters, but you won't grow a wide range of typologically different players suitable for different tasks because you don't need them.
And so the management of the club is actually quite carefree. The boys run out onto the field and bring zero to three points back into the cabin. If they move too often to the lower limit, it is the starting shot that begins the hunt in the transfer market, ideally somewhere in Eastern Europe, where you can get good players for less than in the debauched West. You gradually improve the team, you gradually climb the table, you gradually get FK Přepeře or SK Uničov to the final of the Champions League.
Yes, in CSM 2022 you can easily take on teams from the Czech third league, as well as head to Macedonia, Luxembourg, Chile, Qatar or Slovakia. You can also play in the amateur third league in Estonia or Malta. There are no limits to world travel.
In the number of competitions available, CSM does not compete with much more famous competition, and although it could be argued that the authors actually find it easy to just download official rosters and slap two random statistics for each player, it is admirable in my opinion that a group of enthusiasts for example, she gave each team not only badges and jerseys, but also the right stadium with the listed capacity, and even a photo.
The illusion of the real world is also supported by the new visualization of the wrestling engine. Once you had to rely on the text, today the event takes place right in front of your eyes. It's not a big peek, but at least you can see who passed to whom, who fouled whom and who ever fired. And no matter how hard I think the team's leadership is carefree, it's not always true – when you're playing a match that really matters and you watch the ball in horror in the 90th minute from one foreign shirt to another and unstoppably approach your goal. … It then raises the heartbeat, it is then the virtual goalkeeper the target of pleading, it is hard to explain to other people in the office why you grind a hateful curse between your teeth when you have to work.
This could be done differently
Anger and lamentation when it doesn't work, joy and enthusiasm when it works – these are the right emotions that a football coach simulator should evoke in a player. What's worse is that CSM 2022 often makes you feel helpless. The feeling that none of what you're doing really matters so much, or the related frustration of not understanding why something works and something doesn't.
I just don't have enough feedback. It seems to me that I would have to know the programming details of how the engine itself works in order to understand what is happening on the lawn – football common sense is definitely not enough for me, as is enough in Football Manager. When I stuff the midfield with midfielders, the result is not increased control over the match and a reduction in the opponent's chances. I don't have any guidance statistics or markings during the match to indicate who I should replace. The players will receive the marks only after the match, when you don't need to know them that much, because the evaluation is not reflected in the player's form.
It's one of the few things I have a problem with in CSM 2022, and they all fall into the same box with the headline: "This could be done differently." I don't have unrealistic expectations, I don't want a sophisticated match engine or a million detailed statistics, I understand that it would be like a few volunteers for scrambling to run on oxygen without Everest – but unfortunately CSM has an unfortunate tendency to bury even on the plain.
Maybe just the form. It would make far more sense to me if players who were obsessed with the bad weather, and therefore the deterioration of statistics, could overcome a miserable period simply by doing well on the field if I gave them a chance. But as I've checked with the developers, it doesn't work – I really just have to wait until the misfortune goes away on its own, as if it were the flu.
Another point that would be very easy to disappear is the surprisingly long pre-season and winter break, which will let you play a dozen insignificant preparatory matches. They're useless, you won't learn much about your team anyway – even though I experimented with the formations, the results were similar, and why I would give weaker players a chance to show up when I still know they're completely identical in everything. with members of my basic eleven, just worse?
I would also like to see an increased number of injuries, so that it makes sense to rotate the line-up more often and to make the game more realistic – I have never been eliminated by more than two fighters at once, and always only for a short time. But the bench should not hold a maximum of four players instead of (in the Czech league) the usual seven.
Other special inaccuracies include the fact that the footballers who are currently hosting CSM lead as the core players of their current clubs, so I had to buy back the fruits of the sewn-on talent hatchery that is currently running around Vlašim and other destinations, at least until the surprisingly low number of registered players is exceeded. And confusing is the fact that there is no transition period. You just shop whenever you want.
The simulation of the rest of the football world also has its flies – it was no exception that such superpowers as the absolutely tragic Karviná were at the top of the Czech league, while the star-studded Sparta stumbled drunk somewhere in the middle of the table. Strange transfers between the biggest juices take place on a regular basis: Manchester United and Liverpool exchanged half their staff in my saved game.
At the last point, however, I admit that I push too much into those nits, the absence of regional rivalry definitely does not spoil the game for me. In fact, I don't mind the rest of the little oversights and touches I've described in the previous few paragraphs – they'll freeze together, but one would hardly notice them.
No, if I have a real problem with something, it's a lack of options. I know, I know, CSM is supposed to be the opposite for many too complicated Football Manager, but still – I would like to feel that I can change that on the day of the match, that I care more than just choosing the obviously strongest team and clicking on one of three tactics. I'm not trying to say that CSM would play on its own, but it seems to me that predictive moves in the transfer market are significantly more important than smart coaching.
Painless coaching fun
This does not change the fact that Czech Soccer Manager 2022 is a good game. You may not feel like Pep Guardiola, a tactical genius who, by the unexpected deployment of an inverted wingman, completely outwits his opponents. But you can definitely build your dream club without much pain or confusion.
You will feel the bold expectations before the start of the new season. You will be overwhelmed by the overwhelming tension when the cup final turns into a penalty shootout. You will inflate with pride when you bring amateurs from the Baltics to the top of the football pyramid. And that's great.
In addition, you will be tempted by good old-fashioned scenarios, one of the best reasons to start CSM. As in other football games, you don't have to create your own fictional narrative about a giant that grew out of a dwarf. Instead, go crazy like a scenario in which Spanish Barcelona has been mistaken for an Ecuadorian one by an administrative mistake, or one in which you have to bring all the young stars of the Czech national team to Křetínský West Ham (sorry, "Czech Ham").
The resulting game package is definitely worth a try, also because it costs nothing at all. It will be enjoyed by old veterans who, among other improvements, will appreciate better designed menus and more comfortable controls than before, but also newcomers looking for a football distraction that will run on a weak computer, easily on a potato, if you attach a monitor to it. It's a pity not on the mobile.
Píííísk. The final whistle sounded, closing today's review. And we need to get up and applaud the authors Petr Vašíček, David Mrnuštík and Jindřich Novotný, plus all their dedicated collaborators, without whom we would never have played in Latvia or Albania.
Czech Soccer Manager 2022 is definitely not the king of the genre, but honestly? For me, he's second to all those Hattricks and Top Eleven. And this is extremely respectable for the updated version of the game, which we enjoyed for the first time during the time when Lokvenc and Siegl scored goals for Sparta.
---
Source: Games by games.tiscali.cz.

*The article has been translated based on the content of Games by games.tiscali.cz. If there is any problem regarding the content, copyright, please leave a report below the article. We will try to process as quickly as possible to protect the rights of the author. Thank you very much!

*We just want readers to access information more quickly and easily with other multilingual content, instead of information only available in a certain language.

*We always respect the copyright of the content of the author and always include the original link of the source article.If the author disagrees, just leave the report below the article, the article will be edited or deleted at the request of the author. Thanks very much! Best regards!
---