While most fungi live in spacious habitats, forests, lawns, edges of paths, tree trunks, some concentrate on reduced habitats, a few square centimeters, nourishing and temperate: droppings.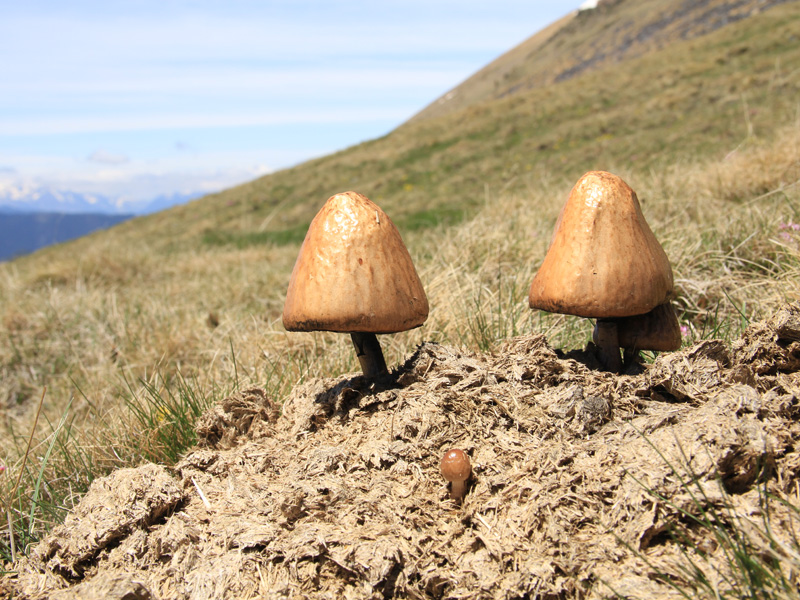 A particular habitat
The animal feces constitute preferred habitats for many species. Of various shapes, sizes, compositions, their common characteristics are a small surface area, they are ephemeral, and scattered all over the place, at more or less regular distances; and above all they are rich in nitrogen and carbon.
Fungi find a favorable environment there, some even live there exclusively. Others specialize and develop on a single type of droppings, rabbit, reindeer … Across the world, Ascomycetes and Basidiomycetes follow mammals and by extension settle on manure piles, in the amended pariries.
Dispersed islets to be colonized
The strategies of fungi to develop on feces are multiple. Blown away by the wind, the spores produced by the reproductive organs of many species disperse, and land randomly in the right place. Coprophagous insects looking for a new table can also carry some of them, and thus disseminate them. Others opt for a catapult system, such as Pilobolus, projecting their spores at full speed as far as possible, not on another poop, but on appetizing grass, within reach of herbivores …
Warm spores
Ingested by herbivores, the spores of Pilobolus pass through their digestive system. This strategy has also been adopted by Coprinopsis pachysperma, Basidiomycète from family Psathyrellaceae close to Coprins. "Pachysperma" means "thick seeds" and illustrates the resistance of spores to digestive juices, which from the conditions of temperature, humidity, light, combined, will develop in their preferred habitat. Alongside other Psathyrelles, about fifteen, but also Coprins, Panéoles, Bolbities …
Some Coprins
The name Coprin originates from Copr., Kopros meaning "dung". Many Coprins appreciate environments rich in nitrogen. So Coprinopsis cinerea, the Ashen Coprinus, is often observed on manure. Coprinopsis nivea, the snow-white Coprinus, stands out, pure white, on cow droppings, Coprinopsis cothounen and Coprinopsis heptemerus have no particular preference and grow on various feces. Coprinopsis narcotica, remarkable for its bitumen smell, grows on manure and surroundings.
Panéoles
If the Coprins bear the name of one of their favorite habitat, the Panéoles are no less typical. From the first spring heat, the Panéole with a toothed edge, Panaeolus papilionaceus, from the Bolbitiaceae family, will emerge from the dung with its classic bell hat. Common, it is poisonous. His cousin, the Coprophilic panéole, Panaeolus semiovatus, is just as frequent and toxic, Many Panéoles and Bolbitiaceae are particularly fond of nitrogen and carbon in excreta.
Bolbities
Among the Bolbitiaceae, many species develop on various plant debris, some join the Panéoles on animal excrement. Bolbitius coprophilus develops his hat with delicate pinkish tones on the piles of manure and various droppings. It certainly wears the prettiest colors of its family among species enjoying the same habitat. Conocybe pubescens rarely found on wood debris, its preferred habitat remaining organic matter richer in nitrogen.
Psilocybes
Another typical family of excrement, the Strophariaceae, including many Psilocybes, hallucinogenic and toxic. The Psilocybe coprophile, Psylocibe coprophila, with reddish-brown hat; Psilocybe fimetaria, with dark brown to beige hat; Psilocybe luteonitens, with a reddish-brown hat then cream; Psilocybe moelleri, mostly brownish to yellowish. Finally a Strophaire, Stropharia semiglobata, hemispherical ochraceous yellow cap, growing on manure or in amended meadows.
Many species for small environments
The small surface area of ​​the excrement accommodates a great diversity of species, which will succeed each other in time, the first, type Peziza vesiculosa, favoring the coming of the following ones. If certain species complement each other, over time or on a provisional association, others will compete, inhibiting their reciprocal development. From fresh poop to its disappearance, a whole procession of fungi will follow one another in these micro-ecosystems contributing to an abundant life.
Coprophilic fungi play a fundamental role in ecosystems. Along with insects and bacteria, they participate in recycling of large volumes of organic materials. However, fungicides and breeding treatments have an impact on their populations, for consequences that could ultimately be significant.
---
Source: Au Jardin, conseils en jardinage by www.aujardin.info.

*The article has been translated based on the content of Au Jardin, conseils en jardinage by www.aujardin.info. If there is any problem regarding the content, copyright, please leave a report below the article. We will try to process as quickly as possible to protect the rights of the author. Thank you very much!

*We just want readers to access information more quickly and easily with other multilingual content, instead of information only available in a certain language.

*We always respect the copyright of the content of the author and always include the original link of the source article.If the author disagrees, just leave the report below the article, the article will be edited or deleted at the request of the author. Thanks very much! Best regards!
---