Clethra alnifolia, sweet pepperbush, is a small, decorative and fragrant shrub for slightly cool, acid-prone soil. It is rather easy to succeed, used in hedges or informal borders: it does not grow too quickly and supports pruning very well.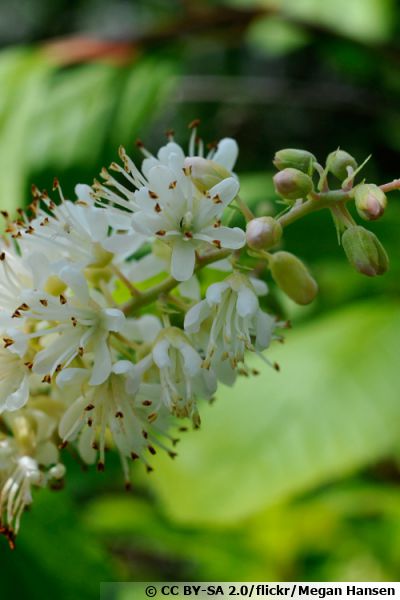 Botanical
N. scientific Clethra alnifolia
Synonyms Clethra bracteata, Clethra toothed, Clethra paniculata, Clethra tomentosa
Family Caprifoliaces
Origin North America
Bloom july september
flowers white, sometimes pink
Typeornamental shrub
Vegetationshrubby
Foliage obsolete
Height90cm 2.50m depending on the variety
Plant and grow
hardiness very hardy, down to -34C
Exposition sunny partial shade
Solmoist and rich
Acidity very acid neutral
Humidity normal wet
Utilisationisolated, background of bed, hedge, inner border, bee plant
Plantationautumn Spring
Multiplicationcutting, seedling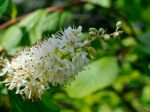 Clethra alnifoliaclethra or sweet pepperbush is a shrub obsolete moderate in size belonging to the family Clethraceae, a small family with only 2 genera. Clethra alnifolia is native to the eastern United States where it grows naturally in more or less dense colonies at the water's edge, in open forest area or in the bogs.
With its handsome, neat foliage and charming, fragrant flowers, sweet pepperbush is a valuable ornamental plant, hardy and well adapted to acidic soils. Moreover, its horticultural cultivars, particularly beautiful, are of very neat form. They bloom in summer and turn yellow in autumn.
Description de Clethra alnifolia
Clethra alnifolia is a shrub with multiple, gray and erect stems, naturally rounded or oval in shape, high from 1.50 m to 2.50 m and wide from 1.20 m to 1.80 m ; however, it supports very well any size limitation or formation.
When well exposed to the sun, Clethra alnifolia shows a very dense, opaque foliage, which turns yellow in autumn. Its leaves are alternate, toothed, dark green, obovate and acuminate, long up to 10 cm. It turns green rather late in the spring.
The flowers, white or pink, are small, but numerous and united in elongated, dense and stiff clusters, which radiate from the whole bush. The flowers of the alder-leaved clethra are very pleasingly fragrant, melliferousand turn into persistent berries.
Garden varieties of sweet pepperbush
Clethra alnifolia 'Anne Bidwell' produces flowers larger than thespecies, slightly later. It is more compact too.

Clethra alnifolia 'Creels Calico' is a rather interesting form that sports foliage plume white, but variable. The flowers are white and the plant is a maximum of 130 cm high.

Clethra alnifolia 'Hummingbird' is very popular: compact growth, abundant flowering with shiny foliage. This sweet peppercorn measures no more than 160 cm and has good fall color. It's a variety tolerant and efficient.

Clethra alnifolia 'Paniculata' most often produces branched stems which make flowering more durable.

Clethra alnifolia 'Pink Spires' shows pink buds and blooms light pink. These flowers do not fade… 2.5m tall.

Clethra alnifolia 'Rosea' has pink flower buds that open pink, but the flowers later turn almost white. A cultivar older or white and pink mingle pleasantly.

Clethra alnifolia 'Ruby Spice' is the darkest pink clethra. Red buds open to pink and do not fade. Glossy dark green foliage. This award-winning plant has become the most common.

Clethra alnifolia 'September Beauty' is a form that flowers up to two weeks later than the species. The growth is compact and the foliage is pleasant.
How to grow alder-leaved clethra?
Clethra alnifolia is a very hardy shrub : the -34°C do not scare him! He asks for a exposition sunny to partial shade. Above all, it requires a very acidic to nearly neutral soil (pH < 6.8) which always stays a little cool all year round, but which can also remain waterlogged, or even flooded at times. It is also tolerant of maritime exposure.
It's a fairly easy to grow plant, if excluded from hot and dry areas. In a soil always slightly cool, or with only occasional and short droughts, relatively draining and a little organic, it shows moderate growth, and remains a shrub of harmonious shape, rounded and compact, floriferous, which accepts pruning very well. It will eventually make a few new shrubs, here and there, spontaneously, or if tillage cuts its roots, but not systematically.
On the other hand, in the sun, in a garden with rich, sandy, drained and humid soil at the same time, Clethra alnifolia can be very vigorouseven invasive, with suckers that grow back from the roots, ending up as in its original environment, in a true colony.
Sweet Pepperbush is planted from October to April, avoiding periods of frost. A fine grave is prepared for him where the soil is enriched with organic matterfrom compost or potting soil. It often takes a little over a year to really establish itself and often during its first winter, and sometimes the following one as well, the tips of its branches tend to die back. It must not lack water during its first 2 years.
The alder-leaved clethra also shows highly resistant to pestsexcept in hot and dry climates, where it can be seriously attacked by spider mites.
Its compact forms are a nice addition to a low or interior border, in a low stratum in front of a hedge, occasionally not far from the terrace or your passages to take full advantage of its fragrance. They give beautiful little shrubs with clean shapes, bristling with clusters of flowers in summer.
The taller forms, which grow quite slowly and can be pruned at will, are interesting in mixed or free hedges. It shows a dense foliage, even in the places exposed to the wind, on the other hand, if it is too shaded its foot can tend to be plucked. It is also a species that attracts birds and insects, favorable to biodiversity of the garden and melliferous.
Cut
Clethra alnifolia fits the size very well, for the flowers bloom on the branches of the year. It can be pruned either just after flowering or at the end of winter, just before the leaf buds restart. As its development is moderate, even in hedges, one pruning per year will be sufficient.
For solitary individuals, pruning is only useful to reshape it or keep it more compact.
How to multiply Clethra alnifolia?
Semi-lignified summer cuttings of about 10 cm resume easily when smothered.
Seeds germinate in 1 to 3 months at 13°C.
suckers that eventually appear can be transplanted in autumn.
Did you know ?
The flower stems of Clethra alnifolia can be used as a soap substitute.
Species and varieties of
Clethra
About thirty shrub species
Clethra acuminatasweet pepperbush
Clethra barinervusan admirable small Japanese tree
Clethra delawayia beautiful Asian shrub with pure white flowers
Clethra arboreaa species from Madeira
Sheets of plants of the same genus
---
Source: Au Jardin, conseils en jardinage by www.aujardin.info.

*The article has been translated based on the content of Au Jardin, conseils en jardinage by www.aujardin.info. If there is any problem regarding the content, copyright, please leave a report below the article. We will try to process as quickly as possible to protect the rights of the author. Thank you very much!

*We just want readers to access information more quickly and easily with other multilingual content, instead of information only available in a certain language.

*We always respect the copyright of the content of the author and always include the original link of the source article.If the author disagrees, just leave the report below the article, the article will be edited or deleted at the request of the author. Thanks very much! Best regards!
---