Zheng Yanxiong was reappointed a few days after China passed a controversial security law against Hong Kong that criminalized any manifestations of disobedience.
Zheng Yanxiong will head the new National Security Agency set up under this law, giving Chinese security agents the right to operate openly in this semi-autonomous city.
This agency, with powers of investigation and prosecution, will be responsible for monitoring intelligence relating to national security and investigating cases. Some cases will be referred to mainland Chinese officials for investigation.
Zheng Yanxiong has climbed the career ladder in the local administration of southern Guangdong Province, which borders Hong Kong. He served as Secretary General of the Communist Party Committee in the province.
The 56-year-old politician earned a reputation as a staunch supporter by suppressing anti-corruption protests in 2011 in Vukan, Guangdong Province.
Hong Kong was shaken by massive, often violent, pro-democracy protests for seven months last year. Beijing hopes to use a new law to stifle the pro-democratic movement in this international financial center.
On Thursday, the Chinese State Council also appointed Luo Huining, director of the Beijing Liaison Office in Hong Kong, as an adviser on national security to the newly formed National Security Commission, chaired by Hong Kong leader Carrie Lam.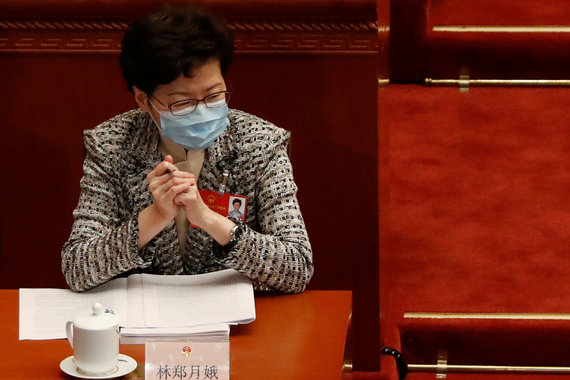 "Reuters"/"Scanpix" nuotr./Carrie Lam
The Council of State has appointed Eric Chan Kwok-ki, a long-serving civil servant in Hong Kong, as Secretary-General of this commission.
The commission set up under the new law will shape policy on national security law in Hong Kong.
E. Khan Kwok-ki has so far served as Director of the Office of the Head of the Hong Kong Administration, having previously headed the Hong Kong Department of Immigration.