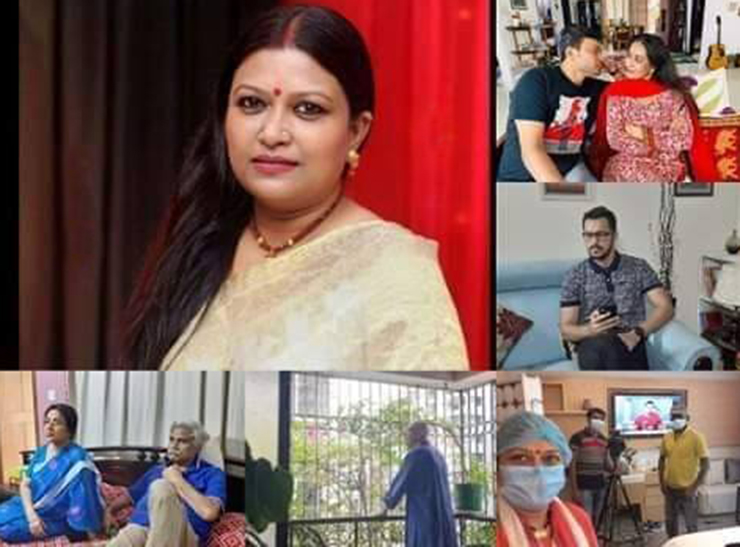 Chayanika Chowdhury is one of the most popular and skilled producers of domestic television dramas. Chayanika Chowdhury is the most talked about name of our small screen among female directors. Today, the 400th drama will be aired under the direction of this popular producer. The name of the play in the joint composition of Faria Hossain and Chayanika Chowdhury is 'Galpa Nay'.
This is a milestone in the television industry of Bangladesh. On the occasion of the 18th anniversary of our country's popular private satellite television channel NTV, a special drama 'Galpa Noy' will be aired tonight at 9.30 pm.
Chayanika shot on June 20, 21 and 22 in the production of Kazi Riton of Black and White. He said that he has completed the shooting of the whole drama with only two people. One is a camera person and the other is a technical person. In addition to the set design, makeupman, assistant director – all in one hand, the manufacturer has handled.
Chayanika Chowdhury decided not to work during the coronation period. However, he has shot his 400th drama with caution at the invitation of NTV. Shooting in a different way, going to share his experience of his 400th drama, Chayanika said, it is a completely different experience. Corona taught us to shoot with fewer people. The three of us did the whole thing together. I worked as an assistant myself, fixed the lights or fixed the camera.
I cooked food for 15 people from home. As if there is no extra time spent. We finally finished the work in 3 days. Being able to do a job that feels good. Tanvir Tareq has done a song in the play and Sandhi has done the background music. Zakia Bari Mom, Anisur Rahman Milon, Irfan Sajjad, Abul Hayat, Mili Bashar, Masum Bashar and others have acted in the play 'Galpa Nay'.
On the other hand, all the work of the first movie 'Biswasundari' has been completed. The censor board has cleared the movie with much praise. Chayanika Chowdhury said that now the production company of the movie has planned to release the movie in November. But in such a situation, I don't know when everything will be fine and people will return. However, if all goes well, he will be released.
Dhaka Times / 3 July / LM / SKS