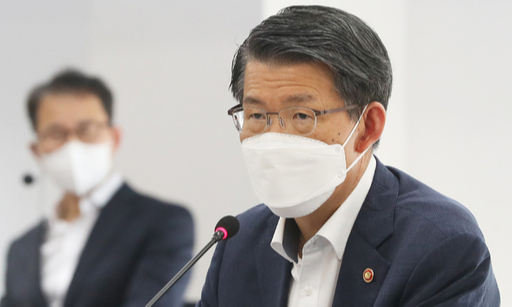 Chairman Eun-Soo Eun of the Financial Services Commission said, "As a countermeasure against real estate in June 17th, we are trying to (loan) the expected mortgage loan ratio (LTV) of 70% (at the time of the contract)" for some of the delinquents who have had their apartment balance reduced by one morning. It was announced on the 9th.
Chairman Eun said on the same day that after meeting with reporters at the Automobile Technology Research Center of the Institute of Insurance Development in Icheon, Gyeonggi-do, he met with reporters and announced the supplement.
He said, "We are not going to change the basic framework (of the June 17th countermeasures)." He said, "Because of the complaints about what we had planned, we will do what he (apartment apprentices) expected." He explained, "Because you do what you expected, it will probably apply to 70% of the LTV (former regulator)."
With this measure, in the newly confined areas, the limit on loans has been unexpectedly reduced, and apartment buyers have complained of difficulties in raising funds. LTV (based on market price) for housing of 900 million won or less is 70% in unregulated areas, but lowers to 50% in reconciled areas and 40% in speculative overheating areas. Although it was a non-regulated area, those who lived in apartments such as Geomdan and Songdo in Incheon, which were designated as speculative overheating districts due to this measure, suffered confusion due to a decrease in the balance of loans.
The supplement is likely to be announced on the 10th when the government will come up with a plan to strengthen the real estate tax. Chairman Eun said, "We are in practical discussions." "I'll check if there is anything missing in the end, but I think it will not be too late."
On the other hand, Chairman Eun explained that "the price was right" about the sale of the apartment in Dodam-dong, Sejong the night before. He was the second homeowner who owned an apartment in Sejong City and an apartment in Jamwon-dong, Seocho-gu, Seoul. Following the announcement of the real estate measures on December 16 last year, the apartments for sale in Sejong City were sold for sale in accordance with the stance of'holding 1 house for high-ranking officials'. However, even though it is an apartment on the first floor, it has been suspected that the sale was delayed because it was offered at a higher price than the actual price of the middle and high floors.
On the previous day, when Prime Minister Chung Se-gyun instructed senior officials in multi-family homes to arrange as soon as possible, he said, "I don't buy a cell phone right away, but I need to worry about buying a house." "Don't think,'The Prime Minister says,'Do you sell right away'?"
Reporter Song Eun-ah [email protected]
[ⓒ 세계일보 & Segye.com, 무단전재 및 재배포 금지]