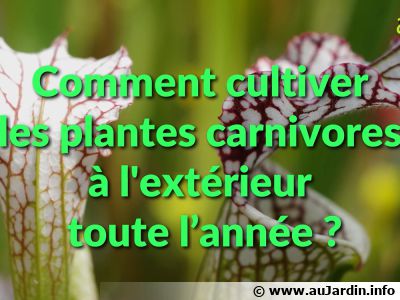 Some carnivorous plants, sarracenias, Venus flytraps and some sundews are hardy and are much better grown outdoors provided you provide them with a peat bog. Here's how to make a deep pot bog for hardy flowering sarracenias.
Although sold most often in the indoor plant department, many of carnivorous plants grow in temperate climates and are completely rustic. Not only is it possible to grow them outside all year round without freezing, but they will also become much more robust and beautiful.
Carnivorous plants have very special requirements: they live in the bogs, very poor and acidic environments, always humid. build a bog in your garden is possible, but more simply you can cultivate carnivorous plants in a mini-peat bog that you install in a large pot, easy to manage, and to move if necessary.
Why grow your carnivorous plants outside?
Usually hungry for sun, carnivorous plants as a whole become much more beautiful outside, in size, thickness, color. In addition, the natural aeration which strengthens them greatly limits the attack of pathogens, fungi or critters. They are therefore healthier and often grow more and multiply.
The outer bog queens are sarracenia them : the small 15 cm plant that you buy in the garden center will turn into a huge plant, 60 to 80 cm high !
A mini bog in a large deep pot
The chosen pot must be deep, a minimum of 50cm tall. This height of substrate helps to maintain more stability in terms of humidity and temperature; thus the hotpot is less prone to overheating or lack of water.
In addition, many carnivorous plants have deep roots.
This bog is neither more nor less than a basin filled with peat : the pot must not be pierced, or you must plug its holes drainage. It should be able to fill with water.
Prepare the substrate
The peat can be bought in a garden centre, also plan fine aquarium gravelthe mixture of the 2 prevents the peat from forming dense blocks over time.
The pot is filled to the maximum, then watered with rainwater. For carnivorous plants, always only use soft waterbecause they do not support limestone or other mineral salts.
This peat takes time to soak, we wait until the next day: it has probably settled, and we have to add it to the edge of the pot and soak it again.
Subsequently, we will ensure that this peat always stays wet. Heavy rain sometimes creates a layer of water on top, but that's not a big deal and if you feel that certain plants suffer from this (not the most common, but taken by the passion, you might be looking to grow some more delicate species) it will have to be raised on a small mound, to put relief in your bog.
Once the pot is filled to the top with very wet peat, it's ready to plant!
What are the carnivorous plants that can be planted in the peat bog outside?
This list is not exhaustive, but here are some hardy carnivorous plants that can be left outside all year round:
pitcher plants
All species and hybrids of pitcher plants or sarracenias, it is also the easiest way to make them flower. They are very rustic.
Note that the Sarracenia psittacina and the Sarracenia purpurea become more colorful and "strong", will flower and expand, but remain low plants, while the Sarracenia elata et Sarracenia leucophylla can get very large.
sundews
Among the sundews there are, of course, the European species, Drosera rotundifolia, Drosera anglica, Drosera intermedia, but they are protected and difficult to find commercially. No longer available, there is Drosera filiformis, Drosera binata and finally Drosera capensis, the one most commonly sold in garden centres. The latter becomes very pretty in the open air and not only does it come back if it doesn't freeze too much, but it also tends to reseed itself.
Venus fly trap Dionea muscipulata is also rustic. It becomes very colorful in the sun and its traps are very vigorous.
Terrestrial Urticularia
Although it is difficult to find information on these species regarding their cold hardiness, several species have shown certain rusticity, and are able to reappear after winter, if only by seed. Here are the ones you could try: Utircularia dichotoma, Utricularia subulata, Utricularia cornuta, Utricularia monanthos…
And non-hardy carnivorous plants?
For the majority of non rustics, the outdoors is also synonymous with good healthit is always possible to transplant them into the bog when it is no longer freezing and then bring them indoors for the winter, put back in individual pots or by moving the entire bog.
When to plant in potted bog?
Sarracenias and Venus flytraps should be planted when it is no longer freezing, but preferably before the month of July: they thus have time to settle well before winter. Sarracenias develop their roots rather in the spring. For the others too, but it is less important.
What happens in winter?
Hardy carnivorous plants go to rest. Sarracenia leaves remain, but gradually degrade. They will have to be cut flush at the end of March. Venus flytrap and hardy sundew put their growth bud in dormancy beneath the surface.
If you have placed more fragile plants there, you can cover this bog easily (bell, plastic, veil). Drosera scorpioides is maintained with a small protection.
The bog is a bit bare so…you can dress it up with living sphagnumwhich forms a nice cushion of foam, possibly with a protective role against the cold for the plants in the hardiness a bit limited.
Sphagnum combines very well, for example, with sarracenias, and also with Drosera bifida.
Another plant that can brighten up the bog at the end of winter is the guinea fowl fritillary, Fritillaria meleagris, which can live in bogs. Its bulbs are planted in September.
These pots of Sarracenia develop over the years, they become tall and floriferous, very decorativeat the same time exuberant and sculptural…
High pots also allow you to closely observe small carnivorous plants (you have to bend down less!), their particular characteristics: droplets of mucus on Sundew, mobile traps on Venus flytrap, tiny but charming bladderwort flowers. This potted bog then becomes a miniature garden where small carnivorous plants develop better than in small individual pots.
---
Source: Au Jardin, conseils en jardinage by www.aujardin.info.

*The article has been translated based on the content of Au Jardin, conseils en jardinage by www.aujardin.info. If there is any problem regarding the content, copyright, please leave a report below the article. We will try to process as quickly as possible to protect the rights of the author. Thank you very much!

*We just want readers to access information more quickly and easily with other multilingual content, instead of information only available in a certain language.

*We always respect the copyright of the content of the author and always include the original link of the source article.If the author disagrees, just leave the report below the article, the article will be edited or deleted at the request of the author. Thanks very much! Best regards!
---