Spider-Man has many enemies, and one of the worst of all is quite possibly Carnage. The latter belongs to the line of symbiotes. While the first of them, Venom, is seen as the dark opposite of Spider-Man, Carnage has meanwhile been presented more as a much crazier and bloodier version, hence its red color. Unlike Venom, Carnage considers having only one existential function: to kill. It must be said that originally, Carnage was Cletus Kasady, a serial killer under the age of twenty. And his bloodthirsty side did not get better … it's easy to find gory moments with Carnage in the comics, because almost every one of his appearances begins (or ends) with a massacre. We therefore suggest that you find The 13 most horrible things Carnage has ever done in this article, just to show you how this character is cruel (and disturbed).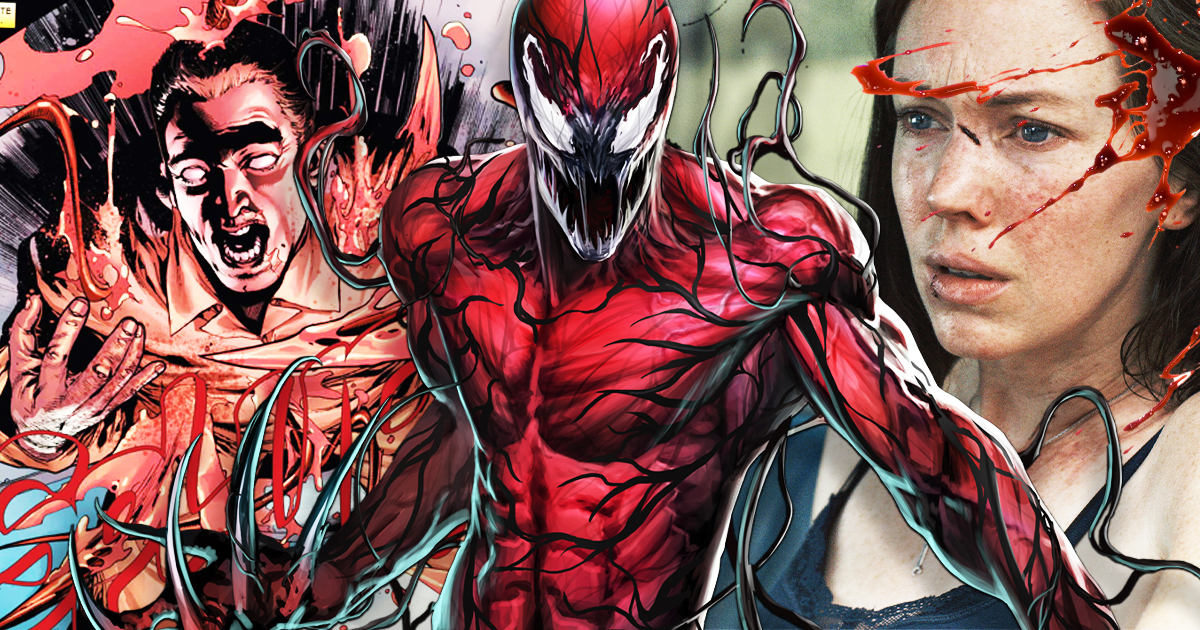 1) carnage killed his dog with an electric drill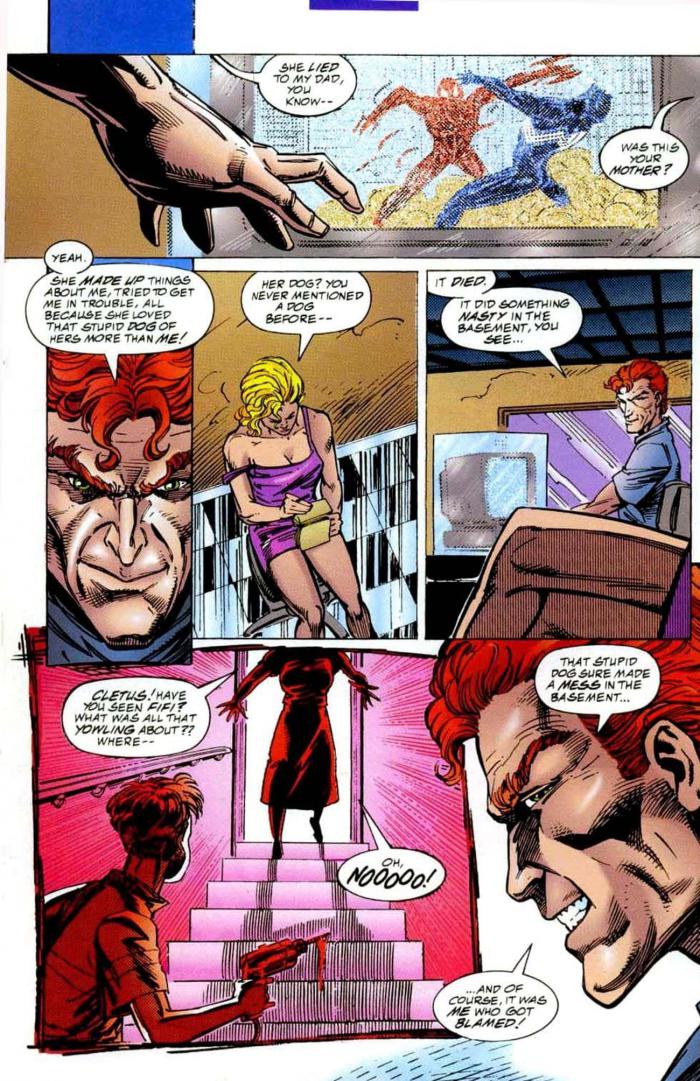 Is there a better way to show that a character is truly horrible than to have them torture an animal? In the comics Venom : Carnage Unleashed, readers get a glimpse into Cletus Kasady's childhood and the result is … How to put it … Not very pretty. In this comic book, the character tells to his psychologist that his mother loved their dog more than she loved him. So young Cletus took the dog to the cellar and killed him with an electric drill.. He still fondly remembers the pleasant sensation he felt when he pierced him. We warned you …
2) carnage infects a small rural town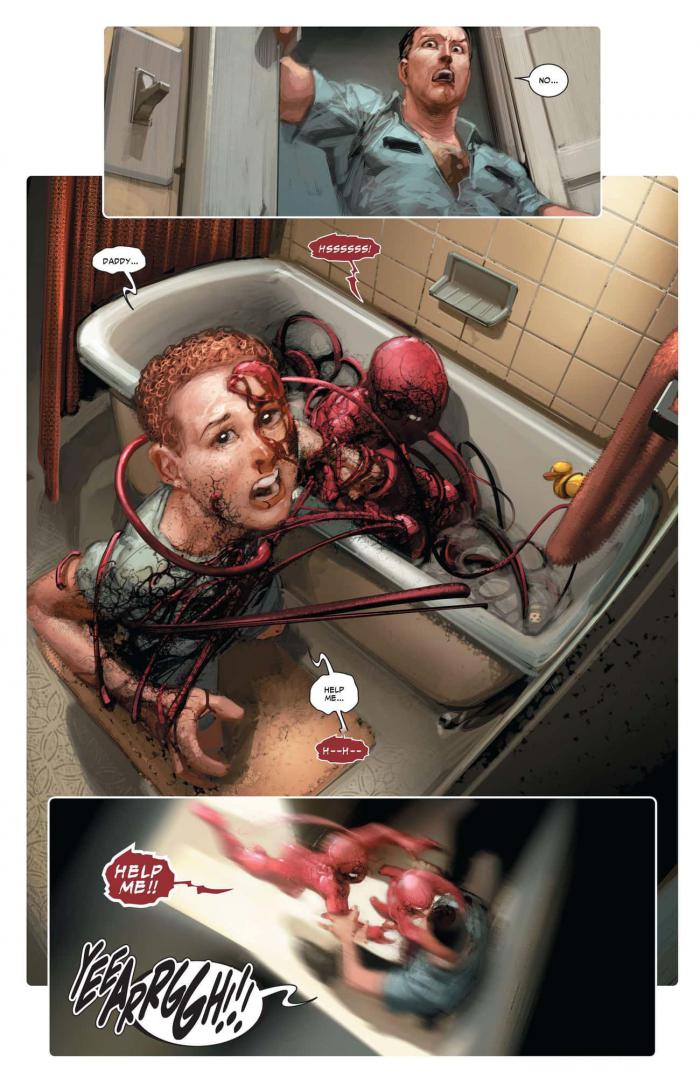 Cletus Kasady is really upset. In the comics Carnage, USA, Carnage attacks a perfectly calm and peaceful town. He starts by attacking a meat packing plant. We then see a man rushing home to check on his family. When he arrives home, he asks where his children are. The mother replies that their son give the baby a bath. The man then screams in terror and rushes upstairs, only to find that his baby has been completely absorbed by the symbiote, as his son pleads for his help. The two children suddenly change into monsters and kill their father. Just that.
3) carnage massacres an entire restaurant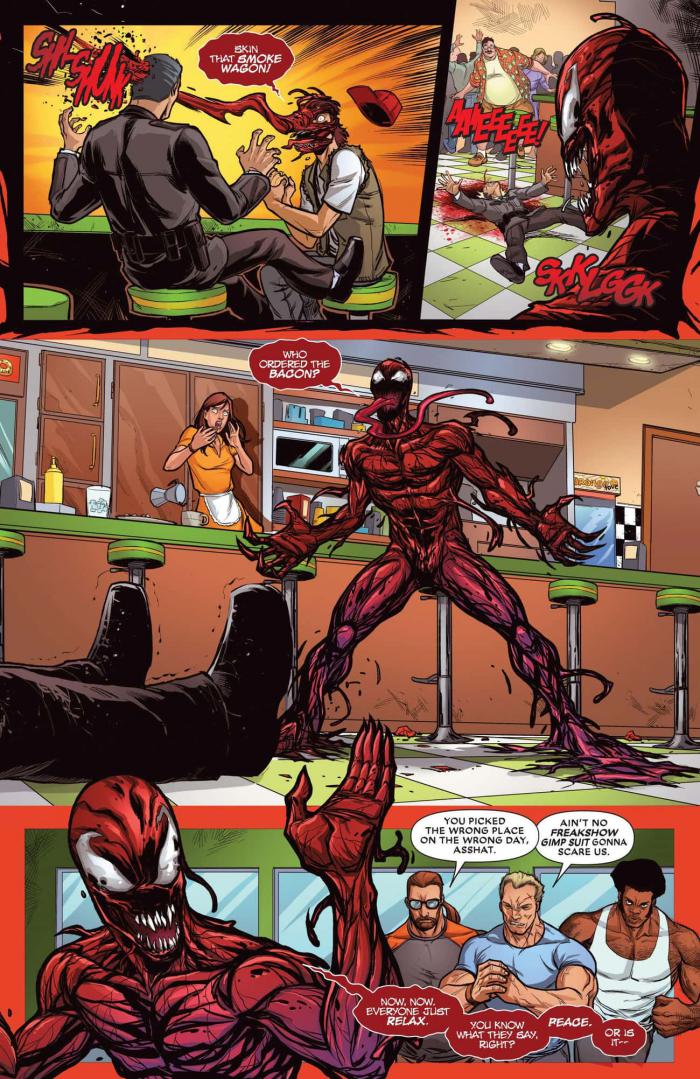 Every time Carnage escapes from prison, a trail of bloody bodies follows him. In Carnage Vs. DeadpoolCarnage again escapes from prison and lashes out. His first act is to destroy a restaurant (and the people who had sat down to dinner): he starts by crashing a spike in the head of a state policeman, then dismember the men who try to stop him. Once he's done with them, he attacks the women and children trapped in the restaurant. In total: dozens of victims.
4) carnage turns his psychiatrist into a cannibal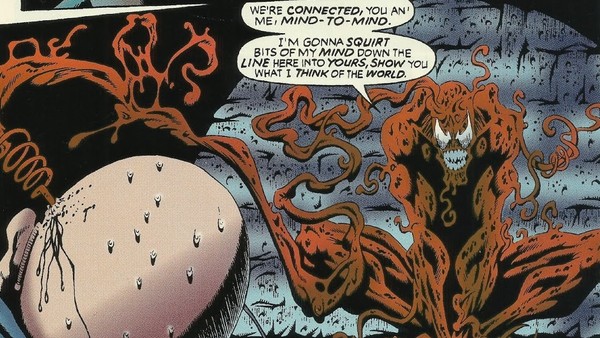 Marvel comics always present Carnage as a symbol of evil incarnate. In Carnage : Mind Bomb, a particularly famous doctor tries to understand how his mind works, but it ends badly. The doctor wants to know, in fact, how Carnage sees the world, and when the drugs no longer work, Carnage fights back. Instead of just killing the doctor, Carnage infects his mind with his. The doctor thus perceives directly how Carnage really sees the world. This is enough to turn him into a real madman who tries to eat (with big jaws) the guards who come to save him.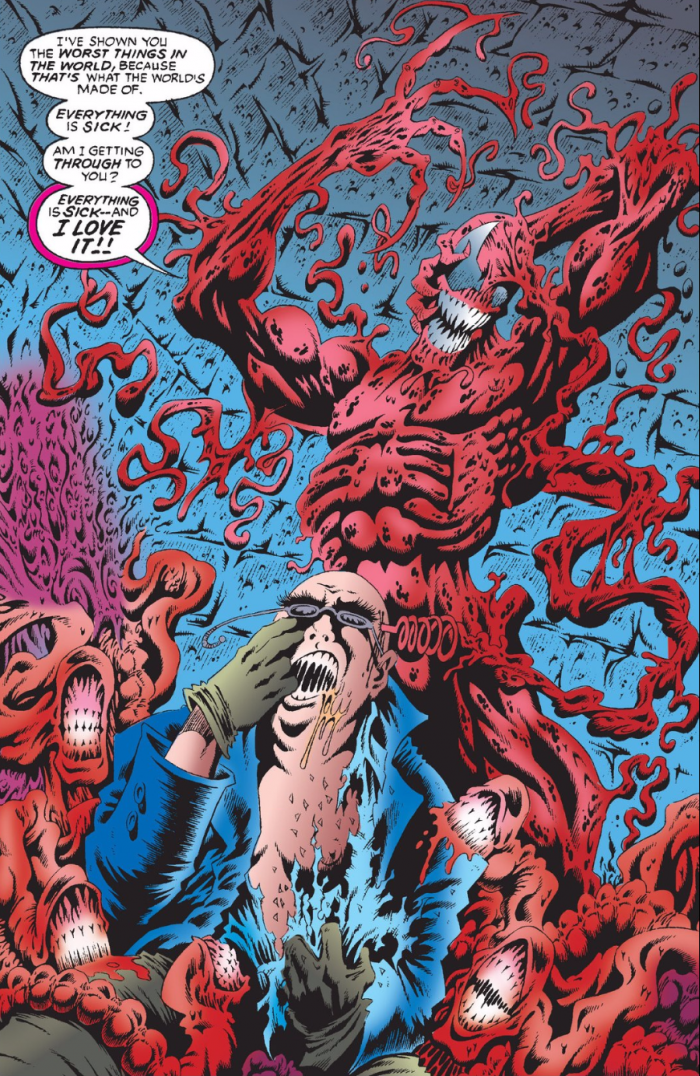 6) Carnage has already mutilated and beheaded all versions of Spider-Man in his mind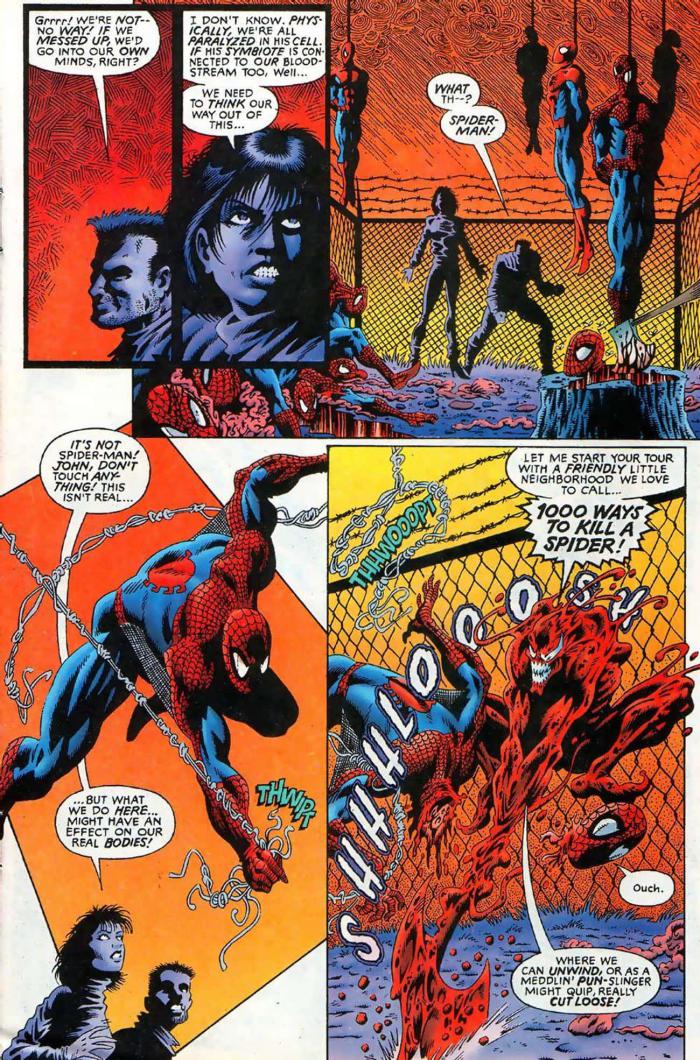 In Carnage : It's a Wonderful Life, Dr Kafka and Security Chief Jameson are transported to the spirit of carnage after the latter infected them with his symbiote. One of the first things the duo notice is a room full of tortured Spider-Men. They then see a Spider-Man swinging in front of them, before being horribly beheaded by Carnage. The Spirit of Carnage simply beheaded and tortured hundreds of times Spider-Man in his mind.
7) he killed his grandmother by pushing her down the stairs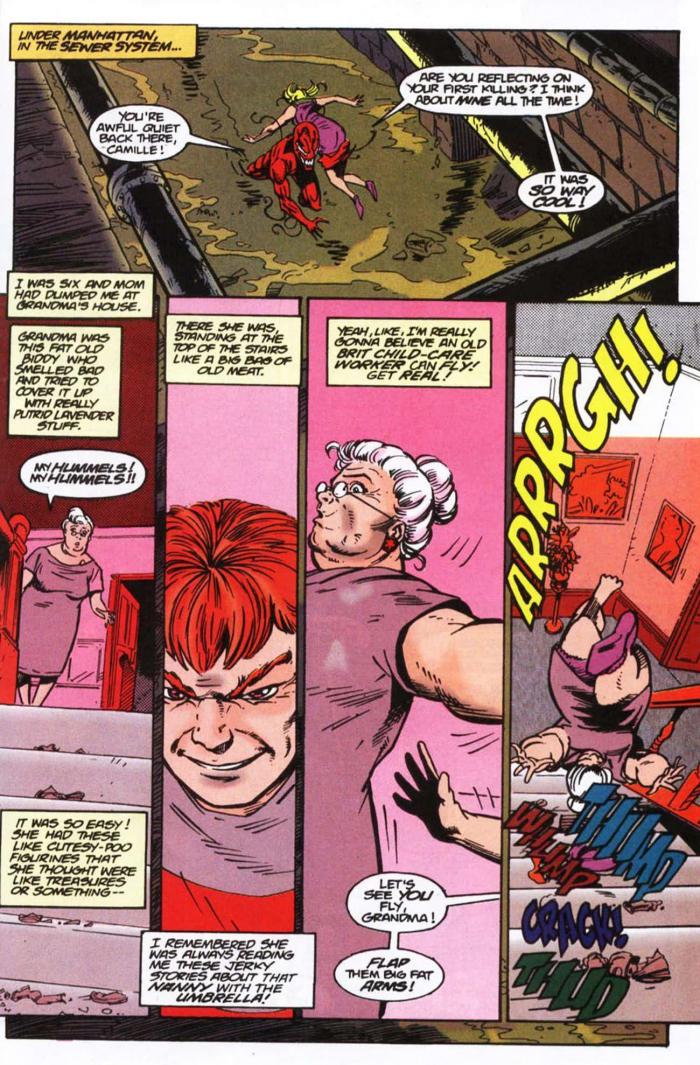 Ands Venom : Carnage Unleashed, Carnage kidnaps his psychiatrist after escaping from prison, and continues to tell him about his past. One of the stories he tells is that of his very first murder, when he was only 6 years old. Carnage says her grandmother was an obese old lady who smelled badly. He explains that he always wanted to kill her. He then lured her to the stairs by smashing her precious collection of fragile dolls on the steps. When she approached, Cletus pushed her. He then explains that he liked to hear her neck snapped like a twig.
8) he performed a massacre simply to attract spider-man and venom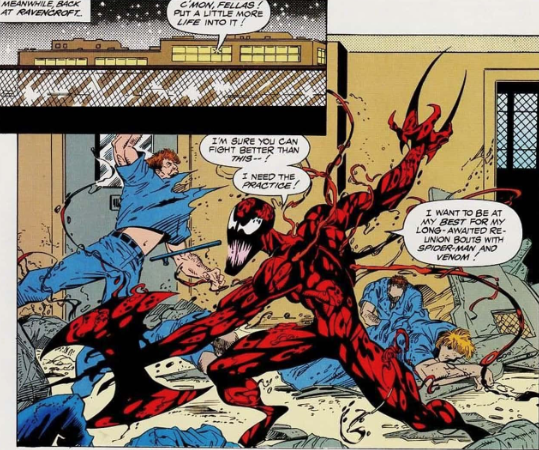 We can't help some people, and Carnage is the perfect example. Whenever a medic tries to figure out how it works, Carnage dramatically turns on him. In the comics Maximum Carnage (which is a great example of what we just explained), Carnage finds himself free and looks for other people to take down. He thus goes to a psychiatric hospital, and there meets a psychologist who begs him to spare his life. She tells Carnage that she can help him and heal him. To prove to her that she is wrong, Carnage will eliminate everyone present in this mental institution. He does so in a particularly brutal way, hoping that this will attract Spider-Man and Venom, which he wants to fight at all costs.
9) an army of miniature carnages carries out a bloody massacre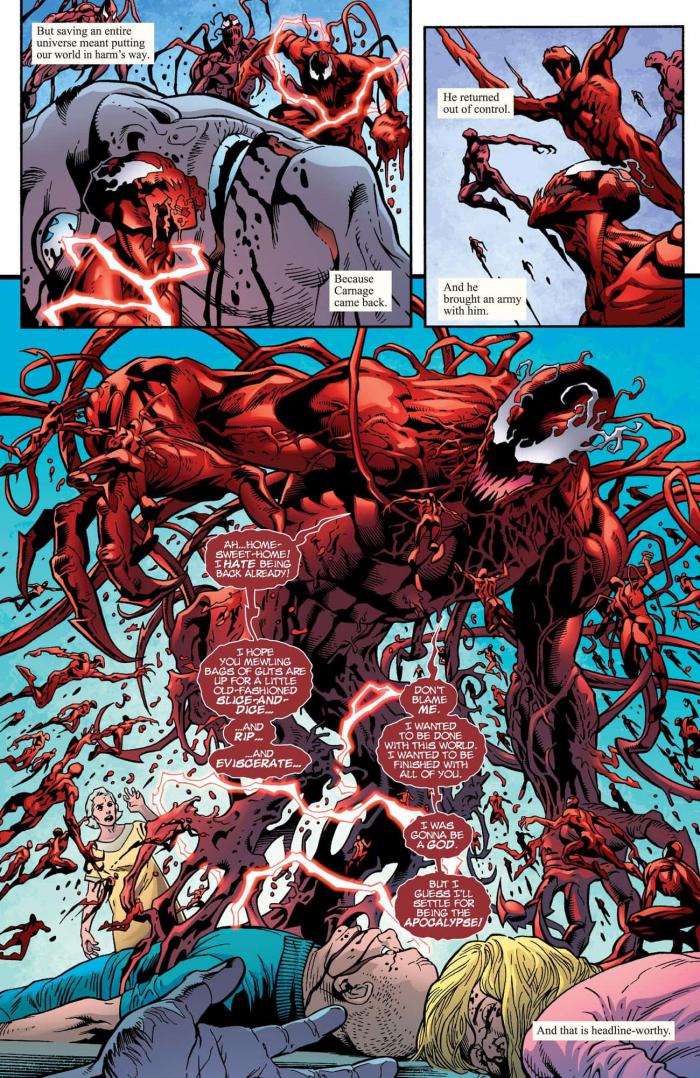 The only thing worse than Carnage is … An army of miniature bloodthirsty carnages. In Minimum Carnage again, Carnage uses an army of miniature versions of himself to slaughter everyone. Bloody, of course.
10) carnage and deadpool killed each other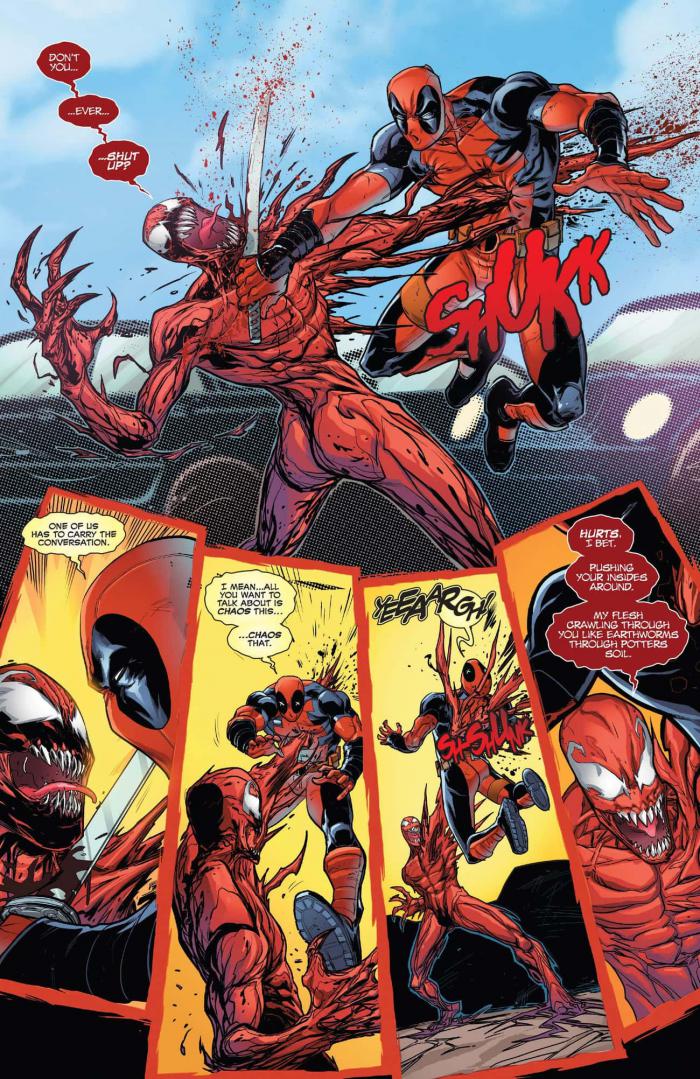 What happens when you oppose one of the most deranged villains in the Marvel Universe to one of the craziest "heroes" the world has ever known? A bloodbath. In Deadpool vs. Carnage, the two extremely violent individuals clash and the result is up to our expectations. They destroy each other, leaving in their wake only blood, guts and tons of material damage. Fortunately, both are wearing red.
11) carnage runs a man behind his computer screen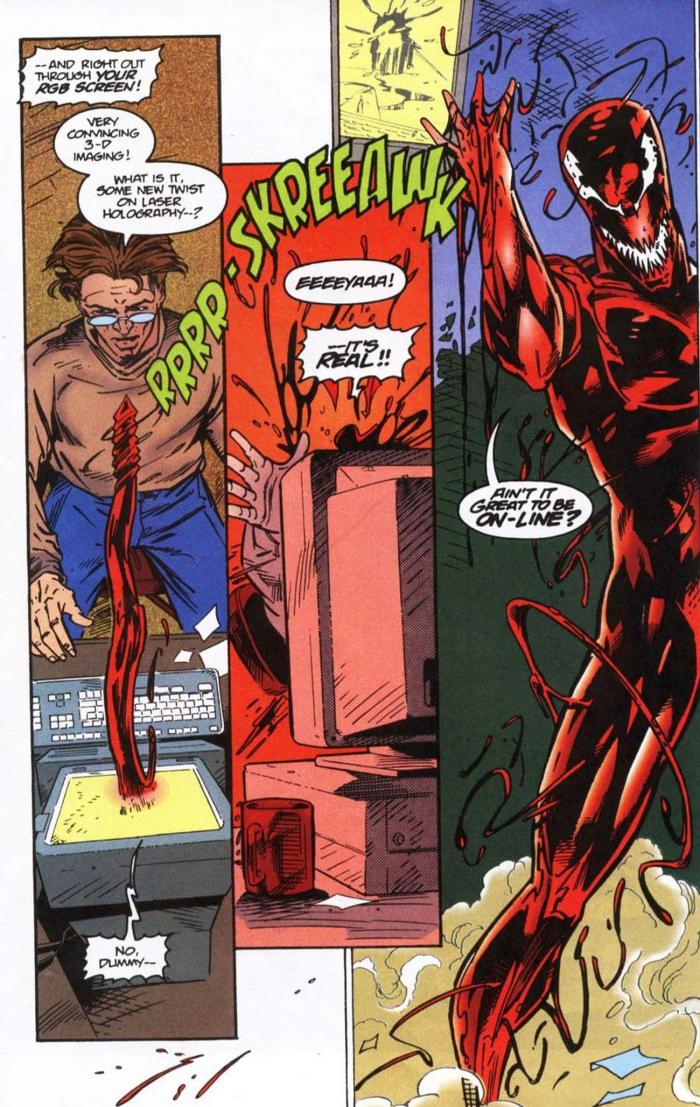 In the comic book series Venom : Carnage Unleashed, Carnage gains a new ability: he can now send his symbiote through computers and communication lines. One of the most horrible things he does with this new ability is to kill a man who doubts he is the real Carnage. The computer scientist explains in fact that it can only be some kind of hologram or illusion, and Carnage responds by sending his symbiote through the internal workings of the Internet. The symbiote then pierces him to death, dramatically and bloody.
12) carnage threw a newborn baby out the window as a diversion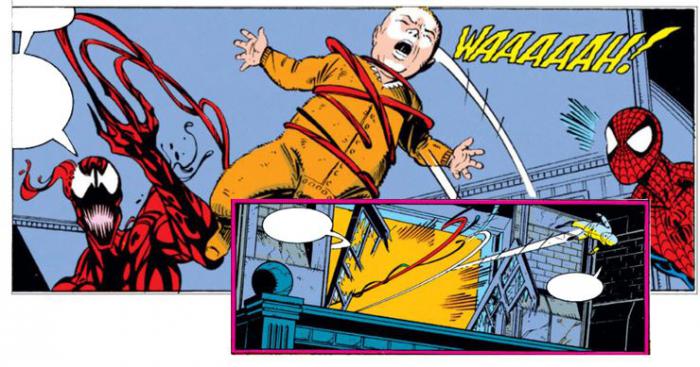 When Cletus Kasady became Carnage, Spider-Man realized he was too strong for him to face on his own. So Peter Parker enlisted the help of the anti-hero Venom. Like Venom and Spider-Man were on his heels, Carnage grabbed a newborn baby and threw it out the window as a diversion. It's there that readers realized that Carnage really isn't the typical Marvel villain …
13) carnage massacre manhattan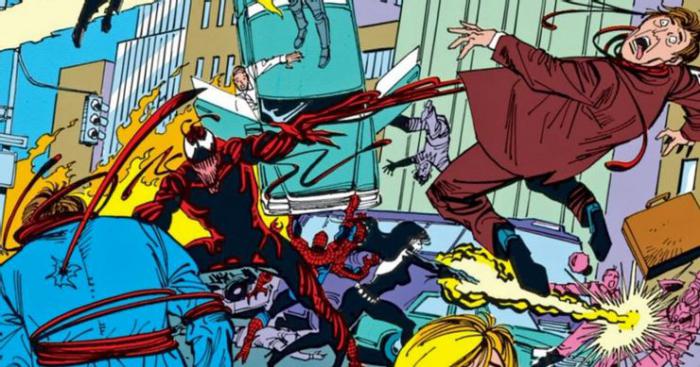 In Maximum Carnage, Cletus Kasady teams up with Shriek (a sound-manipulating Marvel supervillain who has a very interesting psionic gift). The latter's empathic powers are harnessed by Carnage to transform the whole Manhattan area in a bloodthirsty crowd, which has the effect of creating a riot unprecedented in the history of mankind. Blood galore!
And if you want to know which scene, deemed "too gory" for Venom Let There Be Carnage, was deleted during editing, we let you read our previous article on the subject.
---
Source: Hitek : actualité geek et tests high tech by hitek.fr.

*The article has been translated based on the content of Hitek : actualité geek et tests high tech by hitek.fr. If there is any problem regarding the content, copyright, please leave a report below the article. We will try to process as quickly as possible to protect the rights of the author. Thank you very much!

*We just want readers to access information more quickly and easily with other multilingual content, instead of information only available in a certain language.

*We always respect the copyright of the content of the author and always include the original link of the source article.If the author disagrees, just leave the report below the article, the article will be edited or deleted at the request of the author. Thanks very much! Best regards!
---