Scented bellflowers are rare: this is the case with Campanula versicolor, an ornamental and edible perennial. A perpetual vegetable, it produces a tasty winter salad and then an attractive bloom in summer. Like the rapunzel-vegetable, it combines the useful with the pleasant, ideal in permaculture.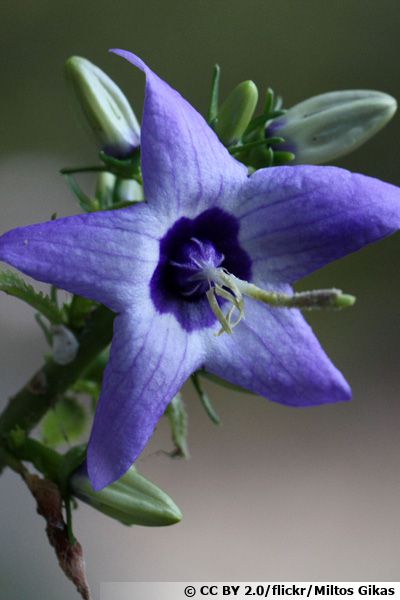 Botanical
Scientific N. Campanula versicolor
Synonyms Campanula corymbosa, Campanula planifolia, Campanula verticillata
Origin South Eastern Europe
Flowering july september
Flowers soft blue
Typeperennial
Vegetationherbace
Foliage persistent
Height60 120cm
Plant and cultivate
Hardiness rustic, down to -10C
Exposition partial shade, sun
Soltolerant, sandy, humus or calcareous
Acidity slightly basic acid
Humidity dry cool, but draining
useornamental, melliferous, vegetable
Plantationsemis, division
Multiplicationautumn Spring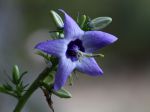 Campanula versicolor, the blue bellflower or fragrant bellflower, is a perennial that belongs to the Campanulaceae family. It is native to south-eastern Europe, present in southern Italy, Greece and as far as Bulgaria. It usually grows on rocky soils, often limestones, or in open forest environments of low and medium altitude.
Why this species, edible and ornamental, is it still so rare in cultivation? The blue bellflower, delicious on the plate, is also an ornamental enough species to find its place in all gardens. It is superb in clumps as in rockery, quite reliable and therefore perpetual as a vegetable.
Description of Campanula versicolor
The blue bellflower is a perennial which produces a somewhat woody stump with thick and deep roots. It develops one or more basal rosettes of leaves which not only persist, but grow slowly in winter; it widens over 50 cm over time. Its leaves are long-stalked with a relatively triangular and toothed blade, quite similar to that of the pyramidal bellflower.
In summer, from July to September, it blooms on stems 50 cm to 1.20 m high, taking up to 5 years to reach its final height.
The flowers of the versicolor bellflower are quite large, and open almost completely flat, its 5 lobes drawing a star in shades of blue: a dark heart, then very pale blue, and finally darker around the edge of the corolla, d 'where the Latin term versicolor. The corollas are oriented slightly upwards, with a long, prominent pistil.
Their shape is reminiscent of the primrose-leaved bellflower, with which it is sometimes confused. But his perfume, rare in bellflowers, is quite characteristic: spice, He recalls clove.
The narrow flower candles of Campanula versicolor are mellifères, they nourish and attract many pollinating insects. Autofertiles, they turn into small cupules which open in September / October on fine seeds.
How to cultivate blue bellflower?
Campanula versicolor is rustic up'at -10 ° C, provided that it benefits from a sufficiently draining place. It is tolerant of the nature of the earth and accepts sandy, silty, humus or limestone soils. It requires a sunny or partial shade exposure.
This bellflower appreciates rich and a little cool soils, which allow it to grow favorably, while also being drought tolerant and able to survive in a rock garden.
The campanule versicolore settles over time, it is reliable, but it takes a few years for it to give the best of itself from an ornamental point of view, it becomes imposing, tall and wide with the years. In addition, she does not like the transplant.
She is preferably planted in the garden in autumn or spring. From seedlings, she will be able to flower for the first time in the second year of cultivation, then she will be more and more beautiful.
To take advantage of both the flowers and the leaves, it will be interesting to plant several feet so as not to exhaust the foliage in winter to the detriment of flowering and eventually leave all the leaves on a plant cultivated for flowers.
Otherwise leaf harvests can be done the first winter on sown plants of the year, as long as you have a certain number of them.
Flower stems and seeds
Removing the deflowered flower stalk generally leads this bellflower to rise again.
Obtain seeds: in order not to exhaust the strains more than necessary, you should not allow all the seeds to mature, but only keep the amount you think you need.
If you choose a few plants that will only be used for leaf production in winter, you can then systematically prevent the plant from flowering, it will grow more quickly.
Use of blue bellflower in cooking
The rosette of Campanula versicolor continues to grow quietly in winter as long as temperatures are not excessively cold. These leaves can be taken from the perimeter without cutting the growth bud. But if so, she will reject.
The leaves are eaten raw or cooked. The raw leaves are pleasant on the palate with a flavor reminiscent of fresh peas. They are added to salads or bring a note of freshness, very appreciable in winter, placed at the last moment on the dishes.
How to multiply Campanula versicolor ?
The seeds germinate in the spring, taking advantage of the slow warming. They are very fine and are sown on the surface on a rich and draining substrate (land lightened with sand). Although the seedlings are tiny when they are born, they grow quite quickly and will benefit from being transplanted into an individual pot as soon as possible, then when they are large enough, they will be established in the garden in the spring or fall, before the roots set. a bun in the pot.
In good conditions, either on draining soil, spontaneous sowing can be expected.
Plants that are a few years old grow in several basal rosettes which can be taken with as much underground stem length as possible. This cutting takes place in the spring.
Divisions are not effective, because the fleshy roots of Campanula versicolor take too long to recover. This bellflower prefer not to be disturbed.
Species and varieties of
Campanula
More than 250 species in the genus
Campanula muralis, the campanula of the walls
Campanula trachelium, nettle-leaved bellflower
Campanula carpatica, the Carpathian bellflower
Campanula cervicaria, the rare cervical bell
Campanula rotundifolia, round-leaved
Campanula medium, bellflower garden chime
Campanula punctata, punctate bellflower
Campanula rapunculus, the rapunzel bellflower or vegetable rapunzel
Plants of the same genus
---
Source: Au Jardin, conseils en jardinage by www.aujardin.info.

*The article has been translated based on the content of Au Jardin, conseils en jardinage by www.aujardin.info. If there is any problem regarding the content, copyright, please leave a report below the article. We will try to process as quickly as possible to protect the rights of the author. Thank you very much!

*We just want readers to access information more quickly and easily with other multilingual content, instead of information only available in a certain language.

*We always respect the copyright of the content of the author and always include the original link of the source article.If the author disagrees, just leave the report below the article, the article will be edited or deleted at the request of the author. Thanks very much! Best regards!
---