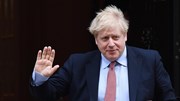 To the pessimism shown by the European Union yesterday about the outcome of yet another round of negotiations with the United Kingdom, the British Prime Minister responds with "optimism" about the possibilities of reaching an agreement on the future bilateral relationship between the two blocs and rejecting any kind of disregard for your government regarding the Brussels position.
This Thursday, Michel Barnier, the European leader responsible for conducting talks with the British side, regretted that the new round of negotiations ended with the persistence of "serious disagreements" between the parties.
In addition to asking for greater "commitment" from the British negotiating team, which is led by David Frost, Frenchman Barnier said he hoped that the positions adopted by Brussels in the talks deserve "better understanding" and that they can be "respected in order to reach an agreement. ".
Even in writing, Barnier's harsh tone in relation to the persistent negotiating stalemate was evident. However, Boris Johnson refuses to be disrespectful to either Barnier or the Union as a whole.
"I was not even remotely disrespectful towards Michel [Barnier] or the EU system, which I know and understand well ", stressed the leader of the British executive in an interview given to LBC Radio, and quoted by Politico.
And addressing the three red lines reiterated by the EU, Johnson insisted, in turn, on British demands.
The conservative does not consider it appropriate for the United Kingdom to remain under the jurisdiction of the EU Court of Justice, for the United Kingdom to continue to have to respect Community rules even if it does not belong to the Union or to hand over its "incredible fishing resources" with a kiss.
In the statement released on Thursday, Barnier recalled European requirements: The guarantee of a level playing field – the so-called "level playing field" – in accessing the single market, "including state aid"; finding a "lasting, balanced and sustainable solution for European fishermen"; and ensuring a "comprehensive institutional framework and effective dispute resolution mechanisms".
Anyway, and although the negotiating knot remains untied, Boris Johnson referred to the last days of talks as "very good" and guaranteed to be "a little more optimistic" about an agreement in the coming months than Michel Barnier.