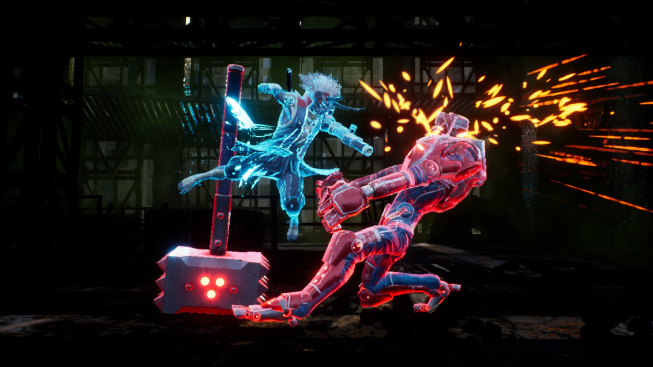 Indie production needs to be pampered. You can't expect a lot of original game experiments from the corporate mainstream, which of course makes sense – but if I had hundreds of millions of resources under my thumb in a leadership position and crowds of developers who need to feed their families, I guess I wouldn't venture into uncertain projects twice.
Independent developers are under no such burden and can boldly ignore sparrows by the handful in pursuit of pigeons on rooftops. But the will alone may not be enough, and turning an engaging idea into a fun game is not always possible, as players who decide to try the cyber samurai action Blind Fate: Edo no Yami from the young studio Troglobytes will unfortunately find out.
Blind justice
Samurai Jami was a loyal servant of the shogunate. He hunted demons of metal and plastic. He drove them without mercy, without hesitation, without fear. He didn't have the slightest doubts about the meaning of life, but then one expedition went horribly wrong, and instead of returning gloriously with a trophy at his waist, the warrior barely managed to crawl to help, crippled and blinded. He lost honor and respect, but iron determination was also joined by a desire for revenge and a return to rightful prominence. That's when you enter the game.
The story of Blind Fate is quite straightforward, and the obligatory big twist is clear as a slap in the face almost immediately, so you don't have to prepare for any breathtaking surprises, but the presentation and pace were quite successful, and the narrative as a whole does not captivate, but it also does not offend.
But the game mainly excels in world building. The setting may seem to border on the surreal – the nine-tailed goddess Izanami on the side of cyberdemons with an ominous prophecy, mechanical gods in the thrall of the shogunate, ghost towns, biomechanical tengu with an antiquated word database, and wildly contrasting scenes of super-modern technology embraced by the Japanese feudal countryside it creates an unusual, alluring chaos. But despite the initial impression, it is not just a haphazard mishmash.
The creators could easily wave their hands and declare it an axiom. For a thing that needs no proof, for an empirical fact. This is what our world looks like, this is how it works, done bye. But they didn't, instead they took the trouble to come up with a back story and an explanation of why what was happening. In the end, you will find that, although the point is not so original, the local world still makes a clear sense. Which is an achievement that certainly not every game can boast of, and the authors deserve sincere praise for it.
Hunting in the dark
Unfortunately, many more words of praise cannot come. The problem is very prosaic – Blind Fate is a very action-oriented game, but the combat here manages to be fun for half an hour, maybe an hour, if you arm yourself with tolerance.
At first, it looks like a real ride is in store. Jami replaces her blindness with sensory sensors that you can freely switch between. The heat detector floods the screen with gray and highlights heat sources in bright orange, while the hearing sensor sends you into dark blue, visualizing sound sources and the like.
The joke is that the image that the sensors paint their data over is a bit of a lie because it's centuries old and you're de facto looking at what the surroundings looked like a long time ago. Which means, for example, that the bridge you're about to step on might actually have collapsed a long time ago, and so on. And that's what you'll have to figure out with the sensors – when you see solid ground, but the sound sensor reports splashing water, it's clear that something is going to be wrong. And of course you can't see the enemies either, you have to notice them differently first.
It looks great and would be great to work with, but… the game doesn't really do it. He hints at an interesting idea a couple of times, but never develops it, and for almost the entire game, with a few honorable exceptions, you just have to go "by ear". Oh yeah, that's such a shame!
Slash and dodge
We can boldly continue the elegy on great ideas with pathetic execution. At its core, the fight could be great – it depends on the player's precise execution, because you won't do much to the enemies by ordinary slashing, but the attacks increase the combo meter, after filling which you can perform a brutal lunge, which, on the other hand, will send most of the opponents straight to the silicon sky.
This means that the path to success takes the form of an aggressive attack, but at the same time, you can't be headless, so that you don't get hit and lose a combo. And the difference between clumsily poking a sock or catching him in a steel storm and slicing him in half is vast. The first case takes about a minute, the second is done in a few seconds.
Doesn't sound bad, does it? Player skill reward and so on. But the reality? Horrible repetition and after a while a killing stereotype. Attacks are few, enemies are few, and their behavior patterns are… yes, few. And once you figure out how to do it (which takes the aforementioned half hour), you can repeat the same process until you pass out.
Any little enemy? Cut, cut, toss, cut, cut, punch. Any bigger adversary? Three chops, back jump, three chops, backbreaker. It gets boring very quickly, and the game doesn't make the slightest attempt to make this rhythm special or to force you to behave differently. The fights all play and look pretty much the same, and the joy wears off with the speed of an introvert accidentally invited to a birthday party.
It doesn't help that the fights feel like being wrapped in a duvet. The response after pressing the key is all sorts, the lunges are strangely slow and fast at the same time, and there is no sense of power from them. The game lasts about seven hours, and until the end I couldn't shake the feeling that I was clumsily wading through the mud. Elegance, dynamism, swing and edge are missing, everything is somehow forced, wooden and not very pleasant. Put the emotional execution of the fights next to Dead Cells or Sundered, for example, and Blind Fate will have to sink in shame.
Anti-climax
Several bosses grind their mechanical claws at you, but battles with them unfortunately do not make an impression. Rather the opposite. Because, I'm sorry, the inexperience of the developers is clearly evident in the boss fights. They wanted to set up a real challenge for the players, but weren't sure how to go about it. Even Euripides himself would not be ashamed of the result. A first class tragedy.
The main reason for failure is the same as in normal fights: Repetition. Bosses like pinwheels repeat a primitive pattern over and over again, but they have the life of a thousand-year-old baobab and you go to the ground for a maximum of two hits. It's not difficult. It's not a challenge. It's simply a terrible waste.
For example, killing the penultimate boss takes, without exaggeration, some fifteen minutes, during which you will be salivating in the corner until you pass out repeating the practically identical sequence of buttons. And if you slip into a merciful micro-sleep and accidentally screw it up somewhere around the twelfth minute, you can of course edit the whole thing from the beginning, which is about as fun as falling into an anthill.
As if that wasn't enough, someone had an idea how to "improve" the bosses and with a maniacal laugh started putting quick-time events into them head over heels. I was hoping we'd grown out of these design bums as a medium, but no, Blind Fate is clearly still in its teens and will throw a whole dump truckload of QTE weeds at you.
Are you being asked to climb a tree in the middle of a battle? QTE. Do you need a stopper? QTE. Does the last bossfight even slightly threaten some momentum? We can't let that happen, we'll dilute it with shocking QTE passages!
Tunnels
The level design can't be praised either. The maps are not free of hiding places, and it would be unfair to say that finding a secret turn and picking up a story fragment or some character improvement there is not satisfying. But the rest is the same as when he shoots.
That in itself wouldn't matter so much, a clear line between the beginning and the end can be found in practically every action platformer. What matters is how much the game can hide its corridor or distract the player from noticing it. Blind Fate can't do it, not even a fingernail. Levels are usually as bare as sentences in a conversation with a football player, and individual passages are often even blatantly repeated.
Unfortunately, the game did not avoid another sign of the developer's inexperience: Unexpected traps. Some pitfalls can be detected by using proper sense, but a few will just kill you if you don't know they're there. Which is no fun. In addition, the game doesn't even have the decency to at least place a checkpoint just before a critical location. No, you'll awkwardly fall through the floor into the abyss, and you can just repeat the ten minutes of fighting before. Fortunately, there are not many of these situations, but it would be ideal to avoid them completely.
However, I'm grateful that you'll at least encounter a few puzzles with the environment. It's true that these aren't crazy brain teasers and you'll know what to do right away, but it's nice that they're here.
Hope?
It might sound a little strange after a review full of fire and mayhem, but I don't think the creators are just some hopeless slobs, and I certainly don't think they should let it be. No, they just need to get more hands on the craft.
Beneath the layer of design fumbling and mistakes, potential can be discerned. The studio has already shown that they can come up with fresh ideas, now they just need to learn how to turn them into a fun game. Although I can't recommend Blind Fate with the best of intentions, I want to believe that it might be worth it next time. Again and better please!
---
Source: Games by games.tiscali.cz.

*The article has been translated based on the content of Games by games.tiscali.cz. If there is any problem regarding the content, copyright, please leave a report below the article. We will try to process as quickly as possible to protect the rights of the author. Thank you very much!

*We just want readers to access information more quickly and easily with other multilingual content, instead of information only available in a certain language.

*We always respect the copyright of the content of the author and always include the original link of the source article.If the author disagrees, just leave the report below the article, the article will be edited or deleted at the request of the author. Thanks very much! Best regards!
---