Hey!
The smartphone you are holding in your hands is much more powerful than computers that are used in space programs in different countries. Huge capabilities hidden in a small smartphone body evolve from year to year, engineers are struggling to make this device as comfortable as possible, to predict your desires in some way. The adaptive screen brightness gets acquainted with your habits and exposes exactly the brightness that you need in different conditions, these are not average values ​​for everyone. The smartphone learns your habits, when you wake up, which applications you open first, they are already ready to go. Magic happens, which has become a familiar part of life, is taken for granted and simple.
There is another magic feature in Galaxy smartphones that many do not know about – Bixby scripts. It is enough to go to the "Settings" section, then select "Additional features".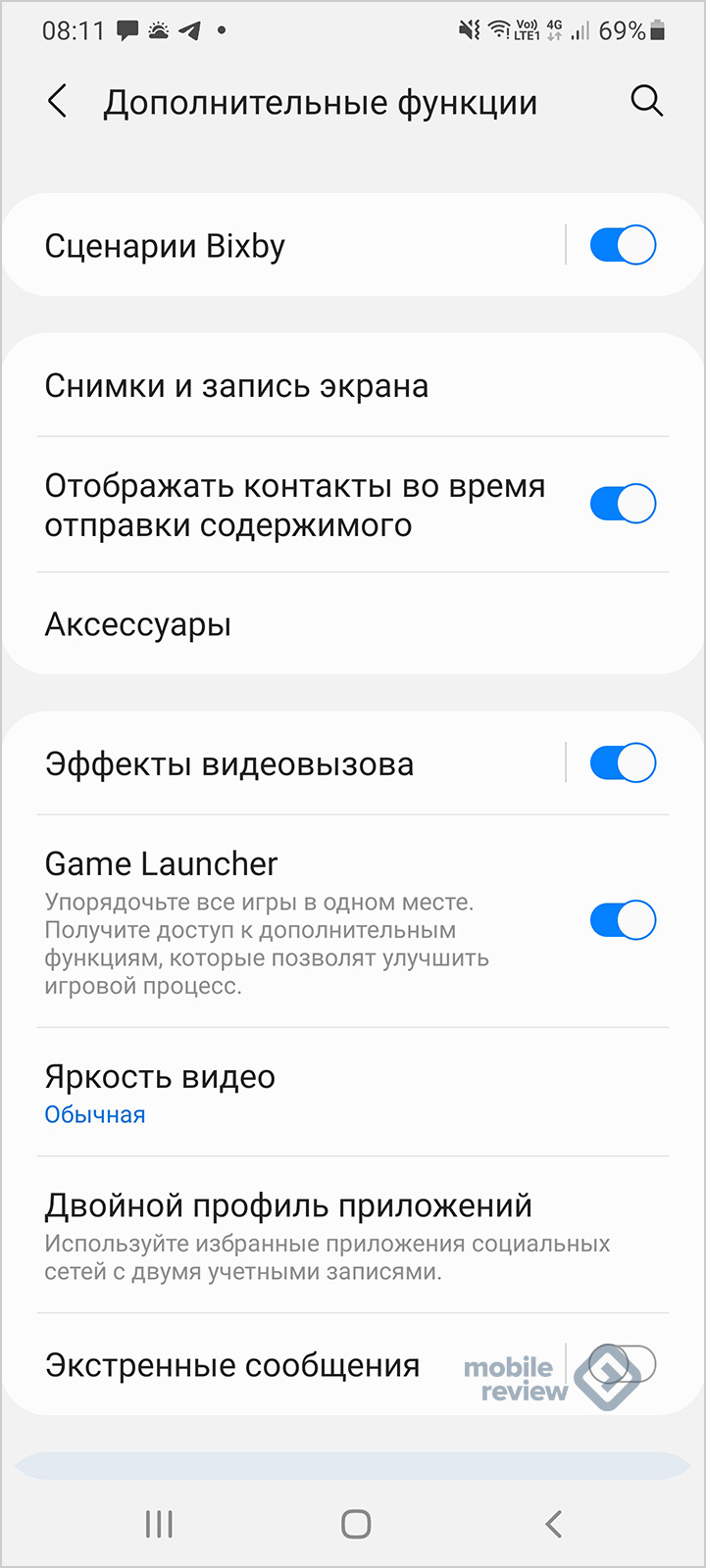 Bixby scripts can be called a tool that allows you to fine-tune and deeply customize the many functions of your smartphone for yourself. And not only a smartphone, but also other accessories that you use in everyday life. Let's take a look at specific examples to describe Bixby's scripting capabilities.
When you open the section with scripts, you will see the options that the smartphone offers you. For example, I have a battery saver working at night. A simple thing, but how convenient and understandable. The smartphone detects that you are asleep, it is not connected to a charger. Before you wake up, it will turn on the power saving mode by itself, it will not waste resources. This means your Galaxy will doze with you as well. You will not miss any calls, if you allowed them at night, messages will also come. But the device will work at half its capacity. Once you wake up, your Galaxy will wake up with you and automatically complete this scenario. Cool? Not that word. It sounds very simple and straightforward, but this is a trifle that does not attract magic, is it?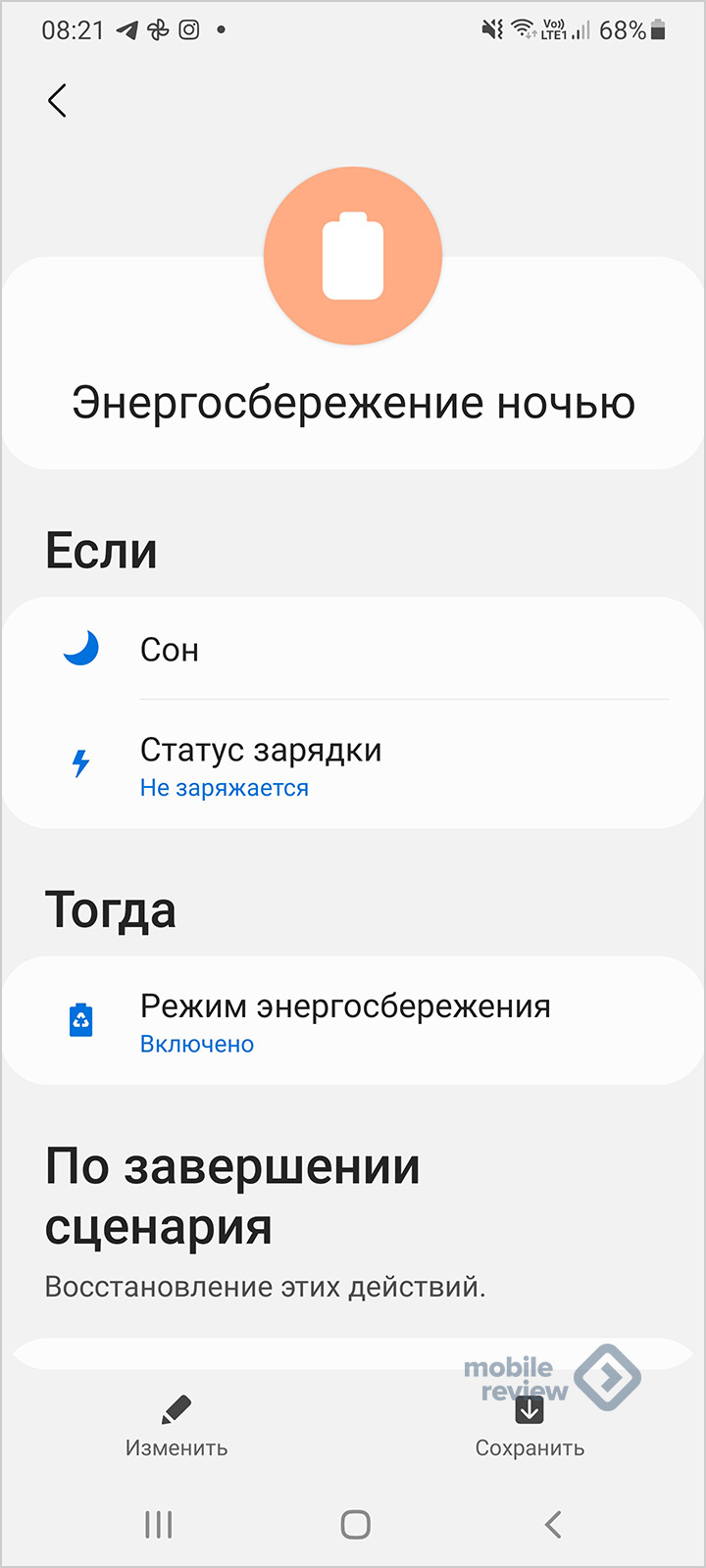 Let's take a look at something truly magical, something that changes the perception of the possibilities of scenarios in everyday life. When I leave the house, I always use wireless headphones, now I have this Galaxy Buds Pro, they have active noise cancellation, in the city it perfectly cuts out external noise. By default, noise cancellation is turned off for me, because otherwise, leaving the house, you do not hear what they are saying to you.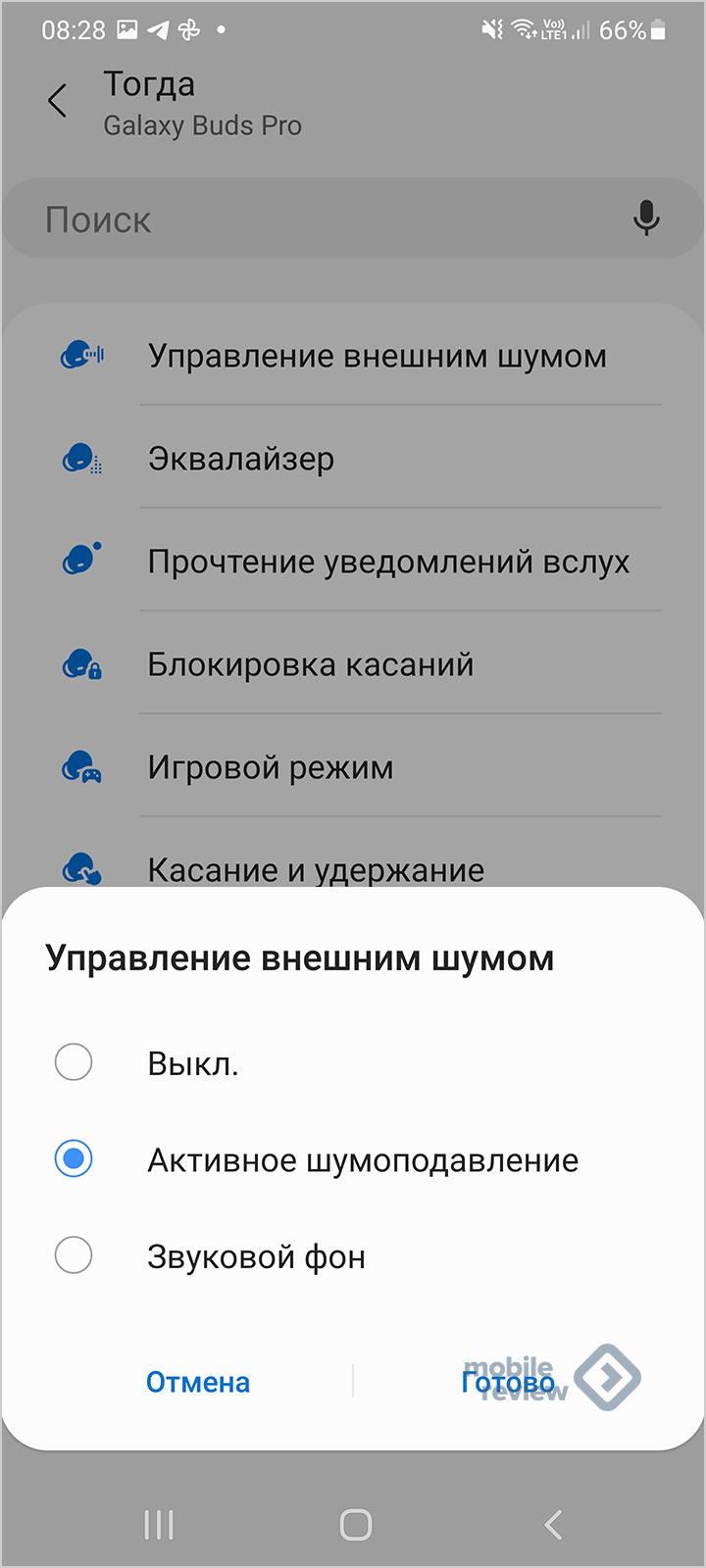 The solution to the question is elegant and simple: you set up a scenario in which you select the coordinates of the house (this is a circle, you can make it smaller or larger). And after leaving the marked circle, you automatically turn on noise reduction. My friend set up the headphones in a different way, he chose to turn on the noise canceling at the moment when he gets to the nearest metro station. Marked this station on the map, outlined the radius, and voila. Puts up to the subway on some kind of ground transport – the headphones turn on noise cancellation. When he arrived at the metro station near work, he set the noise cancellation off, everything happens automatically. If you go on the road without headphones, then the script simply will not work, since it will not find a connected device. Cool? Not that word. You control an external device, customize it for yourself once and then just use it, not paying attention to the little things. It looks and feels like magic and makes everyday life a little easier.
Let's take a look at how you can set up a scenario for those who start the morning by traveling in their car. You can make your smartphone detect the on-board system, just bind it to the car's Bluetooth. But after all, you can use the car not only for traveling to work, so it is worth adding working hours, choosing working days. As soon as you get into the car, the smartphone will turn on reading notifications aloud (you can select different applications, not just SMS, for example, Telegram), will automatically turn on music playback in the application that you like, I have Spotify. Finally, the useful thing is to change the font size on the screen. In the car, there is no time to peer at the screen, you need all the information to be read at a glance. Sounds good, doesn't it?
But my personal hit is the use of maps for navigation. Living in a metropolis, you can never be sure how long it will take you to get to the office, the traffic on the streets is constantly changing. Sometimes it takes twenty minutes, and sometimes you stand in a traffic jam for more than an hour and swear that you want to go by car. In Bixby scripts, you can invoke other apps and perform various actions in them. For example, you can open "Maps" and get directions to previously set points, this could be your "Home" or "Work". You can also add new places you visit frequently.
Our life revolves around the same places, whether we like it or not. For example, I constantly go to the supermarket near my house and buy groceries. At the checkout, you need to show the barcode on the loyalty card, it is in the application. In scripts, I created the simplest rule: when I come to the supermarket, the smartphone automatically launches the application, and I have it at my fingertips, there is no need to bring it to the main screen. I will share a life hack, in many network cafes and stores there is free Wi-Fi, you can not specify a geotag, but simply set up an action after detecting such a network. Also a kind of magic.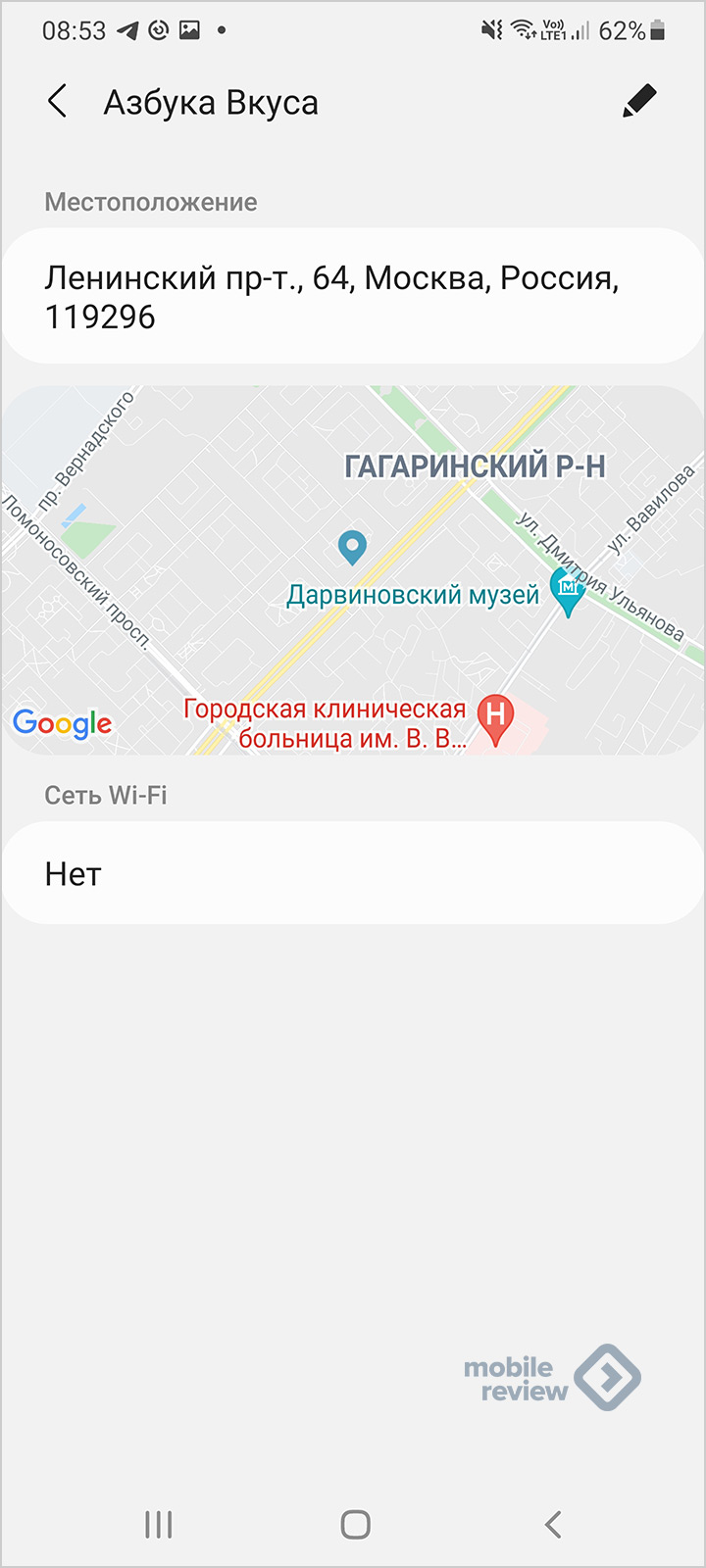 The devices are quite hooked, but the scenarios support the SmartThings application, into which you can add various external devices, for example, TVs, speakers, household appliances. I installed an air purifier from Samsung, it is connected to my home Wi-Fi network, I can control it remotely. But in the scripts I set it up so that it turns on when I come home, does not work in vain without me. Everything happens automatically.
Another example. In the morning I wake up and go to the kitchen for my coffee, usually turn on the TV and watch the news or some kind of TV series. This is a constant, repetitive action that can and should be automated. Create a Bixby scenario in which waking up means the TV starts working. You go into the kitchen, and he is already muttering something.
The possibilities of scenarios are very wide, you can bury yourself here for a long time. I like the AlwaysOn Display feature, when the clock and notification icons are always displayed on the screen. In one of the companies where you need to come to meetings, the manager constantly looked askance at the working screen, which made him nervous. Configured a script to disable AlwaysOn Display while in their building. Convenient and simple: while I'm visiting them, the screen turns off, plus all notifications go into silent mode, as soon as you leave, everything returns to normal.
We started talking about notifications, I will share another scenario that will seem pretty damn convenient to many. I do not like ringtones, the call is distracting, but sometimes this is the only way to hear the phone, for example, at the dacha, when you are wandering around the site, and your gadget is somewhere at home. For me, a solution was found in the scenario when the smartphone itself switches to the call melody, being in the country, and after leaving there, it switches itself to the vibration alert mode. It seems that this is an insignificant trifle, but it changes the perception of comfort, you only need to attend to once and customize the script for yourself.
Most people do not know anything about Bixby scripts on their Galaxy smartphones, do not go to this section and miss a lot of useful things. Explore the possibilities of scenarios, you will clearly find something useful for yourself, you can make your life a little more comfortable. This is not to say that Bixby scripts will somehow fundamentally change your life, they are convenient and invisible, you just need to properly configure them for yourself. And no one, except you, can do this, since you are the person who knows himself thoroughly.
Bixby scripts are unique to the market as they integrate not only smartphone functions, third-party applications, but also accessories, as well as dozens of devices that you can connect to SmartThings. A very flexible system of settings, the main thing is to try it, and then you will get involved, you will find new and unusual applications for scenarios. Will you try?
---
Source: Mobile-review.com — Все о мобильной технике и технологиях by mobile-review.com.

*The article has been translated based on the content of Mobile-review.com — Все о мобильной технике и технологиях by mobile-review.com. If there is any problem regarding the content, copyright, please leave a report below the article. We will try to process as quickly as possible to protect the rights of the author. Thank you very much!

*We just want readers to access information more quickly and easily with other multilingual content, instead of information only available in a certain language.

*We always respect the copyright of the content of the author and always include the original link of the source article.If the author disagrees, just leave the report below the article, the article will be edited or deleted at the request of the author. Thanks very much! Best regards!
---