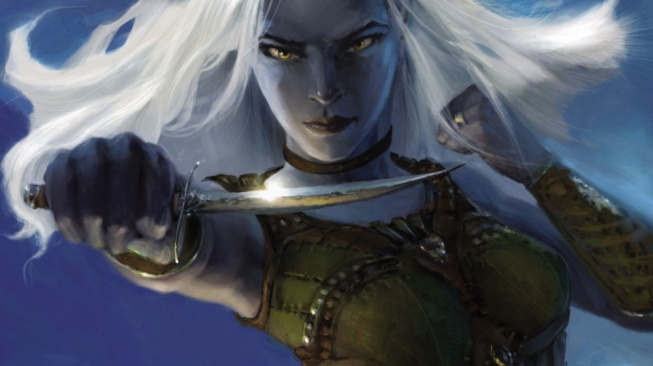 After the first part of the isometric action RPG Baldur's Gate: Dark Alliance, set in the legendary universe of the Forgotten Realms, a modern port also saw the second part. Like its predecessor, it appears on next-generation consoles, but also on PC for the first time. Has time been kind to this 2004 game, and have the developers at Square One Games done enough to clean up and polish this fantasy classic?
Beware of the sounding name
If you've never smelled the Dark Alliance series, don't let the name Baldur's Gate fool you. The Dark Alliance has nothing much in common with the original dense story RPG, that is, except for being set on the Sword Coast – and in the case of the second part, directly in the city of Baldur's Gate.
Dark Alliance 2 is much more about action than anything else, and it basically fits into the devil's drawer. You will enjoy some of that time in social conversation with other characters, but the dialogue options are very straightforward. You never have the option to say no, and maybe it would be easier to just put a "continue" button in the dialogs.
It is also necessary to add that this series has nothing to do with the not very successful Dungeons & Dragons: Dark Alliance in terms of story or gameplay. Apparently, someone at Wizards of the Coast, the publisher that owns all of these pieces, thought that the words Baldur's Gate and Dark Alliance meant success!
For connoisseurs in Dark Alliance 2, the well-known Harp or Zhentarim factions and a number of other realities await, at which the connoisseur nods his head wisely. However, to the uninitiated, the game serves up a generic fantasy setting without any in-depth explanation of any aspect of it. Instead, it just overwhelms the names of foreign deities, dark castles or forests.
Your average epic story
The new adventure directly follows on from the first part, but if you haven't played it, you won't be missing out much, at most you'll miss a few winks or characters that have already appeared in the series. As part of the story, don't expect anything earth-shattering: Unknown evil forces are plaguing the region around the city of Baldur's Gate, which as wandering adventurers you can't just leave alone.
Your employers send you for free from one location to another killing spree. At the end, there is always some villain who will laugh in your face before his demise. And that's how the vast majority of the game goes. Although there are some side quests, they are in the same vein as the main storyline.
If you're looking forward to character creation, let your appetite go quickly. You'll have a choice of five ready-made heroes, including an elven necromancer, a human cleric, and a dwarf thief. You won't learn much about your intrepid heroes – neither in terms of story nor stats. On the other hand, each of the characters has its own unique task, which will not only give you a lot of experience, but also new knowledge about the given hero.
You'll encounter a variety of different enemies and environments throughout the game, which is nice, but beware: If you're new to the world of the Forgotten Realms, a lot of the monsters and locations will likely confuse you, as you'll have to make do with a terse explanation of where you are, or creature, with nothing at all.
Fighting pains
Dark Alliance 2 is a typical isometric action RPG. You swing your sword around, cast spells, upgrade your character, and collect anything that drops from enemies or containers. During the fight, you have to zigzag in different ways to avoid hitting something or falling somewhere, and you are still adapting to the attacks of various enemies.
It all works well, with some exceptions, the most important of which is switching spells or abilities. This is almost impossible during combat. You cannot quickly click on one button or key, because the game cannot handle too many presses at once. After that, you still have to correctly guess which icon is currently selected, and then just hope that some skeleton hasn't gutted you by then.
Basically, the game forces you before every encounter to cast all defensive spells and abilities on yourself or summon some allies and then choose one spell or ability that you will use in a specific fight. Alas, if the squad of enemies will be diverse and you will be asked to adapt your attacks!
Sometimes even bad balancing of mana or energy consumption makes him angry. Some spells that aren't as effective drain energy quickly, but you can send a flurry of arrows endlessly. Add to that the character enhancement plus learning new spell levels and you have a stew that you often have to compensate for with a truly obscene amount of potions consumed.
It must have been great back then
If we were at the beginning of the 21st century, my impressions of the game would probably be completely different and much more positive. In the context of that time, Baldur's Gate: Dark Alliance 2 must have been a real gem if you remembered Diablo 2 well. Lots of different locations and enemies won't leave you alone, and the adventure full of magic and swords gives you a nice break. Plus, it's all done in nice 3D graphics that have aged gracefully and still retain their aesthetic value. But today, the whole thing is really only a matter for the commemorators.
True, even a modern player can enjoy the local cooperative multiplayer, which allows only two players to play, but is very enjoyable to play. This opens up a lot of new strategies to take on hordes of enemies and their boss-like bosses. If you're looking for an easy game for two on long winter evenings and you like the old Diablo games, Dark Alliance 2 could serve you very well in the finale.
Old school bad habits
Unfortunately, the game carries with it an unpleasant legacy, the evils of games with an older release date. A shining example is the really hellish difficulty: If you don't choose the easiest option, you will hardly survive the first encounter, unless you are a really seasoned matador.
Regardless of the difficulty, you usually have a boss fight at the end of the given location. It must be recognized that the game tries to be original and to invent a twist for each villain. Unfortunately, creativity is sometimes too wild, so without warning or any indication, a fireball may fall on you that you cannot avoid. Instead of strategizing, you just pray, run around and hope you don't get hit.
When you finally get rid of some villain or monster, in most cases you will have a boring way back. No shortcut or teleportation, you pretty much have to get back through all the mess you've made in the location. Perhaps it was the artistic intention of the developers to make players realize that they are just cold-blooded killers and destroyers…
One of the main mechanics of the genre is of course collecting loot, which you will enjoy to your heart's content in this title. It's a shame that most items lack any explanation of what they do or what effect they have. The only clues are their names and attack or defense number, but you won't find out what the fire necklace does specifically.
A big missed opportunity is sloppy music that sounds like it was pulled from the sloppiest database – it's simply the most generic fantasy music imaginable. And it includes Jeremy Soule among its authors, who has many high-quality game titles to his credit, including The Elder Scrolls V: Skyrim!
Remastered? Even by mistake
As the text probably showed, the biggest problem with this remaster is that it's not a remaster at all. It seems like the only work the developers did was to convert to widescreen and port to PC and newer consoles, otherwise the age of the original shows at every turn.
The quality of the textures is all sorts, the inventory remained in the ratio of 4:3, the control on the keyboard and on the controller is extremely cumbersome. Sometimes the biggest enemy is a door that is difficult to walk through or open at all. Add to that the funny attack animations of the main characters and thoughts of at least a slightly modern experience will quickly evaporate from your head.
Baldur's Gate: Dark Alliance 2 was certainly an excellent game in its release year. However, the ravages of time are merciless, and low-quality textures, outdated mechanics or clunky controls don't hold up these days, especially when the local "remastering" process was very, very lukewarm. Only lovers of retro or Forgotten Realms universe will enjoy the fun here, especially those in the mood for cooperative multiplayer.
---
Source: Games by games.tiscali.cz.

*The article has been translated based on the content of Games by games.tiscali.cz. If there is any problem regarding the content, copyright, please leave a report below the article. We will try to process as quickly as possible to protect the rights of the author. Thank you very much!

*We just want readers to access information more quickly and easily with other multilingual content, instead of information only available in a certain language.

*We always respect the copyright of the content of the author and always include the original link of the source article.If the author disagrees, just leave the report below the article, the article will be edited or deleted at the request of the author. Thanks very much! Best regards!
---