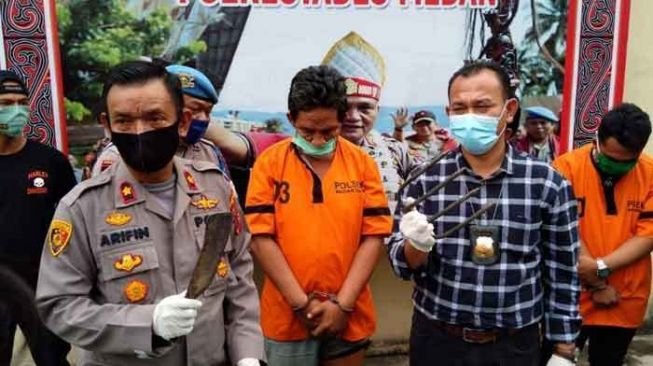 Suara.com – The police shot a man in Medan for trying to attack the officer using rubbish rubbish and machetes. The culprit who was shot was Jakop Halomoan Silitonga (48), a resident of Jalan Bukit Barisan, Medan.
As reported Kabarmedan.com – network Suara.comJakop was arrested along with two of his colleagues, namely M Husin (42) residents of Jalan Ampera IV, Medan and Pramudia Ternando (29) residents of Jalan Bromo Medan.
East Medan Police Chief, Commissioner M Arifin said, the incident began with information that there were three men who were using drugs on Jalan Bukit Barisan, Gang Pandan, Medan, Friday (07/03/2020) afternoon.
From the report, said Arifin, officers took to the location and secured the three men.
"When secured, Jakop took a rubbish rubbish to attack the officers. The officer was given a warning shot and the perpetrator placed the rubbish scratching. When officers found evidence in the room, the perpetrators returned to attack. Officers provide measurable decisive action by shooting the perpetrator's leg, "he said.
Arifin said that the Jakop perpetrators were former police officers who were fired in 2015 for committing motorcycle theft and desertion.
"The perpetrator is a non-commissioned officer of the Simalungung Regional Police with the final rank of Brigadier. The perpetrator was fired for theft and deserse. Perpetrators are also drug free recidivists in December 2019, "he explained.
In addition to arresting the perpetrators, the police also confiscated the remaining evidence of methamphetamine complete with bongs of methamphetamine devices, 1 piece of rubbish rubbish, 1 machete and 1 unit of motorbike.
"Perpetrators are charged with Article 114 (1) Subs 112 Paragraph (1) Jo 132 Subs 127 Paragraph (1) of Law No.35 Year 2009 concerning narcotics.
"For Jakop, it is also alleged that Article 2 Paragraph (1) of the Emergency Law No.12 of 1951," he concluded.