Classic Arctic, formerly Arctic Cooling, is a brand that since the early 2000s gilded many budget-conscious enthusiast's computer with a plethora of cooling solutions. With products like the VGA Silencer graphics cooler and more modern tower cooler Freezer 7 Pro, the company has shown that a big step up from standard coolers does not have to cost the shirt.
In an attempt to relive its glory days, Arctic Freezer 13 X is now launching a series of no less than four coolers logically follows Freezer 13. The manufacturer unabashedly positions Freezer 13 X as a substitute for the processor manufacturers' supplied coolers, where the new cooler according to the company's information delivers 17 ° C lower temperatures than an included Intel cooler mounted on an overclocked Core i7-8700K.
Mounted on said Intel processor, Freezer 13 X also delivers 3 degrees lower temperatures than its predecessor Freezer 13, thanks to improvements like heat pipes with direct contact to the processor. The new cooler is also endowed with liquid-stored five-leaf fans from the company's P-series, for higher static pressure and PWM control at operating intervals 300–2,000 rpm.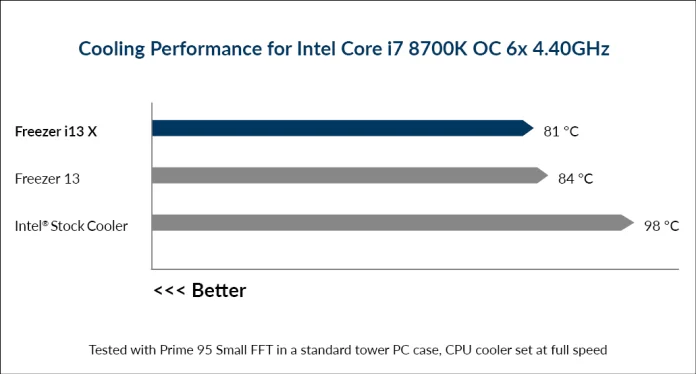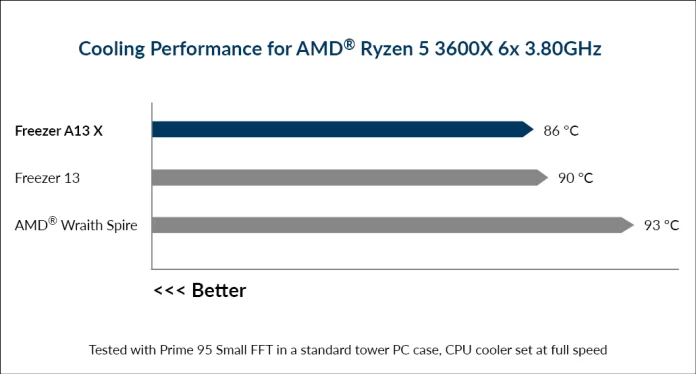 To keep the price down, Freezer 13 X is offered in specific variants for Intel and AMD – as well as variants of both with the "CO" extension. Freezer A13 X and A13 X CO are for socket AM4 only, while Freezer i13 X and i13 X CO support Intel processors for LGA 115x, 1200, 2011-3 and 2066. The extension CO stands for "Continuous Operation" and offers a black fan, with no specifically stated benefits.
For convection, the radiator relies on 44 aluminum fins of 0.4 millimeter thick in a tower with a height of 137 millimeters. The weight is set to 443 grams regardless of variant, where all Freezer 13 X coolers are also covered by a six-year warranty. Prices range from EUR 22.90 to EUR 25.90 depending on the model, where the CO variants are subject to a price premium of EUR 2.
Accessibility in Sweden is due soon, where the price tags are expected to land in the range of SEK 249-299.
Which company and cooler model would be relevant to you when you buy a new processor next time? Do you buy a fancy solution, a entry model like Freezer 13 X or even the stock cooler?